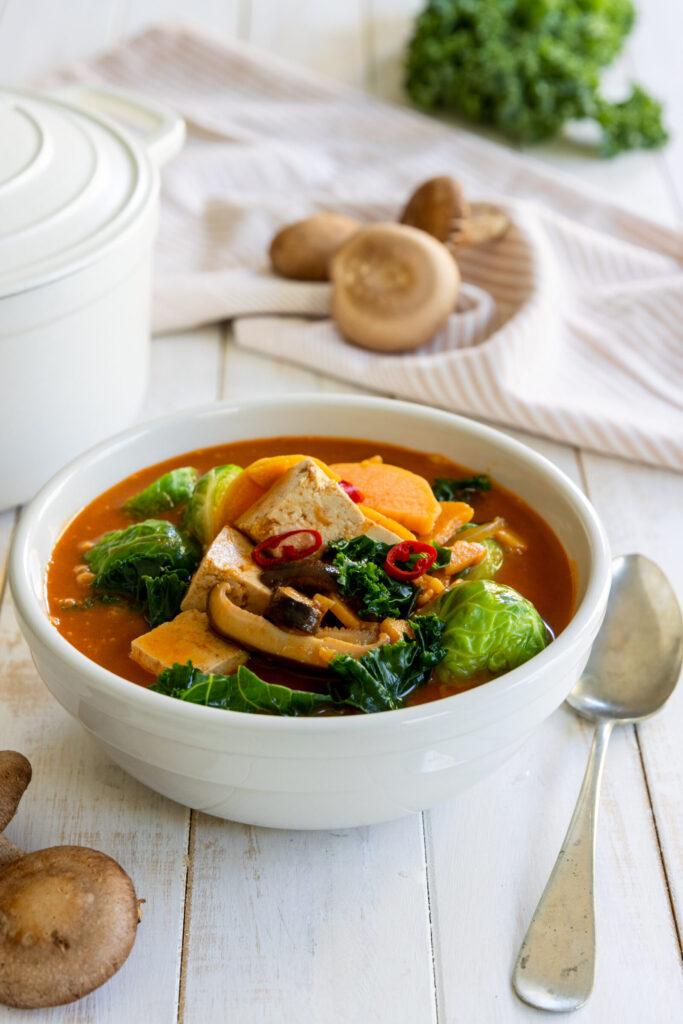 This Fall Sweet Potato, Kale, Coconut Curry Soup is perhaps my most favorite fall soup.  It is such a cozy soup if you can call a soup cozy.  It spells home and comfort to me.  The sweet potatoes' unique flavor, the freshness of the kale, the soft textured tofu, and the chewy mushrooms are all favorite ingredients, making this a soup to remember for sure.   There is something about coconut milk and red curry that spells comfort food like nothing else.  
Fall is here, and New England's leaves are in full-color display. It is a beautiful time of year, a great time to get outside for a hike, peep at the colorful leaves, or breathe in the brisk fresh air. The weather is getting a little nippy, and it is a perfect time for soup. It is also the time of year when it is nice to come home to a warm home and a hearty bowl of soup.
Let's talk about this Fall Sweet Potato Kale Coconut Curry Soup
I am particularly fond of sweet potatoes.  It is possible I may be the only one in my family that prefers sweet potatoes to regular potatoes, so I don't usually get them that often, but in this soup, the sweet potatoes are on full display. I can make this soup for my family any day, as they love it as much as I do.  
Mushrooms create great texture and flavor. Today I am using Shiitake mushrooms. They have a little more chew than cremini mushrooms ("baby Bellas"), but cremini will work as well.
Another one of my most favorite ingredients is tofu. I use firm tofu in this dish, as opposed to extra firm, as I want the tofu to melt in your mouth. I use firm rather than soft, as I don't have to be quite as careful with it.
Last but not least, I need to mention the Brussel Sprouts.  They are actually a great addition to this soup.  I realize that many people do not like Brussel Sprouts, I suggest that you add broccoli instead.  Be sure to add the broccoli towards the end of the cooking time to retain their green color.  I quarter the Brussel Sprouts so that they are easier to eat, and soaked in the delicious broth; they are a culinary experience worth the try.  
You can also add some brown rice for a hardier soup, though I find the soup does not necessarily need it. I hope you enjoy this amazing favorite fall soup.
Click Here to watch me Make this Recipe on YouTube!
Print
Fall Sweet Potato Kale Coconut Curry Soup
1 tablespoon

oil

1

onion, sliced

2 teaspoons

ginger, minced or grated

6

fresh shiitake mushrooms, sliced

2

sweet potato, halved and sliced

6

Brussel Sprouts (optional) (quartered)

4 cups

vegetable broth

3 tablespoons

red curry paste (Thai Kitchen Brand)

3 tablespoons

Bragg liquid aminos

1 tablespoons

Better-Than-Bouillon

3 tablespoons

tomato paste

1

can full fat coconut milk (I use Thai Kitchen Brand)

2

large kale leaf

1

block firm tofu

2 teaspoons

maple syrup or agave nectar

2 teaspoons

fresh lemon juice
Instructions
In a medium saucepan, sauté onion in the oil for a couple of minutes.




Add the minced fresh ginger and the sliced Shiitake mushrooms.




Sauté for a couple of minutes.

Next, add the vegetable stock.




Add the sliced sweet potatoes and Brussel sprouts, curry paste, tomato paste, Braggs, Better- Than-Bouillon, and bring to a boil.

Add lid to pot. Let simmer for 5-10 minutes, until vegetables are fork tender, but still firm.

Add the coconut milk. Bring to a simmer.




Add kale and let it boil down for a minute. Stir to combine.

Next add tofu. Let simmer for a couple of minutes without lid.

Finish the dish with a touch of maple and fresh lemon juice.