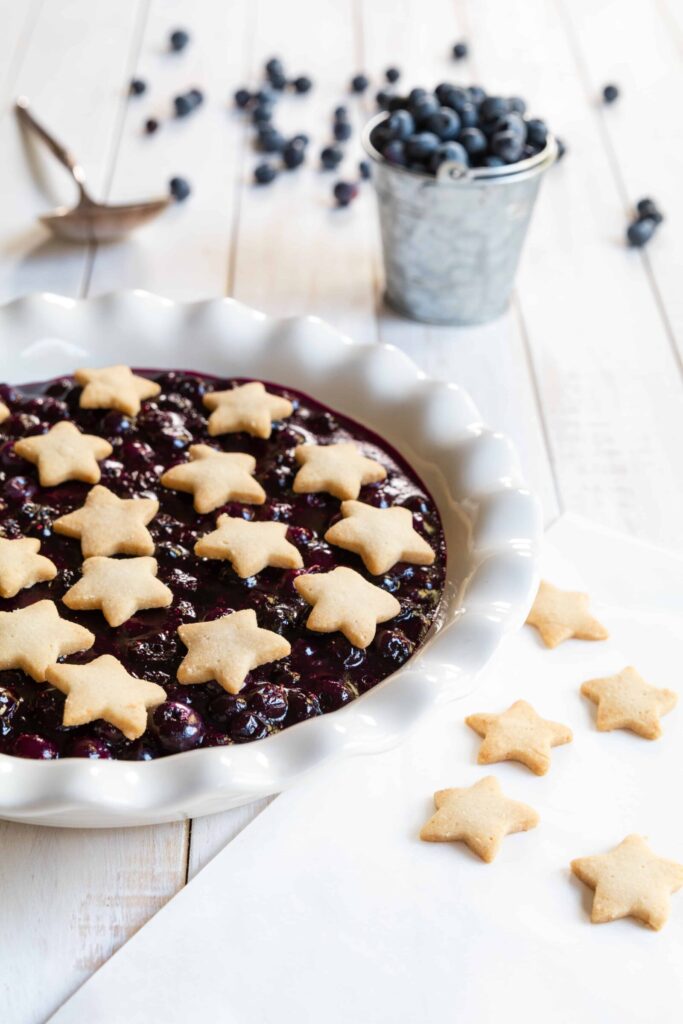 It is Blueberry Season here in New England, and we are happily picking, eating, baking, and filling our freezer full of these perfect little blueberries. So, I thought it would be only fitting to share my wonderful Blueberry Pie Crisp (Vegan) recipe with you, which is one of my TOP favorite blueberry dessert recipes, EVER.
This recipe takes the best parts of a blueberry pie and a blueberry crisp and combine them to make the most gorgeous, delicious, and simply charming dessert. This Blueberry Pie Crisp is one of those blue-ribbon recipes that I would travel all over the world just to taste, but the best part is that you can make it right at home. It is simple, stress-free, and unbelievably delicious; every bite takes you to that blueberry happy place.
I love desserts, especially those that are simple and easy to make, but look like you went to a lot of trouble. Talk about a perfect dessert to whip up when you have guests coming, and you need a fantastic dessert to finish the meal.
It All Starts With the Crust:
One of the best parts about this dessert is the light and flaky pie crust. Unlike a pie though, you do not need to stress over getting the pie crust presentation perfect. There are no fancy pie edges to worry about or a lattice top.
Now, if you are a pie crust expert, maybe this isn't a worry for you. But, to be honest, I find the pie crust presentation to be time-consuming. I have had some pretty delicious pies that look rather ugly, because I didn't nail the crust for whatever reason that day, and it turned out to be a sorry sight instead of a beautiful pie.
I love this recipe as the crust is hidden on the bottom of this dessert, so it is a pleasant surprise when you cut into it. Use a cookie cutter to cut the cutest star shapes for the top of the pie crips. I bake these on a separate baking sheet so that if there is one or two that don't turn out, it isn't a big deal. You can be creative and use different cookie cutter shapes for different looks. Think of how cute little heart shapes would look on this pie:)
Now Let's talk about the Dreamy Filling:
It all starts with blueberries, which are round, perfect, and beautiful in their own right. This recipe emphasizes the wonder of this incredible berry. I sometimes find that the simplest recipes highlight the natural exquisiteness of the berries themselves. I sweeten this pie crisp with some apple fruit juice concentrate along with some maple syrup (I live in New England after all). A little allspice and a dash of salt add to the flavor of this dessert. I use corn or tapioca starch to thicken our filling, which gives it that beautiful blueberry sauce-consistency that always has me coming back for more.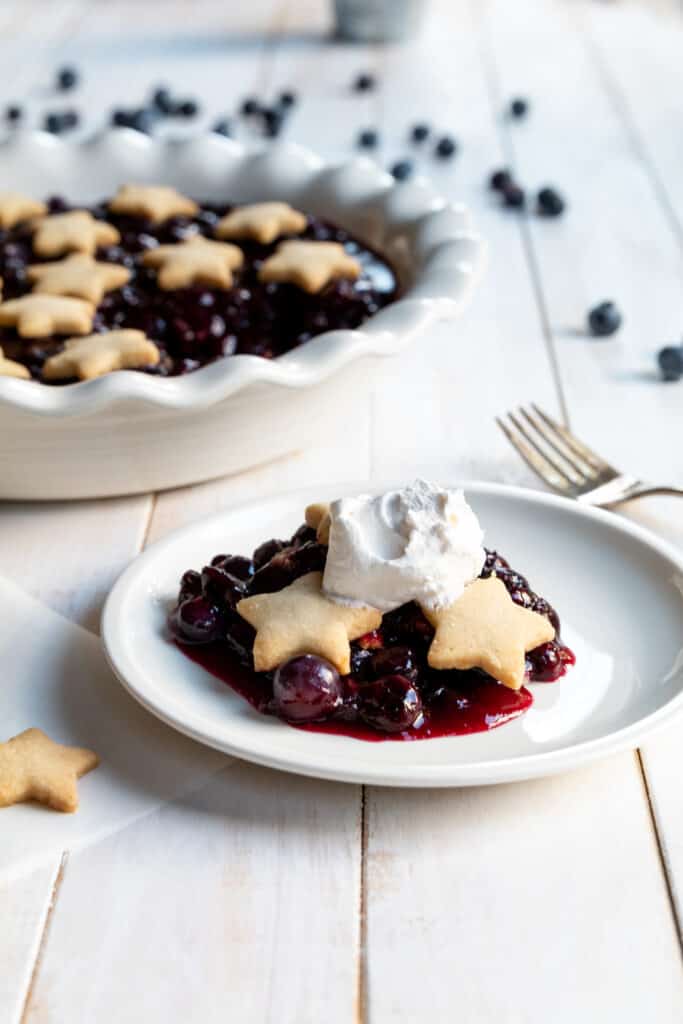 Put It All Together:
Once you have baked the crust and cooked the filling, you simply pour the dreamy filling into the flaky crust and then top the pie crips with those adorable pie crust stars. The flavor, consistency, and beauty make this hands-down one of my favorite summer dessert recipes ever.
I hope you enjoy this Blueberry Pie Crisp (Vegan) recipe as much as I do. As a side note, if you have any leftovers, it makes a fantastic breakfast treat to start your morning off the next day:)
Click Here to Watch me Make this Recipe on YouTube!
Print
Blueberry Pie Crisp (Vegan)
This recipe is probably one of my all-time favorite blueberry recipes. It has everything you want in a pie and everything you want in a crisp, a blueberry dream come true.
Author:
Yield:

1

–

9

inch Blueberry Pie Crisp

1

x
Crust:
1 1/2 cups

flour

1/2 teaspoon

salt

8 tablespoons

coconut oil

1 teaspoon

fresh lemon juice

Ice water as needed
Filling:
1/2 cup

frozen 100% apple juice concentrate

1/3 cup

maple syrup

1 tablespoon

lemon juice

1/4 teaspoon

allspice

1

pinch of salt (optional)

4 cups

frozen blueberries

2 tablespoons

corn starch or tapioca (see note below) dissolved in 1 tablespoon water
Instructions
Crust:
In a food processor, add flour and salt, pulse to mix.

Next add coconut oil and lemon juice, pulse until mixture resembles crumbs.

Add ice water, one tablespoon at a time, until the mixture sticks together when pressed. Should be fairly dry. If the dough gets too wet, harden in fridge for 5-10 minutes.

Divide the dough in two.

Roll out half the dough and place in the bottom of a pie pan.

Use a fork to poke a few holes in the crust, and cover with parchment paper.

Add pie weights or baking beans.

Bake at 350F for 30 minutes.

Remove pie weights and bake an additional 10 minutes. Let pie crust cool slightly.

With the second half of the pie dough, roll out and cut into little stars.

Bake at 350 for 10 minutes. Let cool.

Set aside to be used for decorations.
Filling:
In a sauce pan, combine apple juice concentrate, maple syrup, lemon juice, allspice, and a pinch of salt.

Bring to a simmer.

Add frozen blueberries. Stir to combine.

Let simmer for about 2 minutes.

Add corn or tapioca starch (dissolved in 1 tablespoon of water)

Stir to combine. The mixture should thicken quickly.

Pour into prepared pie pan.

Let sit to cool for a couple of hours.

Decorate with pie crust stars.

Serve with vegan whipped cream or ice cream.
Notes
Tapioca vs. corn starch: Either of these starches thicken the filling, but the result is slightly different. The tapioca creates a slightly looser texture, which I actually really like in this recipe.  If you have both at hand, and feel adventurous, I would recommend you try tapioca first. I do not think you will be disappointed.
Looking for more Vegan Dessert Recipes?