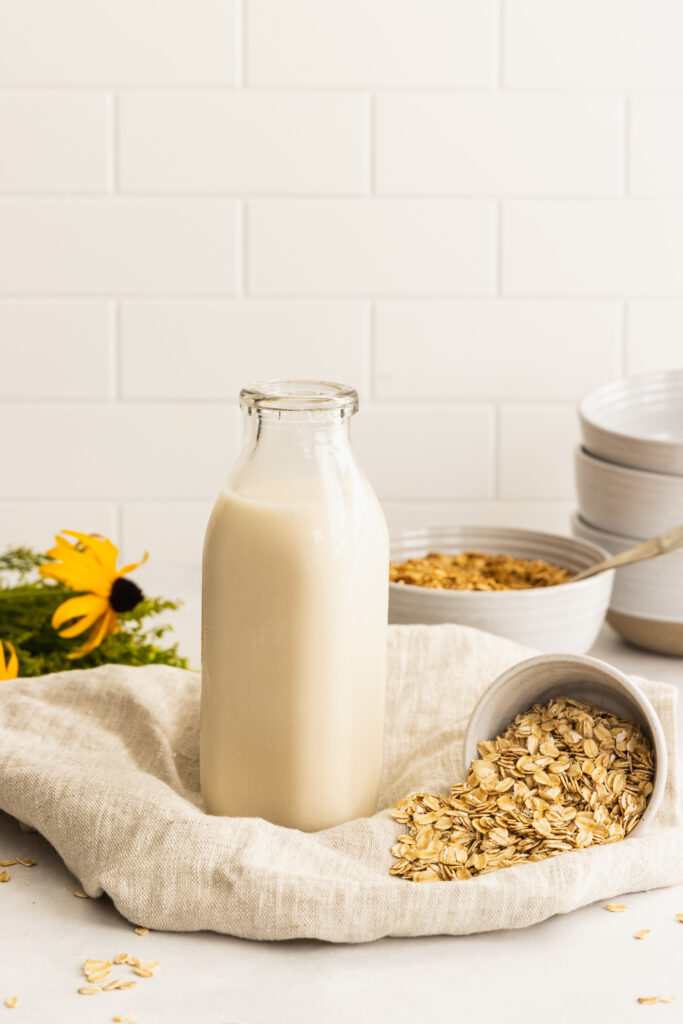 Today we are making fresh homemade oat milk—one of the quickest, cheapest, and most delicious types of plant-based milk. I have been drinking oat milk since I was a kid. My favorite brand was a Norwegian brand that I would get when visiting grandma. But when I learned to make it myself, I was delighted to find that fresh oat milk reminds me of my childhood milk.
Let's Talk Oat Milk Ingredients:
Oats:
Use organic rolled oats if at all possible. Organic means they use less harmful chemical pesticides, and since we do not want that in our milk, it is best to use organic.
Ice-cold Water:
A critical step when making oat milk is to keep the water very cold. If you live in New England, this is probably not a problem most of the year, but if you live in an area where the water is lukewarm, it may be useful to use some ice.
Optional Ingredients:
Optional ingredients are a pinch of salt, a little vanilla, and a touch of sweetness. See the recipe for details.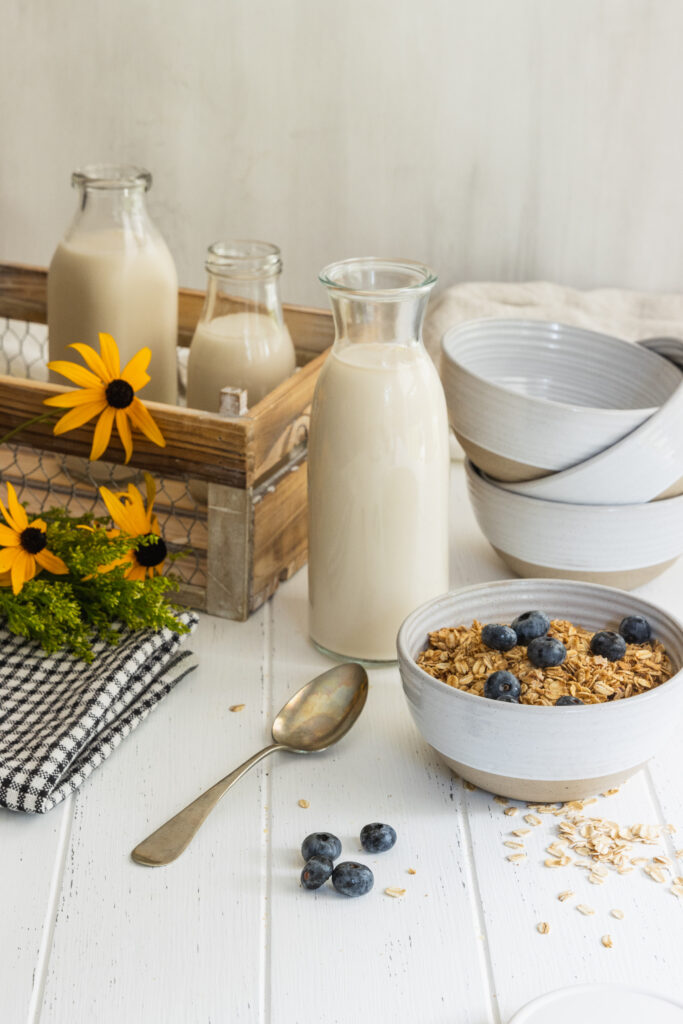 Things to remember when making oat milk:
As I have mentioned already, be sure to start with ice-cold water. This step is important for the consistency of the milk. It can get a little "slimy", for lack of a better word if the water is not cold.
There is no need to soak the oats, which is a great benefit compared to the various nut milk versions that require soaking.
The next important step to remember is to not over blend. Because of the friction, the milk can easily heat up when blended, creating a very different final product. I would recommend you blend only 35-45 seconds. You want the milk to remain cold.
The final thing to remember is to strain the milk through a nut milk bag very gently. You do not want to squeeze; just let the milk run through and gently press to get all the milk out.
It has been our experience that oat milk requires a different type of bag. We would highly recommend you get this particular bag; it works so well. It makes the milk making-process so easy. Click Here for the Nut Milk Bag I use on Amazon. (If you click on the link and purchase something, I earn a small commission and it doesn't cost you any more)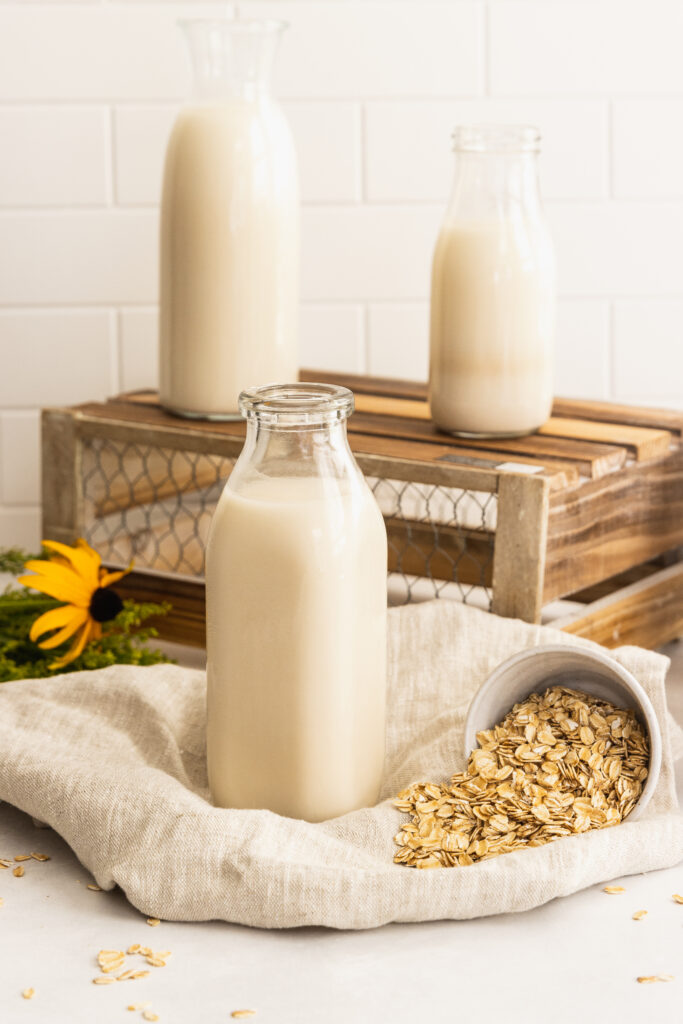 Special Equipment:
Blender:
You need a good blender to make oat milk. 
Nut Bag or Fine Mesh Sieve:
You need a tool to strain the milk.  We use this particular nut milk bag, it is worth the investment, but you can also use a sieve with a fine mesh.  Click Here for the Nut Milk Bag I use on Amazon.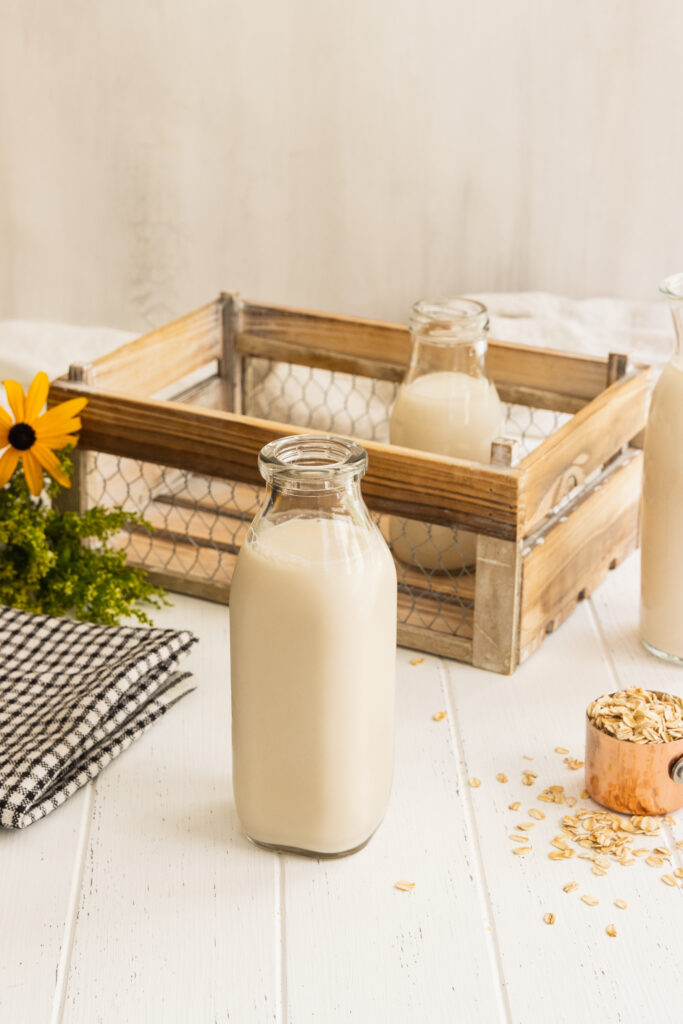 Storing Oat Milk:
Homemade oat milk separates when stored. It is therefore important to stir before serving. We like to store ours in mason jars with lids to easily shake the milk before serving.
Click Here to Watch Me Make this Recipe on YouTube!
Print
Fresh Homemade Oat Milk | Plant-Based, Vegan
3 1/2 cups

water (cold water)

1 cup

ice

1 cup

organic rolled oats

1/8 teaspoon

salt

1/2 teaspoon

vanilla
Optional ingredient:  
1

–

3

teaspoons maple syrup
Instructions
In a high power blender, add water and ice.  It is crucial to keep the water cold.
Next, add oats (do not soak).
Add salt, vanilla, and maple syrup if desired.
Blend on high for 35-45 seconds.  Be sure the milk stays cold.  If the milk heats up, it changes consistency.
Strain the milk.  We have found that some of the cloth nut bags do not work well for oat milk.  The bag gets easily clogged.  We would therefore recommend this particular nut bag or a very fine sieve.  It is also important not to squeeze the nut bag.  Just let the milk run through, gently push out the water.  The remaining pulp can be used in recipes such as oat waffles, muffins, etc.
We like to store our milk in mason jars with lids.  It makes it very easy to shake before using.  Oat milk separates, so it is essential to stir before serving.  Store in the fridge.
(Read my affiliate discloser here.)