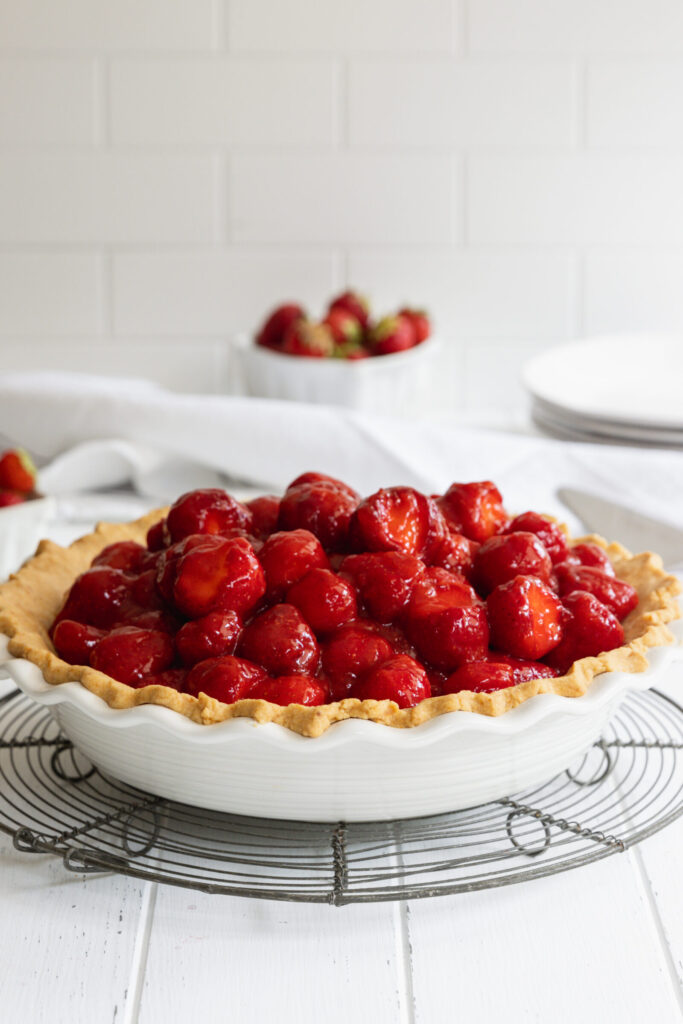 When Fresh Strawberry Pie is on the menu, it is a happy day in our home. A tender, flakey coconut oil crust filled to the brim with beautiful red, ripe, fresh strawberries covered with strawberry sauce and vegan whipped cream. It does not get much better than this in the dessert world. Strawberry season is short in New England, but we are in the midst of it right now. It comes a bit later this far north, but we take full advantage of the season. We have several pick-your-own strawberry farms near us, which is a fun thing to do; besides, the fresh berries are so sweet and wonderful.
It's a perfect time to make a fresh strawberry pie, especially with the 4th of July right around the corner.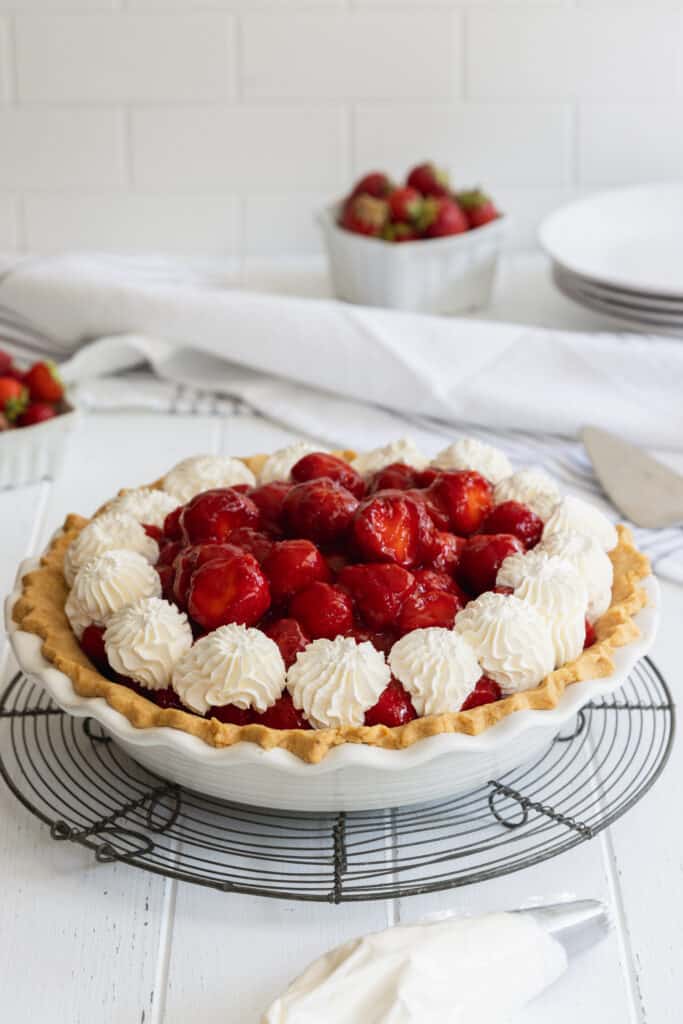 We have been picking strawberries in the summer since I was a little girl. I think I began picking strawberries as a toddler while on summer vacations in Norway. The European strawberry is actually smaller than the American variety and slightly sweeter, whereas the American strawberry is larger and hardier. My grandmother would mash the fresh sweet strawberries with a fork, add a little sugar and serve this fresh and simple jam on toasted bread. It was delicious! And of course, you had to eat it outside; that way, it wouldn't even matter if you spilled the strawberries, and the fresh air makes everything taste better. It still brings up very fond memories.
We have continued this tradition here in America. We pick strawberries as often as we can, drag the whole family along, and I am so pleased to see that many families do the same thing. So look for a "pick-your-own" strawberry farm near you and start a new family tradition.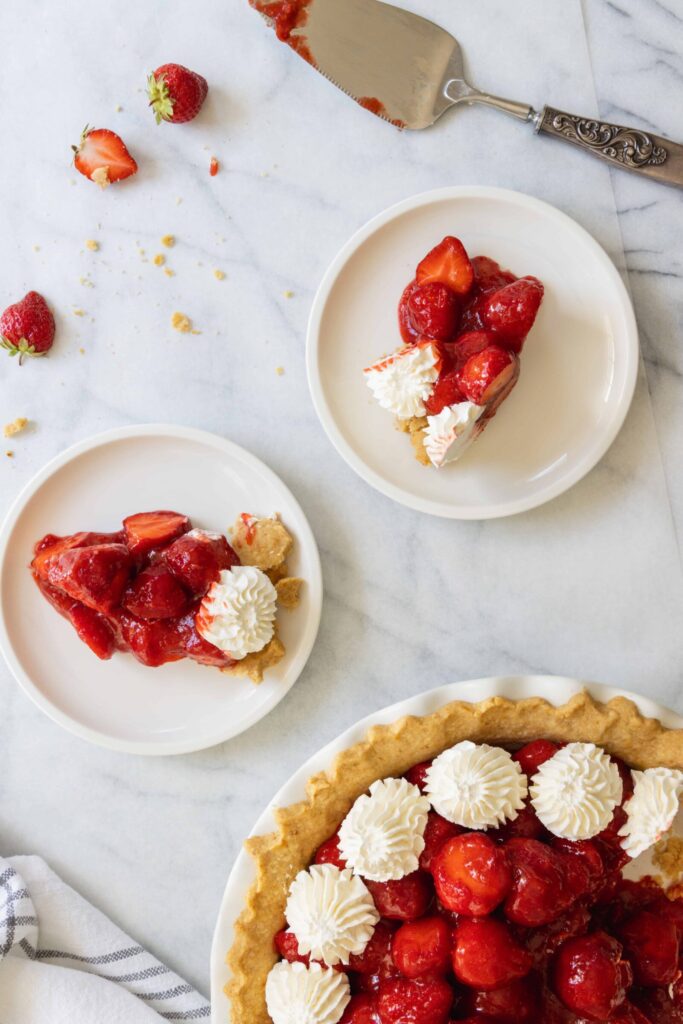 Let's talk Fresh Strawberry Pie Ingredients:
Strawberries:
Strawberries are a tremendous berry. Did you know that strawberries have the most significant antioxidant capacity of any fruit? (Tufts University, Boston). Or that they are among the fruits with the lowest calorie content? It is a tremendous berry to add to the diet for many reasons. Nowadays, we can find strawberries in the grocery store at any time of year, and I, for one, am grateful that we have the ability to get strawberries all year long, but let me be perfectly clear, the strawberries in the store do not taste the same as those you pick right from the garden. That's why we take full advantage of the strawberry season, and this is the time we make Fresh Strawberry Pie.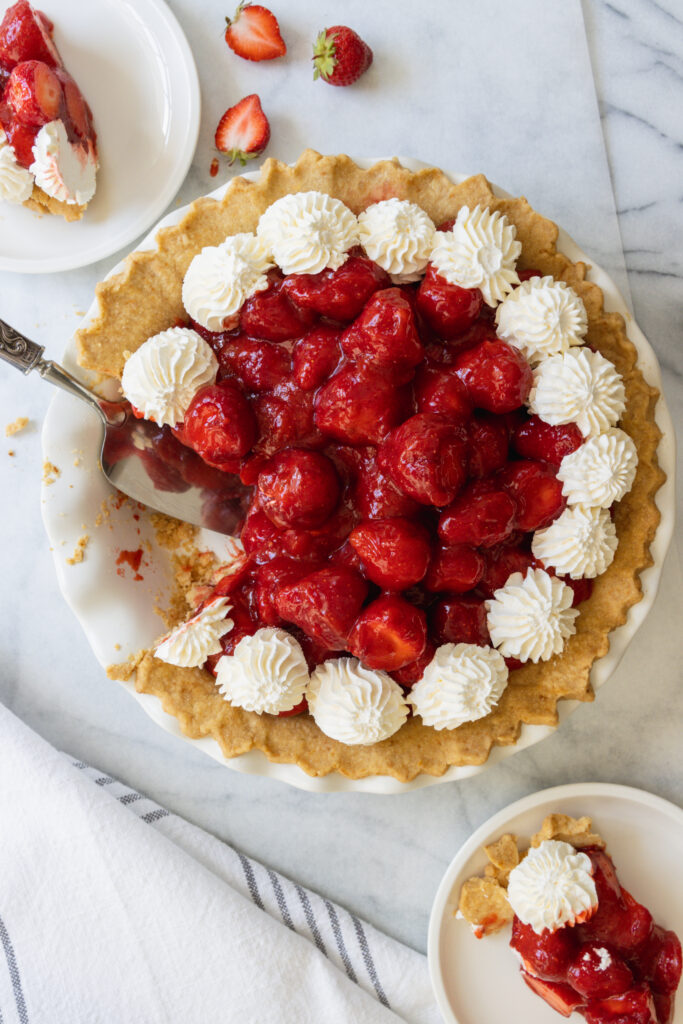 Coconut Oil Pie Crust:
If you have a pie crust you like, you may want to stick with yours and add the filling. I prefer this coconut oil pie crust. It is one of my absolute favorite pie crusts, but there are a couple of things to remember when making a pie crust with coconut oil.
It is quite tender and a little dainty. I don't mind it because the result is worth it, but it is a little trickier to handle. I roll out the pie dough between two pieces of cling wrap, which makes it easier to move (see my video).
Do not grease the pie pan, and be sure the pie crust edges reach the top of the pie pan so the sides do not slide down.
Another thing to remember with a coconut pie crust is that it needs to be served at room temperature. It hardens in the fridge, and you do not get that flakey, tender, wonderful pie crust taste. So be sure to put it out on the counter a couple of hours before serving.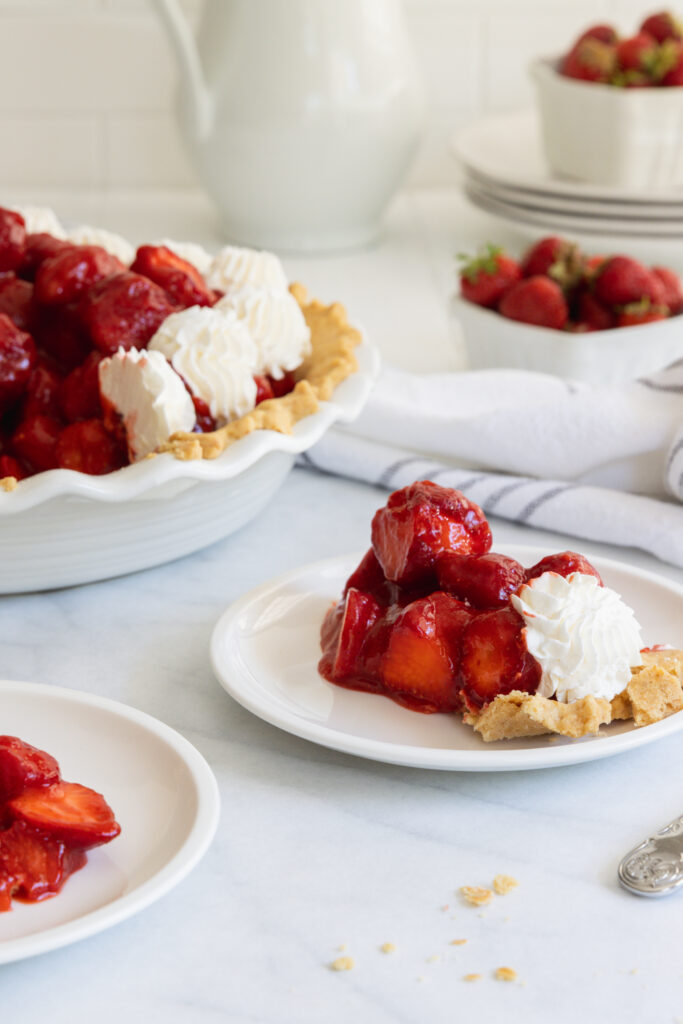 Strawberry Sauce:
We traditionally make our strawberry sauce by blending fresh strawberries with a few simple ingredients and then thickening it with a little corn starch (see recipe for details). But if you are short of fresh strawberries, you could use frozen berries for the strawberry sauce.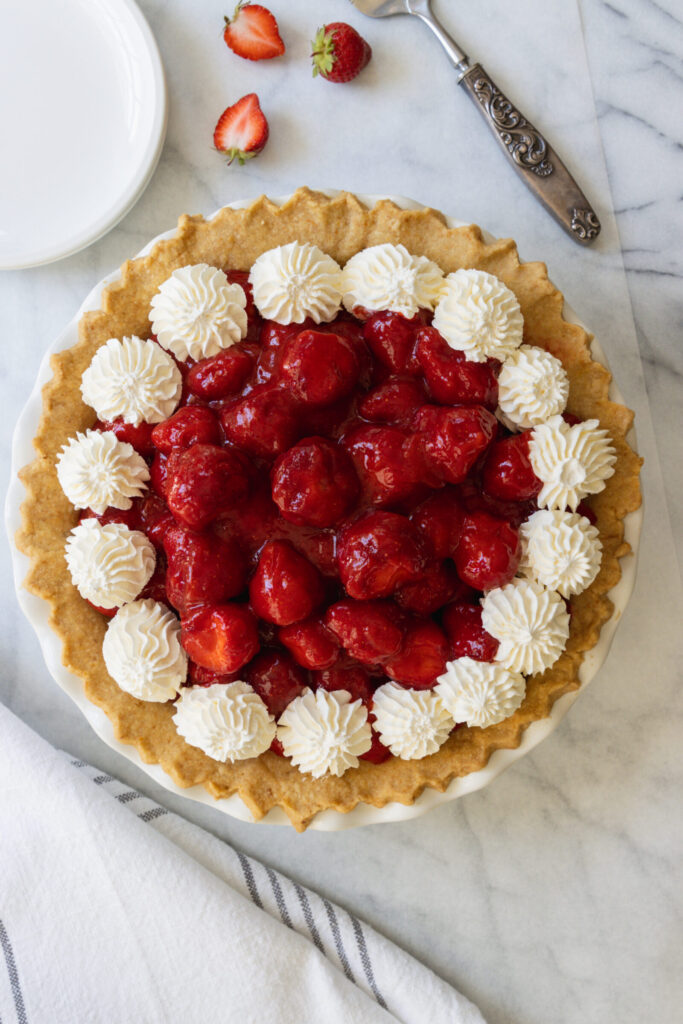 This is by far one of our favorite pie recipes. It is a wonderful summer dessert. I hope you and your family enjoy this fresh strawberry pie as much as we do.
Click Here to Watch Me Make this Fresh Strawberry Pie Recipe on YouTube!
Print
Fresh Strawberry Pie
Filling:
2 quarts

fresh strawberries
Strawberry Sauce:
1 quart

strawberries, blended

1/2 cup

natural cane sugar

1

lime, juice only

1 teaspoon

vanilla bean paste (or vanilla extract)

3 tablespoons

corn starch + 2 tablespoons water (slurry)
pinch of salt
Crust:
1 1/2 cups

flour

1/2 teaspoon

salt

1/2 cup

coconut oil

1 teaspoon

fresh lemon juice
Ice water as needed
Garnish:
Instructions
Pie Crust:
Preheat oven to 350F
Start by making the pie crust.
In a food processor, add flour and salt, pulse to mix.
Next, add coconut oil and lemon juice, pulsing until the mixture resembles crumbs.
Add ice water, one tablespoon at a time, until the mixture sticks together when pressed. If the dough gets too wet, harden in the fridge for 5-10 minutes.
Roll out the dough between two layers of cling wrap.  
Carefully peel off one layer of cling wrap, flip into an 9-inch ungreased pie tin.  Be sure the dough reaches the pie tin's edges (to prevent it from sliding down the sides).  Pinch the edges if desired and prick the dough with a fork.  
Add a piece of parchment paper to the bottom of the pie tin (on top of the dough) and add pie weights or baking beans to keep it from puffing while baking.  
Bake pie crust at 350F for 30 minutes with pie weights and parchment paper.  Remove pie weights and bake for an additional 10 minutes.  Let the pie crust cool.  
Next, make the strawberry sauce:
In a blender, add 1 quart fresh strawberries, juice of one lime, and blend until smooth.  Pour the mixture into a medium-size saucepan.  Add sugar, vanilla bean paste, salt, and bring to a simmer.  Let simmer for 4 minutes.  
Make a slurry with corn starch and water.  Corn starch tends to settle to the bottom very quickly, so stir right before adding to the strawberry mixture.  Stir the strawberry mixture while adding the slurry to prevent it from lumping.  Simmer for two more minutes.  Set aside to cool.  
Assembling the pie:
In a large bowl, add 2 quarts of fresh strawberries.  Pour in the cooled strawberry sauce and stir to combine.  
Next, spoon the fresh strawberry mixture into the cooled pie crust. Garnish with vegan whipped topping if desired.  (For the whipped topping, we used Rich's Whip Topping Base, a non-dairy topping. Silk whipping cream is another good option).