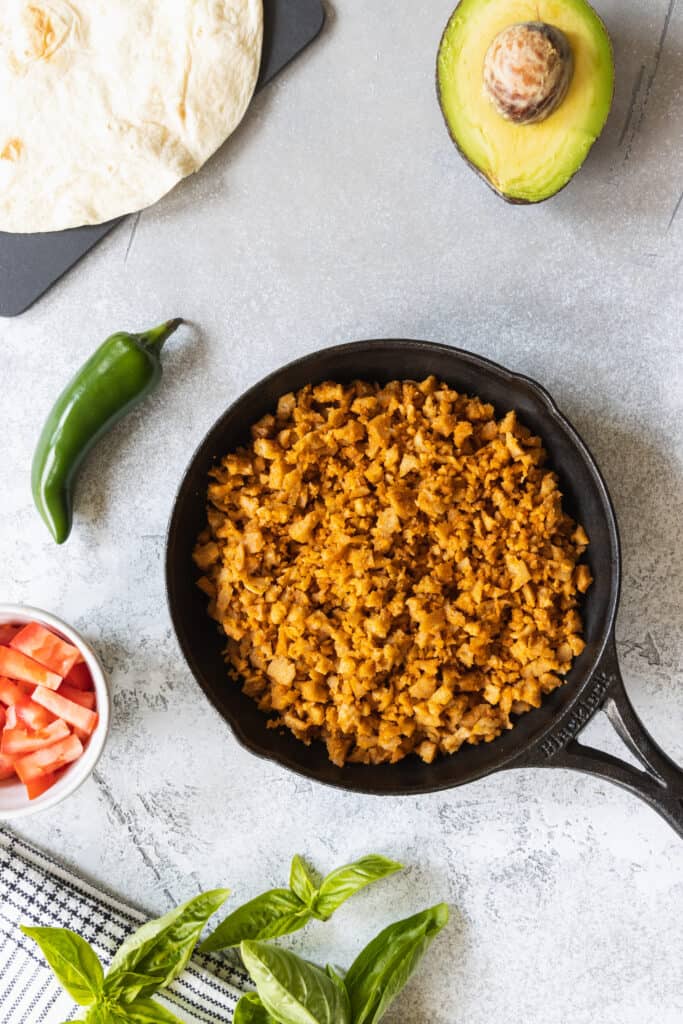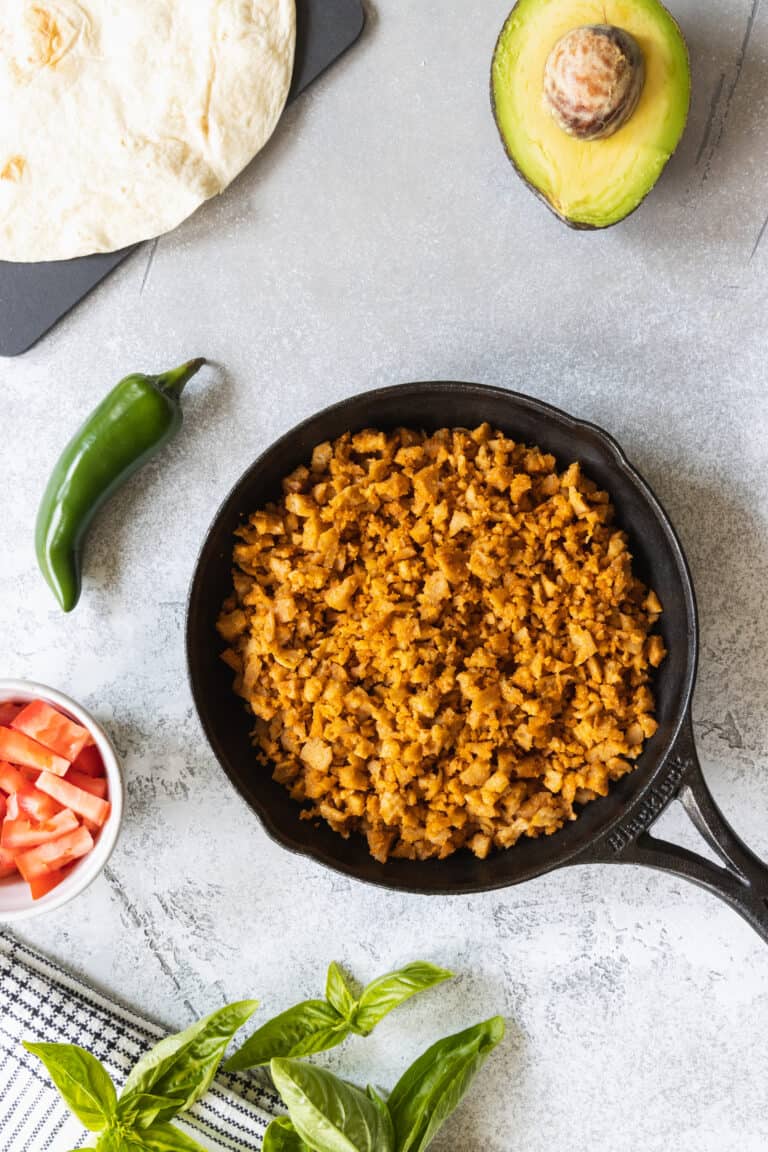 Meatless Crumbles is one of those recipes that you can use to enhance many different dishes. And with only four ingredients, Meatless Crumbles are super simple to make and can quickly transform the ordinary dish into an extraordinary one.  
One of my favorite things about the meatless crumbles is that they freeze unbelievably well. I like to keep plenty in my freezer, ready to add to recipes when it is needed.
Add these crumbles to lasagna, tacos, pizza, burritos and various pasta sauces. The options are limitless. We have kept the flavor of these crumbles mild so that you can customize the taste to your liking.
Only 4 Ingredients!!! Let's Talk Meat Crumble Ingredients!
Vital Wheat Gluten:
Vital Wheat Gluten is a fantastic ingredient in making mock meat. It is almost tasteless, which gives you a lot of options for flavor combinations. It is fun to experiment with different herbs and spices. I like Bob's Red Mill brand, which you can find in the health food section of most grocery stores, but I also buy Vital Wheat Gluten in bulk. I found a wonderful option on Amazon. Vital Wheat Gluten stores well, which makes it easy to have on hand when you want to make a meat substitute of any kind.
All-Purpose Flour:
In this recipe, we have found that adding a little all-purpose flour improves the consistency and flavor of the meat crumbles.
Vegetable stock:
We like to use vegetable stock as the liquid for this recipe. This is because it adds a nice round flavor to the recipe. You can substitute the vegetable stock with water and add in a little vegetable bouillon if you prefer, but vegetable stock makes it really easy.  
Braggs Liquid Aminos:
Braggs Liquid Aminos is a soy sauce alternative, which you can find in the health food section of most grocery stores.
How to Store Meatless Crumbles:
The Meatless Crumbles can be stored in the fridge for a few days or in the freezer for several months. That way, they are ready to go when you want to add them to a recipe.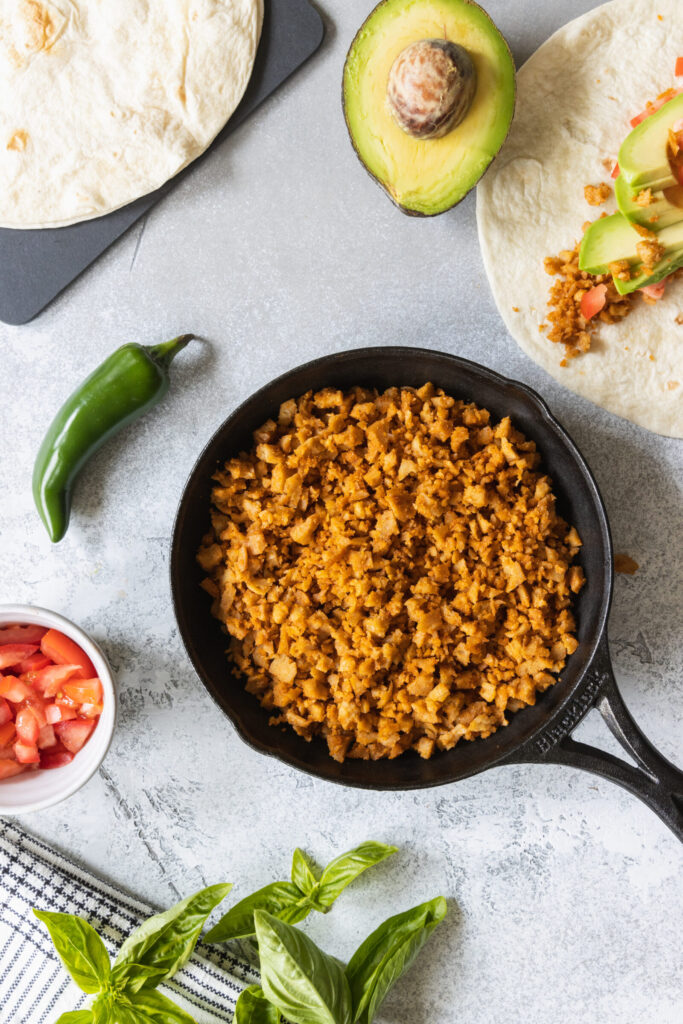 Click Here to Watch Me Make this Recipe on YouTube!
Print
Meatless Crumbles | Plant-based, Vegan
3/4 cup

Vital Wheat Gluten

2 tablespoons

all-purpose flour

1 tablespoon

Braggs Liquid Aminos

1/2 cup

vegetable stock
Instructions
In a large bowl, stir together vital wheat gluten and flour.
Make a well in the center and add the vegetable stock and Braggs Liquid Aminos.  Stir to combine.
Knead for a couple of minutes by hand.
Spray a piece of cheesecloth with oil.  Wrap the dough tightly into a roll, and tie the ends with a string.  Set aside and let rest.
In a large stockpot add a steamer basket, fill the pot with water until it reaches the steamer basket.  Bring to a boil.
Place the wrapped dough in the steamer basket, cover with lid, and reduce heat to a simmer.  Let simmer for 45 minutes.  Check midways to make sure there is water in the bottom of the pot.
Remove from basket and let cool before unwrapping.
I like to crumble my substitute meat in a food processor; it is done in less than a minute.
Store covered in the fridge for a few days or in the freezer for several months.  Before freezing, divide into the right size portions for your family, making it easy to add to the various dishes you may like to enhance.