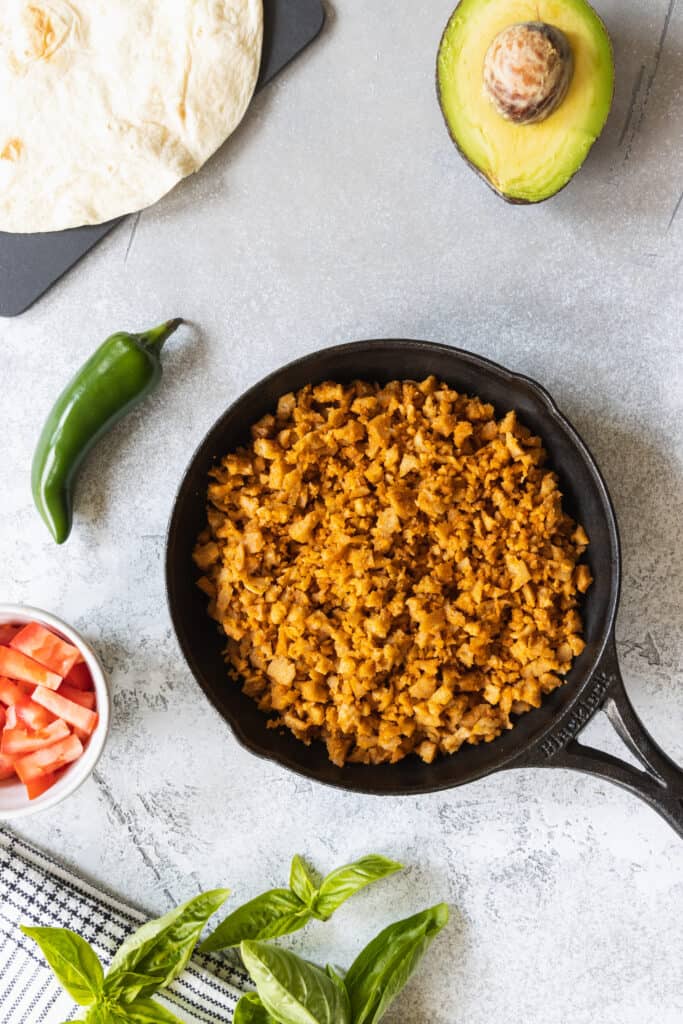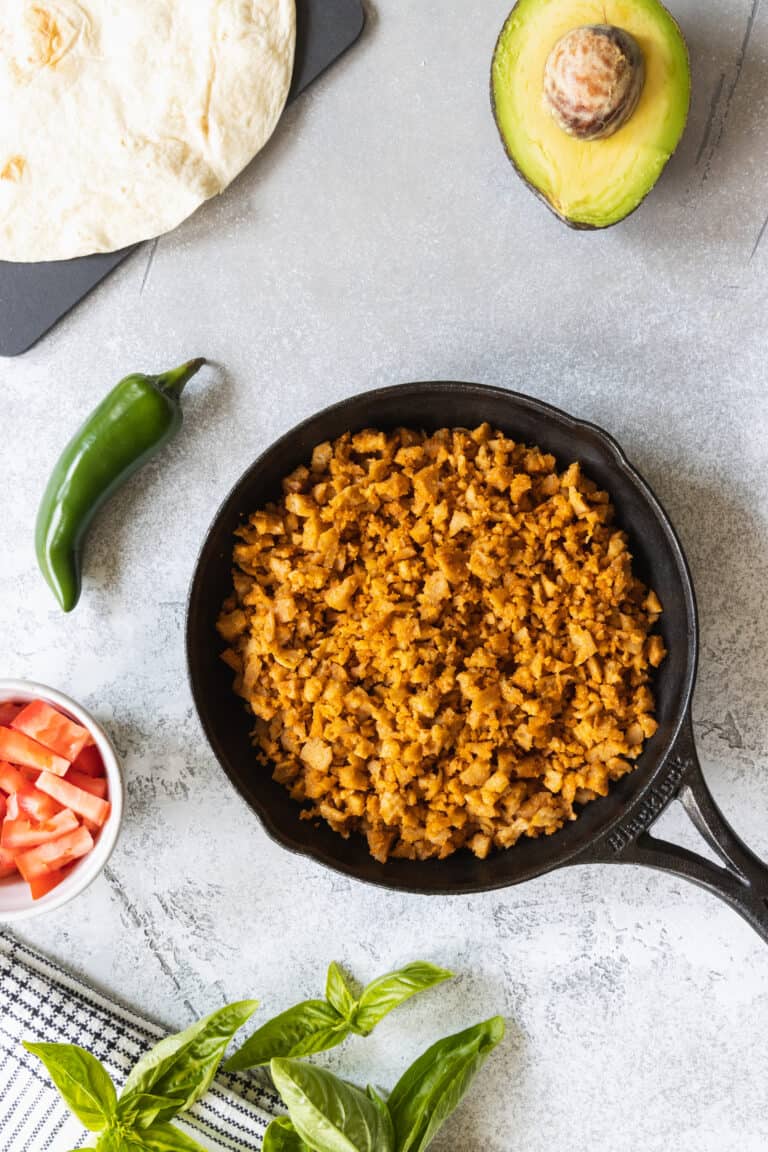 Meatless Crumbles is one of those recipes that you can use to enhance many different dishes. And with only four ingredients, Meatless Crumbles are super simple to make and can quickly transform the ordinary dish into an extraordinary one.
One of my favorite things about the meatless crumbles is that they freeze unbelievably well. I like to keep plenty in my freezer, ready to add to recipes when it is needed.
Add these crumbles to lasagna, tacos, pizza, burritos and various pasta sauces. The options are limitless. We have kept the flavor of these crumbles mild so that you can customize the taste to your liking.
Do Meatless Crumbles Recipes Taste Different?
These meatless crumbles do taste different from meat, but the main reason is because we kept the flavoring very subtle. This allows you to customize the seasoning to whatever flavor profile you desire.

The Bragg's Liquid Aminos (more on this ingredient later) does add a bit of rich flavor, though. You can experiment with other ingredients that sounds tasty to achieve the exact flavors you want.

You can also season this recipe if you or someone in the house really wants a meaty flavor.

I like to use herbs such as parsley, rosemary, and thyme for recipes that would normally use chicken or pork. For beef, try adding paprika and cumin.

Basically, these crumbles have a bit of that rich umami flavor you normally find in meat. You can enjoy it just the way we make it, or amp up the seasonings however you like.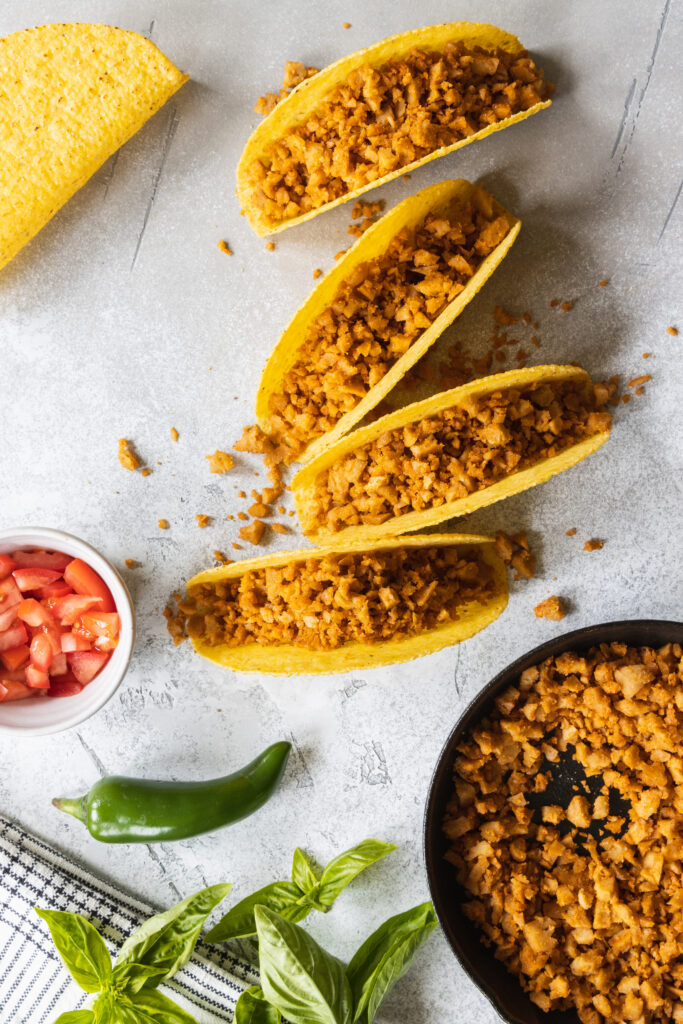 Only 4 Ingredients!!! Let's Talk Meat Crumble Ingredients!
Vital Wheat Gluten:
Vital Wheat Gluten is a fantastic ingredient in making mock meat. It is almost tasteless, which gives you a lot of options for flavor combinations. It is fun to experiment with different herbs and spices. I like Bob's Red Mill brand, which you can find in the health food section of most grocery stores, but I also buy Vital Wheat Gluten in bulk. I found a wonderful option on Amazon. Vital Wheat Gluten stores well, which makes it easy to have on hand when you want to make a meat substitute of any kind.
All-Purpose Flour:
In this recipe, we have found that adding a little all-purpose flour improves the consistency and flavor of the meat crumbles.
Vegetable stock:
We like to use vegetable stock as the liquid for this recipe. This is because it adds a nice round flavor to the recipe. You can substitute the vegetable stock with water and add in a little vegetable bouillon if you prefer, but vegetable stock makes it really easy.
Braggs Liquid Aminos:
Braggs Liquid Aminos is a soy sauce alternative, which you can find in the health food section of most grocery stores.
Substitutions to Make this Recipe Gluten Free
Making these crumbles gluten-free is super easy. Half of the ingredients (Braggs Liquid Aminos and the vegetable stock) are already gluten free.

I recommend replacing the vital wheat gluten and all-purpose flour with chopped walnuts or chopped soy curls. Gluten-free, vegan, and delicious meatless crumbles.
Equipment You'll Need for This Recipe
To make these meatless crumbles, you'll need:
Large bowl
Cheesecloth
String or baker's twine
Large stockpot and lid
Steamer basket
Food processor (optional)

If you don't have a food processor, you can do the crumbling with your hands or a handheld mixer. I just love the food processor because it creates the crumbles in less than a minute!
How to Store Meatless Crumbles:
The Meatless Crumbles can be stored in the fridge for a few days or in the freezer for several months. That way, they are ready to go when you want to add them to a recipe.
Seasoning Ideas for These Crumbles, AKA Vegan Ground Beef
You can take these crumbles in so many different directions! Here are just a few flavor profiles I like.

Asian seasoning ideas:

Mexican seasoning ideas:
Cumin
Chili Powder
Garlic
Mexican Oregano

Italian seasoning ideas:
Italian Herb Mix
Oregano
Rosemary
Marjoram

Comfort food seasoning ideas:
Garlic
Onion Powder
Celery Salt
Paprika

Mediterranean seasoning ideas:
Don't feel the need to limit yourself to just these lists. I don't follow these to the letter when I cook, either. Think of these not as rules, but as ideas and inspirations to launch your own delicious meals.
Are Vegan Crumbles Healthy?
Vegan crumbles are somewhat healthy. It depends on how you look at it. Compare two sloppy joes: one made with meatless crumbles, and one made with 80/20 ground beef. The vegan option won't have the grease or saturated fat of the beef version.

At the same time, all-purpose flour doesn't have a high nutritional value. You can also make this with whole wheat or chickpea flour for meatless crumbles which are healthier and higher in protein.

If you want to dial in making the healthiest, most nutritiously dense crumbles possible, feel free to experiment!
Why Isn't Soy Sauce Vegan?
Soy sauce isn't vegan because some producers add meat- or fish-derived flavor enhancements.

Liquid aminos are naturally soy- and gluten-free. Finally, they don't contain the same preservatives found in soy sauce. (1)

All in all, I find there are only upsides to using liquid aminos in place of soy sauce.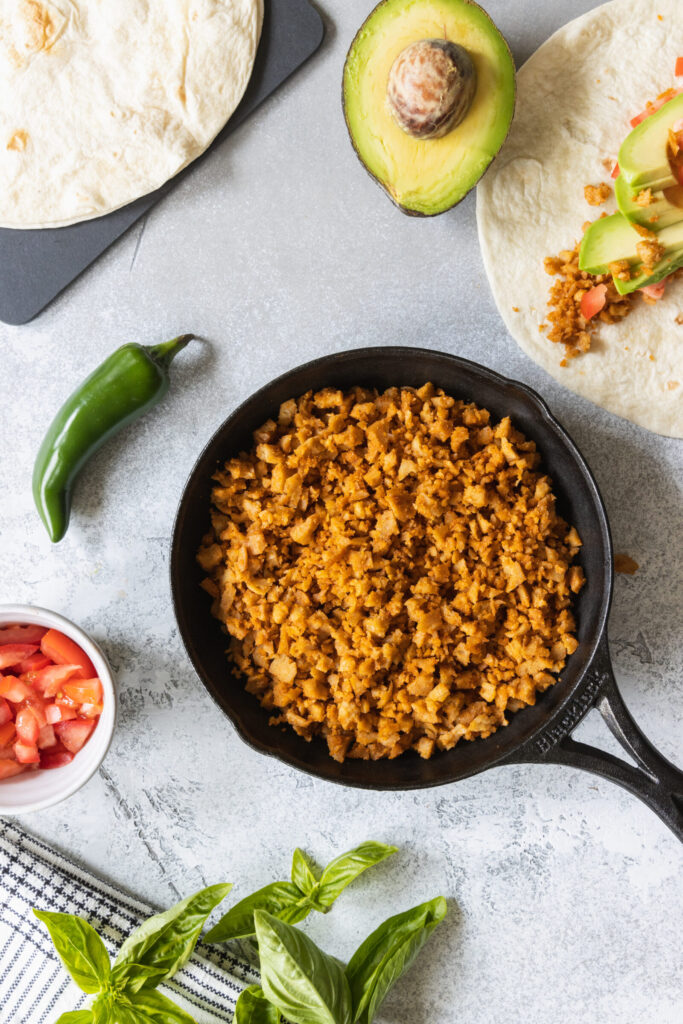 Click Here to Watch Me Make this Recipe on YouTube!
Delicious Ways to Use These Meatless Crumbles
One of the best things about these meatless crumbles is how versatile they are! You can use them in as many dishes as you can imagine.

For an Asian-inspired meal, use these to top a bowl of stir-fried veggies. The crumbles also make a good base for lettuce cup filling. With some water chestnuts and ginger, you've got a healthy lunch or dinner.

Craving classic comfort food? Use the crumbles with sauce for sloppy joe filling. You can also add them to your favorite chili recipe. Finally, these are delicious as part of the filling for stuffed bell peppers or even shepherd's pie.

With a bit of cumin and chili powder, you can make almost any Mexican or Latin dish. You can start simple by using the crumbles as taco or burrito filling. You can even make vegan nachos if you're feeling ambitious.

These are just a few ideas I've had for meatless crumbles. Leave a comment if you've used these in a dish. I would love to see what you come up with!
Storing and Reheating Meatless Crumbles
As I mentioned above, these crumbles will last for a few days in your fridge or a few months in your freezer. You can store them in quite a few different ways—it just depends on your space.

One option is splitting the cooked crumbles into several different zip bags (I love the reusable options you can find online now!) and storing them flat. Depending on the shape of your fridge and freezer, this "flat-pack" method can save loads of space.

You can also store them in a reusable container, of course. I personally like to use containers if I'll be reheating from the fridge. I can pop the container right into the microwave, or add the crumbles straight into whatever I'm cooking.

Which brings us to reheating! The most important thing to remember is that your crumbles can dry out fast. For that reason, I usually don't reheat my crumbles before adding them to a dish. Whether I'm making pasta sauce or chili, I like to add them straight from the fridge.

If the crumbles are most of what you're eating, though, I suggest adding them to a pan on low heat for a few minutes. This works for taco filling and other meals where the components stay separate until the moment you eat.
References:

1. Healthline, What are Liquid Aminos, and Can They Benefit Your Health?
https://www.healthline.com/nutrition/liquid-aminos-benefits 
Print
Meatless Crumbles | Plant-based, Vegan
3/4 cup

Vital Wheat Gluten

2 tablespoons

all-purpose flour

1 tablespoon

Braggs Liquid Aminos

1/2 cup

vegetable stock
Instructions
In a large bowl, stir together vital wheat gluten and flour.
Make a well in the center and add the vegetable stock and Braggs Liquid Aminos.  Stir to combine.
Knead for a couple of minutes by hand.
Spray a piece of cheesecloth with oil.  Wrap the dough tightly into a roll, and tie the ends with a string.  Set aside and let rest.
In a large stockpot add a steamer basket, fill the pot with water until it reaches the steamer basket.  Bring to a boil.
Place the wrapped dough in the steamer basket, cover with lid, and reduce heat to a simmer.  Let simmer for 45 minutes.  Check midways to make sure there is water in the bottom of the pot.
Remove from basket and let cool before unwrapping.
I like to crumble my substitute meat in a food processor; it is done in less than a minute.
Store covered in the fridge for a few days or in the freezer for several months.  Before freezing, divide into the right size portions for your family, making it easy to add to the various dishes you may like to enhance.