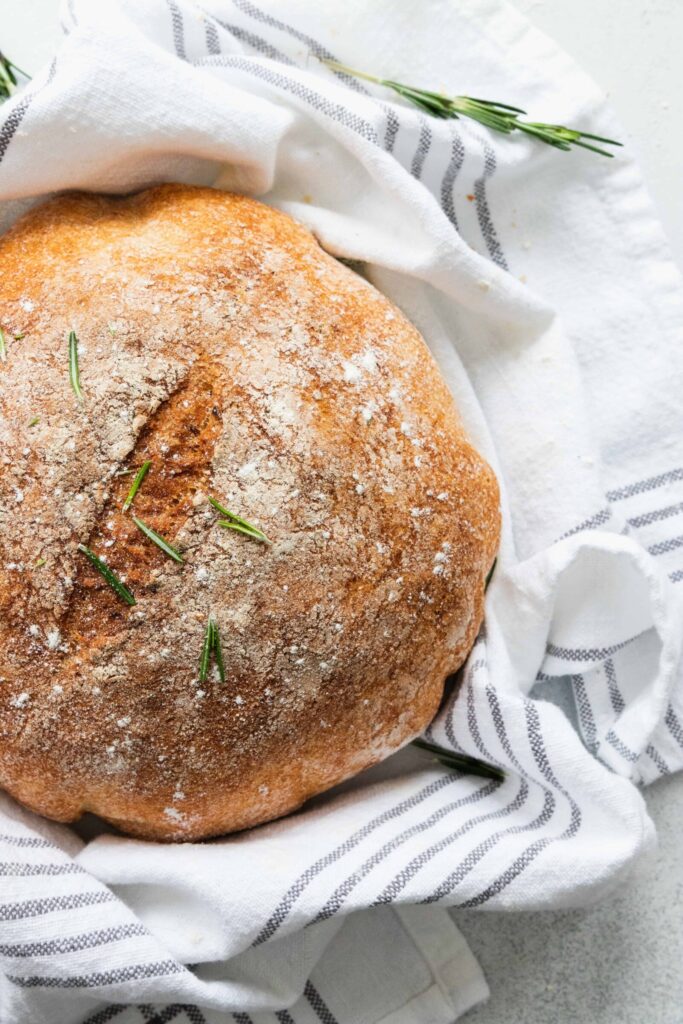 I love bread, especially European crusted bread, and then when you add roasted garlic and a hint of fresh rosemary to the mix, it just can't get much better. This Quick and Easy Roasted Garlic & Fresh Rosemary Dutch Oven Bread is one of our favorite bread recipes. And if you give this a try, I am relatively confident that it will be yours also.
This bread takes about two and a half hours to make, not bad for a crusted European-like bread. And let me assure you, it is so worth it, the wonderful crusty outside and the moist delicious inside is a real winner.
One of my most cherished childhood memories is going to the store for fresh bread in the early morning hours while visiting Norway. There was nothing quite like that crusty Norwegian bread until we discovered, many years ago, that cooking bread in a Dutch Oven will give you that same wonderful crust. Since then, we have made many different recipes using the Dutch Oven. There is a no-knead overnight bread recipe on my website that we highly recommend, but if you like roasted garlic and rosemary, it is hard to beat the bread we are making today.
Our favorite thing about this bread is that it freezes well. We usually slice the bread before we freeze it, so it is ready to pop in the toaster for an easy snack. Sometimes we freeze the whole bread and reheat it before serving, especially when using it as a dinner side dish for a meal.
Whole Wheat Flour vs. White Flour in this Bread:
In today's society, we know that whole grain is much better for us than processed flour. White flour does not contain the fiber or nutrients that whole grain flour does. It is therefore important to incorporate as much whole wheat flour into the diet as possible. I have a wonderful 100% whole wheat bread on my website that I would highly recommend. Today, we have chosen to mix the flour half and half, making a delicious loaf of bread slightly lighter in texture. You can use 100% whole wheat flour in this bread, but it will be a denser loaf of bread, so I would suggest that you start with half & half and then go from there.
The Roasted Garlic & Fresh Rosemary Bread Flavor:
We build flavor by roasting garlic and adding fresh rosemary and a little salt. This is a tremendous flavor combination and creates such a fantastic savory bread. Use a whole bulb of garlic, cut off the top, sprinkle with a little olive oil, wrap in foil, and bake at 400F for 30 minutes. This totally changes the garlic's flavor, creating a gourmet taste that is fantastic in bread. Remove cloves from the peel, chop, and cut into the flour before adding liquid. The fresh rosemary can be added as is or chopped to distribute better through the bread. Should you not have access to either fresh garlic or fresh rosemary, you can, in a pinch, use dried, though it is not quite the same.
Baking the Roasted Garlic & Fresh Rosemary Bread:
This bread is baked in a Dutch Oven, and for good reasons. The Dutch Oven traps the steam, giving the bread the crusty outside and the soft and tender inside. This method of cooking bread is quite forgiving and usually provides a most delicious loaf of bread. If you do not have a Dutch Oven, it may be worth the expense of getting one; I use mine a lot. If you do not have access to one, check out this bread recipe on my website: PHENOMENAL HOMEMADE WHOLE GRAIN BREAD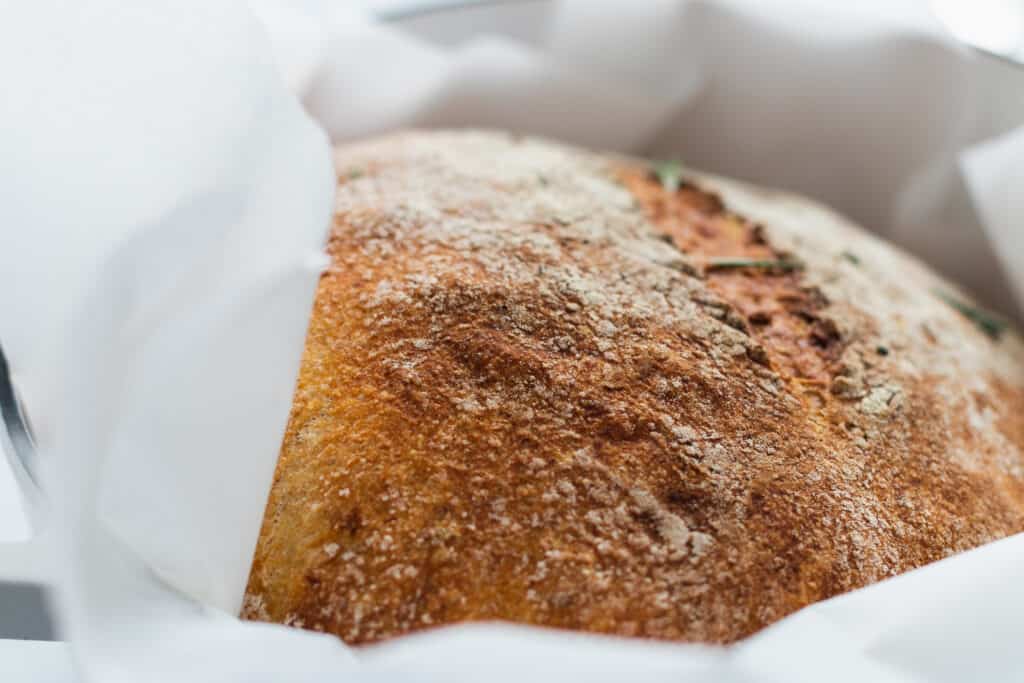 Our favorite topping for this delicious garlic and rosemary bread is sliced avocados with a sprinkle of salt. It is simple, healthy, and so good. It is also an excellent bread for plant-based luncheon meat. Click Here for my Vegan Deli Meat Recipe!
And it is a fantastic bread to serve with pasta or salad.
Be prepared for visitors; the aroma of this bread, baking in the oven, will draw people to your kitchen. And a quirky bonus point:) in the real estate business, when people are trying to sell homes, they often recommend bread baking to give the prospective buyers a sense of home. Well, let me tell you that this would be the bread to bake; the aroma itself would do the work.
Click Here to Watch me make this Roasted Garlic & Fresh Rosemary Bread on YouTube!
Print
Quick and Easy Roasted Garlic & Fresh Rosemary Dutch Oven Bread
Author:
Total Time:

2 1/2 hours

Yield:

1

Loaf

1

x
1 1/2 cup

whole wheat flour (white wheat berries)

1 1/2 cup

all-purpose flour

1 tablespoon

vital wheat gluten (optional)

1 1/2 teaspoon

natural cane sugar

2 teaspoons

salt

2 1/2 teaspoons

yeast

1 1/2 cup

warm water (

110

F) 

2

sprigs of fresh rosemary 

1

bulb roasted garlic
Instructions
Start by roasting the garlic.  Use the whole bulb of garlic, cut off the top, sprinkle with a little olive oil, wrap in a piece of foil, place in a small baking dish and bake at 400F for 30 minutes.  
In a large mixing bowl, add whole wheat flour, all-purpose flour, vital wheat gluten, natural cane sugar, salt, and yeast.  Stir to combine.  
Cut in the roasted garlic. 
Remove the leaves from the rosemary sprigs and mince.  
Add to the flour mixture, and stir to combine.  
Next, mix in the warm water (110F, warm to touch, hot water will kill the yeast.)  Stir to combine.  The dough should look pretty shaggy.
Proof the dough:  Let the dough proof for 1 hour.  If you have a proof function on your oven, cover the mixing bowl with a kitchen towel and place in the oven for 1 hour.  If you do not have a proof function, cover the mixing bowl with plastic wrap and a kitchen towel and place it in a warm place for 1 hour.
Shape the dough:  Remove dough from the mixing bowl to a well-floured piece of parchment paper.  Pull the edges of the dough together to form a ball.  Turn it over, sprinkle with extra flour, cover with a towel and let it rise for 20-30 minutes while the Dutch Oven heats up.  
Heat the Dutch Oven: Place the Dutch Oven with lid in the oven.  Heat the oven to 450F.  The Dutch Oven must be very hot when you place the bread dough in it, so let it heat for at least 20-30 minutes. 
Baking the Bread: When the oven is at the right temperature and the Dutch Oven is hot; remove the Dutch Oven's lid, being careful as it is very hot.  Place the bread dough in the Dutch Oven using the parchment-paper to move it.  Leave the parchment-paper under the bread during the baking process, but remove the kitchen towel. Cover the Dutch Oven with the lid.  Bake for 30 minutes.  Remove lid, bake for an additional 15 minutes without the lid.  Remove bread from the Dutch Oven and place on a cooling rack.