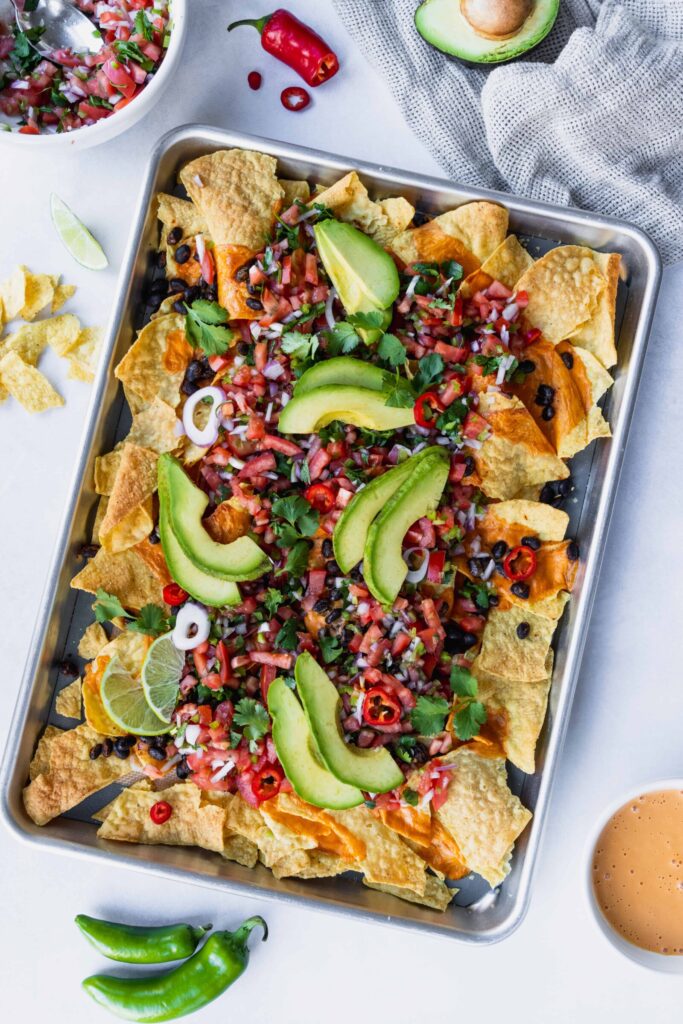 Sheet Pan Nachos must be one of my family's favorite evening meals. It is the type of meal that memories are made of, and we have numerous happy memories of eating nachos with family and friends. My dad used to make us something he called "everything-but-the-kitchen-sink-breakfast" as we were growing up, especially when mom was away, and these sheet pan nachos remind me of that same concept. Throw everything in a sheet pan, bake for a few minutes, top with your favorite toppings, and serve. Easy and quick, and so satisfying.
Let's Talk Sheet Pan Nacho Ingredients:
Corn tortillas:
I prefer organic corn tortillas when they are available, but use what you have. It is best if the chips are unseasoned, except for a little salt, and baked rather than fried. Organic corn is rich in vitamins, essential minerals, fiber, and antioxidants.
Black Beans:
Black beans are rich in nutrition, high in protein and fiber. Fiber is essential to digestion, plays a vital role in weight management as it provides a feeling of fullness for quite some time. Incorporating black beans into the diet is an excellent step towards healthier eating.
Fresh Salsa:
Tomatoes, red onion, jalapeño, cilantro, and lime, when chopped and mixed, make the most amazingly fresh-tasting salsa. Through the summer, when these vegetables are plentiful, we put salsa on practically everything from breakfast tofu to bean burritos. It is a great way to add wonderful fresh flavor to the meal, and it is also so good for us.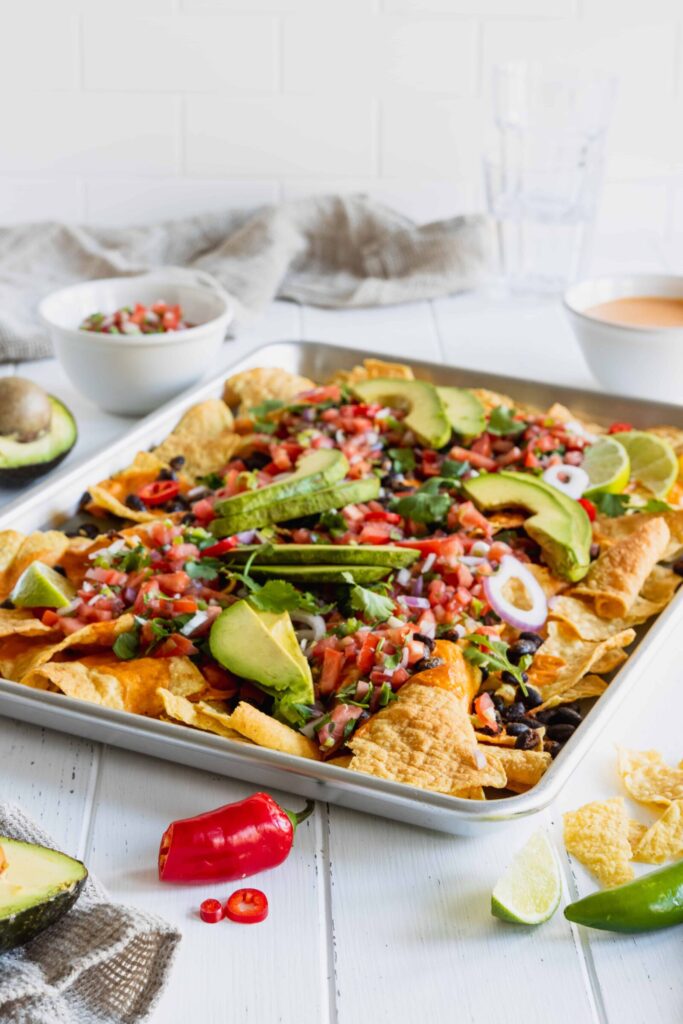 Cheese Sauce:
This vegan cheese sauce is a flavorful and delicious addition to these nachos. When baked for a few minutes, it gives you the impression of melted cheese. This cheese sauce can be used in so many Mexican-style recipes. Click here to get the recipe!
Avocado:
Avocados add creaminess and richness to this dish. Avocados are high in nutrients and provide the much-needed fatty acids. They can be chopped or sliced and simply added to the nachos as is, or they can be made into guacamole. Click here for my guacamole recipe!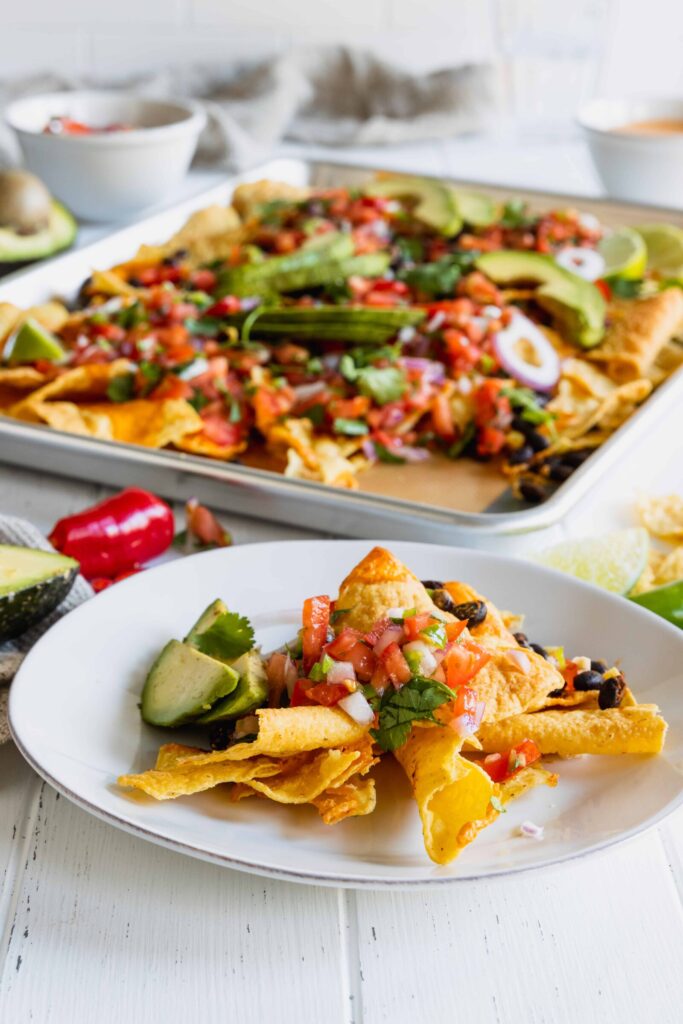 Sheet pan nachos is such a colorful and fun evening snack, but we often add a few extra beans and veggies and make it into a full meal. Garnish with chopped cilantro, avocado slices, and lime wedges. It is beautiful, delicious, and healthy.
You can also add vegan sour cream to the mix. I hope you enjoy this recipe as much as my family does.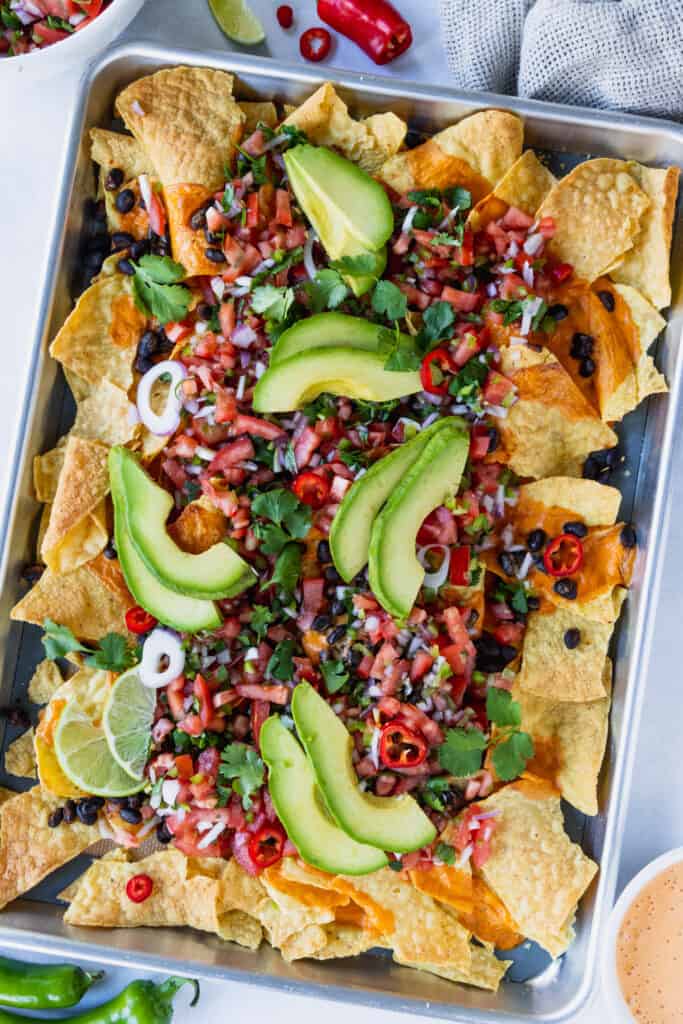 Click Here to Watch Me Make this Recipe on YouTube!
Print
Sheet Pan Nachos
Author:
Yield: Serves

4

-6

1

x
1

(16 oz.) bag of organic tortilla chips
Black Beans:
1

(15 oz.) can black beans, drained and rinsed

1

–

2

tablespoons olive oil 

1

large garlic clove, minced 

1 teaspoon

smoked paprika

1/2 teaspoon

chili powder

1/4 teaspoon

cayenne
salt to taste
Other Ingredients:
Instructions
Black Beans:
In a saucepan, add the olive oil, minced garlic, smoked paprika, chili powder, and cayenne, and simmer on medium heat for about a minute.  
Add the rinsed beans, and stir to combine. Cook for a couple of minutes to make sure the beans are well coated and warm.  Salt to taste.
Assembly:
Sprinkle the black beans over the tortilla chips.
Pour cheese sauce over the beans.  
Bake for 6-7 minutes.
Remove from oven.  
When ready to serve, add salsa and avocados.
Garnish with cilantro, lime pieces, and avocado slices.  
Enjoy!
Fresh Salsa:
3 large Roma tomatoes, deseeded and finely chopped
1/4 cup red onion finely chopped (or sweet onion)
1 jalapeño, deseeded and finely chopped (use only half a jalapeño if you do not like your salsa spicy)
1/4 – 1/2 cup chopped fresh cilantro
juice of 1 lime (about 2 T)
1/2 teaspoon salt or salt to taste
Make sure that all the ingredients are finely chopped.  Combine all the ingredients in a bowl.