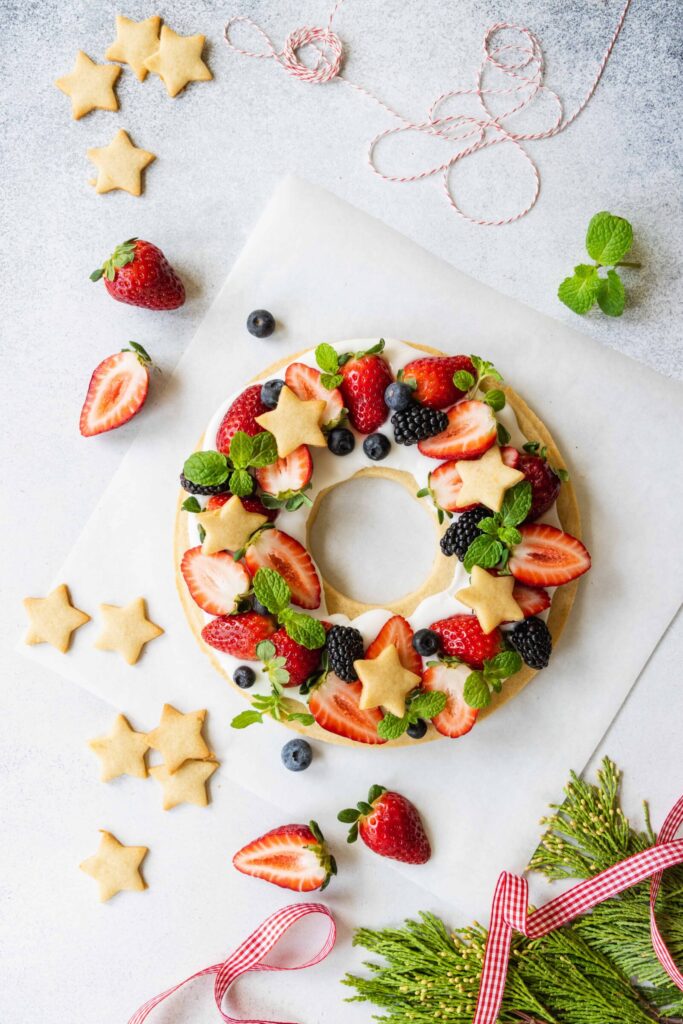 It's Christmas time again, my favorite time of the year. I love the cookie traditions that come along with Christmas. I don't know if you have ever been to a cookie swap, but it is a lot of fun. Everyone brings a couple dozen of their favorite cookies and then swap with others to add to their collection. That way, they go home with a variety of cookies and do not need to make as many varieties. However, during the pandemic, a cookie swap may not be the best activity, so I thought of a fun way to make a simple cookie recipe more festive and fun—introducing my plant-based Christmas Cookie Wreath. It is quick and easy to make and looks so festive.
Cookie Wreath:
I happen to love sugar cookies. So this plant-based version is an absolute winner. It has a touch of almond and lemon, a unique and excellent taste to this cookie wreath.
Frosting:
We have added a vegan cream cheese frosting to this cookie wreath. The easiest way is to buy a store-bought vegan cream cheese for the frosting, and with just a couple of other ingredients, you transform the cream cheese into a wonderful frosting. Our favorite vegan Cream Cheese is the Violife. It has a great consistency, is super white, and has a beautiful taste when mixed with powdered sugar and lemon extract.
Topping:
First, roll the cookie dough into a 1/4-inch thick circle. Chill in the fridge.
Next, cut out the wreath. We settled on a 7-inch cookie wreath with a 3-inch hole in the middle. Use a 7-inch cake pan to mark the outer edge of the cookie wreath, and with the cake pan turned upside down on the rolled-out cookie dough, cut around the outer edge. Use the same method for the inner circle, using a 3-inch circle as a guide. Next, carefully remove the excess dough, which can be baked into smaller cookies if desired.
Click Here to Watch Me Make this Recipe on YouTube!
Print
Christmas Cookie Wreath | plant-based, vegan
Author:
Yield:

1

Cookie Wreath

1

x
Cookie:
1/2 cup

vegan margarine (Earth Balance)

1/2 cup

all-natural cane sugar

2 tablespoons

vegan cream cheese (Violife Original Cream Cheese)

1 tablespoon

apple sauce

1/2 teaspoon

vanilla extract or vanilla bean paste

1/4 teaspoon

almond extract

1/2 teaspoon

grated lemon zest (optional)

1 2/3 cups

all-purpose flour

3/4 teaspoon

baking powder

1/4 teaspoon

salt (optional)
Instructions
Cookie:
Using a hand mixer, in a medium-size bowl, cream the vegan margarine and sugar until fluffy.
Add the vegan cream cheese and mix again until well combined.
Next, add the apple sauce, vanilla, and lemon zest.
In a separate bowl, combine the flour, baking powder, and salt.
Stir to combine.
Add the flour mixture to the vegan margarine mixture, a little at a time, mixing as you go.
Form into a dough.
On a silicone mat or parchment paper, roll out the dough, about 1/4 inch thickness.
Place the rolled out dough on a baking tray. Cover with parchment paper.  Let chill in the fridge for about one hour.
Cut around a 7-inch diameter (cake pan) to make the outer edge, remove excess dough.  Next, place a 3-inch cookie cutter in the middle to cut out the middle section.  Remove the inner dough circle.
Preheat oven to 350F.
Bake for 15-18 minutes or until the cookie wreath begins to brown on the edges.
Let cool completely.
Frosting:
1 container (7.05 oz) Vegan Cream Cheese (Violife)
1-2 cups powdered sugar
1/4 teaspoon lemon extract
Add the cream cheese and lemon extract to a medium-size bowl, and whip with a hand mixer until smooth.
Next, add the powdered sugar 1/2 cup at a time until the frosting is the desired consistency.
Chill in the fridge for 30-60 minutes.
Assembling the Cookie Wreath:
Make sure the cookie wreath is completely cool.
Carefully add a layer of frosting to the top of the cookie.
Be creative.  (It may look more whimsical if the icing does not go all the way to the edges.)
Next, decorate with strawberries, blueberries, and blackberries.
Finally, add some green mint leaves to make the cookie wreath pop.
Optional:  Use left over dough to bake some mini stars to add to the decor.