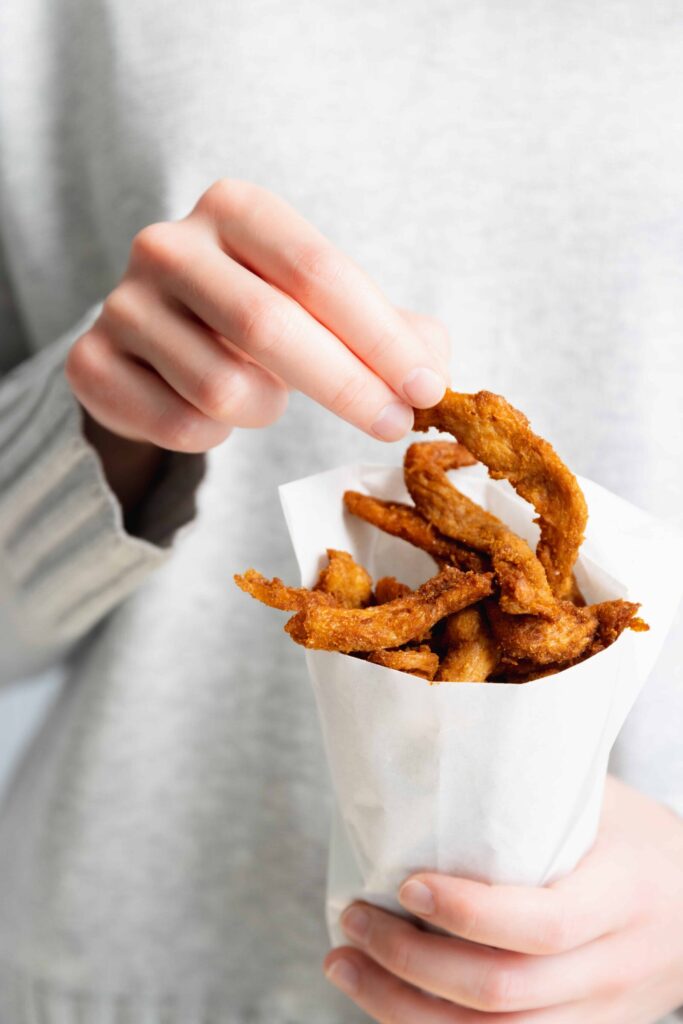 I invited mom to join me for this video, as she is very fond of soy jerky. She makes these for us quite often. It is a perfect healthy snack to take on the road or grab if you need something quick to eat. A few days ago, we went to visit my sister for her birthday. It was a great trip and so much fun to spend time with her. Before we left, we made some simple Vegan Jerky as a snack for the road and made a spur-of-the-moment decision to share the recipe with you. So, here it is—a simple, easy plant-based jerky recipe.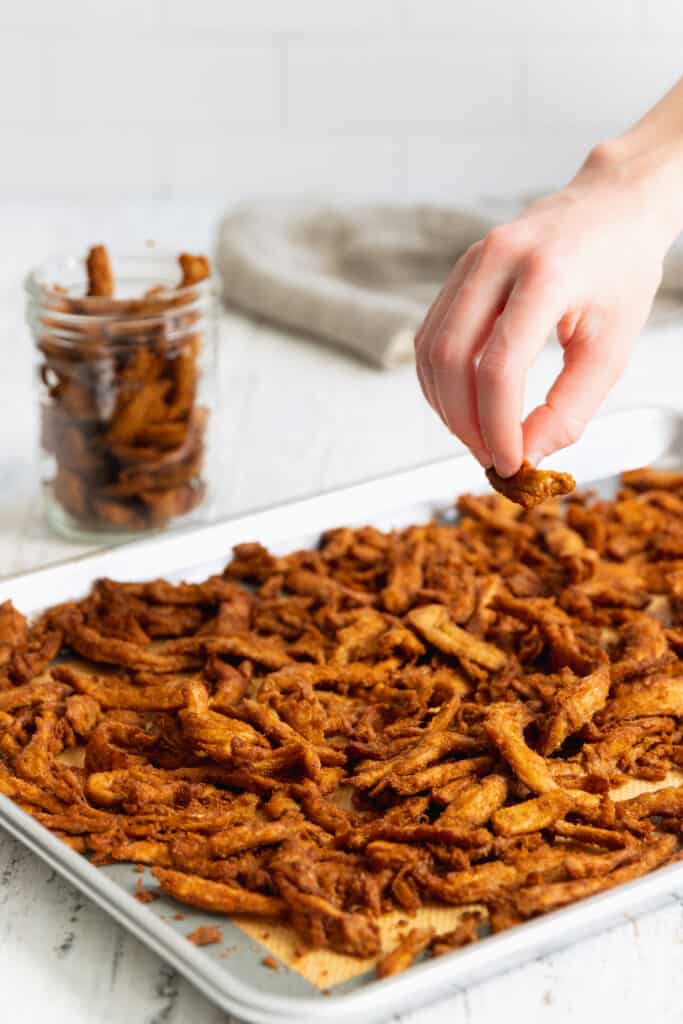 Let's Talk Vegan Jerky Ingredients:
I am including links to Amazon to hopefully make it easier for you to find the products. (I earn a small commission and it doesn't cost you any more, but it helps support these recipes).
Butler's Soy Curls:
The essential ingredient in this healthy recipe is Butler's Soy Curls which mimic the texture of beef jerky. The pieces are made from non-GMO soybeans and provides both protein and fiber. Because they are sold after going through a dehydrator, they need to be reconstituted before you use them in vegan meals. This is easily done with just plain water, either cold or hot. But for this recipe, we use hot water; it seems that the warm curls absorb the flavor mixture better.
Hickory Smoke Powder:
Hickory Smoke Powder adds a wonderfully rich smokey aroma and flavor to these curls. A little goes a long way in vegan jerky recipes, and Smoke Powder lasts a long time in your cupboard.
Smoked Paprika:
Smoked paprika is another remarkable ingredient to add to these curls. It provides another layer of flavoring. If you do not have the smoked version of paprika, use plain paprika instead, or cracked black pepper for even less of a smoky taste.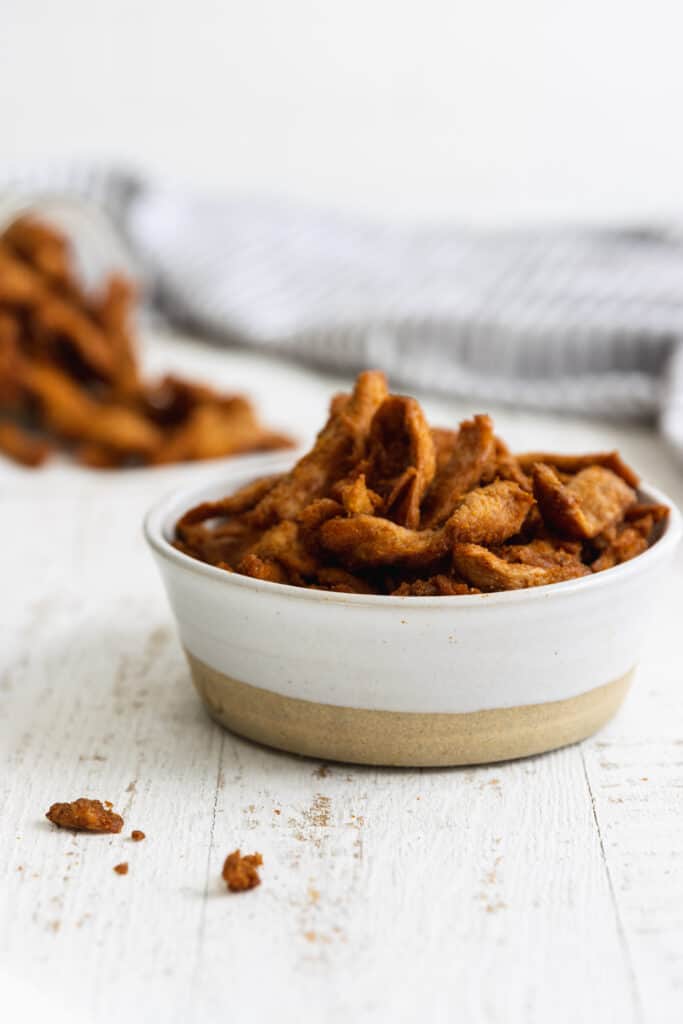 Fresh Lemon Juice:
We add fresh lemon juice to brighten the flavor. Lemon juice is a great flavor enhancer in my book. It gives a flavor dimension that is hard to describe but is noticeably absent when not included.
Grandma's Molasses:
Molasses adds a touch of sweet balance to this healthy jerky. It is hard to describe the magic that happens with just a tsp or less of Grandma's Molasses is added to the recipe. You will notice that we use very little, but it somehow rounds out the finished product's flavor. You can add more than a tsp if you happen to like a sweeter jerky.
Bragg Liquid Aminos:
Bragg Liquid Aminos is a soy sauce alternative. It is what provides most of the salt in this recipe. Use low sodium soy sauce if you do not have access to Bragg Liquid Aminos and want to save time going to the store. Reduced sodium soy has a slightly different taste but still makes it delicious.
Cayenne:
The amount of cayenne used in this recipe adds a delicious touch of heat but does not make the jerky hot. As you experiment with making your own jerky, you can add or take away from the amount to make them perfect for your tastebuds. You could even add some crushed red pepper for some extra heat to make vegan jerky stand out.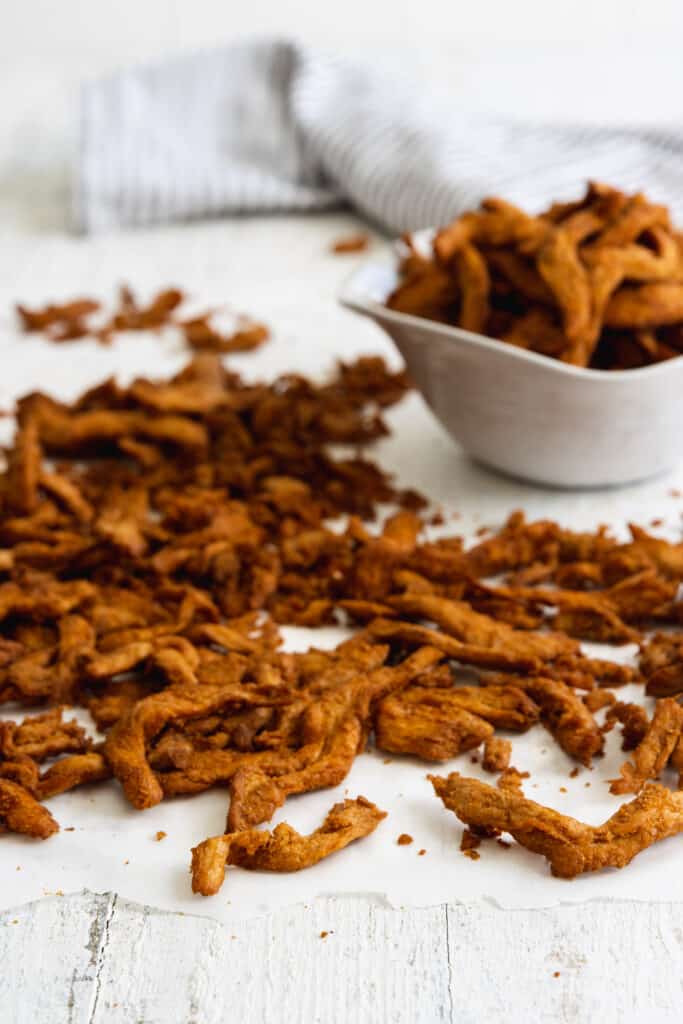 The Baking Process:
We are a divided family as far as vegan jerky soy is concerned. Mom and Kaija prefer the jerky a little softer, whereas I enjoy mine with a little more chew. I don't even mind if it is crispy. Dad will usually eat his jerky either way. It is easy to please everyone as you can remove the jerky from the oven to stop baking at different stages, or even cook it in the air fryer. Check recipe for details. We prefer a slow baking process at 250F, which gives us more control as we try for the perfect consistency.
How to Store Vegan Jerky Made with Soy Curls
We usually store the vegan jerky in airtight containers, making them easy to grab on-the-go. They last for quite a while without refrigeration. We will, on occasion, vacuum seal the jerky for longer shelf life.
I hope you enjoy and make many happy memories and trips with this simple Vegan Jerky recipe.
Click Here to Watch Me Make this Recipe on YouTube!
Print
Easy Vegan Jerky | Delicious, Plant-Based
Author:
Yield: Serves

4

-6

1

x
1

package (8 oz.) Butler's Soy Curls 

1/4 cup

olive oil

1/4 cup

Bragg's Liquid Aminos (or soy sauce)

1 tablespoon

onion powder

1 tablespoon

garlic powder

2 teaspoons

smoked paprika

1 teaspoon

Hickory Smoke Powder

1/2 teaspoon

cayenne 

1/2

  teaspoon salt

2 teaspoons

fresh lemon juice

1

–

2

teaspoons Grandma's Molasses 
Instructions
Start by reconstituting the soy curls.  In a medium size pot bring 4 cups of water to a boil.  Turn off the heat and add soy curls.  Let sit for 15 minutes. 
Drain and Squeeze soy curls.  It's essential to get out as much liquid as possible, as they will absorb more flavor.  
In a separate bowl, add the remaining ingredients and stir to combine to make the flavor mixture.  Let sit for a couple of minutes to thicken.  
Next, pour the flavor mixture over the squeezed soy curls and stir to coat every soy curl.  
Add to a baking tray lined with a silicone mat, and bake at 250 F for 30 minutes. 
Stir, return to oven for another 15 minutes.  Turn the oven off, and let it sit until desired consistency.  If you prefer them soft and pliable, they may be ready within minutes, or if you like them crunchy, leave them in a bit longer or a lot longer:)  (like me)
Store in an airtight container.  
Notes
We love to have homemade vegan jerky on hand, especially when traveling, as they are easy to grab and provide a delicious, savory, and protein-rich snack.  
Looking for more recipes?
(Read my affiliate discloser here.)