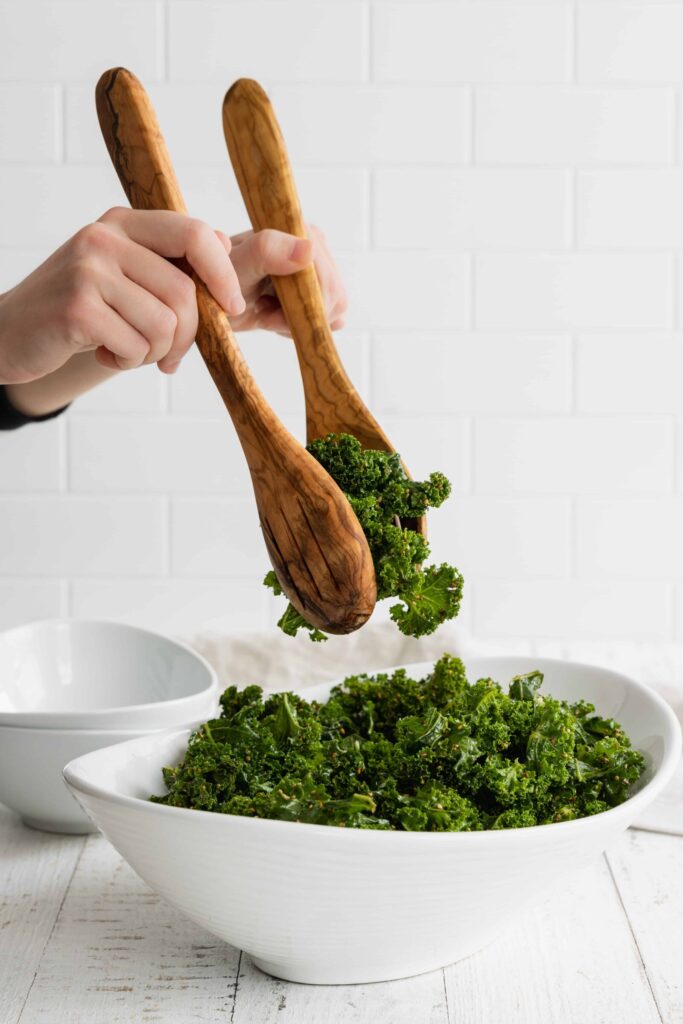 There is hardly a salad more delicious than this wonderfully quick and easy sesame kale salad. I can thank my dad for this recipe. He loves kale salad, and when given an opportunity, he buys kale. As you know, we live out in the middle of beautiful "nowhere", so it is not always easy to find pre-made healthy kale salads, so we decided we needed to come up with a quick and easy kale salad for dad to take to work. This is a salad we can whip together in no time, and you will not believe the wonderful flavor that comes out of such simple ingredients.
This week we also discovered that this salad is perfect for New England's changing weather, where electricity all of a sudden can be a thing of the past. We experienced a loss of power several times this past week, hence, a recipe that requires no power. But let me assure you, that though this recipe requires no cooking, it is filled with powerful nutrients that will fuel your body for hours to come.
Let's Talk Sesame Kale Salad Ingredients: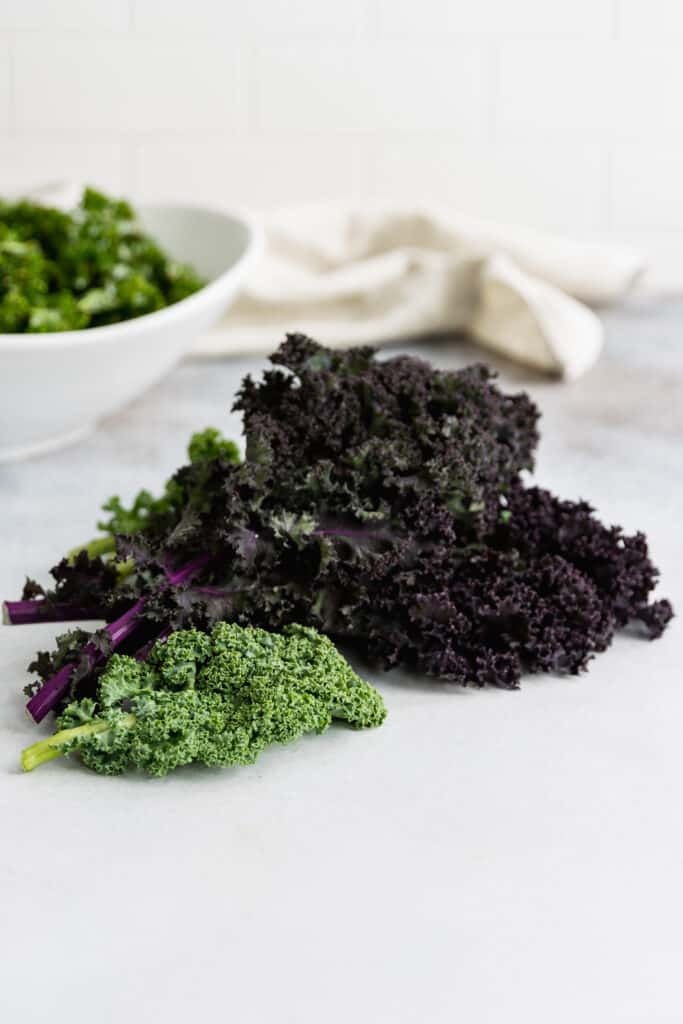 Kale:
Kale happens to be one of those super foods. It is one of the most nutrient-dense foods on the planet. It is high in antioxidants, fiber, vitamins A, C, K, B6, just to mention a few. It is one of those vegetables that we could and probably should eat every day.
When you buy kale, make sure the color is dark green and the leaves are fresh and crisp. The leaves should not be wilted.
We remove kale stock for this salad, as the stock is tough to eat raw.
I have a couple of other wonderful kale recipes on my website: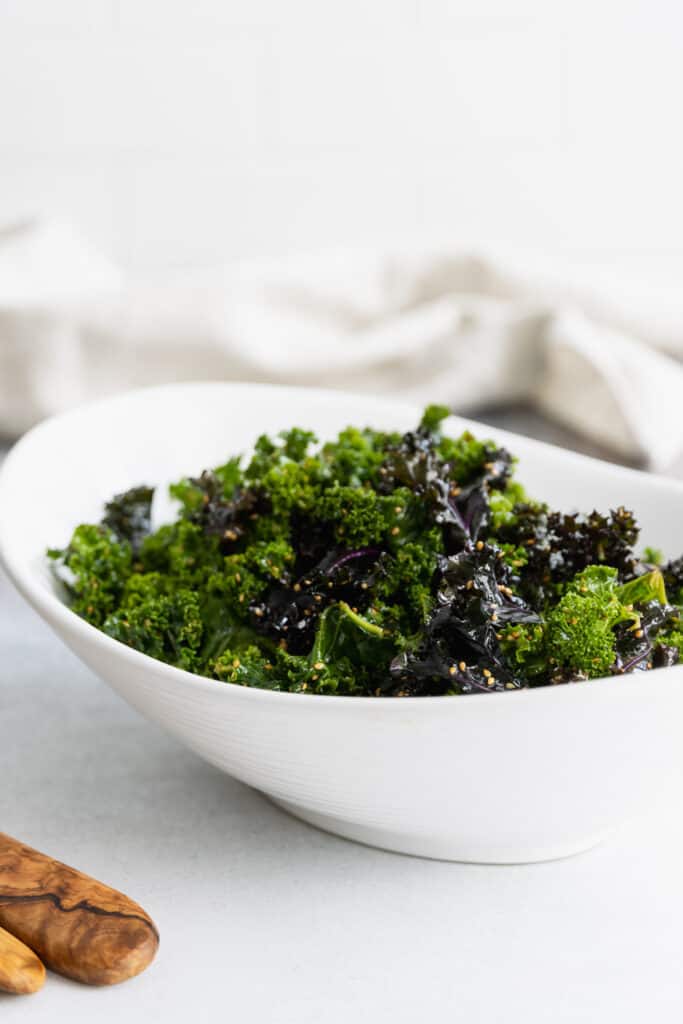 Sesame seeds:
Sesame seeds happen to be very rich in calcium. It is an excellent little item to add to your diet. It is high in fiber, and when toasted, creates a nutty, delicious flavor that knocks this salad out of the park. It also adds a wonderful texture.
How to toast Sesame Seeds:
In a dry skillet, place a few tablespoons of raw sesame seeds. It requires no oil. On medium heat, let the sesame seeds cook for about 3-4 minutes, occasionally stirring, so they do not burn.
It is always a good idea to keep some toasted sesame seeds on hand to sprinkle over salads for that extra fiber and nutrient boost.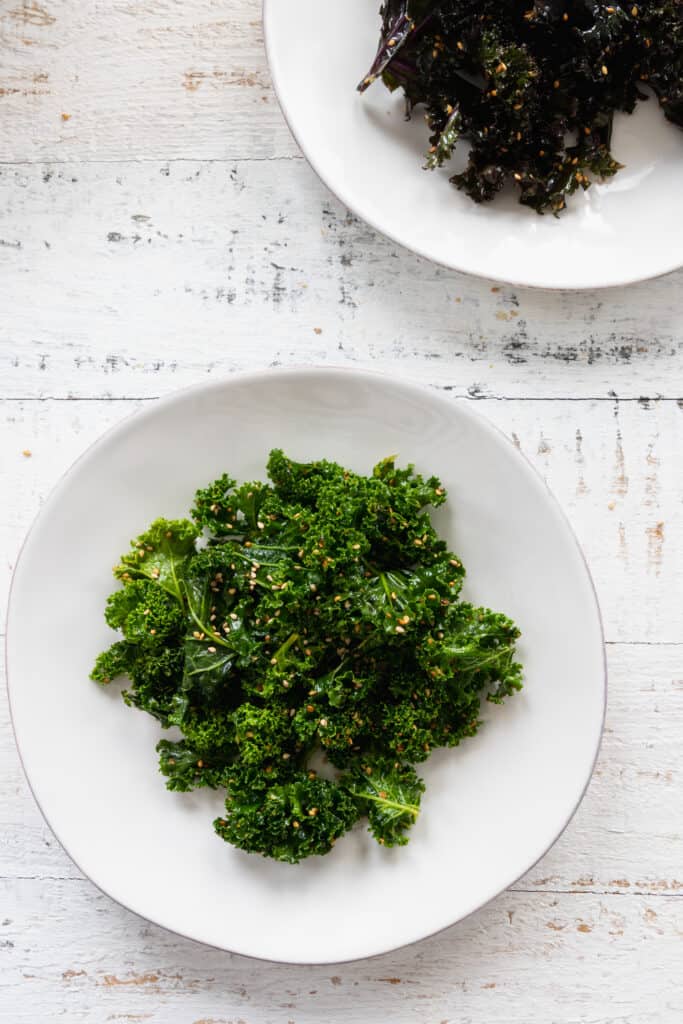 Agave Nectar:
We use organic agave nectar to add a slight touch of sweetness to balance the salad dressing's flavor. We like it because it does contain traces of nutrients and fiber.
Sesame Oil:
Sesame oil has an incredible nutty flavor that is perfect for this salad dressing. I used pure sesame oil in this recipe, but it also works with toasted sesame oil.
Tips for making this Sesame Kale Salad:
The most important thing when making this salad is probably the massaging of the kale.  Massaging will break down the structure of the kale and make it easier to eat when using fully grown kale.  If you use baby kale, it is tender enough to eat on its own, but it will wilt quickly, so use grown kale for this salad. 
Click Here to Watch Me Make this Recipe on YouTube!
Print
Quick and Easy Sesame Kale Salad
1

small bunch of kale, green or red

2 tablespoons

sesame oil

1 tablespoon

Braggs Liquid Aminos (soy sauce) (for a gluten-free option, use a gluten-free soy sauce)

1/2 teaspoon

agave nectar

1

–

2

tablespoons toasted sesame seeds
Instructions
Clean and destem the kale.  
Break kale into bite-size pieces, and place into a large mixing bowl.  
In a small separate bowl, add the Braggs Liquid Aminos, agave nectar, and sesame oil, whisk to combine.  
Pour over the kale in the large mixing bowl.  
Message the kale for several minutes, which breaks down the kale's structure, making it much easier to eat.  
Add the toasted sesame seeds and message to incorporate.