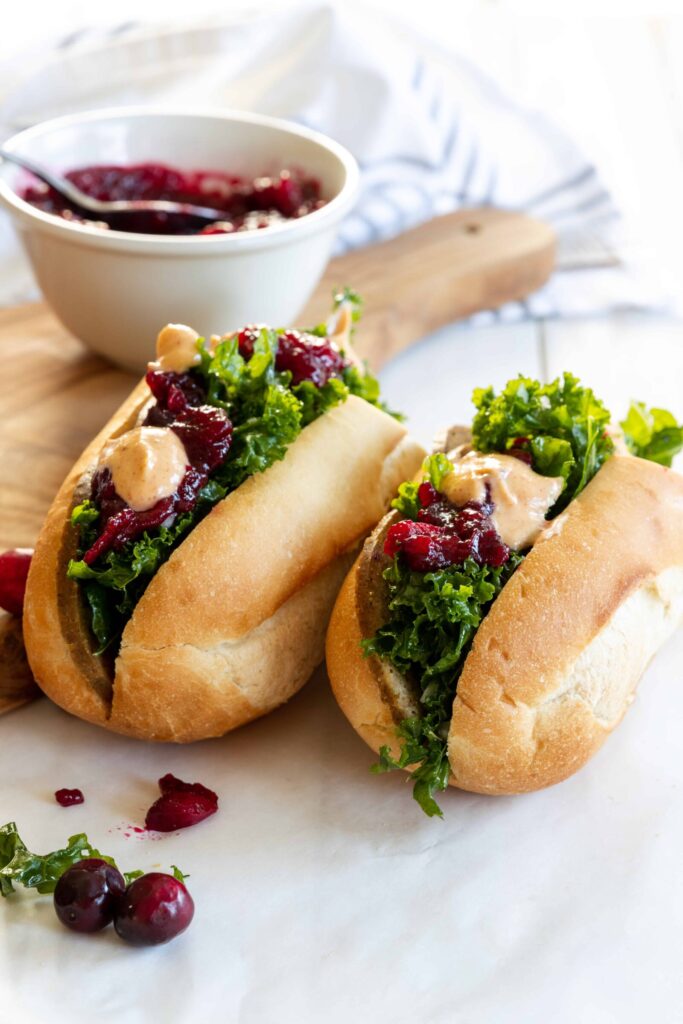 One of my favorite things about the Holidays is this Amazing Thanksgiving Sandwich, or maybe we should call it the "Day-After-Holiday" Sandwich, or better yet, "the World's Best-All-Year-Round" Sandwich. It is probably my all-time favorite sandwich. It brings back such fond memories of when I went to school in New York City. Once in a while, I would run into this unique vegan food truck called "Cinnamon Snail" (a four-time Vendy Award winner). My most favorite thing on their menu was an amazing Vegan Thanksgiving Sandwich. It didn't matter if it was Thanksgiving or not; they would serve the Thanksgiving sandwich all year round. I am happy to tell you that they opened a fast-food vegan restaurant in the heart of Manhattan a couple of years ago. So, when I visit the city now, I am sure to stop by for their famous Thanksgiving Sandwich.
However, since I rarely get to the city these days, I had to come up with my own version of this delicious sandwich, and I am here today to share it with you.
So, these are the components you need in order to make the "world's best" sandwich: 
Great Crusty Bread: Traditionally, this sandwich is made with french bread, but it can definitely be made with whole-grain french bread for a healthier version. It is also terrific with sourdough bread. The most important thing to remember is to "TOAST the BREAD." There is something about the crusty outside texture that really adds to the experience of this sandwich.
Vegan Roast: We make our own, but I am sure any Holiday roast will work, as long as you like it. If you want to try my vegan recipe, Click Here. Holiday roast. Be sure to slice the roast into thin slices; it makes a difference in how the roast is experienced and how it drapes in the sandwich. Heat the sliced pieces in a skillet. If you have leftover gravy, you can moisten the roast with a little gravy in the skillet. It is not necessary as the sandwich is pretty moist without it, so I often skip this step.
Kale Salad: Now, if you are tempted to skip this component, I would encourage you not to. It gives an excellent flavor, a hearty chew, superb texture, and phenomenal taste; besides, kale is one of those superfoods, very good for us. I have a great kale salad recipe on my website, but I usually make a modified version for this sandwich. See my recipe for details.
Cranberry Sauce:  This sandwich would not be much without the sweet tartness of the cranberry sauce. Be sure to add a generous helping of cranberry sauce. Most of you probably have some cranberry sauce leftover from the holiday, but if not, click here to check out my cranberry sauce recipe. 
Special-Thanksgiving-Sandwich Sauce: This sauce adds moisture, flavor, creaminess, and comfort to the sandwich. It is a must. If you happen to have some vegan mayo already, it takes only a couple of minutes to make, but it will take this sandwich to another level. Be generous when you make this vegan sauce; we never seem to have enough in my house. You can customize this sauce with a little cayenne if you like a little heat.
So there you have it, a wonderful combination of texture, taste, and beauty. I think you are going to like it. For me, eating a Thanksgiving Sandwich was one of those moments when I asked: where have you been all my life.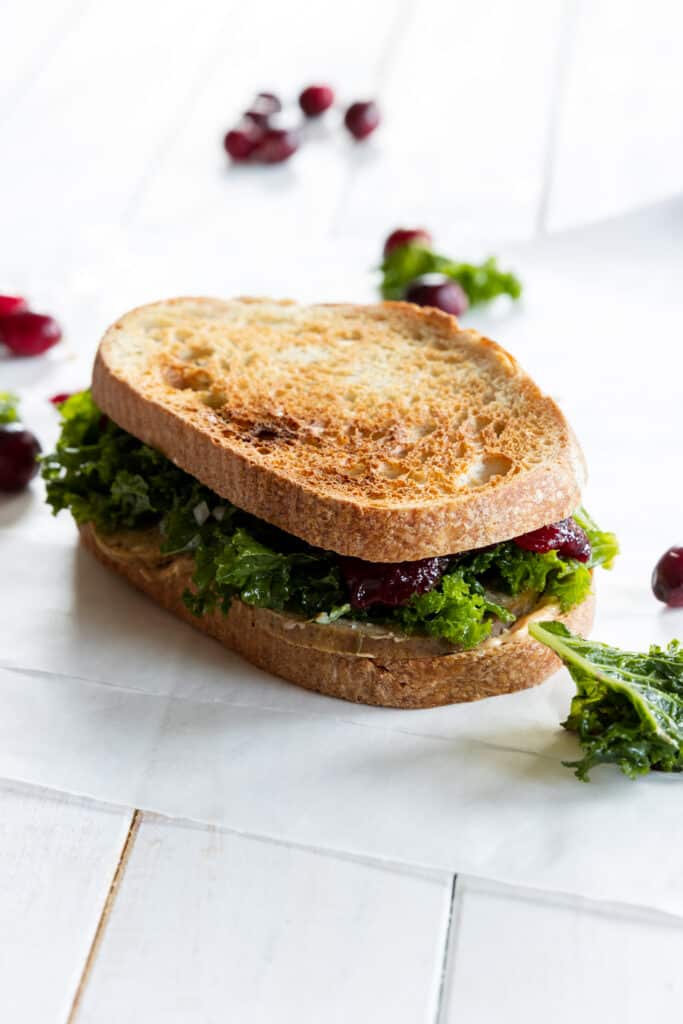 Happy Thanksgiving!
It is my hope that you have a wonderful Thanksgiving Holiday, filled with love and family. I know we are restricted in numbers this year, but we can still make it a special time to connect with each other. For me, it is also a time to say Thank You, first and foremost to God, but also to my family and "You", who support me, encourage me, view my videos, and try my recipes. I am so grateful.
I hope you enjoy this sandwich as much as I do. It truly is my all-time favorite sandwich. I could eat this sandwich every day of the year. Enjoy the Holidays! May God bless you.  
Click Here to Watch Me Make this Recipe on YouTube!
Print
The Amazing Thanksgiving Sandwich
You will need the following components:  
Crusty French Bread
Kale Salad
Special-Thanksgiving-Sandwich-Sauce
Modified Kale Salad:
1/2

bunch of kale, washed and destemmed

2 tablespoons

olive oil

2 teaspoons

lemon juice

1

garlic clove, minced

1 tablespoon

onion, finely chopped

1/8 teaspoon

dried ground thyme (optional)
Salt to taste
Instructions
Wash and destem the kale. Let the kale dry before adding the dressing.  
In a small jar, add the finely chopped onion, thyme, minced garlic, oil, and lemon juice. Let it sit for a few minutes to soften. This step also takes away the rawness of the onion and garlic, leaving a wonderful flavor.  
Combine the kale with the dressing. Massage the kale for a couple of minutes. This breaks down the kale structure, making it much easier to eat. It also helps distribute the dressing. Salt to taste.  
Special-Thanksgiving-Sandwich Sauce: 
1/2 cup vegan mayo (homemade or Veganaise)
2 teaspoons fresh lemon juice
1/2 teaspoon dried paprika
1/2 teaspoon garlic powder
1/2 teaspoon onion powder 
1/2 teaspoon maple
1/4 teaspoon salt
In a small bowl, add all the ingredients and stir to combine.  
Vegan Holiday Roast:  
Slice the roast into thin slices—warm the slices in a skillet.  
You may want to use a touch of oil to brown the slices, but the important thing is that the pieces are warm.  
How to put it all together:  
Toast the bread in the oven at 375 for 5-10 minutes until crusty.  
Slice the bread on the diagonal (looks a little fancier). Next, slice the bread lengthwise, but do not cut all the way through. 
Spread the bread with the Special-Thanksgiving-Sandwich-Sauce on both side, making sure it is covered to the edges:)
Next, add 3-4 slices of warmed vegan Holiday Roast. Cover with a handful of kale salad. Top it all off with some sweet cranberry sauce, and as a final touch, add a little more of the Special-Thanksgiving-Sandwich-Sauce.