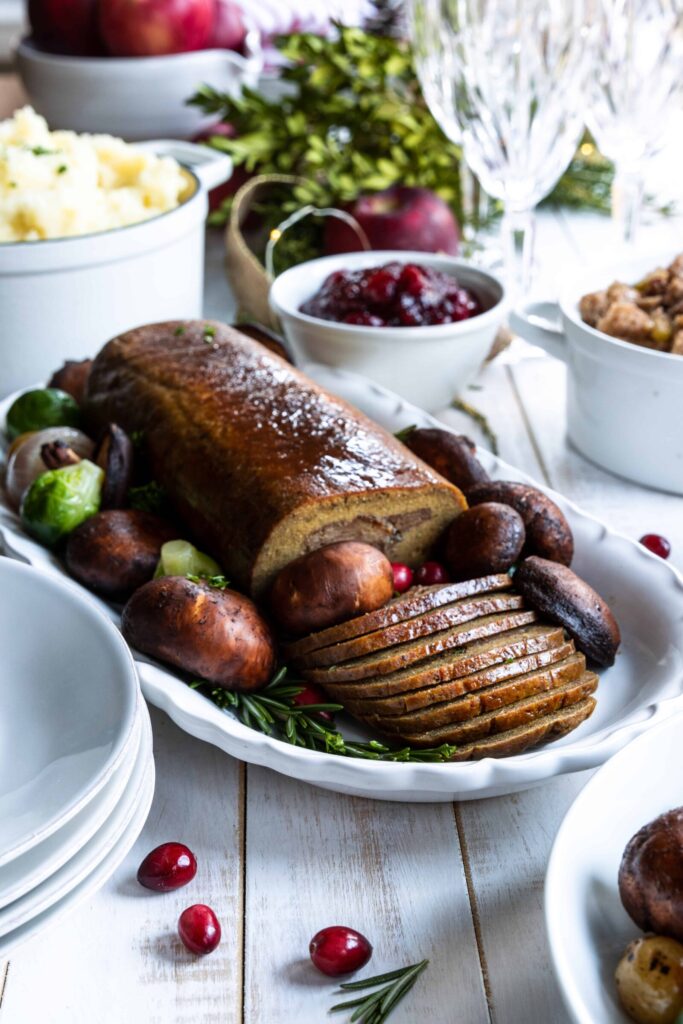 The Holiday Season is just around the corner, and we are beginning to make plans. We make decisions on decorations, family fun activities, guest list (which will be short this year), and the menu. So today I thought I would share my favorite Holiday Roast which is completely vegan and plant-based.
So, let's talk about the menu, or, more specifically, the Holiday menu's centerpiece, which is the Roast. As I was growing up, we tried many different types of main dishes for the Holiday meals, but the one recipe we come back to time and time again is the Plant-Based, Vegan Roast. I will briefly mention here that we have several other roast options on my website.
Over the years, we have tried many different versions of the Vegan Holiday Roast, but this Roast is one of our favorites. We have worked hard to make this roast tender and delicious. If you prefer a chewier texture to your Roast, click here to check out one of my other holiday roast recipes.
Our Holiday meal looks very traditional, though all the items are plant-based. We are constantly recipe testing and growing in our food journey, so who knows what next year will bring. I am so appreciative that you have decided to join me on this food adventure.
How to Make a Vegan Holiday Roast
So let's get down to business. This Holiday Roast is an easy roast to make. There are, however, some crucial steps that will ensure a better outcome, so let me walk you through those:
It is useful to have a food processor or a blender to blend the wet ingredients. This is especially important as you want the tofu to be completely smooth with no chunks.
I use mushroom powder to add an extra element of flavor. I do this by grinding dried mushrooms into a powder, which adds to the taste of the Roast. You can find mushroom powder on amazon. (Pure Shiitake mushroom powder)
I use chickpea flour in this Roast for an extra earthy flavor element, but feel free to substitute with rice flour.
For a smokier flavor, add some Hickory smoke powder or increase the smoked paprika. For a spicier roast, add crushed red pepper or increase the cayenne.
Parchment paper is essential in assembling and baking the Roast. Because the dough is loose, you need to handle it with parchment paper, as I show you in the video. Click Here to Watch my Video!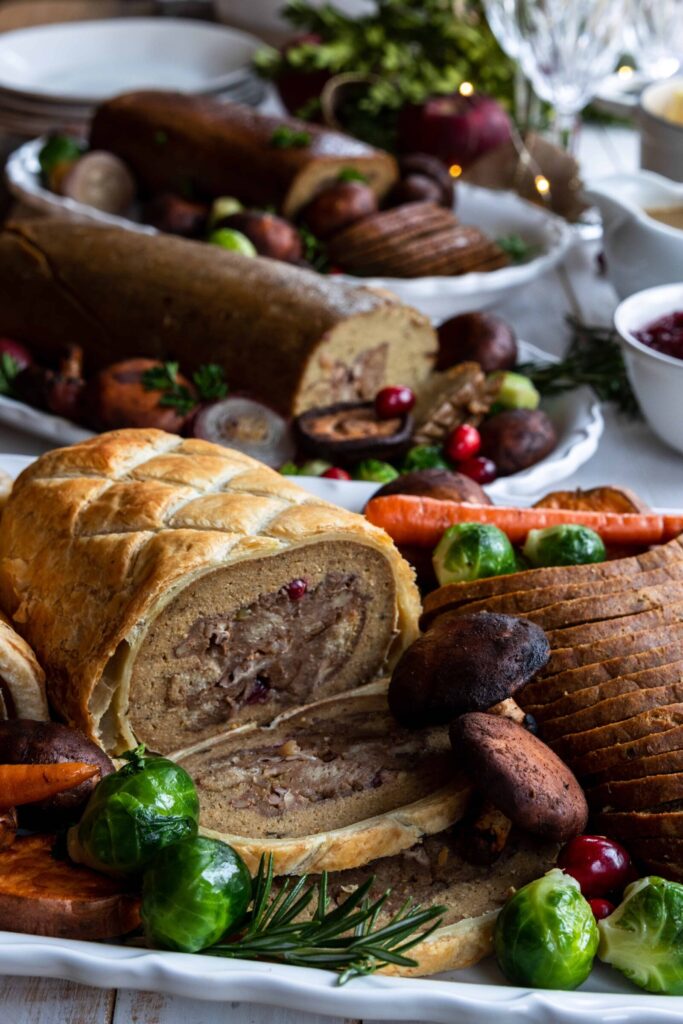 Pastry Option:
If you want to make this Vegan Holiday Roast especially festive, wrap, and bake it in puff pastry. We have a couple of ready-made vegan puff pastry options, which makes this an easy upgrade. The Roast will need to be baked and completely cooled before wrapping in the pastry shell. It's a good option when the Roast is made a day in advance.
The puff pastry creates a festive, golden healthy glow to the Plant-Based Roast, and I like how it tastes as well. While recipe testing this step, we struggled with the dough getting soggy until we discovered the amazing properties of Phyllo Dough. It creates a moisture barrier. Now we wrap the Roast in Phyllo Dough, then in puff pastry dough, and while it bakes, the Roast is reheated and ready to serve. The result is amazing.
So, what are some of the other recipes I would recommend serving with this Roast?
I like the traditional recipes, like mashed potatoes, gravy, cranberry sauce, stuffing, sweet potatoes with marshmallows, roasted fall veggies, pumpkin pie, and a whole slew of appetizers like stuffed mushrooms, artichoke dip, crostinis, and many more.
It is my hope and prayer that your Thanksgiving and Christmas Holiday, amid social distancing and safety restrictions, will overflow with love for friends and family. May God richly bless you.
Click Here to Watch my Mom and I Make this Recipe on YouTube!
Print
Holiday Roast | Plant-Based, Vegan
Author:
Yield: Serves

6

1

x
Dry:
1 cup

vital wheat gluten 

1/4 cup

tapioca starch

1/4 cup

rice or chickpea flour

1/4 cup

nutritional yeast

1/4 cup

dried mushrooms powder

1 tablespoon

onion powder

2 teaspoons

garlic powder

2 teaspoons

ground sage

1 teaspoon

thyme

1 teaspoon

smoked paprika (optional)
pinch of cayenne (optional)

1 1/2 teaspoon

salt 
Wet:
1

pound extra-firm tofu (

one

package)

3/4 cup

milk

1/4 cup

olive oil

2 tablespoons

Bragg Liquid Aminos

1 tablespoon

Better-Than-Bouillon (vegetable)
Instructions
Preheat oven to 350F
Prepare the stuffing according to the recipe:  Click Here for a link to my Stuffing Recipe!
In a food processor, add all the wet ingredients and blend until smooth.  
In a large bowl, add all the dry ingredients and stir well to combine.  
Make a well in the middle of the dry mixture and pour in the wet mixture.  Stir to combine.  Use your hands if needed to form into a nice dough.  
On a large parchment paper sheet, flatten the dough into a rectangle (1/2 inch thick).  Place the stuffing in the middle, make sure you leave about 3-4 inches free of the stuffing on all sides.  
Holding on to the parchment paper, gently fold over the two side pieces, pull back the parchment paper from the sides, and make sure the dough stays in place.  A little bit of patience here will go a long way. 
Next, hold on to the parchment paper on both sides of the roast.  Gently bring them together until the dough touches.  Fold-down the parchment paper until it is tight against the top of the roast, twist the ends, and shape the dough as you go. 
Place the roast with the fold down on a piece of aluminum foil, wrap the roast to ensure it is secure.  (I use one piece of aluminum foil for the roast's body and then wrap the whole roast in another piece of aluminum foil.)  
Place the roast on a baking sheet (fold down) and bake for 90 minutes.  Let cool slightly before serving.  
If made ahead, reheat by covering roast in foil and bake at 350F for 30 minutes.  
Puff Pastry Crust:
If you want to make the roast extra special, cover it in a puff pastry sheet.  
1 package vegan puff pastry (Pepperidge Farm Frozen Pastry Sheet)
2 Phyllo Dough Pastry Sheets
Make sure the roast is completely cool before adding the pastry Sheets.  Wrap the roast in two sheets of Phyllo Dough Pastry Sheets before wrapping it in puff pastry.  Phyllo Dough is designed to be a moisture barrier, and this allows the puff pastry to do what it's meant to do.  It took us several tries and much research to finally figure out a solution to the soggy puff pastry shell.