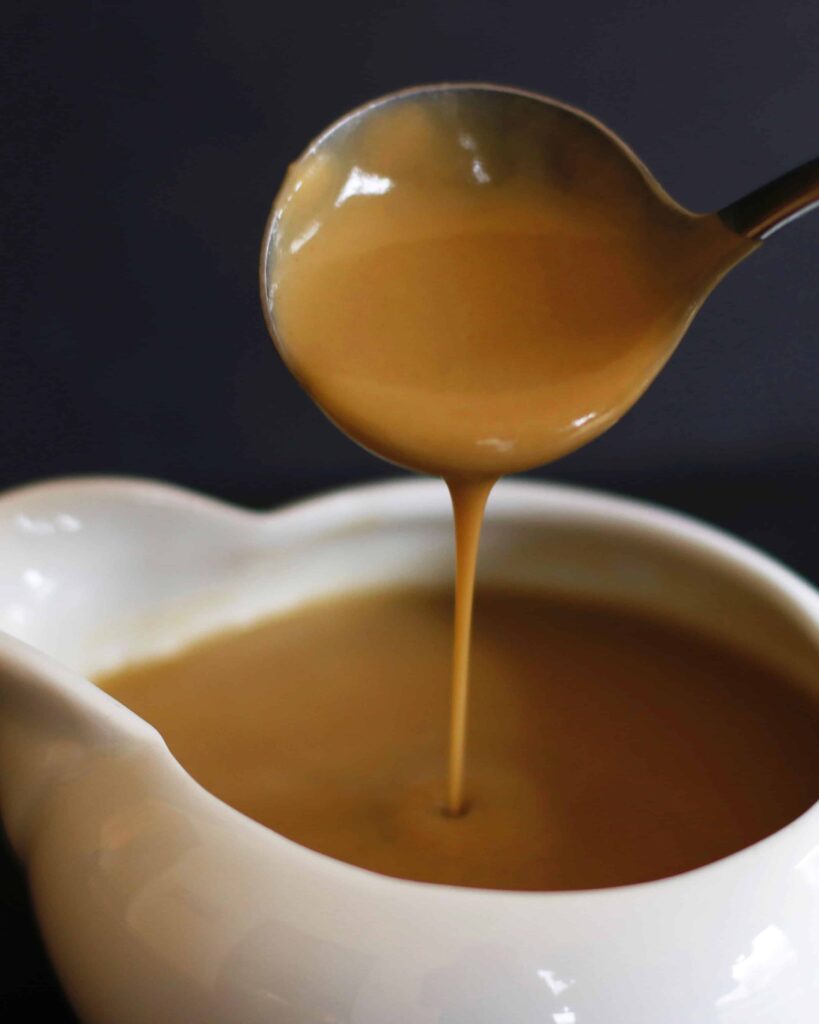 This is an old family method for making an awesome vegan holiday gravy.
It is a recipe passed down from my great-grandmother, who was one of the first people in Norway to teach healthy cooking. It reminds me of fantastic Holiday meals and signals the promise of another happy Holiday gathering. Gravy is not usually one of the recipes that receive a lot of excited attention, but without it, the meal is not complete. And should the gravy happen to be exceptional, it sets the tone for the whole event.
So, what is so special about this particular Vegan Holiday Gravy?
I am so glad you asked:)
In our home, during the Holiday season, we go the extra mile to make the vegan gravy have a unique and fantastic flavor. The secret is in how you prepare the flour. If you are gluten-free, don't despair; just eliminate the flour, and you still have an excellent gravy.
The secret is to toast the flour. Toasting brings out a flavor that is like gold to a gravy. It gives an incredible richness and depth of flavor that can only be experienced. It also helps with the color, giving the gravy a beautiful brown look. Toasting the flour is something you can do well in advance, store in an airtight container so it will be ready when you need it. The toasted flour fills the house with an awesome aroma.
Secret number two is that we pack a lot of vegetables in this vegan holiday gravy: carrots, potatoes, onion, and mushrooms, which you will not notice, but add to the flavor. To round out the flavor for the Holiday, we add a little oil, but it is optional. So, this gravy can be made oil-free or gluten-free if desired.
We get lots of compliments on this gravy. It is definitely worth the extra step. Serve this gravy with our Holiday roast, Gluten-free roast, and mashed potatoes. Together they make a fantastic holiday meal.
We hope you enjoy this vegan holiday gravy recipe as much as we do.
IT CAN BE SERVED WITH ALL THE STAPLES, HERE ARE SOME OF MY OTHER FAVORITE HOLIDAY RECIPES:
Click here to watch the video I made with my Mom!
Happy Thanksgiving! May your Holiday be filled with precious family, special friends, and may the food that you eat make lovely memories this Holiday Season.
Print
Holiday Gravy
2 tablespoons

all-purpose flour (omit this step for gluten free gravy)

2 1/2 cups

water

1/2

a small carrot, diced

1

small potato, diced

1/4 cup

onion, roughly diced

1

garlic clove, roughly diced

3

–

4

mushrooms, quartered (optional)

1/4 cup

cashew pieces

1 tablespoon

nutritional yeast flakes

1/2 teaspoon

salt

1 teaspoon

Better Than Bouillon (optional)
Instructions
Brown flour in a skillet over medium to low heat or in the oven at 300F. This will take a while. Stir occasionally. You are looking for a golden color. This will add both color and flavor to the gravy. I usually make this ahead of time, so I have it available when I need it. It is important that it does not burn. When the flour is browned, set aside.

In a saucepan add water, diced carrot, diced potato, onion, garlic clove, mushrooms, cashews, nutritional yeast flakes, salt, and Better Than Bouillon.

Bring to boil. Let it simmer until vegetables are tender.
Then transfer to vita mix/blender.  Blend on high for 2-3 minutes, until very smooth.
Next add the browned flour, mix again. Add water if needed to make a gravy. Transfer back to saucepan.
Bring to boil, while stirring. Let it simmer for about 5 min. At this point I usually add 1 tablespoon olive oil.  Season to taste.
Notes
Omit the flour to make a wonderful gluten free gravy.
Be careful with the carrots.  If too much, it turns the gravy orange.
If allergic to nuts, replace cashews with vegan unsweetened creamer.