During the holidays, we do a lot of cooking around our house. We love to experiment and try new things. Every once in a while, we come across a dish that makes us especially excited. This Gluten-Free Vegan Holiday Roast with Mushroom Filling is one of those.
Christmas is right around the corner, and snow covers the landscape here in New England. A fire is crackling in the fireplace, reminding me of how much I love this time of year, especially when tucked under a blanket, warm and toasty, protected from the elements. There is something so charming about Christmas in New England. Having grown up here, it seems to be calling me home this time of year. The charming small towns, decorated with twinkle lights, and people running to and fro getting ready for the Holidays. The ambiance is simply lovely.
My sister Kaija is coming home for Christmas, and I am unbelievably excited. I have already been thinking about what I should cook while she is here. I want to make some of her favorite dishes. She has been away at college and has been looking forward to some home-cooked meals.
Kaija loves mushrooms, so I know she will love this Gluten-Free Vegan Holiday Roast with Mushroom Filling. It has a delicate filling, made with different kinds of mushrooms, artichoke, nuts, and garlic. This time of year, grocery stores are stocked with a variety of mushrooms, which add flair to Holiday cooking.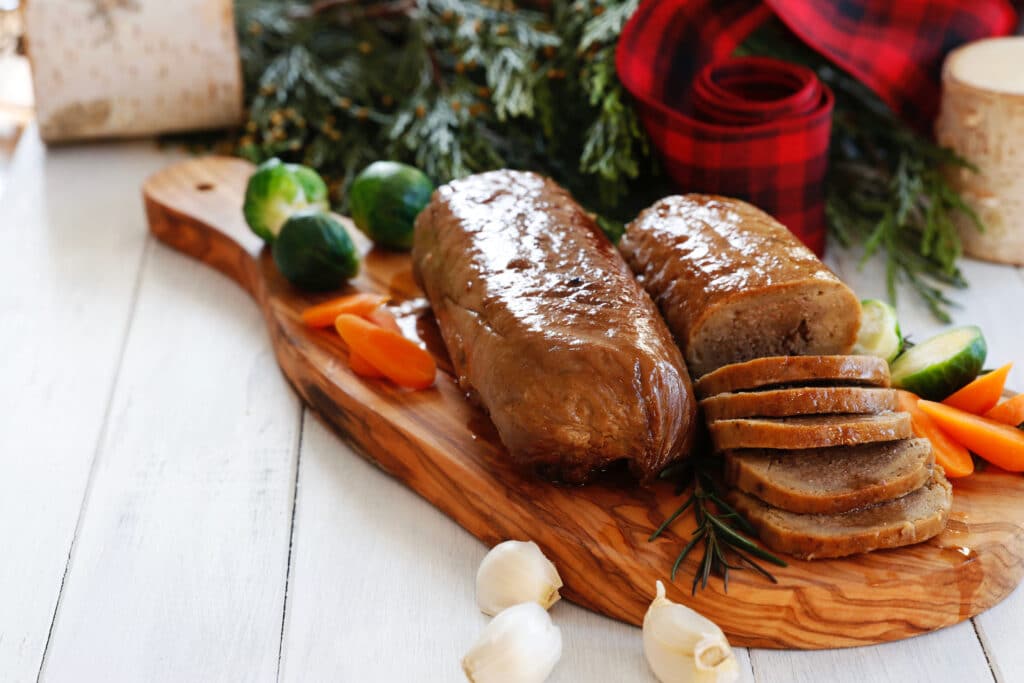 This Holiday roast is a beautiful dish to serve to your family and friends, and the best part is that it is Gluten-Free. So many times, it is hard to find a good Gluten-Free roast. This recipe is a favorite. It is also small in case you want to prepare something special for just a few people. Click Here to check out my other gluten-free roast recipe on my youtube channel.
I would suggest you make this recipe ahead of time and leave it in the fridge to chill overnight. This step allows the roast to set, and the consistency will be much better. Then reheat before serving and add a glaze if desired. The glaze adds to the flavor as well as the color of the roast.
IT CAN BE SERVED WITH ALL THE STAPLES, HERE ARE SOME OF MY OTHER FAVORITE HOLIDAY RECIPES:
Anyway, I hope you enjoy this recipe as much as my family, and I do!
Merry Christmas!
Print
Gluten-Free Vegan Holiday Roast with Filling
A wonderful vegan Holiday Roast for Christmas. It is so flavorful and delicious, and though it is Gluten-Free, you do not need to be Gluten-Free to enjoy this roast.
It is a fantastic recipe to make if you need a small roast. This recipe makes 2 small roasts. They need to be made a day in advance and refrigerated for a few hours, before reheating and serving.
Filling:
2 cups

fresh mushrooms, chopped

2

large garlic cloves, minced

1/2 cup

nuts (pecans &/or walnuts) chopped

1/2 cup

artichoke hearts

1/2 cup

GF Glutino table crackers, crushed (or original water crackers if not GF)

1/4 teaspoon

salt

1/8 teaspoon

red crushed pepper

1 tablespoon

olive oil
Roast:
1

pound extra firm tofu

1/4 cup

tapioca starch

1/4 cup

rice flour

1 tablespoon

nutritional yeast

1/4 teaspoon

thyme

1/2 teaspoon

sage

1 teaspoon

garlic powder

2 teaspoon

onion powder

pinch of cayenne (optional)

2 tablespoons

dried mushroom powder (powdered dried mushrooms)

1 teaspoon

agar powder (dissolved in warm Bragg Liquid Aminos)

2 tablespoons

Bragg Liquid Aminos

2 tablespoons

oil (optional)

1/2 teaspoon

salt

1 teaspoon

Better Than Bouillon (or chicken-style seasoning)
Instructions
Filling:
In a skillet sauté mushrooms in olive oil for a couple of minutes. Add minced garlic and sauté for another minute.
Next add the mushroom garlic mixture to a food processor and the remaining ingredients: artichoke hearts, chopped nuts, crackers, salt, and red crushed pepper.  Pulse a few times to combine. Set aside.
Roast:
Preheat oven to 350F
In a food processor add the extra firm tofu. Pulse to blend.
In a small glass jar add the agar powder to the Bragg Liquid Aminos and stir. Place in microwave for a few seconds to heat. This is a crucial step.
Add to the food processor. Next, add all the remaining ingredients.
Blend until it forms a very soft dough.
Transfer dough to parchment paper.  I use an "Extra Strong, Non-Stick" Parchment Paper.  Place another parchment paper on top. Flatten by using hands to get the desired rectangle shape. Gently remove the top parchment paper.
Add the filling to the middle. Gently pull the parchment paper together over the filling. Squeeze the two edges of the dough together at the top using the parchment paper. Roll the parchment paper from top down until you reach the roast. Pull the parchment paper tightly around the roast, forming it into a roll. Twist the sides. Take your time, as this is the shape of the final roast. Cover with a piece of foil. (Foil is helpful to keep the shape of the roast, but not necessary)
Bake at 350F for 90 minutes, flipping the roast half way through cooking time.
Let roast cool and store in the fridge for several hours before serving. This is a crucial step that will set the texture and make it easier to cut and handle. When ready to serve, heat in the oven at 350F for 20-30 minutes.
Baste with the below glaze, which will make the crust crisp and tasty.
GLAZE:
1 tablespoon oil

2 teaspoons Bragg Liquid Aminos

1 tsp maple syrup
Whisk to combine. Brush on with pastry brush before reheating.
Serve with blanched Brussels sprouts, cranberries, potatoes and gravy.
The glaze can also be added in a skillet right before serving.
Notes
This roast can be made without oil for an oil free option. Eliminate the oil in the roast and sauté mushrooms in a little water.