Today Mom and I are going to show you how to make a incredible gluten-free, vegan holiday roast. It is an amazing recipe. You would not believe that this is a gluten-free roast; it tastes just like a vegan roast should taste. It is best when made a day in advance; it's almost like it needs that extra time to get to the right consistency. It also makes it much easier to cut. I am posting a day early to give you the opportunity to make this for Thanksgiving if you so desire.
Another advantage of this incredible gluten-free vegan Holiday roast is that the color is lighter, making it look more appetizing than some of the other vegan roast recipes out there.
Thanksgiving is such a sweet time in our house. It is a time to reflect on the many blessings we take for granted all year long. We often go around the table and discuss what we are the most thankful for. It makes for great memories and precious bonding moments. Our table is usually graced with friends and family, which just adds to the specialness of the occasion. The house is decorated with a variety of different pumpkins and brightly colored flowers. The smells from the kitchen elude to the promise of a great feast. It is such a good time.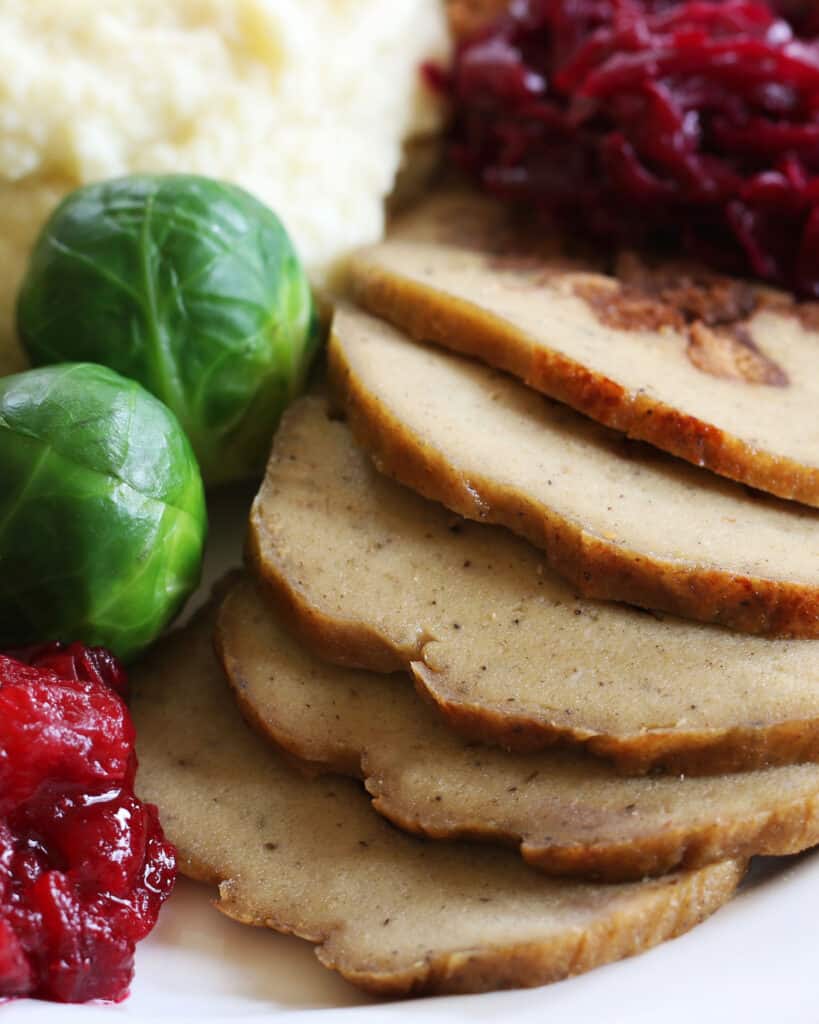 It can be served with all the staples, here are some of my other favorite holiday recipes:
I wonder what the first Thanksgiving must have been like? I am pretty sure they were not serving a vegan, gluten-free Holiday roast, but maybe the food tasted good anyway:) They must have been grateful as they prepared the various dishes; they had survived a most difficult year. Today we are so blessed.
I am not sure what experiences this past year have brought you, maybe some good and some not so good, but either way, this Thanksgiving Holiday grants us an opportunity to be grateful we have safely made it through another year.
Happy Thanksgiving to all of my friends out there. May God richly bless you!
Print
Incredible Gluten-Free Vegan Holiday Roast
1

pound extra firm tofu

1/4 cup

tapioca starch

1/4 cup

rice flour

1 tablespoon

nutritional yeast

1/4 teaspoon

thyme

1/2 teaspoon

sage

1/4 teaspoon

savory, ground

1 teaspoon

garlic powder

2 teaspoon

onion powder
pinch of cayenne (optional)

1 tablespoon

dried mushroom powder

1 teaspoon

agar powder (dissolved in the Bragg Liquid Aminos)

2 tablespoons

Bragg Liquid Aminos

2 tablespoons

oil

1/2 teaspoon

salt

1 teaspoon

Better Than Bouillon (or chicken-style seasoning)
GLAZE
1

T oil

2 teaspoons

Bragg Liquid Aminos

1 tsp

maple syrup
STUFFING RECIPE
4 1/2 cups

cubed dried gluten free bread

1/4 cup

vegan margarine or oil

1

large onion, finely chopped

2

celery stalks, finely chopped

1

garlic glove, minced

1 tablespoon

dried mushrooms, diced (can use fresh if desired)

1/2 cup

chopped pecans

1 cup

vegetable stock or water

1 tablespoon

Better Than Bouillon

1/2 teaspoon

thyme

1/2 teaspoon

salt

1/2 teaspoon

sage

1 tablespoon

fresh parsley (garnish)
Instructions
Preheat oven to 350F
In a food processor add the extra firm tofu. Pulse to blend.
In a small glass jar add the agar powder to the Bragg Liquid Aminos and stir.
Place in microwave for a few seconds to heat.
Add to the food processor. Next, add all the remaining ingredients.
Blend until it forms a soft dough.
Transfer dough to parchment paper. Place another parchment paper on top. Flatten by using hands or rolling pin to get the desired rectangle shape. Gently remove the top parchment paper.
Add the stuffing to the middle of the rectangle. Gently fold in the sides. Next pull the parchment paper together over the stuffing. Squeeze to close the dough. Pull the parchment paper tightly around the roast, forming it into a roll. Twist the sides. Finally add a piece of foil to cover the roast.
Bake at 350 for 90 minutes, flipping the roast half way through cooking time.
Let roast cool and store in the fridge for several hours before serving. This will set the roast and make it easier to cut and handle. When ready to serve, heat in the oven at 350F for 20-30 minutes. Remove parchment paper and foil from roast. Place in a baking dish.
Baste with the below glaze, which will make the crust crisp and tasty.
Glaze:
Whisk to combine. Brush on with pastry brush before reheating.
Serve with mushroom stuffing, blanched Brussels sprouts, cranberries, potatoes and gravy.
Stuffing:
Cut bread into small cubes. Arrange on a baking sheet and dry in the oven at 300 F for 15-20 minutes or on the counter overnight.
In a saucepan add vegan margarine chopped onion and celery. When onion is soft, add garlic. Sauté for a couple more minutes. Add the remaining ingredients except the cubed bread and fresh parsley.
Bring to a boil. Set aside.
Gently stir in the dried bread and fresh parsley. Cover with lid, let it rest for a few minutes. Give it another stir before serving.
I hope you enjoy this vegan holiday recipe! Leave me a comment if you try it:)