My excitement level is off the scale for this recipe. I am so excited to share these Vegan Pumpkin Pie Bites or Mini Pumpkin Pies with you! Talk about a fun and delicious pumpkin dessert recipe.
We are only 15 days away from celebrating Thanksgiving. One of my most favorite holidays. So why not celebrate with this adorable pumpkin dessert.
If you are like me, you may be thinking about what you're going to make for Thanksgiving dessert. In my opinion, no Thanksgiving celebration is complete without a beautiful pumpkin pie. So, today I am going to show you how to spice up this traditional holiday dessert, by making vegan pumpkin pie bites or mini pumpkin pies, which will dazzle any holiday table and are so delicious they might knock your socks off:)
Pumpkin Pie History:
Pumpkin pie is a holiday staple in America. I was curious about the history behind this much-loved pumpkin dessert, so I did a little research and found more information than I thought would be available. Pumpkin pie has a long history.
The traditional Pumpkin pie has been developing and changing, just as our country has since the Pilgrims came to the new world in 1620.
In the beginning, the early settlers made something similar to a pumpkin pie without the crust. And in New England, people would hollow-out pumpkins, fill them with spices and sweetened milk, and cook it right on the fire. This process sounds interesting to me; I may want to try to make a vegan version someday.
As I continued to read more, I came across a funny bit of history: Apparently, during the fall of 1705, the whole town of Colchester, Connecticut, postponed their Thanksgiving for a week because there was not enough molasses to make pumpkin pie.
I smiled when I read this charming bit of pumpkin pie history. It proves that pumpkin pie has always been an essential part of our country's Thanksgiving tradition. Somehow I think I would have been on board with this town's decision as Thanksgiving without pumpkin pie would not be the same.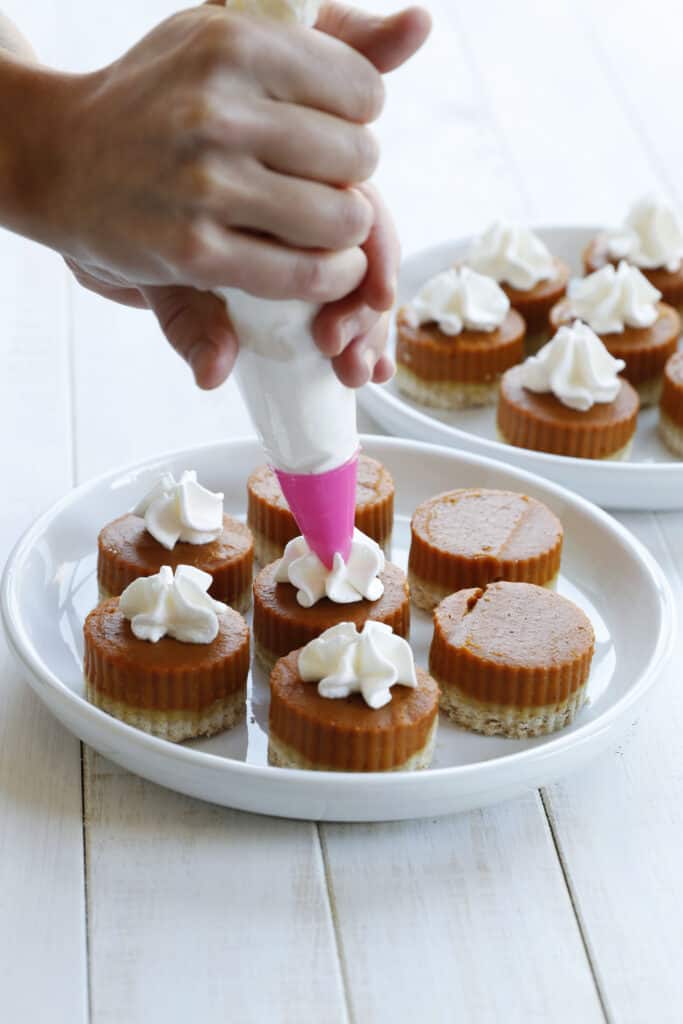 Pie Culture in New England:
I live in New England, which has a huge pie making culture. We even have "Honor System" Bakeries, which are unattended. You simply pick out your pie, leave the money, and off you go.
There are pie baking classes you can attend to learn how to make the perfect pies, and these classes often have a long waitlist and require you to sign up months in advance.
It is easy to see that we love our pumpkin pies in America. Did you know that a staggering 50 million pumpkin pies are consumed each Thanksgiving?
That is a lot of pies! We could make this number go up substantially if we made mini vegan pumpkin pies instead:)
Why make a vegan pumpkin pie?
Ok, so now we have established the fact that we love pumpkin pie. But, why should we make a vegan pumpkin pie this holiday season?
Maybe you are a lifelong vegan or someone who is just exploring the idea of eating vegan.
Let me make this easy. Vegan pumpkin pie is phenomenal. You might think that excluding the eggs and condensed milk would make this recipe less tasty. Not true:)
This vegan pumpkin pie recipe is light and fluffy, with just the right hint of sweetness. An explosion of flavor from the cinnamon, cardamom, ginger, and vanilla makes this a perfect holiday treat.
And I still have not mentioned that it is also much healthier for you.
Last year, I made pumpkin pies for an event in Minnesota. Vegans and Non-Vegans alike raved about the flavor and couldn't believe it was vegan. So, there you go.
My Mom and I have experimented and recipe tested to find the right combinations of ingredients and flavors for this pumpkin pie. I hope you enjoy this recipe as much as I do.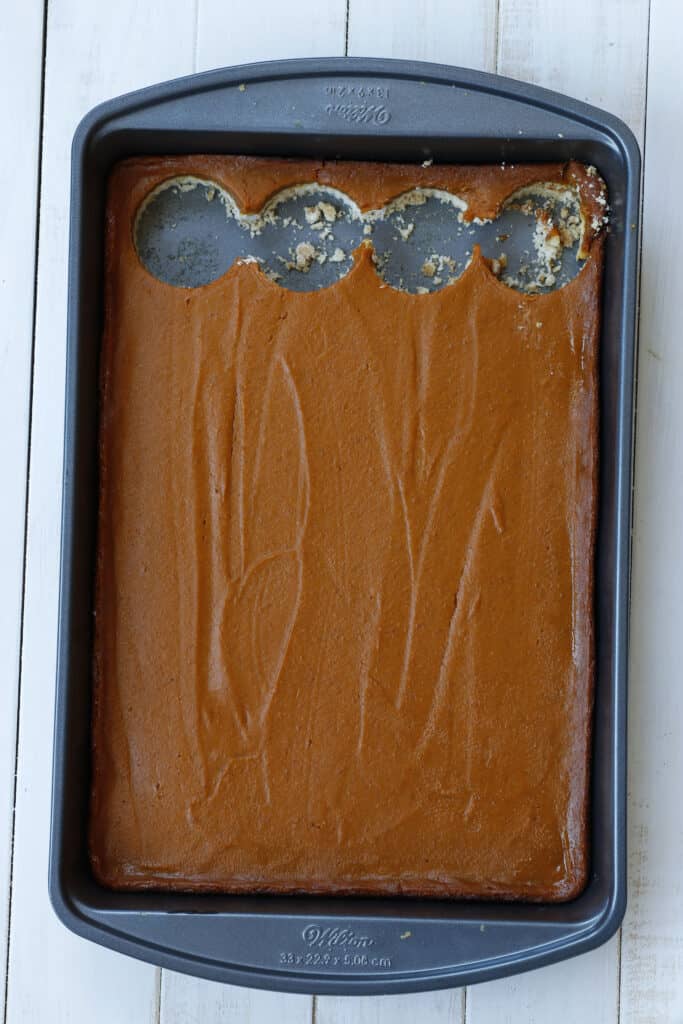 How I make my Pumpkin Pie:
If you ask me, every fantastic pie starts with the crust. If the crust is off, so is the whole pie.
I make my pie crust with coconut oil as I find it gives me the flakiest finished product. I cut the coconut oil into the flour with a little touch of salt, add a little lemon juice for a fresher test, and finish it off with just enough ice water to make the dough hold together.
As you roll out the dough and bake it, something incredible happens. The coconut oil goes to work. As it melts in the oven, you are left with the most flaky pie crust. My family says it can be eaten by itself:)
For the filling, I use pumpkin and the slightest bit of silken tofu. Hold it! I know what your thinking! And no, this pie will not taste like tofu. People will have no idea that there is the tiniest bit of tofu in the recipe. It disappears into the pie and makes the consistency extra good.
Coconut milk is added to make it super creamy, along with spices that will fill your kitchen with the wonderful smells of the holiday season.
A Little Pumpkin Pie Secret:
I have struggled for years to keep the top of my pies from cracking. I researched and experimented, and finally found a technique that works for me.
Patience!
When my pie is done baking, I turn off the oven and crack open the oven door and let the pie cool slowly in the oven. As it cools, I open the oven door a little more until the pie has come to room temperature.
Something about pulling a hot pie out of the oven and shocking it with the cool room temperature makes it crack under the pressure. It isn't ready for the world yet, let it get used to the idea in the oven:)
I hope this technique is as helpful for you as it was for me.
Pumpkin Pie Bites:
So today, I am going to take this recipe to the next level by showing you how I make traditional pumpkin pie into extraordinary pumpkin pie bites.
These adorable mini pumpkin pies will be a fantastic addition to any dessert table this holiday.
As we come closer to this special time of year, I am reminded of how abundantly God has blessed me. Not only because I get to eat vegan pumpkin pie bites, but also because I have a loving family and supporters like you, who watch my videos and make my recipes. Thank you for your continued encouragement and support.
So, I want to wish you the very best this Holiday season.
I hope you enjoy this special recipe. Click here to watch my video on Youtube!
Print
Vegan Pumpkin Pie Bites
My excitement level is off the scale for this recipe. I am so excited to share these Vegan Pumpkin Pie Bites with you! Talk about a fun and delicious recipe. 
Author:
Yield:

12

Pie Bites

1

x
Crust:
1 1/2 cups

flour

1/2 teaspoon

salt

8 tablespoons

coconut oil

1 teaspoon

fresh lemon juice
Ice water as needed
Filling:
15 oz

. pumpkin (I use Libby's)

4 oz

. tofu

4 oz

. coconut milk

2/3 cups

sugar

2 tablespoons

tapioca flour

1 teaspoon

cinnamon

1 teaspoon

vanilla

1/2 teaspoon

cardamom

1/4 teaspoon

ground ginger

1/4 teaspoon

salt
Instructions
Crust:
In a food processor, add flour and salt, pulse to mix.
Next add coconut oil and lemon juice, pulse until mixture resembles crumbs.
Add ice water, one tablespoon at a time, until the mixture sticks together when pressed.  Should be fairly dry.  If the dough gets too wet, harden in fridge for 5-10 minutes.
Press the dough into a 8×8 inch pan or double the recipe and use a 13×9 inch pan.
Pre-baking the pie crust makes a better pie, though it is not absolutely necessary. Bake pie crust at 350F for 30 minutes with pie weights.  Remove pie weights and bake an additional 10 minutes.  Let pie crust cool.
Filling:
In a food processor, blend pumpkin and tofu until smooth. Add the rest of the ingredients and blend until smooth.
Fill the cooled pie crust.
Bake at 350F for 45 minutes.  Turn off the oven, open the oven door slightly to let the pie slowly come to room tempeture to help avoid cracking.
For best results, let the pie cool completely before cutting into bit size pieces.  Serve with your favorite whipped topping.