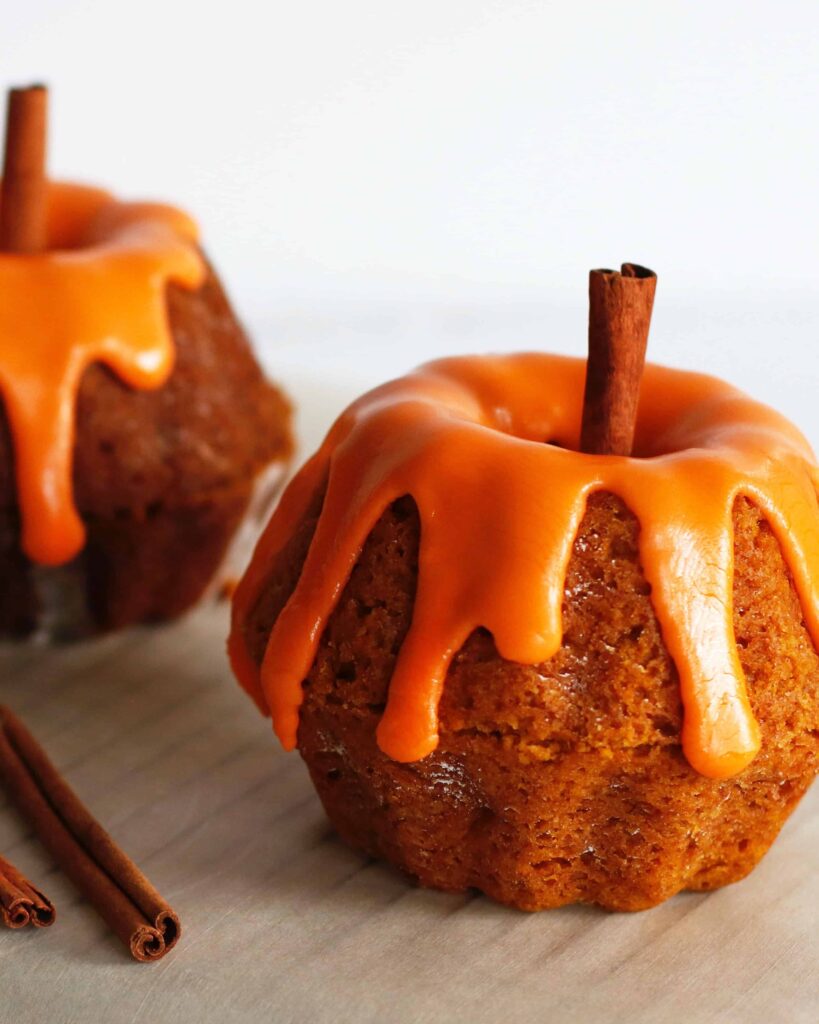 Here is a recipe for a sensational vegan pumpkin spice cake. These cakes are sure to make your Holidays extra festive. This cake can be made into so many different shapes, but for Thanksgiving, I would suggest using mini bundt pans. You can then put two mini cakes together and make it look like a pumpkin. How cute is that?
Around this time of year, pumpkins are decorating porches and storefronts everywhere. It's like they have single handily taken on the responsibility of counteracting all the dead leaves, brown grass, and bare branches that surround us this time of year. They brighten our existence. Once we see the pumpkins, the excitement starts building. People are preparing for the holidays; Thanksgiving is right around the corning.
For some of us, Holidays can be stressful. I don't think they were ever meant to be. They were meant to be a time of relaxation, a time to spend with family and friends, a time to reflect on the good things in life. But the stresses of Holiday preparations have made it a chore for most. However, for me, baking is the best way to relax. It shuts out the world around me for a few minutes; lets me unwind from the stress, while I still prepare something special for the Holiday. Now, that is a win-win situation. This recipe is perfect for helping you relax this holiday season. Have fun with it.
I love vegan pumpkin spice cake. Pop these cakes in the oven, and the smell of cinnamon, cardamom, and ginger fill your kitchen with the most amazing aromas. The result is a beautifully fluffy cake that you can cover with a glaze or simply sprinkle with some powdered sugar. Either way, it is sure to provide your friends and family with a special treat.
Perfect as a gift:
You may even want to give these as gifts. One of these little sensational vegan pumpkin spice cakes, packed in a cute box and carefully wrapped with a bow, is sure to bring a smile to the special people in your life.
I have several recipes for special holiday treats on my website. Be sure to check out my Pumpkin Pie Bites or Mini Pumpkin Pies.
Print
Sensational Vegan Pumpkin Spice Cake
Dry Ingredients:

1 cup

flour

1/4 cup

coconut sugar

1/4 cup

organic cane sugar

2 teaspoons

baking powder

1/2 teaspoon

salt

1/2 teaspoon

ground cinnamon

1/4 teaspoon

ground cardamom

1 teaspoon

ground ginger
Wet Ingredients:
1/4 cup

almond milk

1/4 cup

oil

1/2 cup

pumpkin (Libby's)

1 teaspoon

vanilla extract

1 tablespoon

lemon juice
Instructions
Preheat oven to 350F
In a medium size bowl, mix together all the dry ingredients.  Stir to combine.
In another bowl, mix together the wet ingredients.
When ready to bake, combine the wet and dry ingredients.  Stir to combine.  Fill mini bundt cake forms or mini cake forms.
Bake for 15-20 minutes until a toothpick comes out clean.
Let cool completely before adding icing.
Icing:
1 cup sifted powdered sugar
a few drops of orange all-natural food coloring (optional)
a few drops of water to make the desired consistency.  Blend together.
To Assemble the Pumpkin Cakes:
Using a knife, cut the bottom of each cake so that they fit together better.
Place one cake with the top down and the other cake with the top up.
Pour icing over the top of the cake. Let it drip down the sides. If it runs to quickly, add more powdered sugar.
To complete the cake, add a cinnamon stick to the middle to mimic the pumpkin stem.  Enjoy!