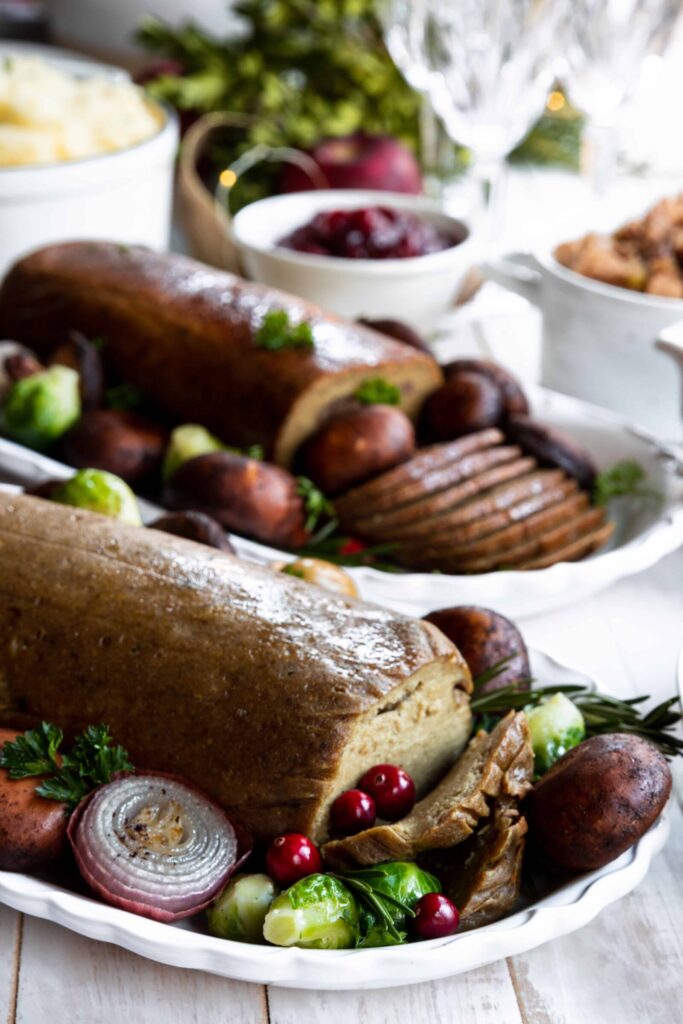 Snow? Yes, believe it or not, we have had snow in New Hampshire already. Fortunately, it melted, which is good because we are not quite ready for winter yet; we still want to enjoy the last little bit of fall. With the end of fall begins the planning for the Holidays. It's an exciting time. It may be a different sort of Holiday this year, with social distancing and various restrictions, but one thing we know for sure, whether together or not, we can give thanks for those things we do have and celebrate the reason for the season. We usually start planning by figuring out the main course. Today we will show you have to make a fantastic Gluten-Free Holiday Roast, the centerpiece of the holiday menu. Completely Plant-based and Vegan, it is a favorite around our house.
Just because this is a gluten-free Roast does not mean it is any less flavorful or delicious than our other Roasts. We would be very happy with this Vegan Roast for any Holiday.
Helpful Steps to Make this Gluten-Free Holiday Roast:
So let's get down to business. This Holiday Roast is actually an easy roast to make. There are, however, some crucial steps that will ensure a better outcome, so let me walk you through those:
Firstly, it is useful to have a food processor or a blender to blend the wet ingredients.
I use mushroom powder to add an extra element of flavor. I do this by grinding dried mushrooms into a powder, which adds to the taste of the Roast. You can buy dried mushroom or mushroom powder from amazon if it is difficult to find in your area.
I use chickpea flour in this Roast for an extra element of flavor, but feel free to substitute with rice flour.
For a smokier flavor, add some Hickory smoke powder or increase the smoked paprika. For a spicier roast, add crushed red pepper or increase the cayenne.
The Roast must be made a day ahead, or at least several hours beforehand, for it must rest in the fridge to correctly set or gel. This is a crucial step in the process. Once it has set, it can be reheated and sliced before serving.
We use agar powder to gel the Roast. Agar powder has to be heated in order to set and thicken, which we do by heating the Bragg Liquid Aminos (soy sauce) until hot and then dissolving the agar powder in the liquid. A word of caution: Bragg Liquid Aminos burn easily, so keep an eye on it. Just heat until very warm. I usually use the microwave for this step, and it only takes 15-20 seconds to heat before I add the powder. Stir to dissolved.
When pulling together the Roast, be sure to use parchment paper. This is a crucial step as the dough is very soft and would be hard to manage without it. I like to put a second piece of parchment paper over the dough to flatten it. This makes it easier to pull off, and you have a nice flat surface for the stuffing. Remember to use gluten-free bread for the stuffing. Click Here for my Gluten-Free Stuffing Recipe!
The Roast will pretty much have the shape that you create at this stage. It does swell some during baking but becomes a bit smaller as it cools.
You can make this Roast without the stuffing too.
In this video, we doubled the recipe to make a really good size roast.
So, what other things can I serve with this Gluten-Free Holiday Roast?
I will highly recommend the mashed potatoes, vegan holiday gravy (GF option), cranberry sauce, sweet potatoes with marshmallows, and roasted fall vegetables or delicata squash with gluten-free stuffing. For the appetizer, I will recommend the spinach artichoke dip served with gluten-free crackers. And for a sweet and festive look, try the vegan meringue mushrooms and candied pecans.
In conclusion:
This is a fantastic Holiday roast. It is also great for sandwich meat. I will often make a roast without the stuffing just for lunch meat purposes. So, should you per chance have leftovers, it will not go to waste.
Happy Holidays:
We live in challenging times. I know that many of you have been severely affected by this tragedy. My heart goes out to you. It is my hope that this Holiday Season will bring comfort and peace. Surround yourself with the loved ones that are near. May God richly bless you.
Click Here to Watch My Mom and I make this Plant-Based Recipe on YouTube!
Print
Gluten-Free Holiday Roast:
Wet:
1

pound extra firm tofu

2 tablespoons

Bragg Liquid Aminos

1 teaspoon

agar powder (dissolved in the warm Bragg Liquid Aminos)

2 tablespoons

oil
Dry:
1/4 cup

tapioca starch

1/4 cup

rice flour

1 tablespoon

nutritional yeast

1/4 teaspoon

thyme

1/2 teaspoon

sage

1/4 teaspoon

savory, ground

1 teaspoon

garlic powder

2 teaspoon

onion powder
pinch of cayenne (optional)

1 tablespoon

dried mushroom powder

1/2 teaspoon

salt

1 teaspoon

vegan gluten-free chicken-style seasoning
Glaze:
1

T oil

2 teaspoons

Bragg Liquid Aminos

1 tsp

maple syrup
Instructions
Preheat oven to 350F
In a food processor add the extra firm tofu. Pulse to blend.
In a small jar add Bragg Liquid Aminos.  Place in microwave for a few seconds to heat.
Add agar powder to the warmed Bragg Liquid Aminos and stir to dissolve. 
Add to the food processor along with the oil. 
Blend until smooth.
In a separate bowl, mix together all the dry ingredients.
Make a well in the center of the dry mixture and add the wet mixture.  Stir to make a wet dough.
Transfer dough to parchment paper. Place another parchment paper on top. Flatten by using hands or rolling pin to get the desired rectangle shape. Gently remove the top parchment paper.
Add the stuffing (Recipe) to the middle of the rectangle. Gently fold in the sides. Next pull the parchment paper together over the stuffing. Squeeze to close the dough. Pull the parchment paper tightly around the roast, forming it into a roll. Twist the sides. Finally add a piece of foil to cover the roast.
Bake at 350F for 90 minutes, flipping the roast half way through cooking time.
Let roast cool and store in the fridge for several hours before serving. This will set the roast and make it easier to cut and handle. When ready to serve, heat in the oven at 350F for 20-30 minutes. 
Baste with the below glaze, which will make the crust crisp and tasty.  
Glaze:
Whisk to combine. Brush on with pastry brush before reheating.
Serve with mushroom stuffing, blanched Brussels sprouts, cranberries, potatoes and gravy.