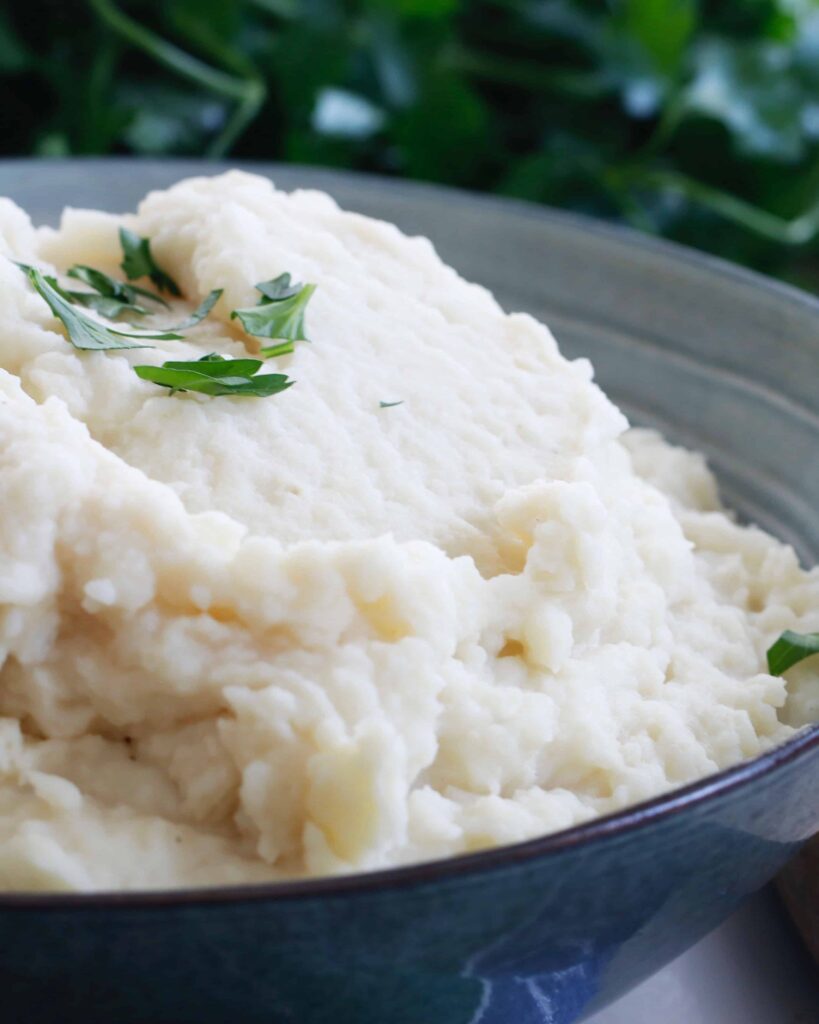 What would the Holidays be without mashed potatoes?
According to my mom: "Not much!"
Norwegian by birth, my mom is an avid potato fan, and I guess it rubbed off on my sister and me too. A Holiday meal without amazing vegan mashed potatoes would be a meager one at best.
So, here is a wonderful vegan mashed potato recipe that can supplement any Holiday meal, though it is one we use in our home all year long. It is simple, easy, and so delicious.
Holiday Meal Prep in our Home:
I do not know how you do Holiday meal preparation in your home, but in our house, we were responsible for different tasks. Peeling the potatoes was usually my job, and mashing them was Kaija's job. Though sometimes we would switch. There was such an excitement associated with this task as it was one of the last things we did before a Holiday meal. Mom did not want old tasting potatoes; they had to be fresh, right off the stove.
In order to make these vegan mashed potatoes exceptionally creamy, we use presoaked cashews. Presoaking the nuts do two critical things. First, it makes them easy to blend, giving you a smoother consistency, secondly, it takes away some of the flavor of the nuts, which makes the potatoes taste more authentic.
I come from a long line of potato lovers. My grandfather had to have potatoes every day. He said that if dinner did not include potatoes, it did not count. So, when we visited and were out and about, my grandfather would make potatoes for us. However, that was the only thing he knew how to make, so we would have to fix the rest ourselves:) Great memories.
Occasionally we get invited to someone's house for a holiday meal, and we are always disappointed if it does not include vegan mashed potatoes.
It can be served with all the staples, here are some of my other favorite vegan holiday recipes:
So, whether it is a special occasion or just an ordinary day, amazing vegan mashed potatoes spruce up any meal. Add some minced parsley for garnish, and they look fresh and beautiful.
Print
Amazing Vegan Mashed Potatoes
Author:
Yield:

5

–

6

Servings

1

x
Category:

Holiday
3

pounds potatoes (Organic Yukon Gold is my favorite)

1 teaspoon

salt

1/4 cup

cashews

3 tablespoons

vegan margarine (Earth Balance)
salt to taste
Instructions
Peel and quarter potatoes. Place in a medium sauce pan, add water to barely cover potatoes. Add 1 teaspoon salt. Bring to a boil. Lower temperature to a simmer. Let cook until potatoes are tender, about 20 minutes. Remove from heat.
Drain potato water into a container. Set aside.
Add vegan margarine to the potatoes. Stir to coat potatoes with margarine. Use a potato masher to mash the potatoes.
Measure 1 1/2 cups potato water into a blender. Add 1/4 cup cashews. Blend on high until smooth (2 min.) Add to potatoes a little at a time while stirring, making sure you do not add too much liquid. When the mashed potatoes reach the right consistency salt to taste.
Notes
If you need more liquid use leftover potato water.
Keywords: Vegan Mashed Potatoes