Here is a fun roundup of my favorite vegan Thanksgiving recipes to try! I hope you find them helpful when planning the menu.
Thanksgiving is such a joyful, fun time, but it can be a lot of work – these recipes are all pretty simple, and I hope you'll have a great time making them.
Vegan Thanksgiving Breakfast Recipes
Here are a couple of ideas for Thanksgiving morning.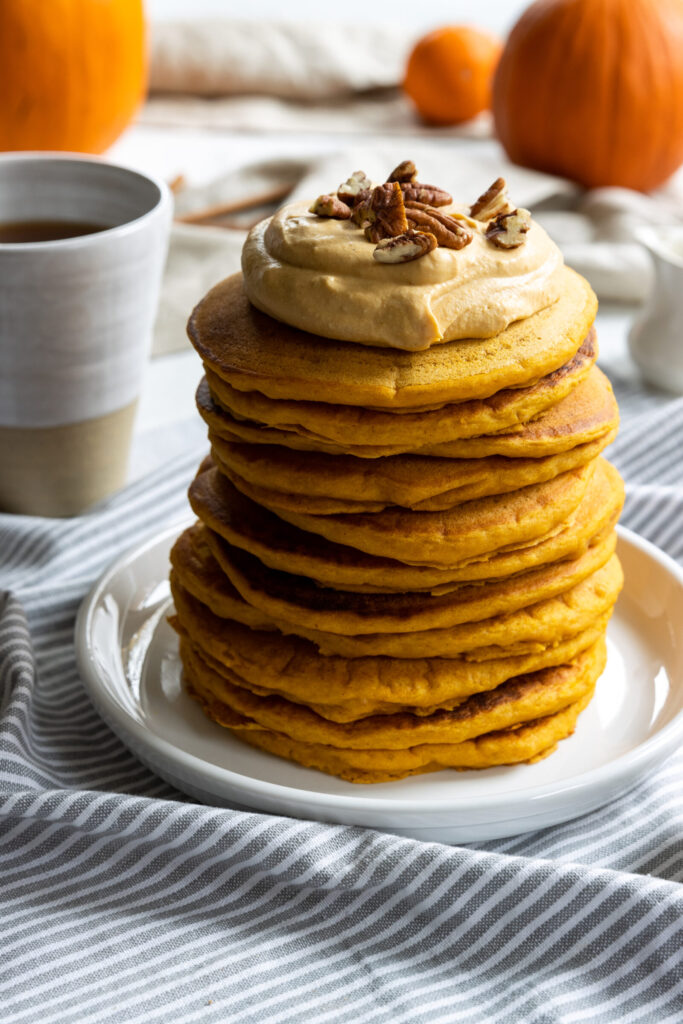 What can be better than starting the day with a stack of warm, cozy pumpkin pancakes on Thanksgiving? This recipe will get you in the holiday mood. My vegan pancakes are light and fluffy, with a pretty golden glow from the pumpkin puree in the recipe.
This recipe delivers the perfect light, flaky, gently spiced pumpkin scones that the whole family will love. It is just as delicious as my vegan peach scones, except it is loaded with holiday flavors. They get topped off with sweet glaze!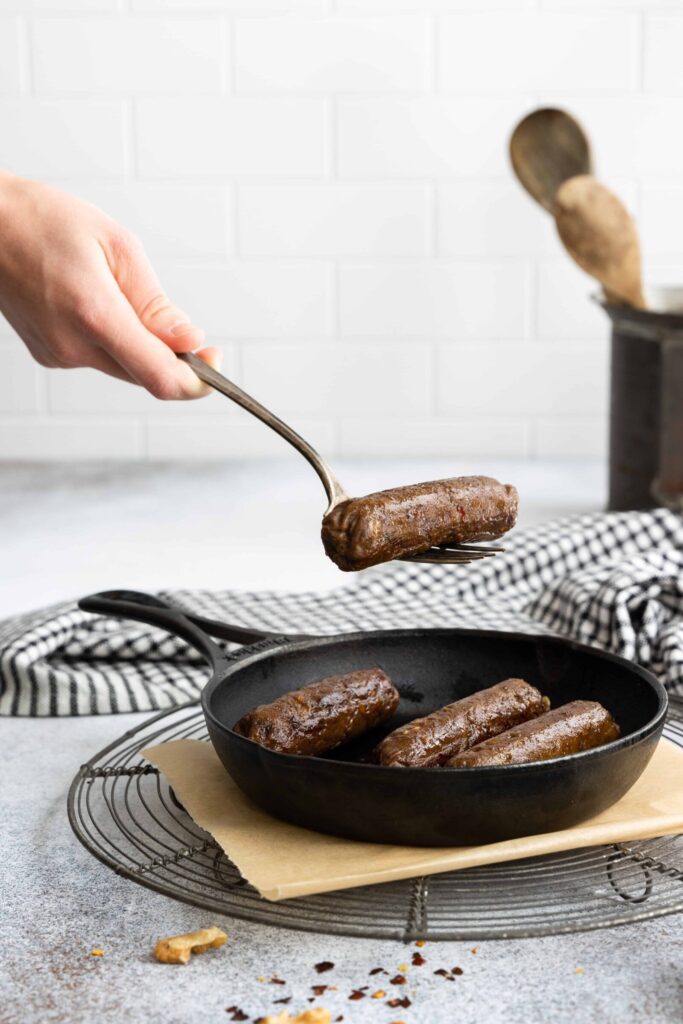 Are you looking for a hot breakfast idea? Serve these homemade vegan sausages with some roasted tomatoes and grilled mushrooms. This is perfect for those who love a hot, savory breakfast on Thanksgiving morning.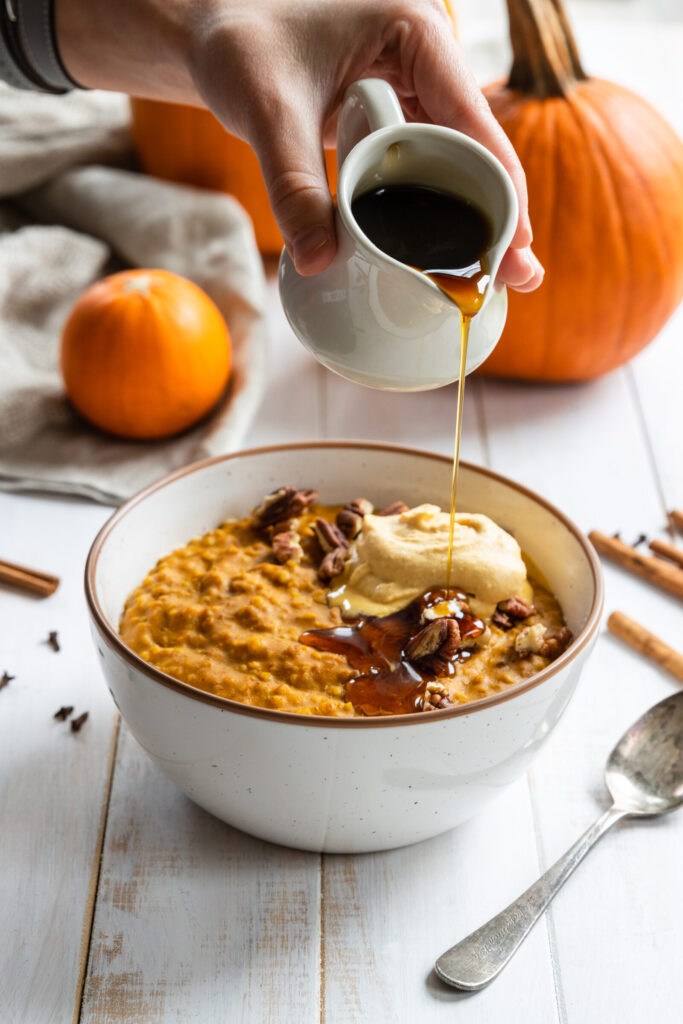 Serve up bowls of steaming pumpkin oats. This is the perfect choice if you don't have much time and its healthy. This recipe will take you back to your childhood with all its dreamy flavors. Cook it on the stovetop or in a pressure cooker.
Perfect Vegan Thanksgiving Appetizer Recipes
Vegan appetizers don't need to be complicated or intimidating – try these fun recipes.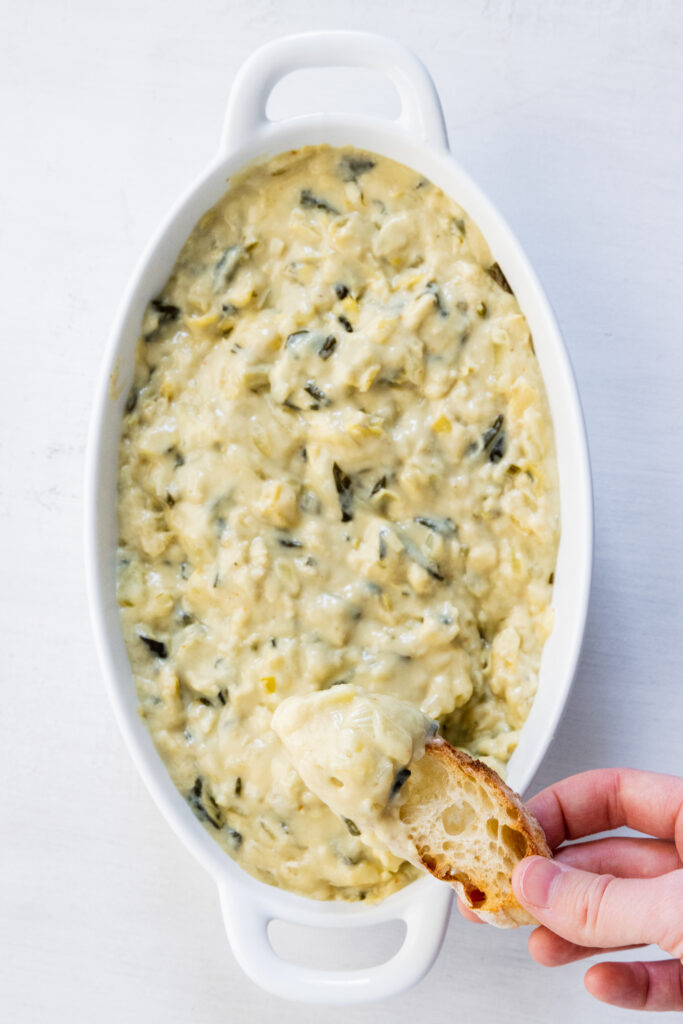 This is my healthy and light version of a creamy, classic holiday artichoke and spinach dip. What a treat to enjoy a rich, cheesy-flavored dip without any of the saturated fat! My recipe is made with cashew nuts (for creaminess), herbs, and nutritional yeast for a delicious, savory experience.
These bite-sized umami-filled bites will be a treat at your holiday party. These stuffed mushrooms are well-balanced with a little heat from the crushed red pepper.
Serving homemade olive tapenade is sure to make your guests feel special. There is something exquisite about a bowl of tapenade alongside slices of toasted baguette rounds. It's also super quick to make; you can make it the day before!
This little appetizer doesn't last long. Warm and creamy in its savory center, surrounded by crispy pastry. It's delicious! Garnish the Wonton cups with fresh herbs, and they will be the star of the show.
The Best Vegan Side Dishes for Thanksgiving
From fresh and light to rich and decadent – here are my favorites.
Pear and pecan is a classic combination, especially in the cooler Holiday months. Try this vegan version of this much-loved salad. This recipe has a pretty, colorful dressing that makes the whole salad come alive!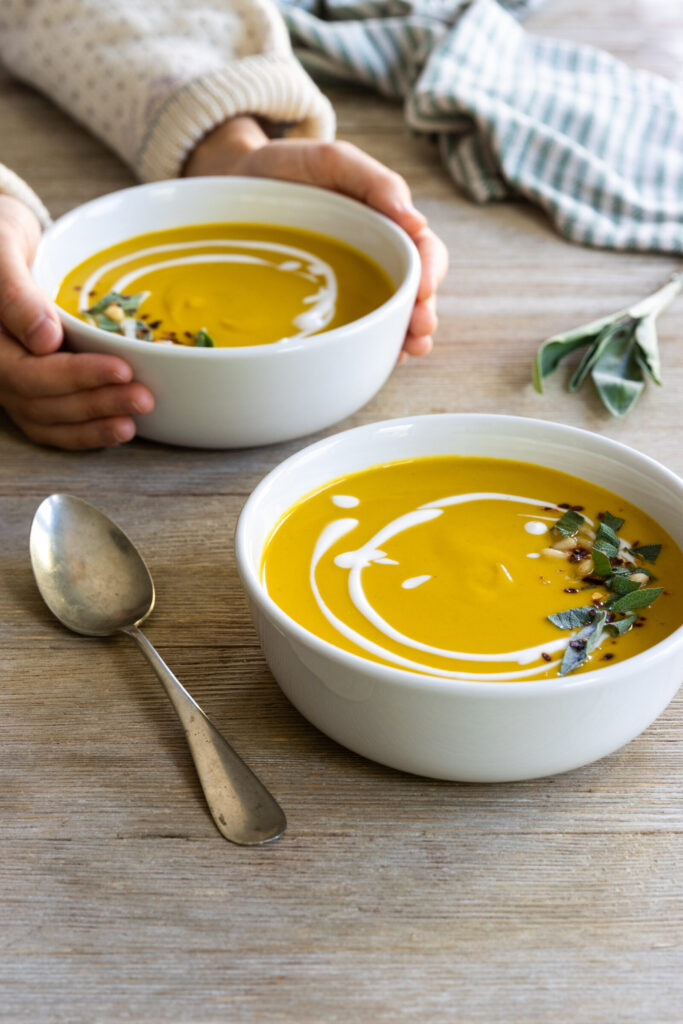 This is a lovely soup to pair with the salad mentioned above! Sage and butternut are a delicious flavor combination. The pine nuts give it a distinct taste. Serve this butternut squash soup in pretty bowls or festive mugs.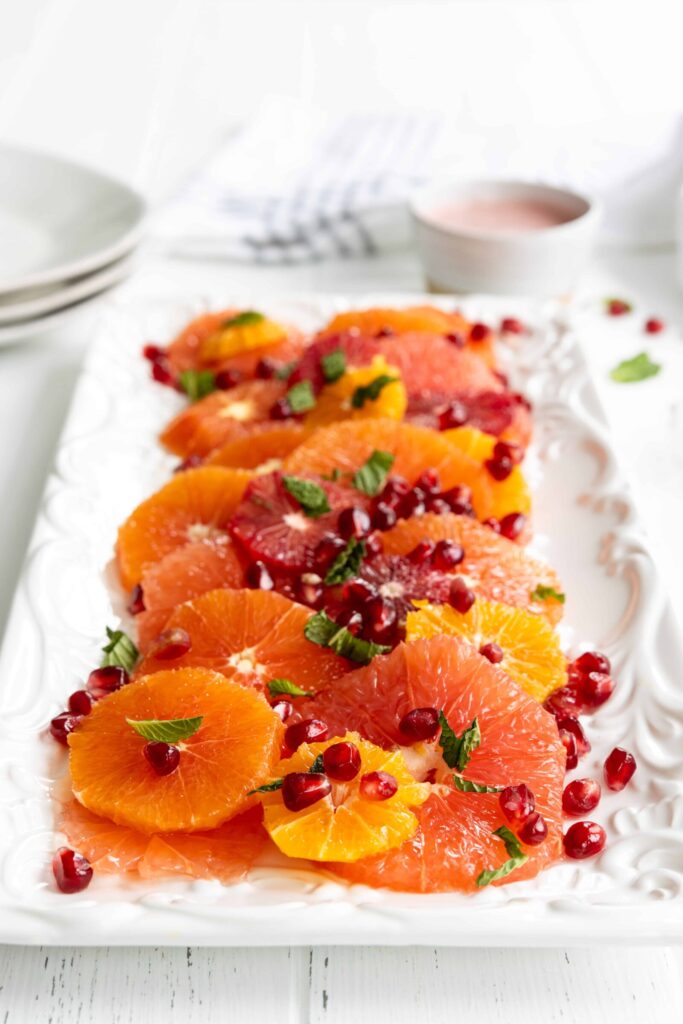 This salad will dress up your table with its pretty colors. Bright pops of citrus flavor, pomegranates, and light dressing make this a healthy, light salad. This citrus salad is a great way to break through the richness of the rest of the meal.
This easy side dish is beautiful and loaded with delicious holiday flavors. You'll love the hints of fresh ginger and mint! The orange adds a real zing, and the pomegranates deliver a wonderful texture and tartness.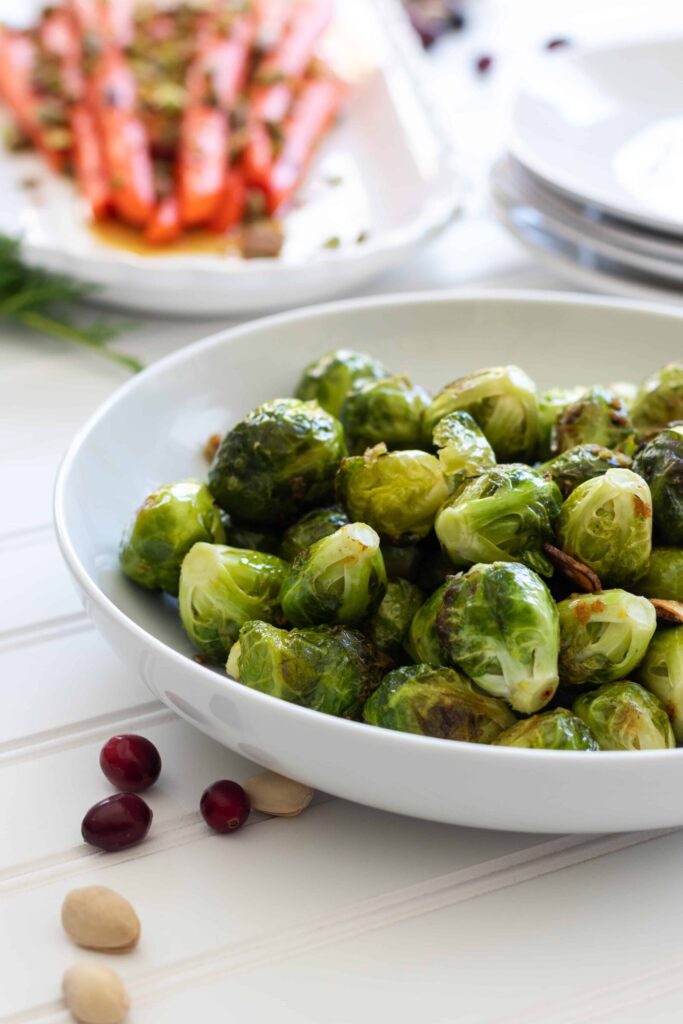 This is one of my favorite ways to serve Brussels sprouts. Garlic adds a delicious savory balance to Brussels sprouts, making them way more delicious. This easy side dish goes beautifully with my vegan turkey.
Every holiday spread is complete with the humble glazed carrot. Take this side to another level with my spicy maple glaze!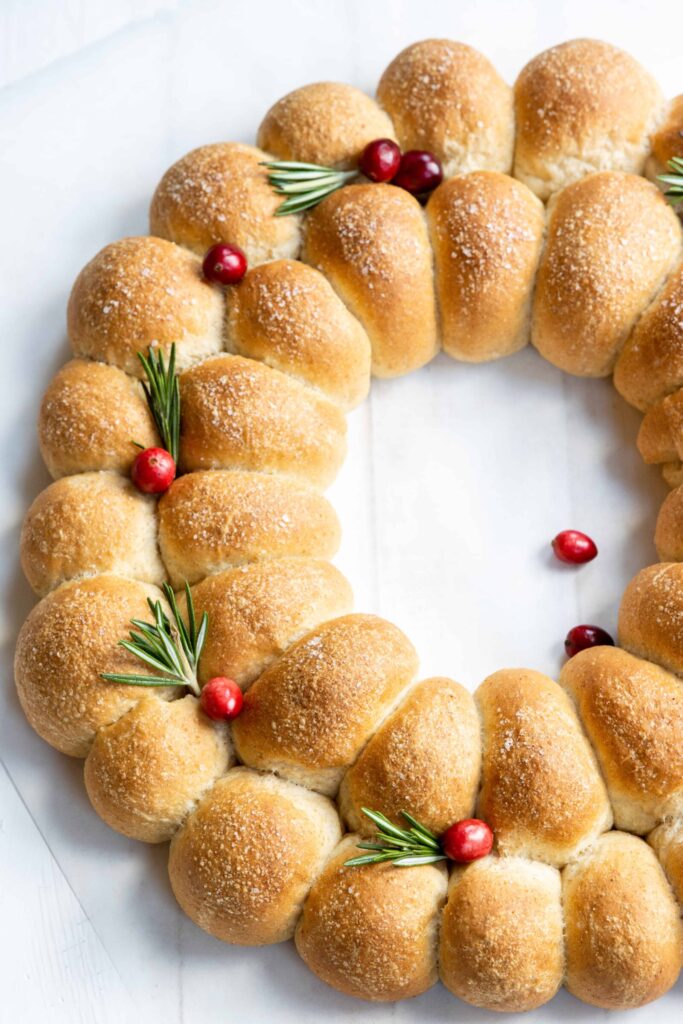 This wreath of festive dinner rolls will be the center of attention at your Thanksgiving table. I love how pretty the wreath looks; there are so many fun ways to decorate it!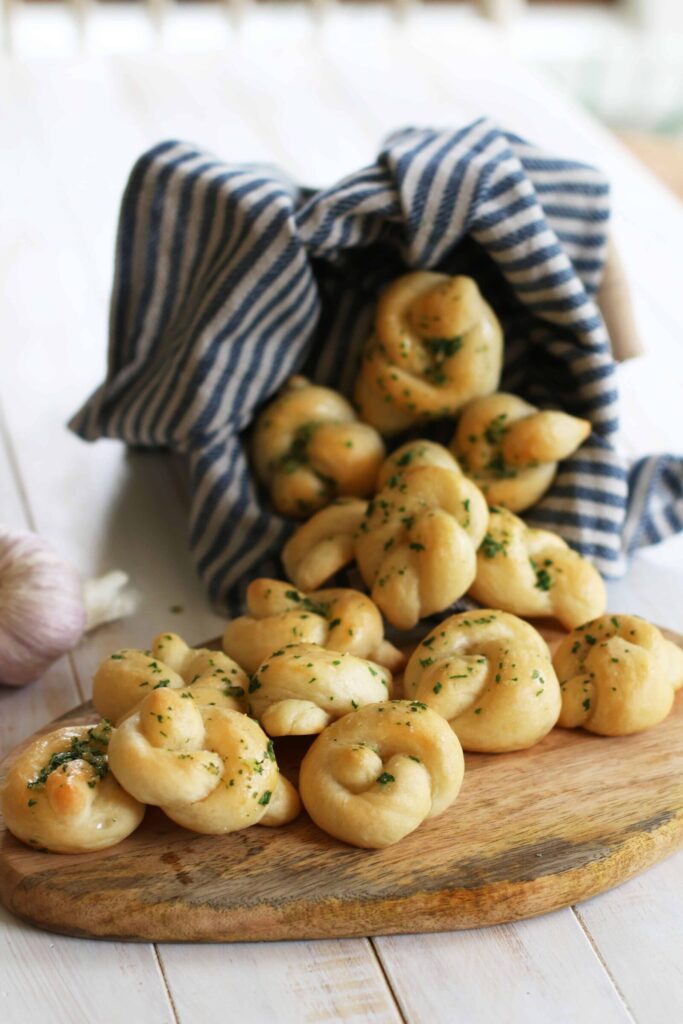 Delicious garlicky rolls are so good – here is my easy recipe for vegan versions. These rolls will fill your home with their rich aroma!
Is it a side dish? Is it a dessert? Who cares? It's the most mouth-watering recipe, and you cannot skip it! The little marshmallows are such a treat.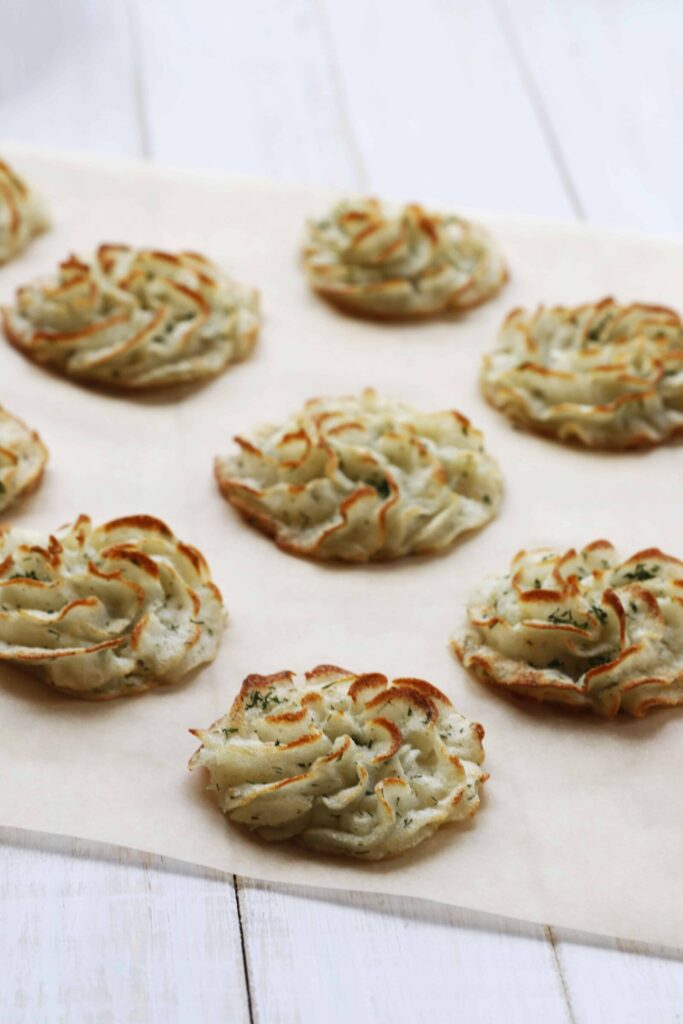 Effortless elegance – that's how I'd describe this vegan Thanksgiving side dish. Crispy on the outside and creamy and herby in the center. You won't have a single Duchess potato left, that's for sure.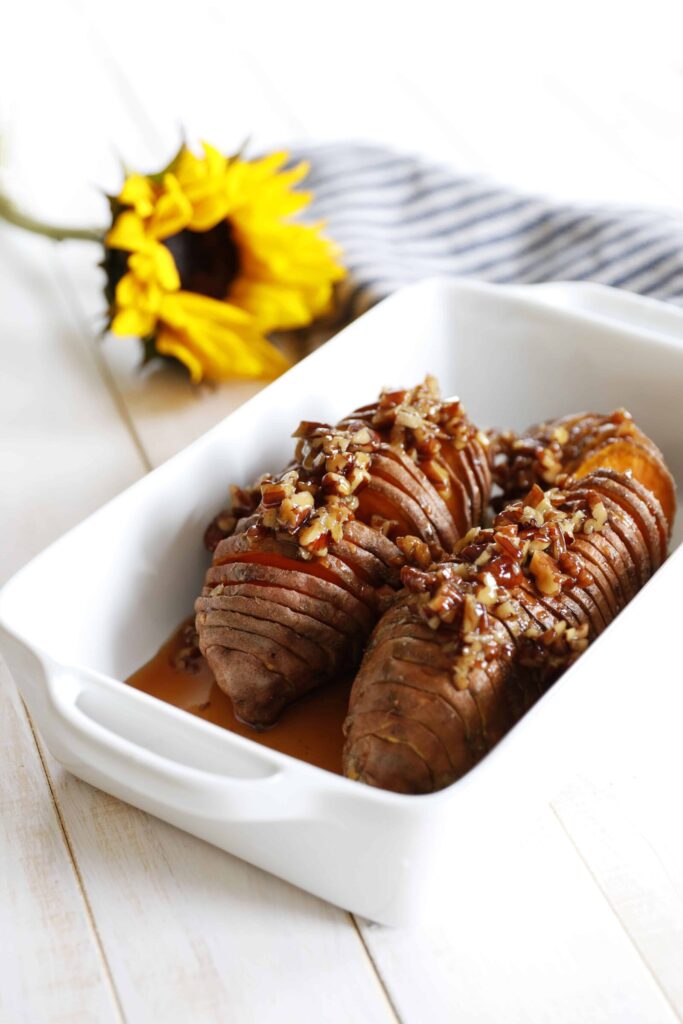 These sweet potatoes are the ultimate comfort food. The maple and pecan flavors lean heavily into Thanksgiving – these are easy to serve as a simple yet elevated side dish. Perfect with vegan roasts and other warm sides listed here.
Amazing Vegan Main Courses for Thanksgiving
You will love these cozy and satisfying main courses.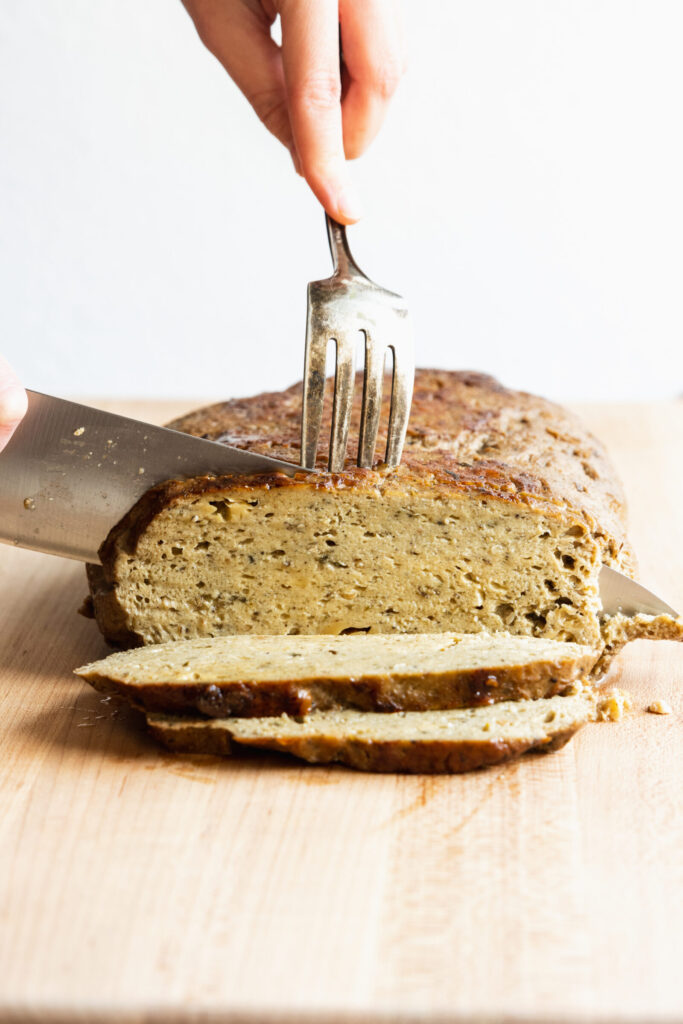 This is such a fun dish to make and will impress your friends and family. Vegan roast turkey will take center stage. It's easier than you think to make and perfect when served with my sweet carrots, garlicky Brussels sprouts, and duchess potatoes!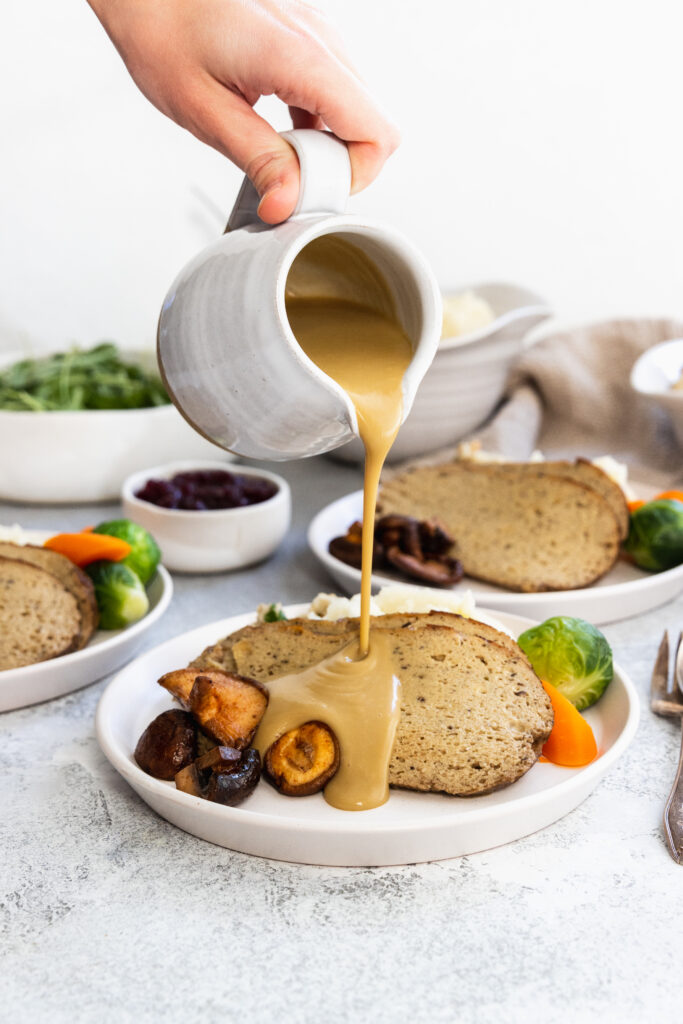 Following perfectly on from roast vegan turkey, here is my recipe for vegan gravy. This versatile gravy will become your go-to at Thanksgiving. It's easy to make, well-seasoned and flavored and adds a creamy sauciness to most vegan roasts.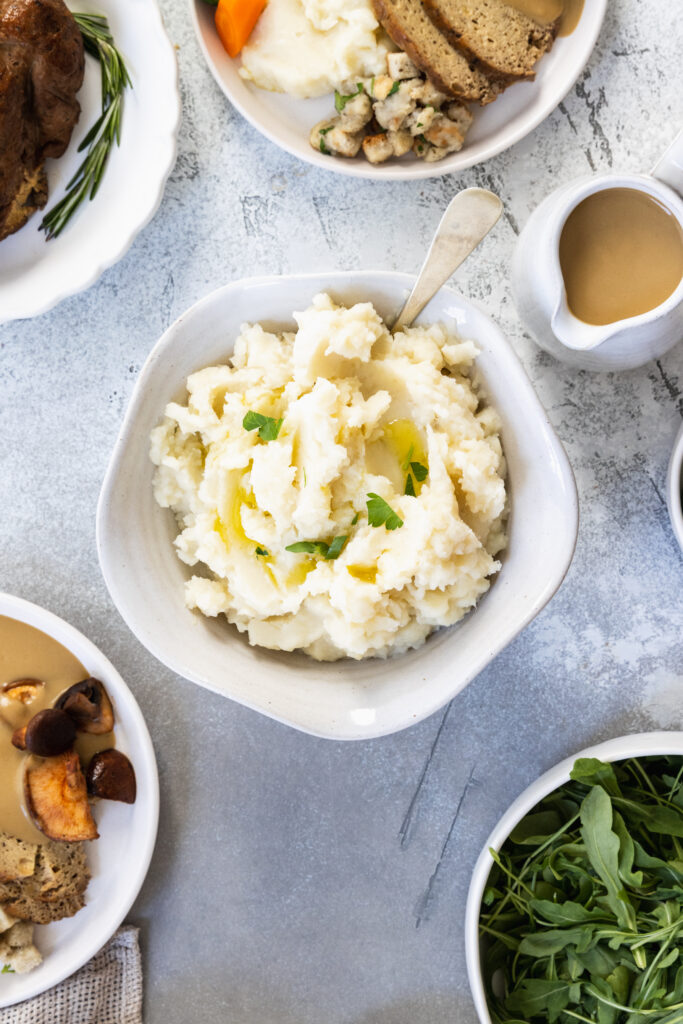 Here is my favorite way to make mashed potatoes. These are a must to have on your holiday table. Great with gravy and a vegan roast!
This make-ahead homemade cranberry sauce has bright, fruity flavors. I like to serve mine warm, but it's great cold, too. It can be made in a few minutes and is way more delicious than store-bought.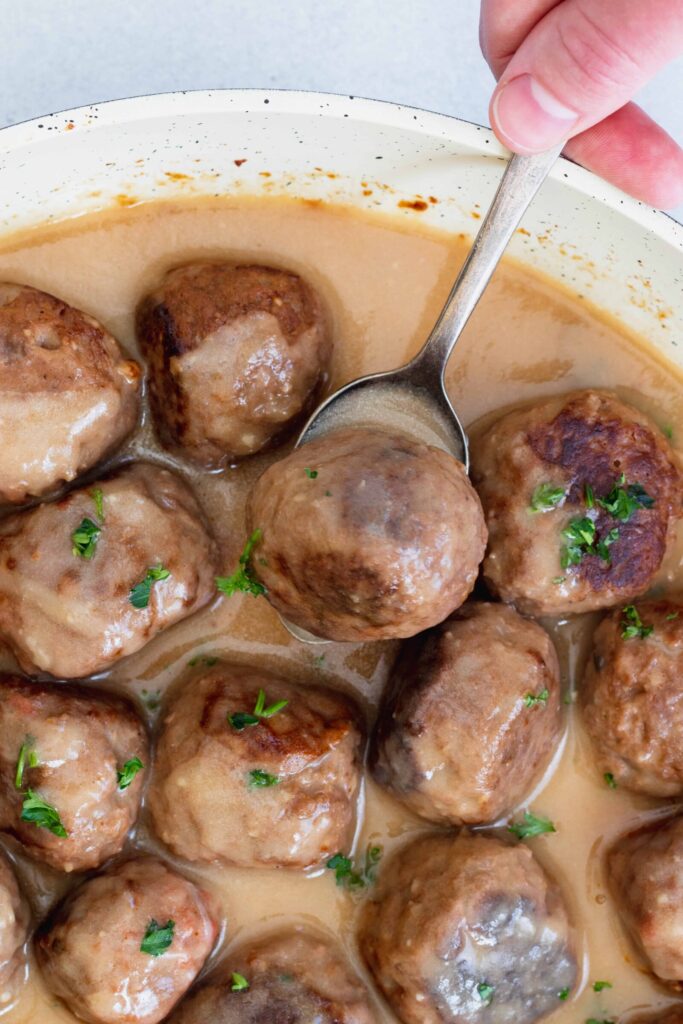 This is the kind of dish you crave. You won't stop thinking about this meatball in gravy dish – ideal with mashed potatoes.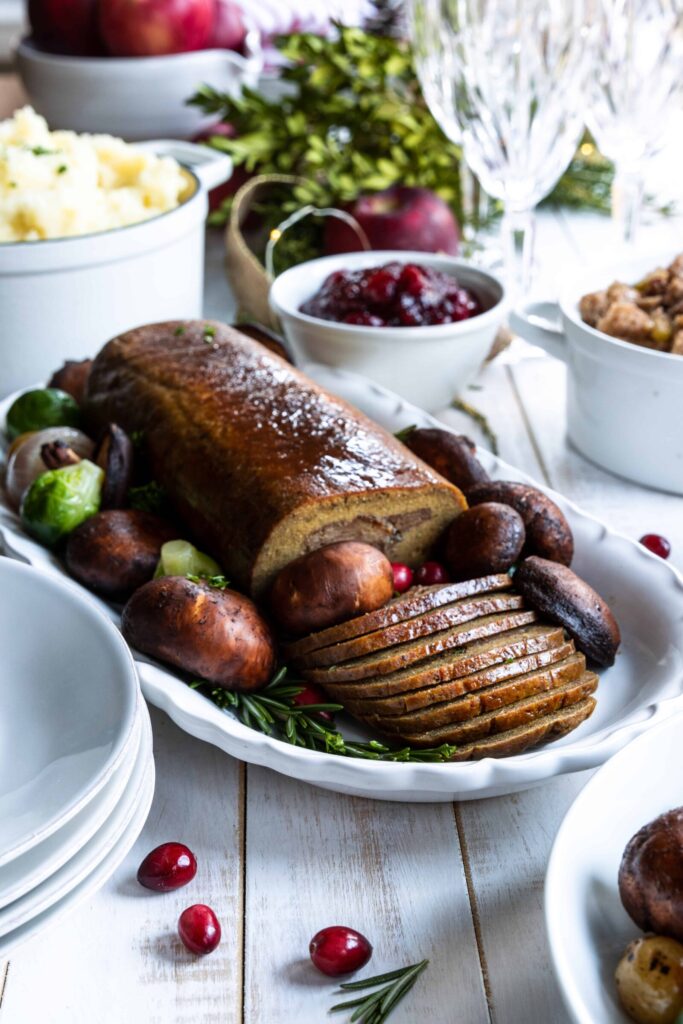 This tender and totally delicious recipe will be your Thanksgiving centerpiece. Check out my recipe, as there is also an option to cook it in pastry!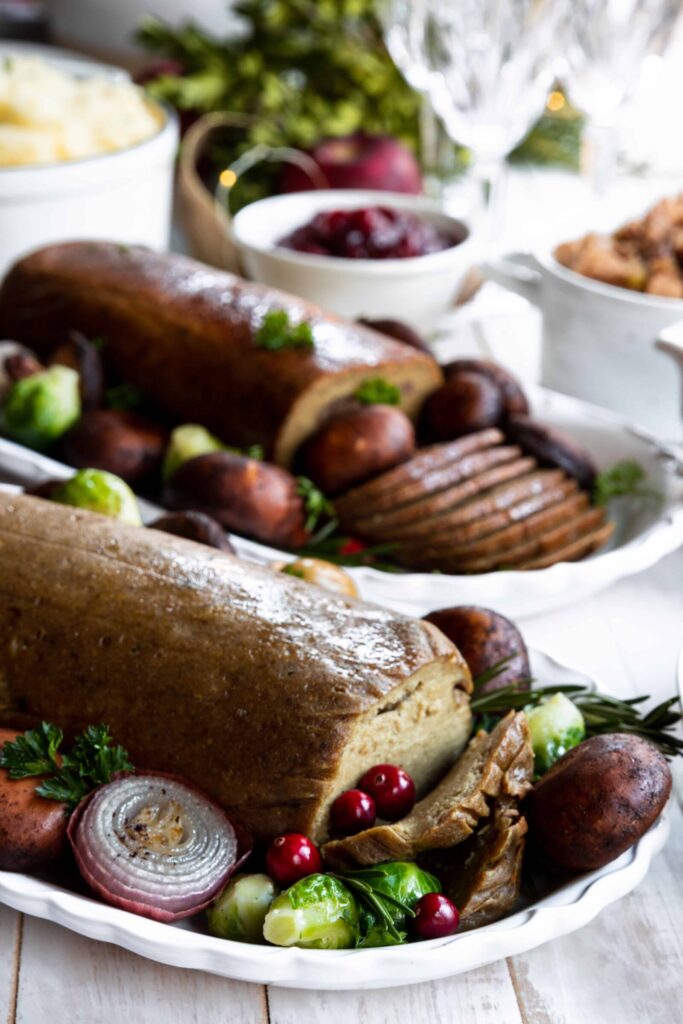 Another deliciously flavored roast to try this season! I love making this roast (without the stuffing) and using it as a sandwich filling.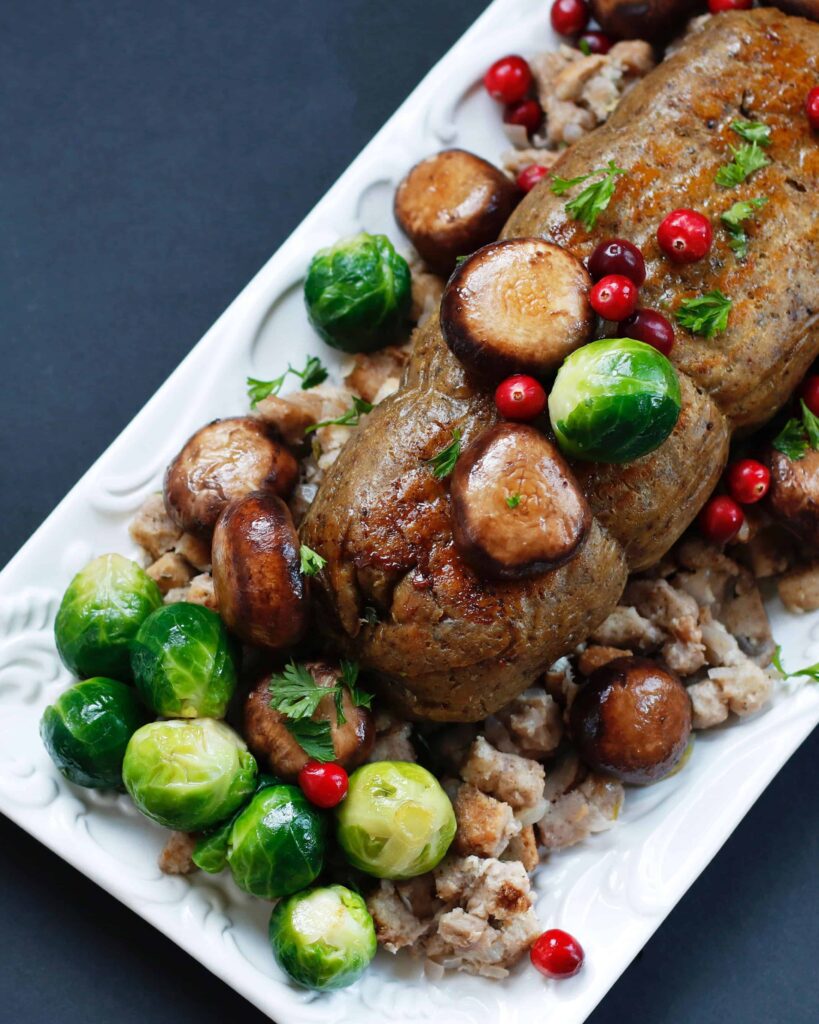 A good stuffing recipe becomes a family tradition – passed along through the generations. This is my favorite way to make a vegan stuffing that everyone will love.
If you're looking for a pasta-based main course, this one must be on the list!
Who doesn't love mac and cheese? This baked recipe has a crunchy topping that will bring you back for seconds.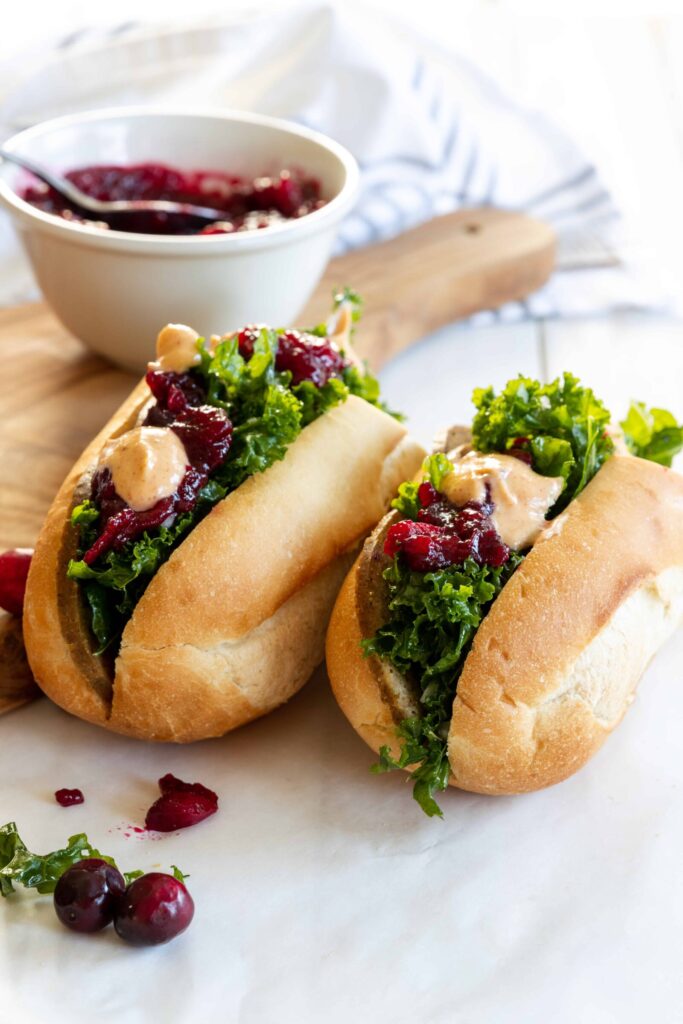 If you have leftover vegan roast – here is what to do with it! These are the perfect "day-after" sandwiches.
Decadent Vegan Dessert Recipes for Thanksgiving
A good vegan Thanksgiving meal isn't complete without a sweet treat – here are a few vegan options.
Pretty-as-a-picture. I love to serve these on a board or pretty platter.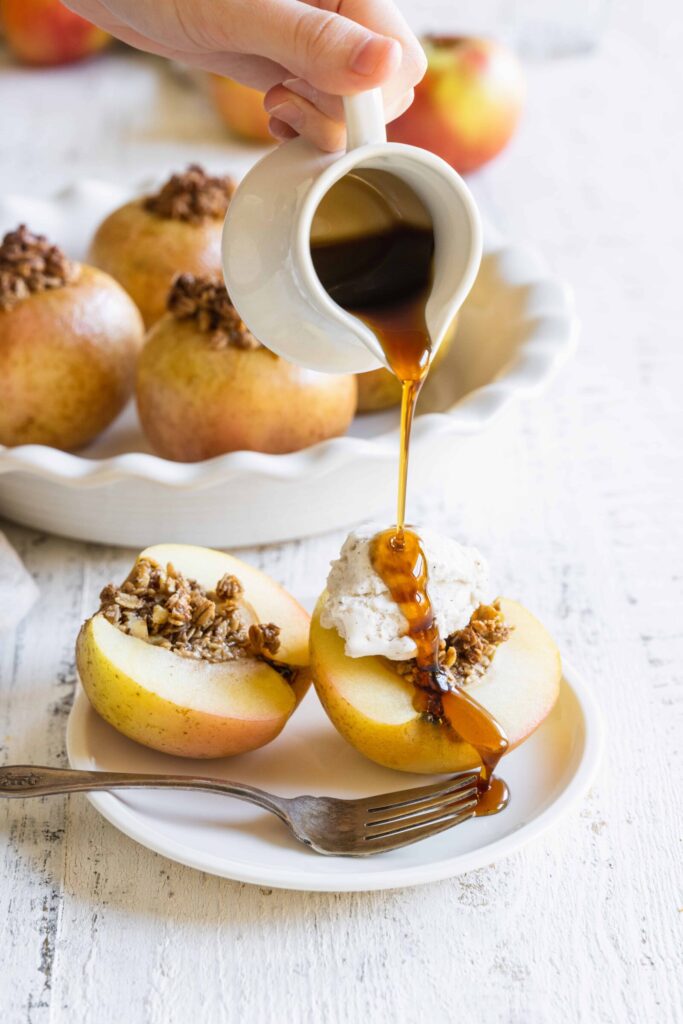 This is a super healthy dessert option – I love serving these baked apples at Thanksgiving – aside from how yummy they are, they also look so good!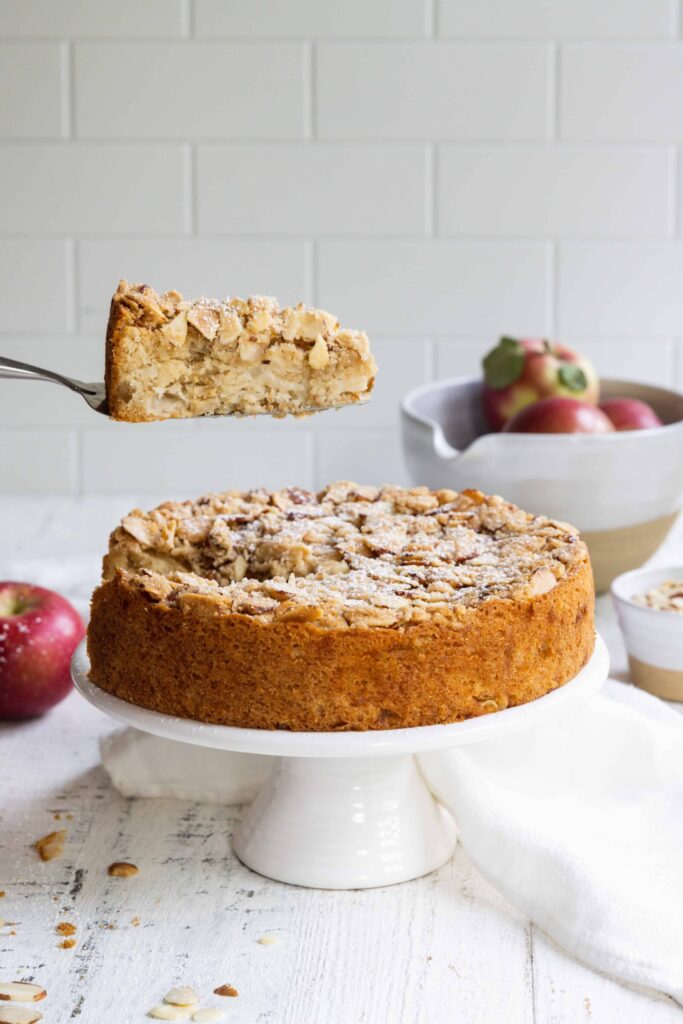 This festive cake has a moist, tender crumb. It is also gluten-free and made from ground almonds, fresh apples, and ground flax seeds. You will love its crunchy topping, and so will your guests!
They are baked, not fried! These tasty donuts are bright orange, thanks to the pumpkin puree included.
These melt-in-your-mouth cookies are the perfect treat with your favorite hot drink on Thanksgiving – give them a go!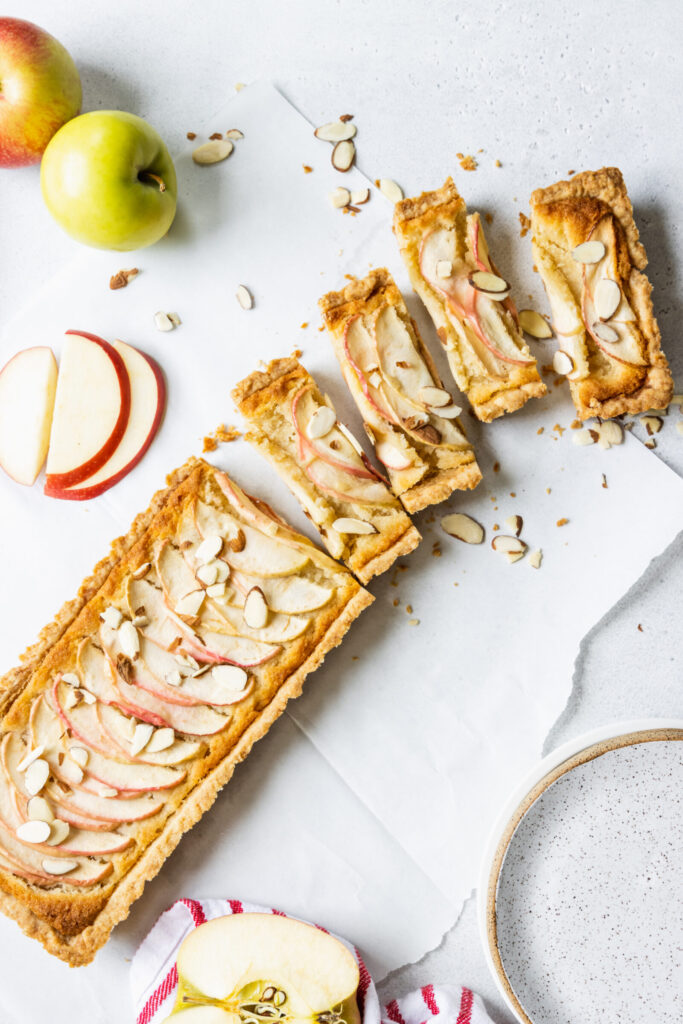 This apple tart recipe is one of my most popular recipes, and for good reason. It has rich apple, almond, and vanilla flavors and a buttery but vegan pastry.
Are you looking for an easy pumpkin pie recipe that is also vegan? Here's my favorite way to make pumpkin pie from scratch.
I love serving these as a sweet treat after my Thanksgiving meal. They're also lovely packed up in a pretty container and offered as a gift.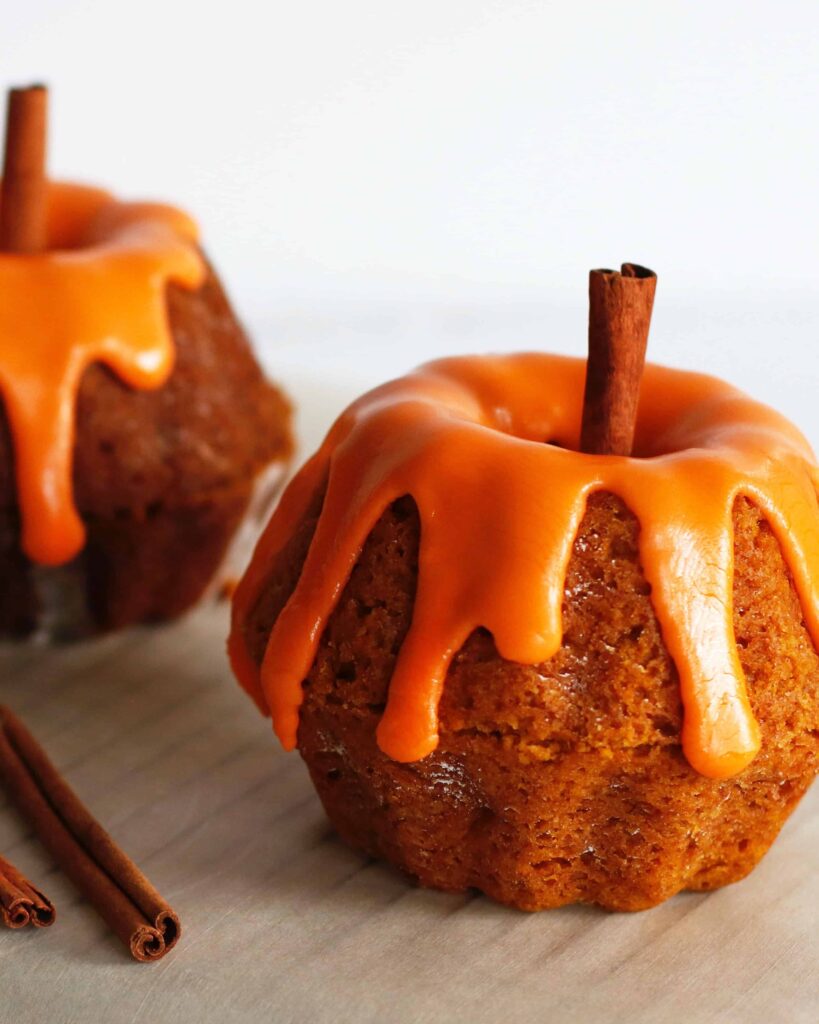 The ginger, cinnamon, and cardamon flavors are just so delicious in these little cakes. They make the perfect festive gift, wrapped up.
Happy Thanksgiving!
I hope you and your family have a blessed Thanksgiving and enjoy all of these Vegan Thanksgiving Recipes. May God bless you and your family!