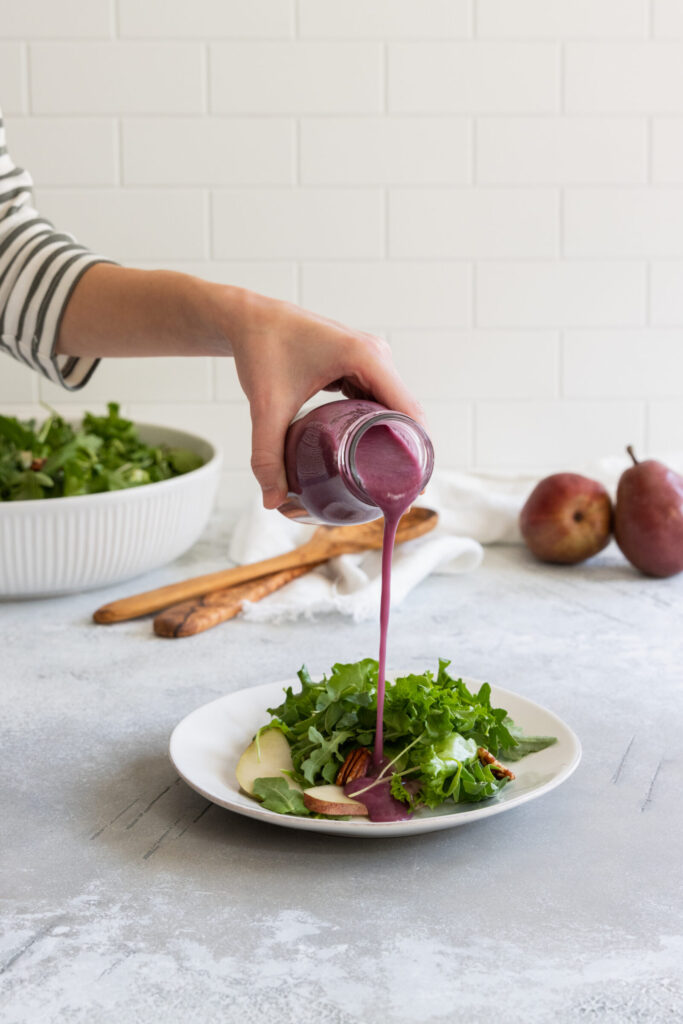 I don't know if you are one of those who get excited about a green salad, but if not, this salad may be a game-changer. The combination of the mixed greens, including the peppery arugula taste, the slight sweetness of the pear, the crunchy toasted pecans, and the beautiful, flavorful dressing, is one for the books. In addition to tasting delicious, this Pear Pecan Green Salad also looks impressive. This is the perfect salad to dress up a meal, make people feel especially appreciated, or simply enjoy its taste and nutritious components.
It is an exceptional salad for those who like a touch of sweetness with their greens, not to mention the beautiful and tasty brightly colored dressing. It is a gorgeous salad worth serving on any special occasion.
Let's Talk Pear Pecan Green Salad Ingredients:
Salad mix:
Use a fresh salad mix for this salad. It should include arugula. Arugala provides a slightly peppery taste that does wonders in this salad. Health experts tell us that eating a diet rich in leafy greens provides numerous health benefits; they are packed with vitamins, minerals, and fiber.
Pecans:
Toasted pecans add a wonderful crunch factor to this salad. They are best when toasted for a couple of minutes for that extra flavor and crunch. Pecans contain several important nutrients like calcium, magnesium, potassium, and it is a good source of healthy fat.
Pears:
Fresh pears are terrific in salads, and they are highly nutritious. I prefer a red pear to give the salad some extra color, but any ripe pear will work well. You can even mix a couple of different pears, as I did in my demonstration.
Dressing:
We elected to make a grape-lemon-pear dressing for this salad. It is an absolute joy, and the vibrant color is such an inspiration. It can be made oil-free by eliminating the olive oil, with minimal sacrifice in texture or taste. You might even find this dressing to be such a favorite that you add it to your repertoire of salad dressings. It lasts well in the refrigerator for several days.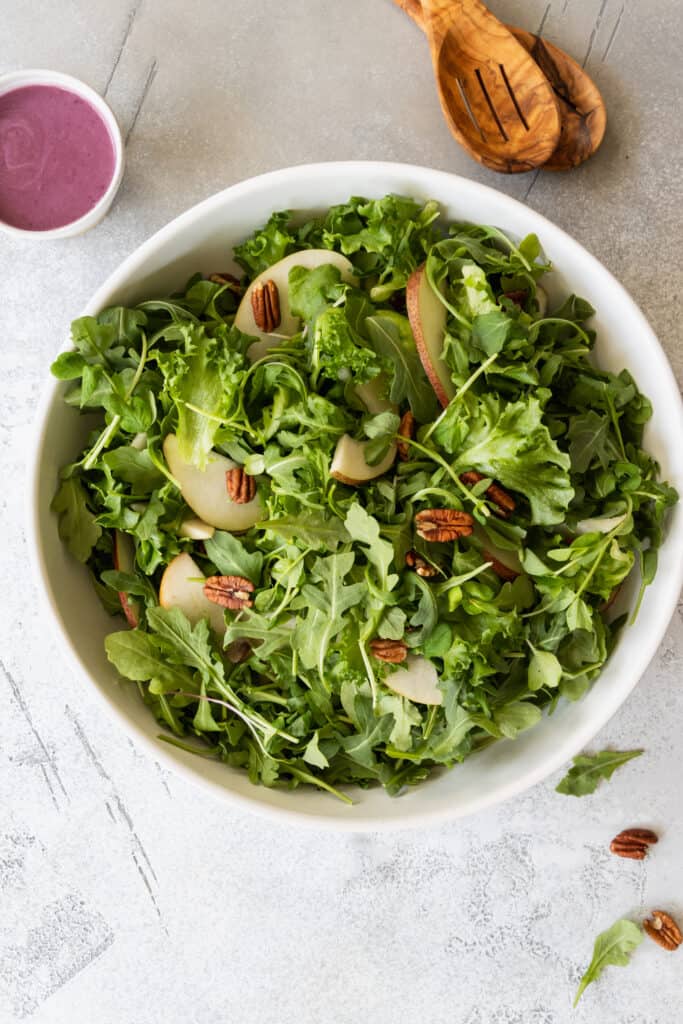 So, even if you are reluctant to eat your leafy greens, or are one of those who greatly anticipate eating them, they are very important to a healthy diet. This is a salad that we hope may change the mind of the most reluctant leafy green eater.
Click Here to Watch Me Make this Recipe on YouTube!
Print
Gorgeous Pear Pecan Green Salad with a Fabulous Dressing | Oil-free option, Plant-based, Vegan
Author:
Yield: Serves

4

-6

1

x
4

–

5

cups of mixed salad greens

1

–

2

cups baby arugula leaves

1/2 cup

pecans

1

–

2

fresh ripe pears, thinly sliced

1

–

2

teaspoons mint, minced
Dressing:
1/4 cup

frozen grape juice concentrate

2 tablespoons

fresh lemon juice

1

canned pear (drained) or 1 peeled fresh pear
pinch of salt

2 tablespoons

olive oil (optional)
Instructions
Start by making the dressing.
Add grape juice concentrate, fresh lemon juice, a canned or fresh pear, and salt to a blender.  Blend until smooth.
Slowly, while the blender is running on low, add the olive oil.  (Omit this step for an oil-free salad dressing)
Set aside.
Next, place the pecans on a baking sheet and toast in the oven at 350F for 4 minutes.  Set aside to cool.
In a large bowl, add the greens.
Prepare the fresh pears by dividing them in half.  Cut out the seeds by using a melon ball tool or a spoon.  Slice each half thinly and add to the salad.
Then add the toasted pecans and finally sprinkle with minced mint.
Serve with the beautiful grape-pear-lemon dressing.
Looking for more recipes?