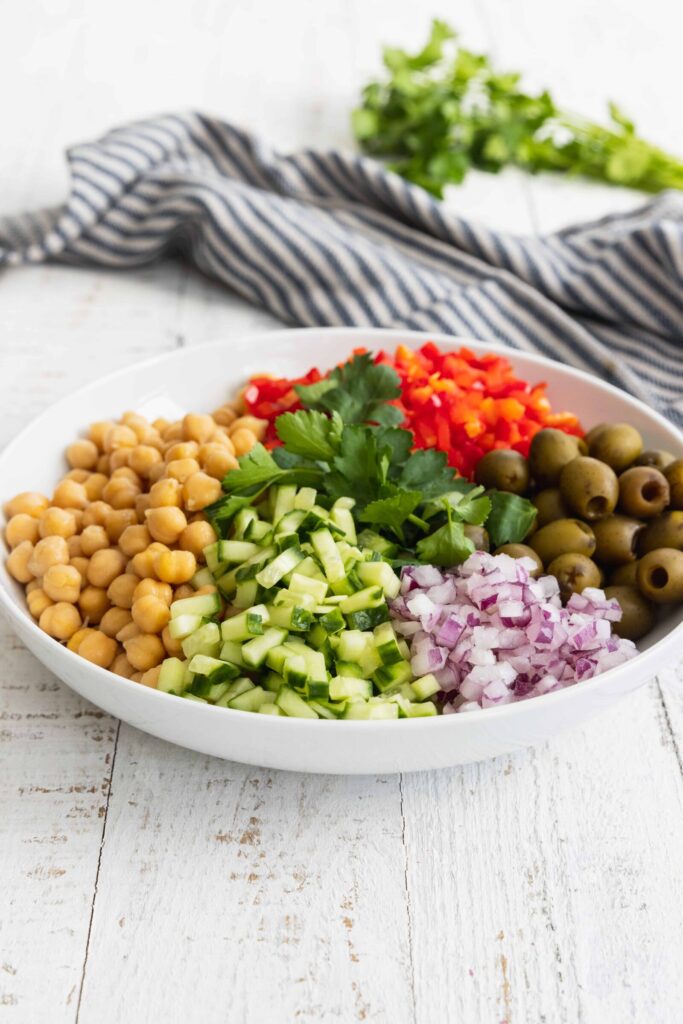 There is nothing quite so satisfying as a fresh, healthy chickpea salad, and this Mediterranean Chickpea Salad is no exception. It is filled with precious nutrients that will sustain you for hours to come. In addition, it has an absolutely delicious flavor, which will have you coming back for more.
One of my favorite summer salads is the Quick and Easy Chickpea salad on my website. It is fabulous, healthy, and delicious. A few days ago, it dawned on me that I ought to show you our winter version of this spectacular salad. We don't have readily available herbs this time of year, but we can usually find parsley, which works really well for this modified chickpea salad. My dad loves to bring this Mediterranean Chickpea Salad with him to work, as it is a wonderfully quick and easy lunch.
It is the middle of winter here in New England, and as I am writing this, we are in the middle of an ice storm. Our biggest worry with ice storms is losing power, for it can take days until the electrical company gets to us. This happened a few years ago when we experienced the worst ice storm in my lifetime. We were without power for nine days, which changed life dramatically. Life became about survival, heat, and water. So now, when we see the icicles form on the branches, we anticipate a power outage. And today is no exception, so if this video comes through this week, you will know that the power outage was not that severe:)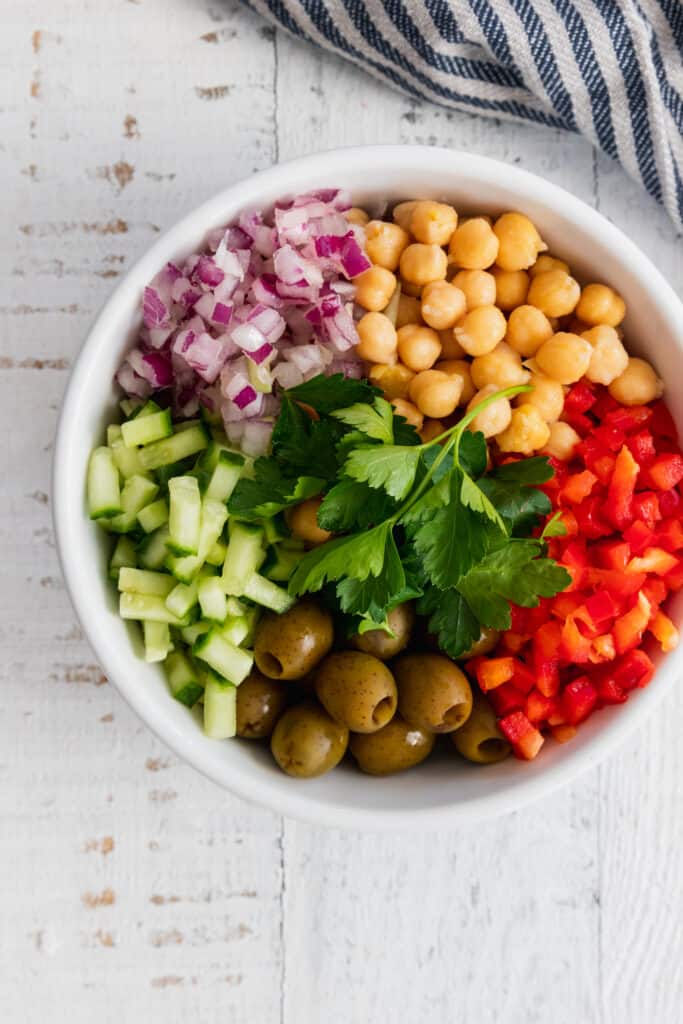 So Let's Talk About Mediterranean Chickpea Salad Ingredients:
Chickpeas/Garbanzo Beans:
Chickpeas are very healthy and the base of this delicious salad. They are high in fiber and protein, full of vitamins and minerals, making them an excellent choice for a healthy diet. It is easiest to open a couple of cans of chickpeas, which I often do, but I also soak dried organic chickpeas overnight and pressure cook them in an Instant pot for 30 minutes or so. A more economical option. This method also allows me to put some flavor into the beans, such as onion and garlic powder. I do not add the salt until after the beans are cooked. Salt can hinder the beans from getting tender.
Red Onion:
Red onions are packed with immune-boosting nutrients and antioxidants. It is a great choice for any healthy meal, but they work particularly well in this salad, giving a boost of color and a quality of flavor that makes this a well sought-after recipe. I would recommend that you chop the onions into small pieces, as it can be overwhelming to get red onions in large chunks.
Red Pepper:
Red pepper is one of the best vegetables on the market (though I think it technically is a fruit), and it is lovely that we can find them around all year. My sister, who is away at college and sometimes is too busy to eat, will at times grab a red pepper for breakfast as she runs out the door. She says it gives her lots of energy. I cannot recommend that you eat only a red pepper for breakfast, but when all else fails and you have no time, grab a red pepper. It's a great source of vitamin A and C.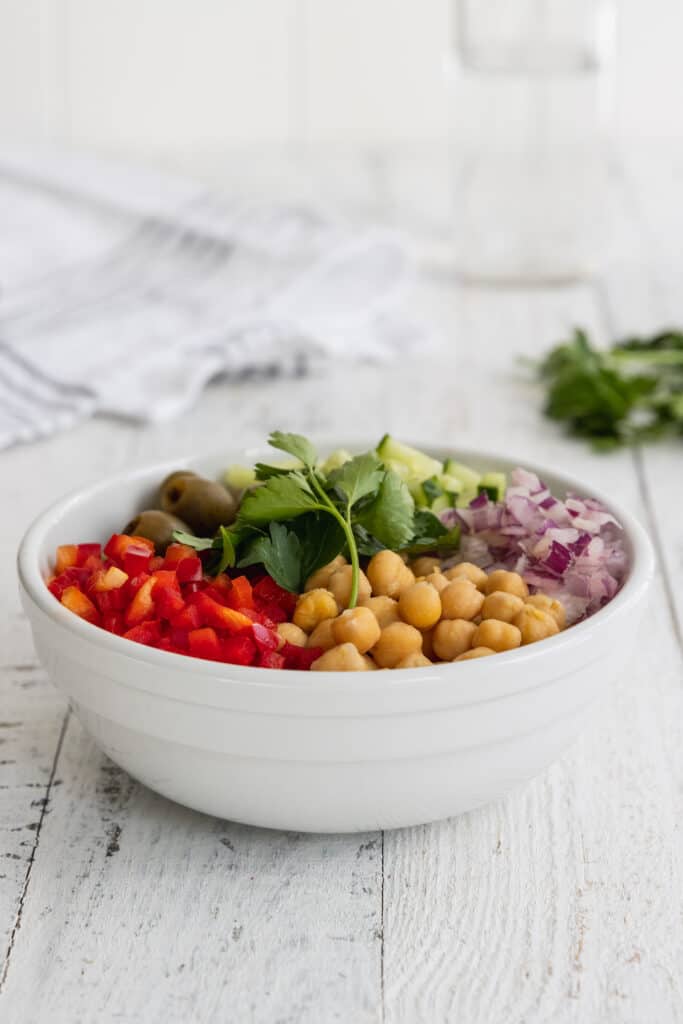 Cucumber:
Our summer chickpea salad contains zucchini, but we replace the zucchini with a European cucumber in the winter. Cucumbers are readily available in grocery stores all year round. We leave the peel on to give it the maximum amount of nutrients. Cucumbers are hydrating, filled with water and antioxidants. Low in calories and high in nutrients, the best combination possible.
Green Olives:
Not all olives are created equal for this recipe.  The olives should be tender and mild, which is why we really like the canned green olives best.  They are mild and buttery in flavor.  A wonderful addition to this salad.  
Fresh Parsley:
We can get fresh parsley all year round. Hurrah! It's a beautiful herb to have on hand, and it puts the finishing touch on this salad. Add as much or as little as you want, but it gives a fresh, healthy taste to this salad. Do not be afraid of the parsley; it has a wonderful aroma and flavor and is rich in antioxidants.
Salad Dressing:
We use a very simple salad dressing for the chickpea salad as it does not need much of a boost. It is lemon juice, olive oil, seasoning, a little tahini, and some sweetness to balance the flavor. We use fresh dill in our summer salad, which is hard to come by in the winter, so we will occasionally use dried dill instead, but unfortunately, it is not as delicious as fresh dill.
This mediterranean chickpea salad can last in your fridge for a couple of days, which makes it a great salad to serve guests or bring along for lunch on-the-go.
I hope you like this version of our wonderful chickpea salad.
Click Here to Watch Me Make this Mediterranean Chickpea Salad on YouTube!
Print
Easy Mediterranean Chickpea Salad
3 cups

chickpeas, drained (

2

cans)

1/2

small red onion, finely chopped

1

red pepper, finely chopped

1/2

European cucumber, finely chopped

1

can green olives, halved

1/4 cup

fresh parsley, chopped
Dressing:
1

garlic clove, minced or crushed
juice from

one

fresh lemon

1 teaspoon

sea salt

1 teaspoon

tahini

1 teaspoon

agave nectar

1/3 cup

olive oil
Optional:  1 teaspoon dried dill 
Instructions
Prepare all the ingredients for the salad. Add to a large bowl.
Prepare the dressing, by adding all the ingredients into a small bowl, except the oil.
Stir and add oil while whisking until emulsified.
When ready to serve, add dressing to the salad. Stir to combine.