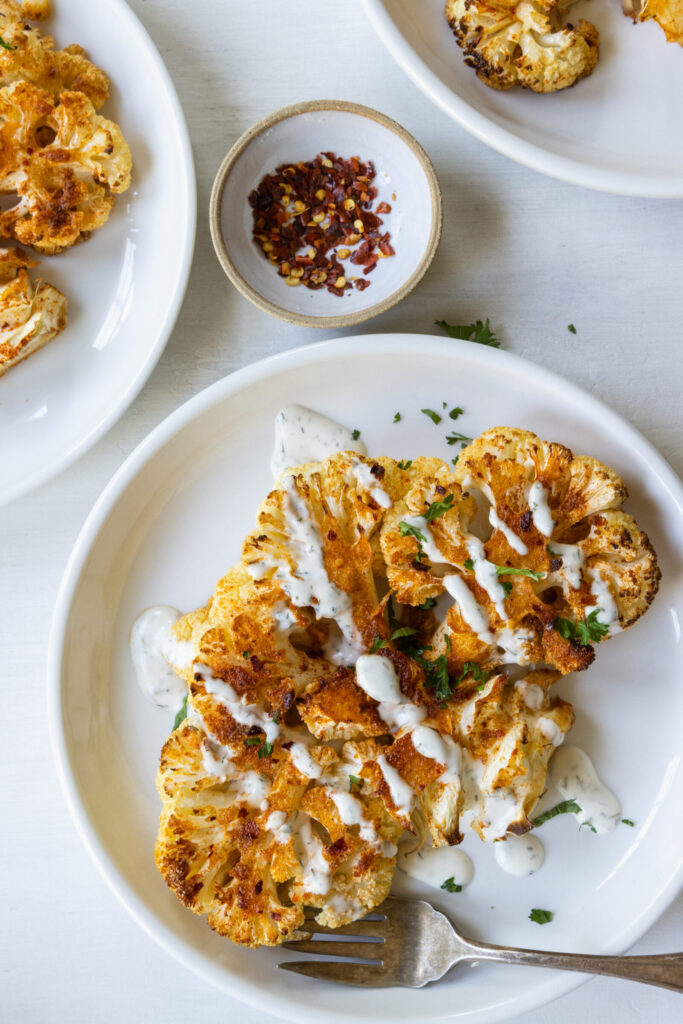 This has to be one of my family's most favorite plant-based steaks. It is hard to comprehend that something as simple as cauliflower can make an absolutely wonderful star dish. Cauliflower is an almost blank slate, so you can be very creative in adding flavor, but what is really unique about a cauliflower steak is its really nice texture. Besides, they look really cool too.
There are a couple of things to remember when making Cauliflower steaks. First pick a very large white and firm cauliflower. When you cut the cauliflower, start in the middle and work outward. You will get about 2 cauliflower steaks from a regular-sized cauliflower and probably 3-4 from a large cauliflower. The steaks should be about 1 to 1 1/2 inches thick each. The stem is what holds the steak together, so leave the stem. The outer edges of the cauliflower will not hold together and are therefore harder to deal with. You can reserve these pieces for my wonderful cauliflower soup, though I often throw them on the baking sheet with my cauliflower steaks and find them just as delicious, though not as pretty as the steaks.
Why Are They Called Cauliflower Steaks?
They're called cauliflower steaks because the shape and general appearance are rather, well, steak-like. The name is also an indicator of which cooking methods to try—any way you might cook a steak can be used for cauliflower steaks, too.

You see, cauliflower is a pretty hearty vegetable.

The florets can get a little crumbly, but otherwise it can stand up to quite a few aggressive cooking methods. Grilling, pan sautéing, oven roasting, and even sous vide work wonderfully for preparing this dish.

Like many now-famous recipes, the original inventor of the cauliflower steak is a contentious topic. Some food magazines credit Australian chef Ben Ford as coming up with the idea. Other experts claim this dish can be traced back to the first raw food revolution in the early 1900s.

Food is a universal human experience—and yet every culture brings their own perspective and ingredients.

While we may never know who hatched the idea for the very first cauliflower steak, we do know they were onto something! Cauliflower can now be found in just about every application you can imagine, from a rice replacement to a steak substitute.
How Did a Cauliflower Recipe Become So Popular?
Cauliflower got so popular for two main reasons: necessity and availability. The best way to illustrate this is with a real-life example.

In the early 2010s, a mom named Gail Becker had a problem. Her two sons were diagnosed with celiac disease, but they didn't want to give up the foods all kids loved (like pizza!). Gail started experimenting with making pizza crust using cauliflower in place of white flour.

By 2016, she'd turned this necessary swap into Caulipower, a company which sells cauliflower baking mixes and pizza crusts.

Gail got started with cauliflower, like many Americans, out of necessity. At first, it was just other people with dietary allergies and restrictions who sought out cauliflower-based replacements.

But then word started to get around—swapping certain ingredients for cauliflower could also result in an overall healthier meal. As a focus on healthy foods swept through countries around the globe, people everywhere started connecting the dots.

And as prepackaged cauliflower replacements became more common in stores—and therefore more accessible—more people started adding it to their diets for the health benefits.

All of this brings us to where we are today! Now you can find cauliflower rice, cauliflower buffalo "wings," and so much more in many grocery stores nationwide. Because of its mild flavor, versatility, and health benefits, it continues to be a popular choice for people everywhere—regardless of whether they have dietary restrictions.
Cauliflower Steak Recipes: Vegan Goodness Everyone Will Love
Since cauliflower has such a neutral and unoffensive flavor, your cauliflower steak will taste like whichever seasonings you add.

If you use just a dash of salt, you can expect the slightest nutty flavor. Roasting cauliflower brings out this subtle yet delicious taste. You may also detect an almost bitter or tangy flavor—but again, it's very subtle and nuanced.

To pick the perfect head for delicious cauliflower steaks, look for a creamy, opaque white color while you shop. Try to avoid heads that have brown, black, or wet-looking spots on the florets. These blemishes are an indicator that your cauliflower steaks will come out mushy or overly bitter.

The same tips generally apply if you're shopping for green, orange, or purple cauliflower. Rather than a solid opaque white color, look for consistent and solid color across the entire head.

Slightly translucent spots are a sign of over ripeness no matter what color you choose. The same is true for any grey or dull spots on a head of cauliflower. The more uniform and solid the color, the fresher and tastier your steaks will be!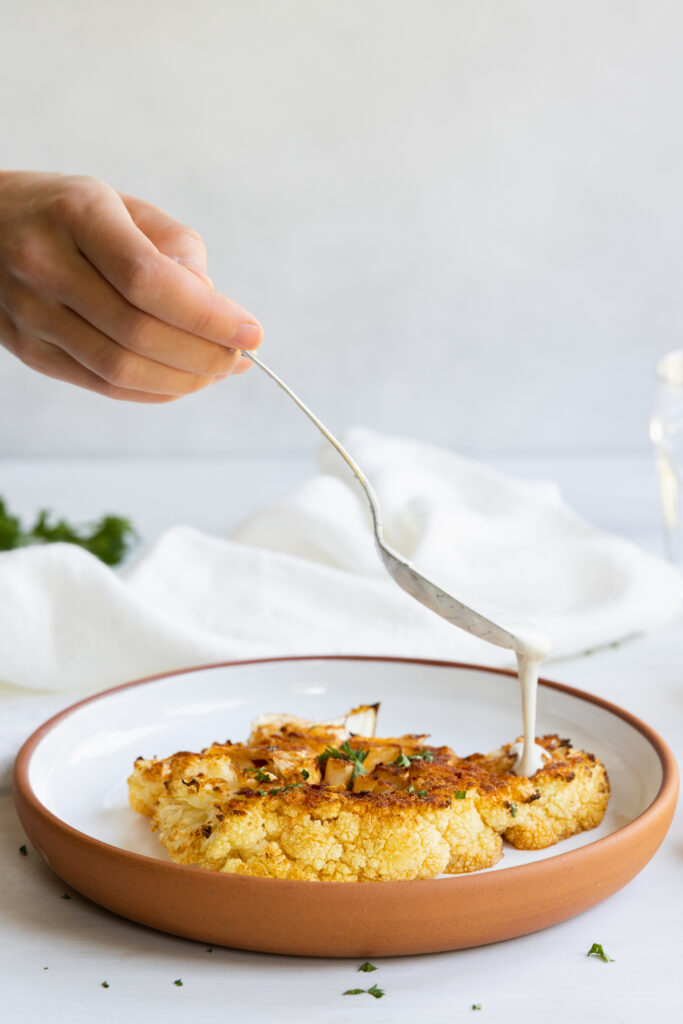 Let's talk Cauliflower Steak ingredients:
Cauliflower:
Cauliflower is a unique vegetable. It has grown in popularity here in the US over the past few years, which is very understandable. It can be used as a helper in so many recipes. It is nutritious, high in fiber, vitamin B, and antioxidants. And for those of you who care for a low-carb diet, cauliflower is a great choice.
I have so many fond memories of cauliflower meals from my visits to Norway every summer. The most common dish was cream of cauliflower soup, which happens to be one of my favorite soups. My grandma makes the best cauliflower soup. She also made a creamy cauliflower dish that was scrumptious. You can find the recipe for both of these dishes on my website.
Frequently Asked Questions
How Do You Cut Cauliflower Steaks So They Don't Fall Apart?
To cut cauliflower steaks so they don't fall apart, follow these steps:
1. Remove any leaves from the cauliflower head and place it on your cutting board, stem-side down.

2. Pick a side to start on and make a vertical cut on that side. You should now have the small piece you sliced off and a flat edge on your head of cauliflower.

3. Keep slicing from the flat end towards the other side. We like our steaks to be between 1 and 1.5 inches thick—this helps them cook evenly without crumbling. A smaller head of cauliflower will give you about 2 steaks, while you'll get 3-4 from a larger head.

4. The end pieces will be crumbly because they're no longer connected to the core. You can sometimes push these bits together to make another steak.

5. Your head of cauliflower should now be steaks! If you're still struggling with crumbly steaks, your knife may be due for a sharpening.
What Vegan Ingredient Can I Use Instead of Olive Oil?
2 favorite vegan alternatives to olive oil are avocado oil and canola oil. Here's the thing with cooking oils: you have to consider the smoke point.

An oil's smoke point is the temperature at which a specific oil changes from "hot" to "burnt," And burnt oil will infuse a bitter, burnt flavor into your food. So anytime you use an oil other than what a recipe suggests, you have to pick one with a similar smoke point.

And that's why I love avocado and canola oil. Both have a smoke point equal to or higher than olive oil's smoke point, meaning you can swap them without worrying about burning your food.

Finally, as an added bonus, avocado oil is low in saturated fats yet rich in heart-healthy monounsaturated fats. (1) It's a choice that's both vegan and healthy!
How Long Do Cauliflower Steaks Keep in the Fridge?
Whether your cauliflower steaks are raw or cooked, they'll keep in the fridge for 3 to 5 days. (2)

Once you cut fresh veggies, they stay fresh for about 3 to 5 days. Keeping your cauliflower whole until you're ready to cook can help it last longer.

For your leftover cooked steaks, store them in an airtight container in your fridge. I find cooked cauliflower steaks are better the sooner you eat them. Past the 5-day mark, you'll probably experience a bit more sogginess or squishiness than you'd like.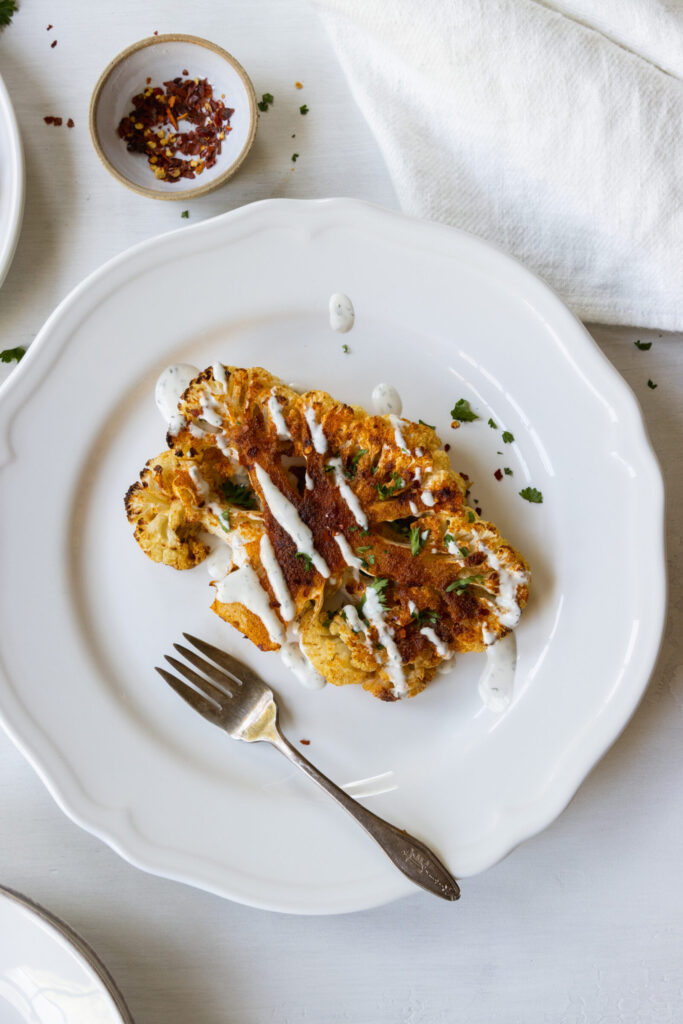 Seasoning:
We use only three simple herbs (+salt) to flavor the cauliflower steaks: smoked paprika, garlic powder, and crushed red pepper. It is a really delicious combination that works really well with cauliflower steaks.
Olive Oil:
We brush each steak with olive oil before adding the seasoning on both sides.
The Cooking Process:
We roast the cauliflower steaks in the oven at 450F for about 20-25 minutes.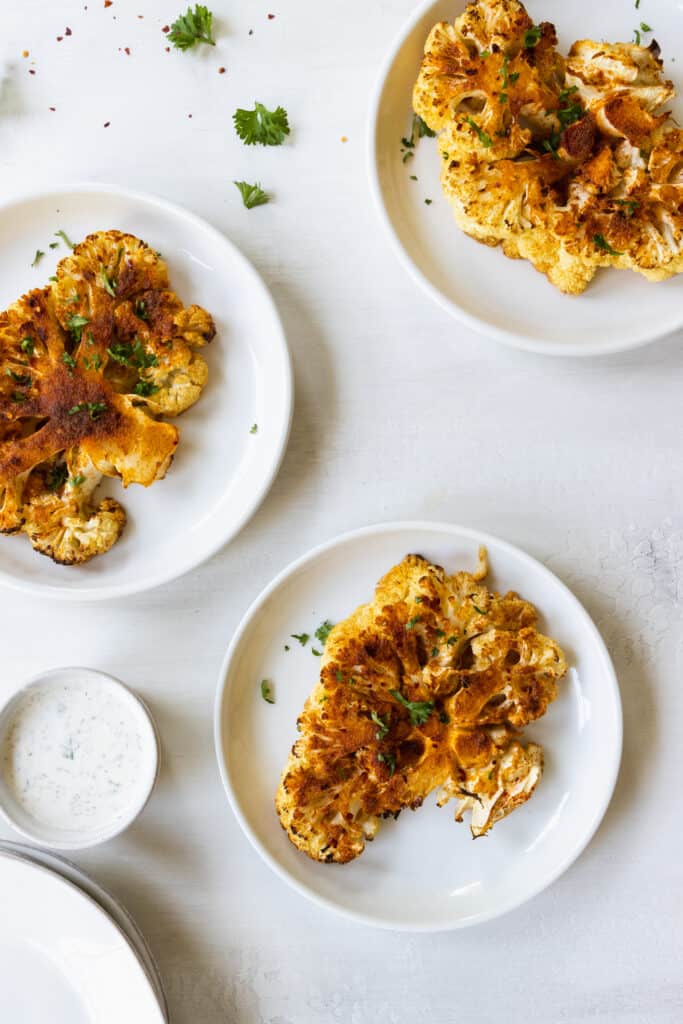 Garnish:
Garnish with fresh chopped parsley.
This is truly one of those dishes that takes your breath away. So simple to make, takes only a handful of ingredients, and very little effort. A recipe worth adding to your family's menu. Especially is this the case in the fall when the cauliflower is extra fresh.
Hope you enjoy these cauliflower steaks as much as we do. We serve these steaks with a vegan ranch salad dressing. It is a beautiful contrast to the flavorful steaks. Click Here for my Vegan Ranch Dressing Recipe!
Click Here to Watch this Recipe on YouTube!
References:
1. WebMD, Avocado Oil: Is It Good For You?
https://www.webmd.com/diet/avocado-oil-good-for-you
2. Healthline, How Long Do Leftovers Keep?
https://www.healthline.com/nutrition/how-long-are-leftovers-good-for
Print
Super Easy Cauliflower Steak | Plant-Based, Vegan
Author:
Yield:

2

–

3

Steaks

1

x
1

very large fresh Cauliflower

1 1/2 teaspoons

sea salt

1 teaspoon

garlic powder

1 teaspoon

smoked paprika

1/2 teaspoon

crushed red pepper

1/4 cup

olive oil
Fresh parsley for garnish, chopped
Instructions
Preheat oven to 450F
Wash and prepare the cauliflower.  Remove the green leaves and trim the stem.
Make sure there is enough cauliflower core to hold the cauliflower steaks together.  A medium-size cauliflower will bring about 2 steaks, whereas a large cauliflower may bring 3 steaks.  Of course, it also depends on the thickness of your steak.  We prefer the thickness to be about 1 to 1 1/2 inches thickness each.
Once you have cut the steaks, you will find that the rest of the cauliflower breaks into pieces.  Use the leftover pieces to make my fantastic Norwegian Cauliflower Soup for another meal.
Add sea salt, garlic powder, smoked paprika, and crushed red pepper to a small bowl to make the seasoning blend.  Stir to combine.
Place the cauliflower steaks on a silicon-lined baking sheet.  Brush with olive oil, sprinkle generously with the seasoning mixture.
Flip and repeat the process.
Roast in the oven for 20-25 minutes until the cauliflower is tender.  Remove from oven.
Garnish with fresh chopped parsley and serve with a vegan ranch dressing.  It is delicious.