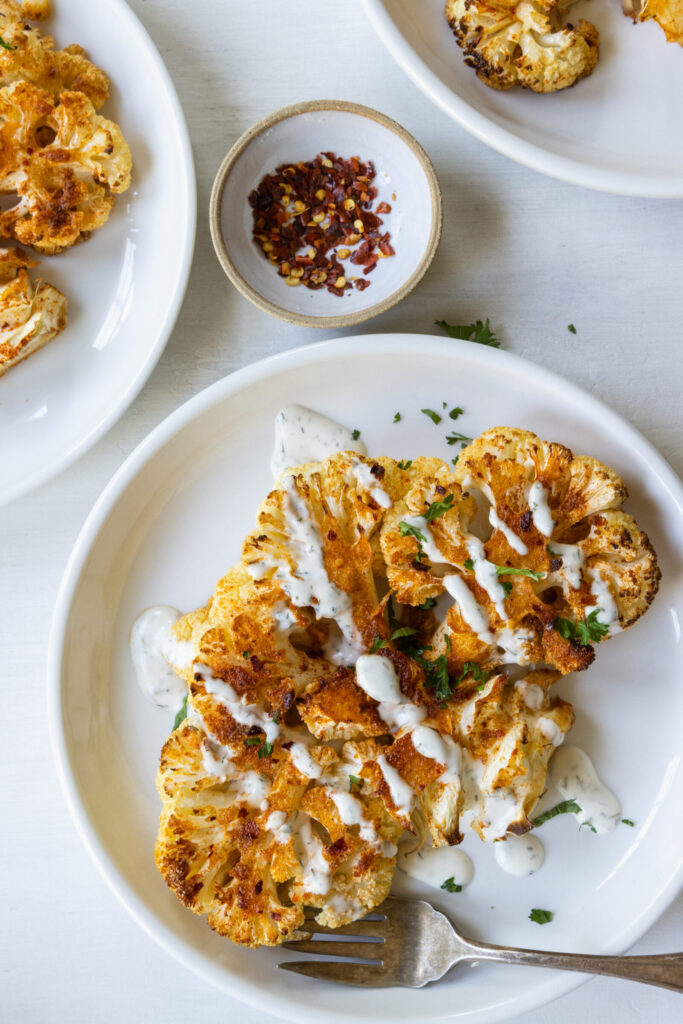 This has to be one of my family's most favorite plant-based steaks. It is hard to comprehend that something as simple as cauliflower can make an absolutely wonderful star dish. Cauliflower is an almost blank slate, so you can be very creative in adding flavor, but what is really unique about a cauliflower steak is its really nice texture. Besides, they look really cool too.
There are a couple of things to remember when making Cauliflower steaks. First pick a very large white and firm cauliflower. When you cut the cauliflower, start in the middle and work outward. You will get about 2 cauliflower steaks from a regular-sized cauliflower and probably 3-4 from a large cauliflower. The steaks should be about 1 to 1 1/2 inches thick each. The stem is what holds the steak together, so leave the stem. The outer edges of the cauliflower will not hold together and are therefore harder to deal with. You can reserve these pieces for my wonderful cauliflower soup, though I often throw them on the baking sheet with my cauliflower steaks and find them just as delicious, though not as pretty as the steaks.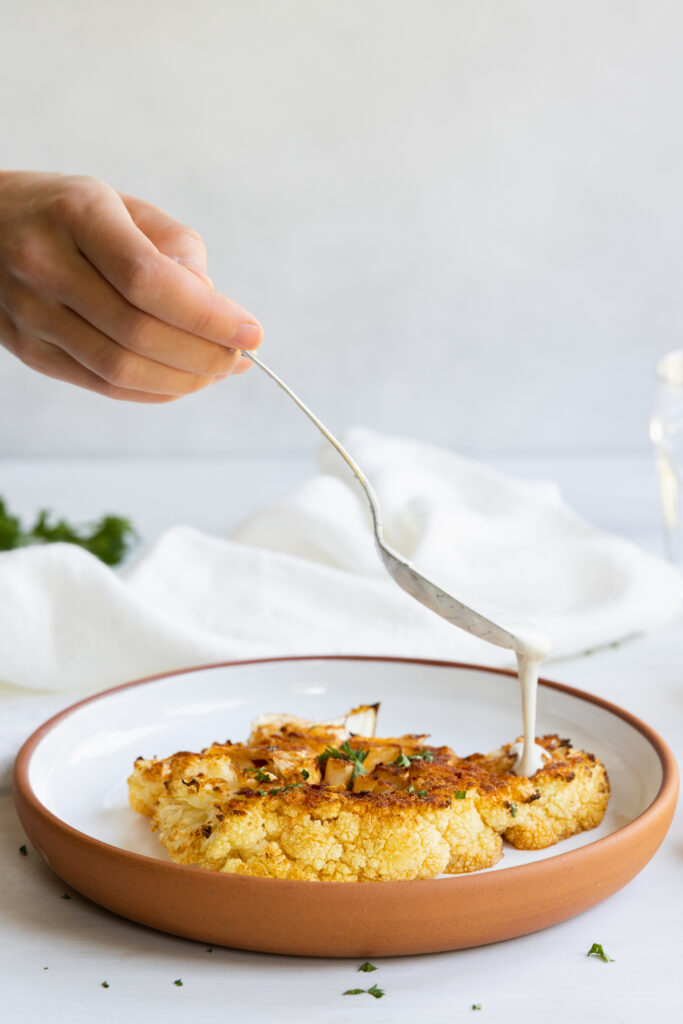 Let's talk Cauliflower Steak ingredients:
Cauliflower:
Cauliflower is a unique vegetable. It has grown in popularity here in the US over the past few years, which is very understandable. It can be used as a helper in so many recipes. It is nutritious, high in fiber, vitamin B, and antioxidants. And for those of you who care for a low-carb diet, cauliflower is a great choice.
I have so many fond memories of cauliflower meals from my visits to Norway every summer. The most common dish was cream of cauliflower soup, which happens to be one of my favorite soups. My grandma makes the best cauliflower soup. She also made a creamy cauliflower dish that was scrumptious. You can find the recipe for both of these dishes on my website.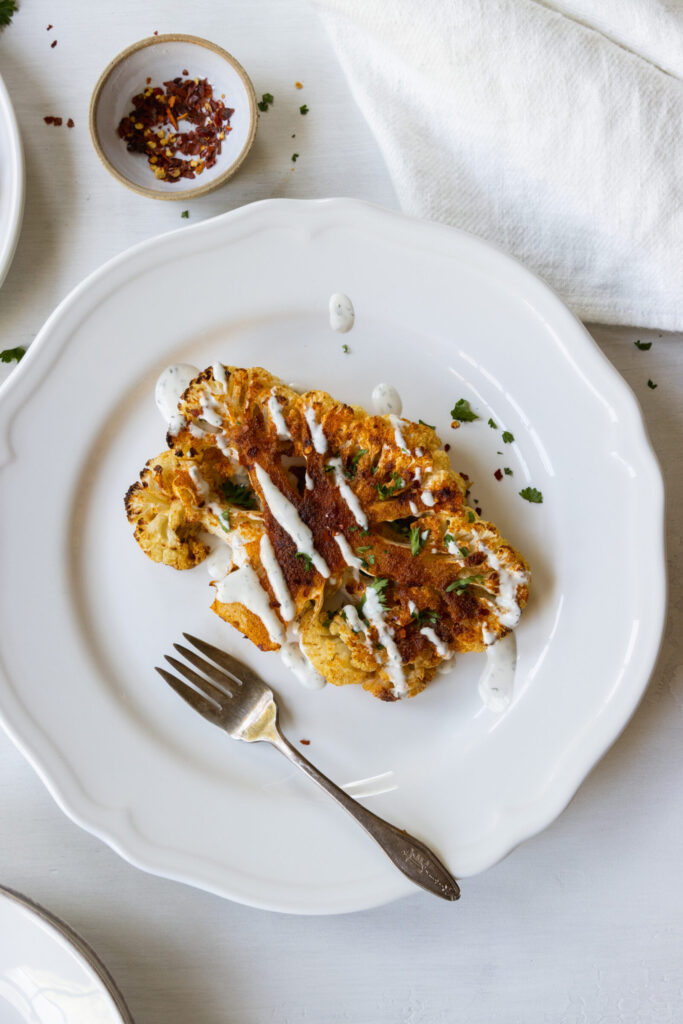 Seasoning:
We use only three simple herbs (+salt) to flavor the cauliflower steaks: smoked paprika, garlic powder, and crushed red pepper. It is a really delicious combination that works really well with cauliflower steaks.
Olive Oil:
We brush each steak with olive oil before adding the seasoning on both sides.
The Cooking Process:
We roast the cauliflower steaks in the oven at 450F for about 20-25 minutes.
Garnish:
Garnish with fresh chopped parsley.
This is truly one of those dishes that takes your breath away. So simple to make, takes only a handful of ingredients, and very little effort. A recipe worth adding to your family's menu. Especially is this the case in the fall when the cauliflower is extra fresh.
Hope you enjoy these cauliflower steaks as much as we do. We serve these steaks with a vegan ranch salad dressing. It is a beautiful contrast to the flavorful steaks. Click Here for my Vegan Ranch Dressing Recipe!
Click Here to Watch this Recipe on YouTube!
Print
Super Easy Cauliflower Steak | Plant-Based, Vegan
Author:
Yield:

2

–

3

Steaks

1

x
1

very large fresh Cauliflower

1 1/2 teaspoons

sea salt

1 teaspoon

garlic powder

1 teaspoon

smoked paprika

1/2 teaspoon

crushed red pepper

1/4 cup

olive oil
Fresh parsley for garnish, chopped
Instructions
Preheat oven to 450F
Wash and prepare the cauliflower.  Remove the green leaves and trim the stem.
Make sure there is enough cauliflower core to hold the cauliflower steaks together.  A medium-size cauliflower will bring about 2 steaks, whereas a large cauliflower may bring 3 steaks.  Of course, it also depends on the thickness of your steak.  We prefer the thickness to be about 1 to 1 1/2 inches thickness each.
Once you have cut the steaks, you will find that the rest of the cauliflower breaks into pieces.  Use the leftover pieces to make my fantastic Norwegian Cauliflower Soup for another meal.
Add sea salt, garlic powder, smoked paprika, and crushed red pepper to a small bowl to make the seasoning blend.  Stir to combine.
Place the cauliflower steaks on a silicon-lined baking sheet.  Brush with olive oil, sprinkle generously with the seasoning mixture.
Flip and repeat the process.
Roast in the oven for 20-25 minutes until the cauliflower is tender.  Remove from oven.
Garnish with fresh chopped parsley and serve with a vegan ranch dressing.  It is delicious.