Today I am sharing one of my favorite recipes… Peach Bars. It is peach season in New England. The time of year when people gather their families and head out for one of the many peach orchards filled with large, ripe, juicy, yellow-and-red peaches. This is another one of my favorite things to do. Peach picking is not labor-intensive like blueberry or even strawberry picking; you fill up your container within minutes.
And, even when you are planning to pick a whole bunch, which was the case for us this past visit, it is still so enjoyable.
But the fun does not stop at the orchard. Next, we are off to home with dreams of peach bars, pies, tarts, cobblers, muffins, etc., spinning in our heads. This year, the first thing on the menu was our amazing peach bars. It is one of my favorite fresh peach recipes. The delicious crust filled with a warm, juicy, sweet peach filling and topped with a wonderful crumb-like topping makes this recipe worthy of its place in the line-up.
What Ingredients Do I need to Make Peach Bars?
Fresh Peaches: 
There is nothing quite like ripe peaches off the tree. The fruit is usually so sweet and juicy. However, peaches can be fragile fruit, so treat them with care and eat or use them as quickly as possible. For this recipe we gently peel the skin and cut the fruit in cubes.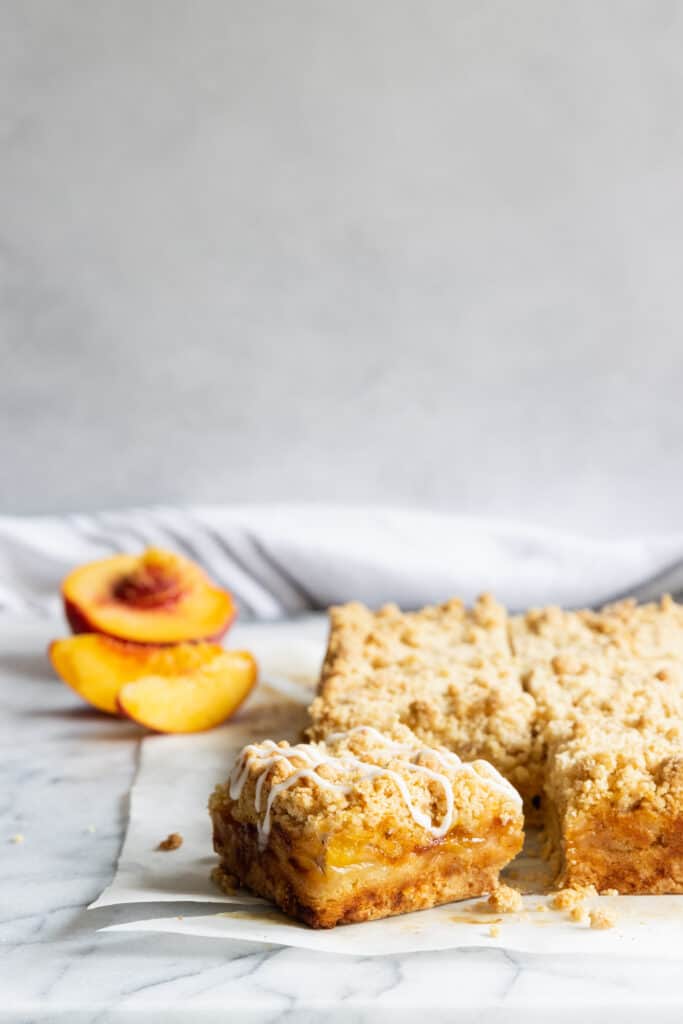 Flour:
You can get creative here. We traditionally make this recipe with all-purpose, white whole wheat, and almond flour, but feel free to mix this up to fit your taste. However, the almond flour adds to the flavor of these bars. Almond and peaches go very well together.
Coconut Oil and Vegan Margarine:
We use coconut oil, either refined or unrefined, and vegan margarine, which adds a delicate consistency and delicious flavor to the bars.
Flavoring:
Ginger and cinnamon pair very well with peaches. We like a hint of flavor as the peaches are so flavorful on their own, but feel free to add more if you like.
Cool completely before cutting into bars.
Click Here to Watch Me Make this Recipe on YouTube!
Print
Amazing Peach Bars | plant-based, vegan
Author:
Yield:

9

Peach Bars

1

x
Crust & Topping:  
1 1/2 cup

all-purpose flour

3/4 cup

white whole wheat flour

3/4 cup

almond flour

1/3 cup

natural cane sugar

1/2 teaspoon

salt

1/2 cup

coconut oil

1/3 cup

vegan margarine

1 teaspoon

vanilla extract
Ice water as needed
Peach Filling:  
4

large fresh peaches, peeled and cubed

1/4 cup

natural cane sugar

1 tablespoon

cornstarch

1 teaspoon

fresh lemon juice

1/4 teaspoon

ginger

1/4 teaspoon

cinnamon
Instructions
Preheat the oven to 350 F
In a bowl mix the following ingredients: flour, whole wheat flour, almond flour, salt, and sugar. Mix until well combined.
Using a pastry cutter (or a fork), cut in the coconut oil, vegan margarine, and vanilla extract.  The mixture should resemble crumbs. Make sure not to over-mix.  Try to squeeze a handful to see if it holds together; if it seems too dry, add 1-2 tablespoons ice water.
Remove 1/3 of the crumb mixture, and place in a cake pan (8-inch square) lined with parchment paper.  Press down with your hands to make a strong foundation.  Make sure to get the mixture into the corners.
Set aside.
Next, prepare the filling by mixing the cubed peaches, sugar, cornstarch, lemon juice, ginger and cinnamon in a medium-sized bowl.  Add to the cake pan tin and spread evenly across the bottom layer.
Finally, add the rest (2/3 crumb mixture), but instead of packing it, as with the bottom layer, sprinkle it on top as you would a crumb topping.
Bake at 350F for 50-60 minutes.  The topping should have a golden brown color.
Let cool on a wire rack.  It is easier to cut when cooled completely.
I usually cut these into 9 bars.  If desired, garnish with a glaze.
Glaze:
1/4 cup powdered sugar
couple drops of water or fresh lemon juice
Mix.  Add drops of liquid until you get the right consistency.  It does not take much.