It is hard to describe the wonder of this easy and quick appetizer. It has a flavor combination that rivals any dip out there, in my opinion. If you were to ask my mom, she would say it is the best. It is a traditional appetizer on our Holiday table. Give this wonderful Green Olive Tapenade a try. You will not be disappointed.
When we entertain guests, especially for the Holiday, we like to serve appetizers. Appetizers are very helpful for several reasons:
Your guests feel welcome and well-taken-care-of.
Appetizers provide you with a little extra time to finish up the meal in the kitchen.
It takes care of immediate hunger issues.
It decreases stress and pressure for the cooks.
And it gives everyone something to do while they wait for the meal to be served.
What to look for in a great olive based appetizer:
I remember years ago when we planned menus for Holiday parties; our principal requirement was that the food tasted amazing. We would often find ourselves so stressed before the meal, hoping we were going to get everything ready in time. Many events later, we have become wiser; we now also consider: Can it be made ahead? Is it time-consuming? Will it require oven-time?
What is a Traditional Olive Tapenade Made of?
A traditional olive tapenade is almost vegan – except for one critical ingredient that can take it off the dinner table: anchovies. In the traditional dish, the anchovies give the dish a salty, strong-tasting flavor that is difficult to substitute. Fortunately, by using green olives and liquid aminos in this recipe, we've perfectly captured that salty-savory strength without the use of anchovies, bringing the option of a delicious tapenade back to your table for the holidays (or a casual dinner.)
Why Green Olives? 
By themselves, green olives have a salty, buttery, delicious flavor that I love to use in recipes. Fortunately, this is the perfect dish for just that flavor, and by mixing it with oil, tomatoes, and liquid aminos it transforms the green olive flavor and distributes it throughout the dish, highlighting it in a wonderful way. If you're still not a fan of the green olive flavor even when it is in a dish with other ingredients, you can use black olives instead.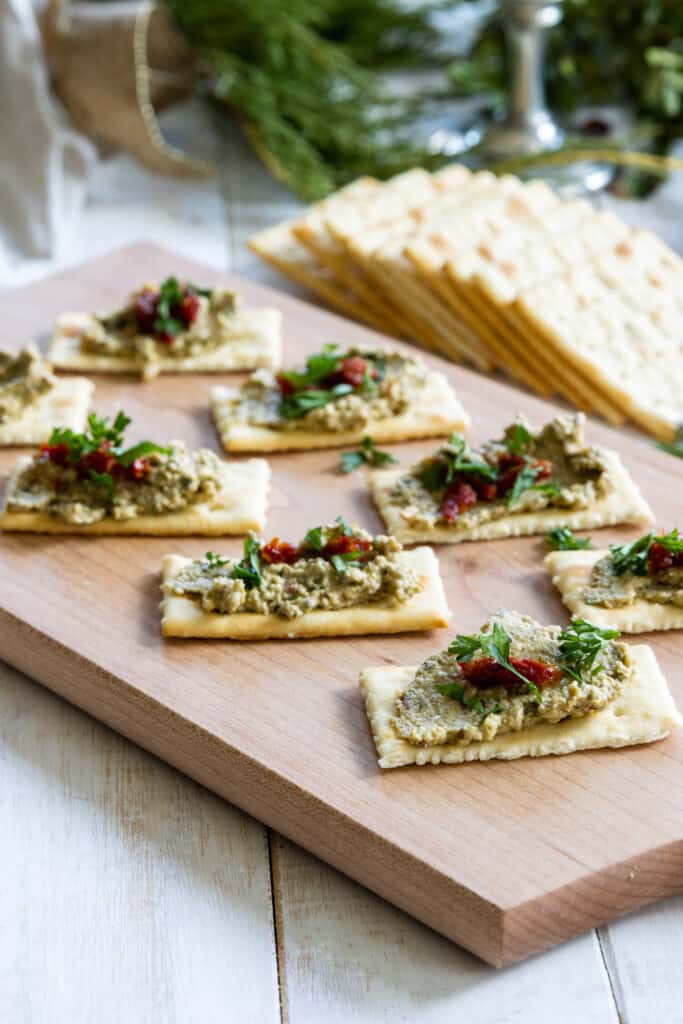 So, how does the Green Olive Tapenade measure up to these considerations?
Green Olive Tapenade can definitely be made ahead of time without sacrificing any of the taste or look. I usually make it a day or two in advance, put it in an airtight container, and leave it in the fridge until it is time to use. When I know that I will be short on time, I even put it right in the serving dish so that it is ready to go from the fridge to the table at a moment's notice.
Olive tapenade is quick and easy to make, takes only minutes to pull together.
Things to consider when making this Green Olive Tapenade recipe:
It is helpful to have a food processor for this dish.
You can make this dip with either green or black olives, but I prefer the green as they have a mild and buttery flavor. I use canned olives for this recipe.
The almonds need to presoak overnight. Presoaking makes it easier to blend, and the dip is smoother.
I use sun-dried tomatoes stored in oil for this recipe. If you prefer to use the dried variety, reconstitute with hot water for 30 minutes or so.
Allergies:
Gluten-Free:
This dip is naturally gluten-free, which makes it a great option, especially when you are not familiar with people's allergies. Serve these with gluten-free crackers, and you have the gluten-free option covered.
Nut-Free:
This recipe can be made nut-free also by omitting the almonds. I have made this dip by adding an extra can of olives. It has a different consistency, but it is still flavorful and delicious. Adjust the salt according to taste.
Oil-Free:
Omit the oil from the recipe. Use 1-2 tablespoons of water (or olive brine) as needed to make a spreadable dip. Choose sun-dried tomatoes that are not packed in oil or omit altogether.  
How do I serve this Tapenade:
You can serve this dip with crackers, crostini (toasted bread), or veggies. My favorite is crackers.
I hope this Green Olive Tapenade recipe makes your holiday appetizer table festive and extraordinary.
Click Here to watch me make this recipe on YouTube!
Print
Terrific Green or Black Olive Tapenade
Author:
Yield: Serves

4

-6

1

x
1

can of green or black olives (

6 oz

. drained)

1/2 cup

almonds (presoaked)

1

garlic clove

2 tablespoons

capers (Goya brand preferred)

1/2 cup

chopped parsley

2 tablespoons

sun-dried tomatoes (optional)

1 teaspoon

Braggs Liquid Aminos

2 tablespoons

olive oil
Instructions
Soak almonds in water for a few hours. Drain.

In a food processor, add the olives and almonds and pulse to combine.

Scrape down the sides. Then add garlic, capers, sun-dried tomatoes, and Braggs. Pulse to make a paste. 

While the food processor is running, slowly add oil. 

Last, add the chopped parsley.  

Garnish with olives, parsley, olive oil, or sun-dried tomatoes.

Serve with crostini, toasted bread, crackers, or veggies.
If you are looking for more appetizers: