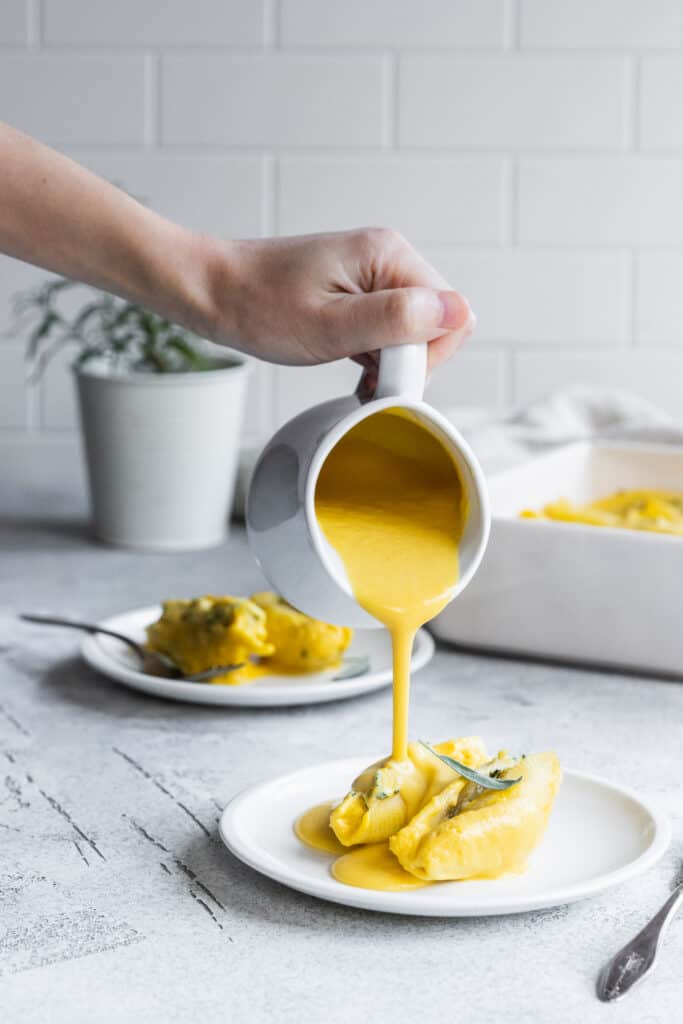 Who does not like stuffed shells? It is one of my favorite dishes. I also love roasted butternut squash, so today, we combine the two and make Roasted Butternut Squash Stuffed Shells. I, for one, am super excited about this recipe. It is a perfect recipe for fall with its beautiful color and comforting taste.
All the Benefits of Butternut Squash:
To me, butternut squash is a great accompaniment for autumn dishes. Unlike marinara, this butternut squash sauce provides a creamy, earthy flavor to pasta dishes, perfect for your fall and winter dishes. Especially is butternut squash a great fall vegetable choice when extra nutrition is needed and fresh vegetables are not as available as they are in the spring and summer. It is a great source of Vitamin A, potassium, and fiber, among many other vitamins and minerals. Talk about a powerhouse of a vegetable! There is little to dislike about this wonderful yellow nutrient dense gem.
Butternut squash is also high in disease-fighting antioxidants and low in calories, which makes it the perfect guilt-free food when you're looking for something healthy to snack on. Furthermore, the delicious texture is full of fiber and has an incredibly rich taste that most people can't get enough of. The sweet, nutty taste of this squash is similar to a pumpkin but has a much more subtle richness and less sweetness than a pumpkin. It is savory but can easily be turned into something sweet in needed.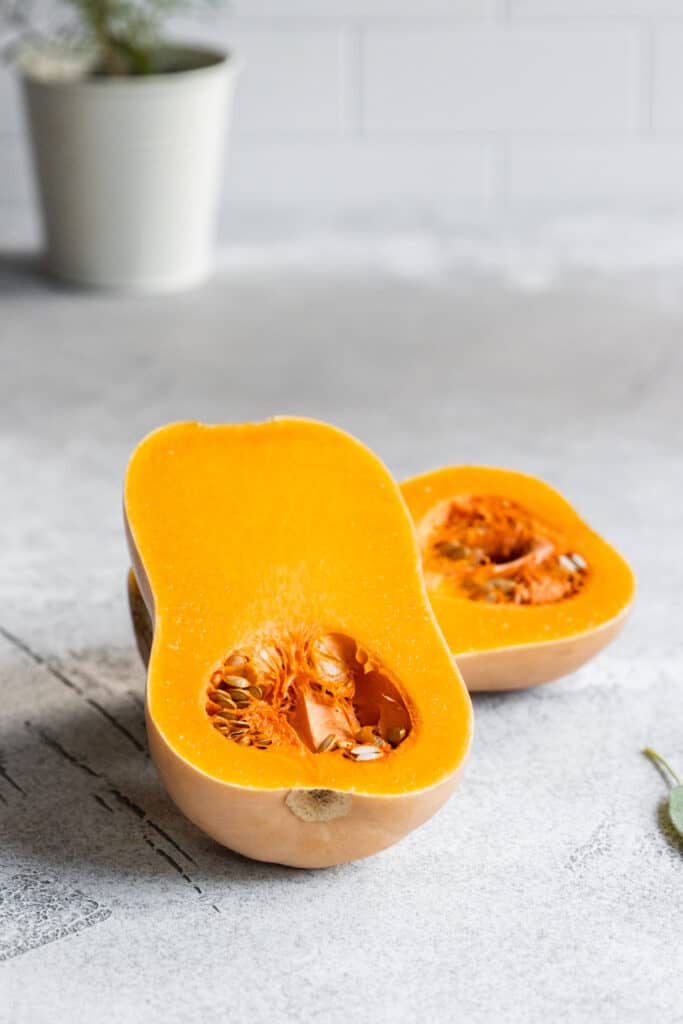 Picking a Ripe Butternut Squash:
You want to make sure the Butternut Squash is ripe, has no green spots, is hard to the touch, and is not glossy but has a matte and even coloration across the surface.
It is best if the stem is still intact, as a missing stem could indicate that it is past its prime. Depending on where you are shopping, however, you may find that the stems have all been removed for a lighter weight during shipping.
Finally, it should be heavy for its size. You don't want a light butternut squash because that could indicate issues with the inside like too many seeds and not enough flesh.
If you're looking for an easy alternative to choosing your squash, you can often find pre-prepared squash that has had the outer rind, stem, and interior 'guts' removed. This is an easy option if you don't have the time to prepare it yourself, but you may be sacrificing some freshness of flavor by doing so.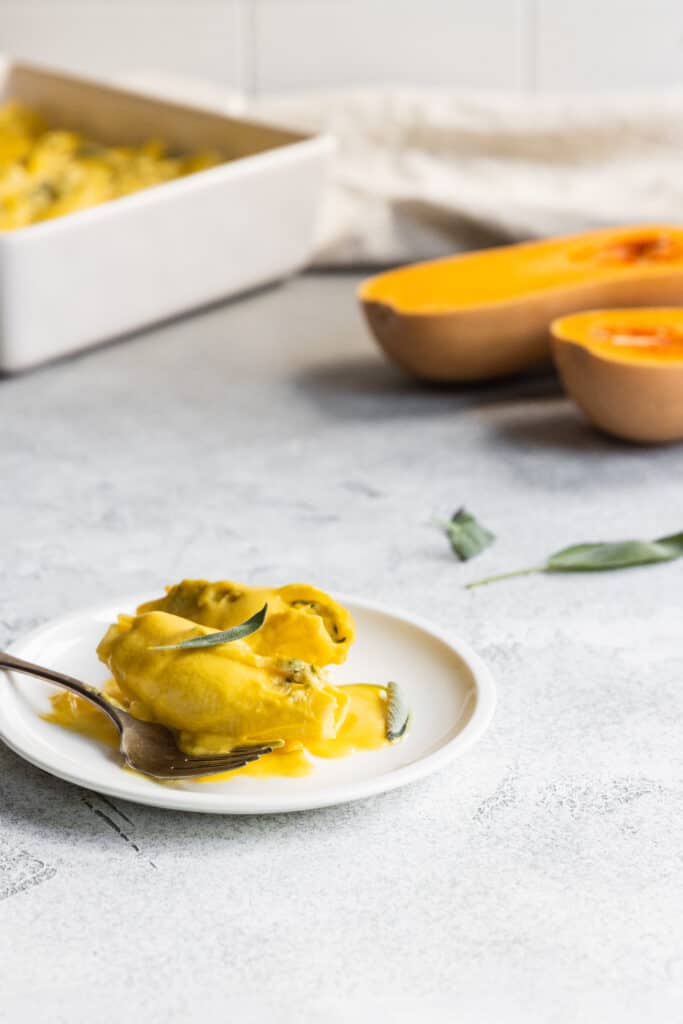 Roasting the Butternut Squash for the Sauce:
The reason for roasting the butternut squash for your squash stuffed shells is to mellow the flavor. The roasting process caramelizes the natural sugars, which gives it an amazing depth of flavor. And the best part of all is that it is super easy to do. Just peel the squash with a potato peeler, cut it in half lengthwise, and remove the seeds. Cut the squash into even bite-size pieces, place it on a baking sheet lined with a silicone mat or parchment paper. Next, spray with a little oil and sprinkle with a little salt. Bake at 375 F for 20-25 minutes, until the butternut squash is fork-tender.
Choosing Pasta Shells
When you are choosing your pasta shells, be sure to pick Jumbo or Grand sized pasta shells for this recipe. Choosing a shell that is too small will effect the pasta, ricotta sauce ratio, and may leave you with too much pasta to each bite. Remember, the shells are here to highlight the squash and ricotta filling, not the other way around.
We are so fortunate today that we have options for excellent pasta choices. If you are gluten-free, there is a brown rice gluten-free pasta (Tinkyada) that is excellent. It is also a great choice for those that want whole grain pasta. Precook pasta according to package instructions.
Vegan RICOTTA Cheese Filling
I use a blend of cashews and tofu for this vegan ricotta cheese filling. You won't believe how delicious this comes out as a cheese alternative for your butternut squash stuffed meals. Anyone who hasn't tried this cheese-less homemade filling is truly missing out, especially since it provides that creamy comforting filling that stuffed shells are known for.
Plus, among all of the nuts available to use as filling, cashews not only provide an excellent range of nutrients, but their soft texture makes them incredibly easy to blend and provide an excellent creamy flavor canvas for the sauce when mixed with tofu.
Almonds are a little grainier, though very nice in flavor. I have often used blanched almonds in my ricotta cheese as well, and it truly provides a great alternative. However, almonds are a little grainier in texture, so for this particular dish we have chosen soaked cashews. Some people use macadamia nuts, which also works nicely but they can be expensive and more difficult to find from a sustainable source. Again, I find that cashews work best for this dish, so I would recommend plain, raw, unsalted cashews.
Soaking Cashews:
I presoak the cashews overnight  before making the vegan ricotta filling, especially for this pasta stuffed squash dish, given that we want this sauce to be extra smooth and rich. Soaking makes the cashews much easier to blend, furthermore soaking takes away some of the natural sweetness that cashews have, which is perfect for this recipe, since we don't want a sweet but savory sauce. Because I often make recipes with presoaked cashews, I usually have some in the fridge soaking. Sometimes they can soak for 2-3 days before I get to them. I change the water daily, which also helps get rid of the cashew taste that a lot of people dislike when trying cashew-based fillings for the first time. When presoaked you should not be able to taste the cashew taste.
If you do not have time for the presoak, place the cashews in boiling water. Let sit for 30 minutes or so. I will even boil the cashews for a few minutes if I am particularly busy, which probably goes against all conventional wisdom, but hey, it works; I've done it. The sauce may be a little grainier, but if it is between getting dinner on the table in a few minutes versus the next day, I'll take that any day.
Sage:
Sage and butternut squash is a match made in heaven. It is a beautiful flavor combination and works well as a garnish. I like to add fresh sage leaves for garnish. If you have a kitchen herb garden, you'll also notice that sage tends to flourish around the same time that butternut squash starts showing up in stores after harvest. It's like it's a match made in heaven both in timing and flavor.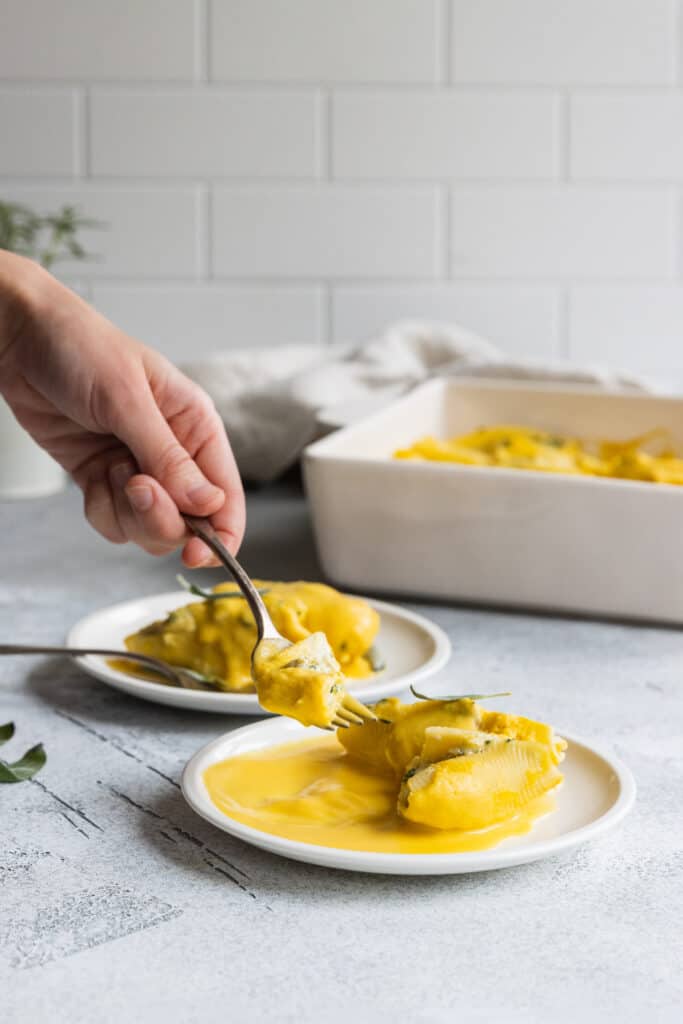 I hope you enjoy this Roasted Butternut Squash Stuffed Shells recipe. It has to be one of my favorite recipes because of its rich, creamy, comforting texture that gives you that feeling of a guilty-comfort food without the guilt part.
The cashew tofu 'ricotta' filling really shines in this dish, and it pairs perfectly with the butternut squash. I love the roasted butternut squash's slightly sweet and caramelized flavor, mixed with pasta and vegan ricotta filling. If you are looking for a gluten free option, I prefer a little bit of a firmer shell, you may even like a gluten-free pasta options better. The brown rice option I mentioned above really works well in this dish because it helps highlight the creamy textures from the other ingredients. Besides it the brown rice pasta provides an excellent whole grain option.  It is a winner in this household!
What Can You Pair This Dish With?
There are a ton of ways to pair this butternut pasta dish, but it's amazing as a standalone dish as well. Because of its rich, creamy butternut sauce, this dish already has a lot of nutrients, minerals, and comfort value. So, pair it with a light water-based soup, or a healthy garden variety salad with a simple dressing drizzled over the top.
Click Here to Watch Me Make this Recipe on YouTube!
Print
Roasted Butternut Squash Stuffed Shells | Plant-Based, Vegan
1

box of Jumbo Pasta Shells, (for a gluten-free option: Brown Rice Pasta Shells)
Butternut Squash Sauce:
3 cups

butternut squash, peeled, seeded, and cut into small chunks

1

medium yellow onion, chopped

3

garlic cloves, minced

1/2

–

1

teaspoon fresh sage (

2

–

3

sage leaves)

1/8 teaspoon

red pepper flakes

4 cups

water

1/4 cup

cashews

1 teaspoons

salt or salt to taste

1 tablespoon

margarine (optional)

1 tablespoon

fresh lemon juice

1 tablespoon

better-than-bouillon (vegetable base)
Vegan Ricotta Filling:
1 cup

presoaked cashews, drained

1 cup

(

8 oz

) firm tofu, drained

3 tablespoons

fresh lemon juice

2 tablespoons

olive oil

1/2

–

3/4

teaspoon salt

2 teaspoons

Bragg Liquid Aminos

3 tablespoons

nutritional yeast flakes

1

medium onion, small dice

4

garlic cloves, minced or crushed

2 cups

fresh spinach, roughly chopped
Instructions
Pasta:
Precook the pasta shells.
Bring a large pot of water to a boil and sprinkle generously with salt.
Add pasta shells.  Cook according to box instructions (usually about 10 minutes)
Remove from boiling water, rinse in cold water to stop the cooking.
Drain. Set aside to cool.
Optional: Add a small amount of oil to the pasta shells to prevent them from sticking together. 
Butternut Squash Sauce:
Preheat oven to 375 F
Peel the squash with a potato peeler, cut it in half lengthwise, and remove the seeds. Cut the squash into even bite-size pieces, place it on a baking sheet lined with a silicone mat or parchment paper.
Next, spray with a little oil and sprinkle with a little salt.
Bake at 375 F for 20-25 minutes, until the butternut squash is fork-tender.
In a pan sauté onion, garlic, fresh sage, and red pepper flakes over medium heat.  Cook until onions are translucent.
Transfer the onion mixture to a blender.  Add the roasted butternut squash and the rest of the sauce ingredients.  Blend until smooth.
Vegan Ricotta Filling:
In a food processor, add cashews, tofu, lemon juice, olive oil, and blend. Add salt, Bragg Liquid Aminos, nutritional yeast, and blend until smooth.
In a small saucepan, sauté the onion in oil until translucent, add the crushed garlic, and fresh spinach. Sauté until the spinach has wilted. Set aside to cool.
Gently mix the cashew/tofu mixture with the onion/spinach mixture. The filling is now ready.
Assembling the Dish:
Preheat oven to 350F
In an 9X9 inch pan, add a layer of butternut squash sauce.
Next, fill the pasta shell with 1-2 tablespoons of ricotta filling.
Place in the pan.
Continue this process with all the shells.
Cover each shell with a layer of pasta sauce.  (Use leftover sauce to pour over shells when serving)
Sprinkle with vegan parmesan if desired (Click Here for My Recipe).
Bake for about 30 minutes.
Garnish with fresh sage leaves.
Looking for More Fall Recipes?