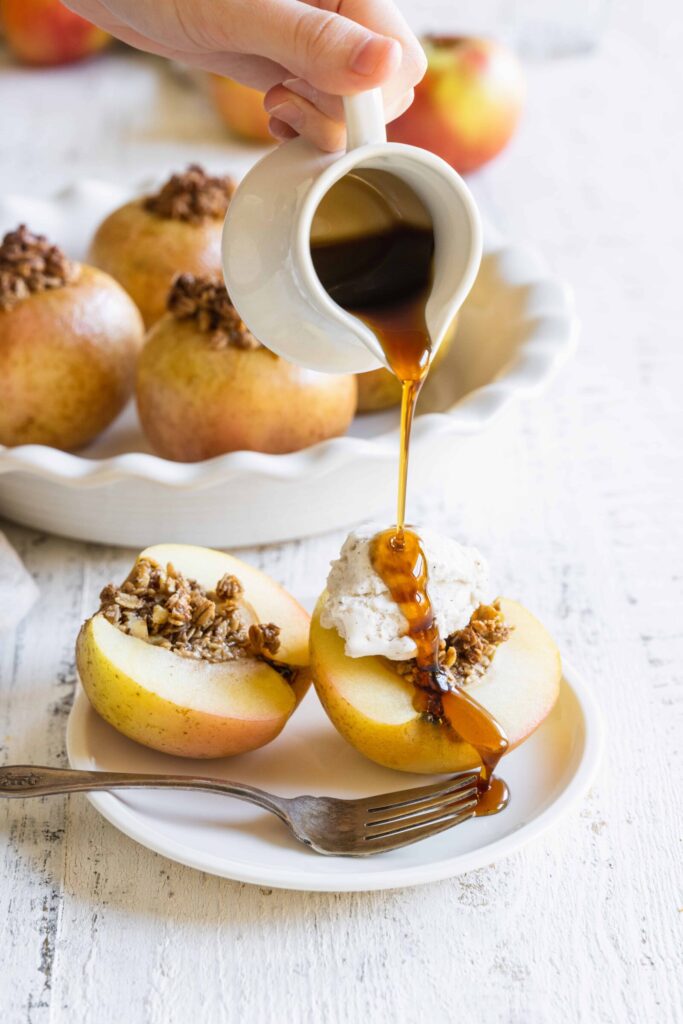 Apple Season is one of my favorite seasons. When you are a chef like me, your year is not necessarily divided into fall, winter, spring, and summer, but rather Apple Season, Strawberry Season, Raspberry Season, Blueberry Season, etc. And right now, New England is overflowing with wonderful apples and other apple products. Today we are making an absolutely gorgeous dessert. If you have never had baked apples, you have been missing out. You can also customize the filling to your taste.
Every time I make this recipe, I ask myself, why don't you make this recipe more often? It is, of course, the best when the apples are fresh, so fall is a great time to serve baked apples.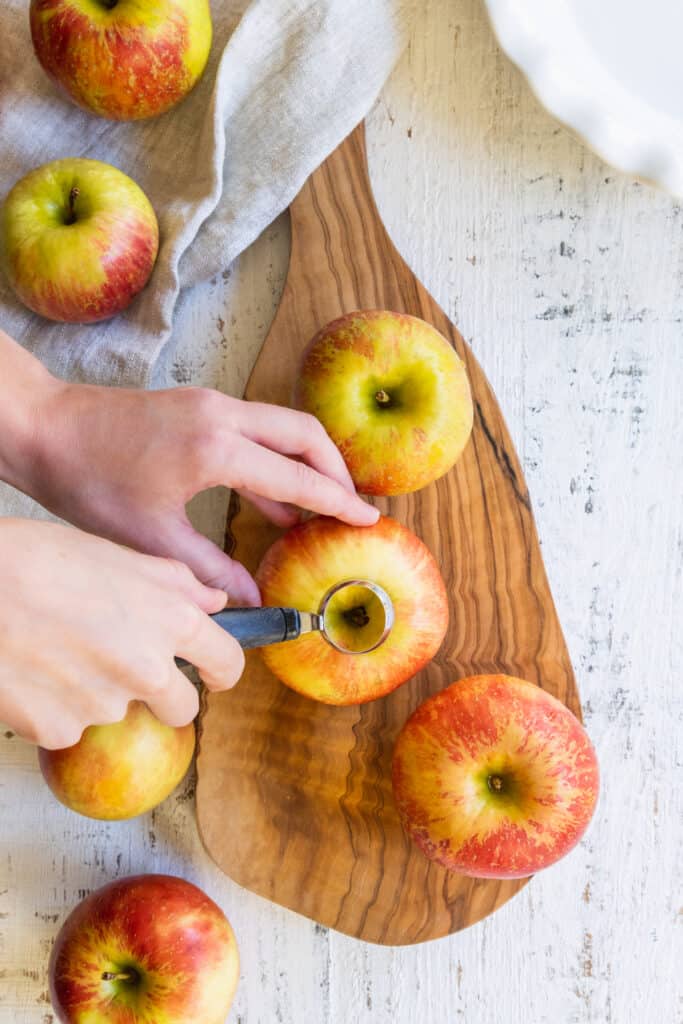 Baked apples usually start with a trip to pick apples at one of the many apple orchards nearby, but don't worry, if you don't have that option, just find the best-looking apples you can find in the store. Use an apple that is good for baking, like Honeycrisp or Pink Lady.
Wash the apples well, and core a nice-sized pocket in the middle of the apple, removing the stem and seeds. A melon baller is a great tool for this as it does the job so easily.
Click Here for a Melon Baller on Amazon. (If you click on the link and purchase something, I earn a small commission and it doesn't cost you any more)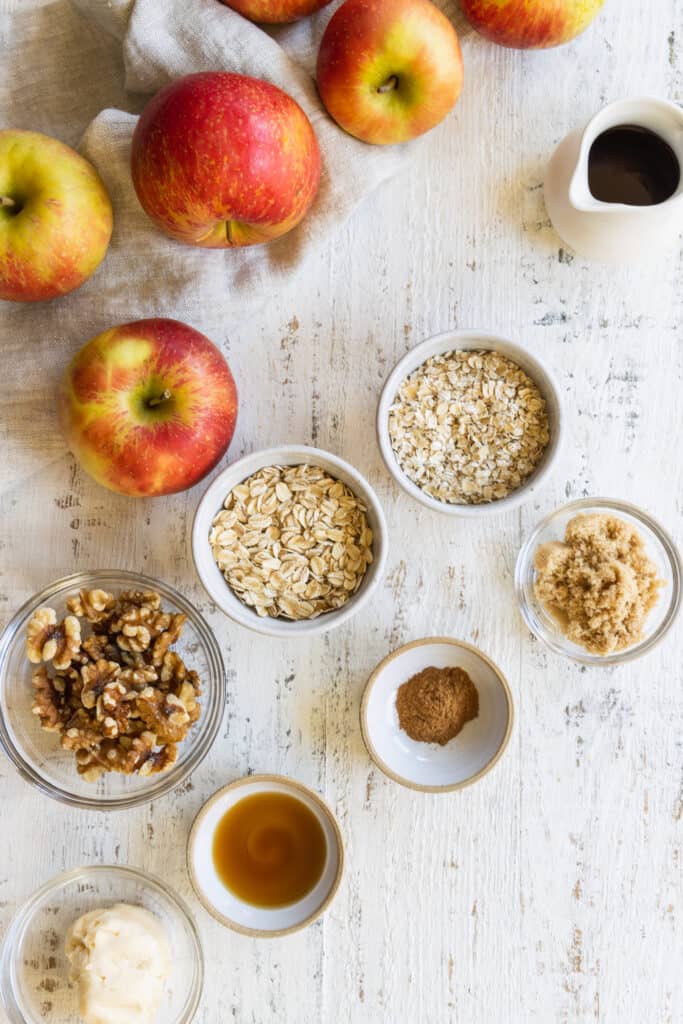 Baked Apple Filling Ingredients:
Apples (Honeycrisp or Pink Lady)
Earth Balance or Coconut Oil
Oats
Maple Syrup
Brown Sugar (optional)
Cinnamon
Vanilla
Cardamom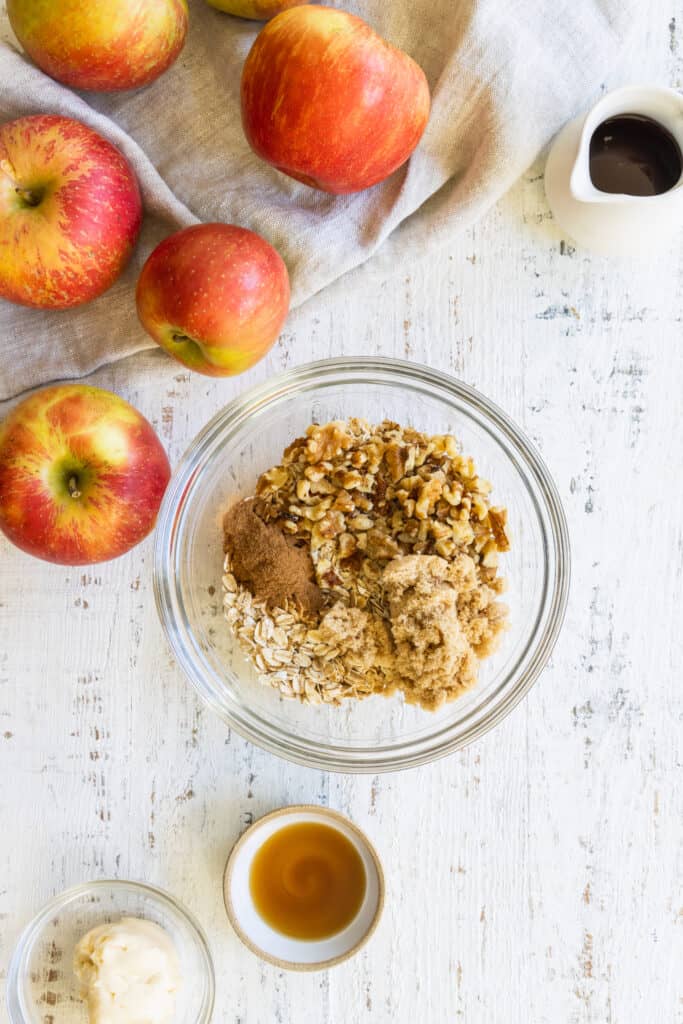 Apple Filling:
You can be so creative with the filling. According to taste, add nuts, vanilla, maple syrup, lemon juice, and other flavors to the oats. Fill the apples with the filling until it tops the apple.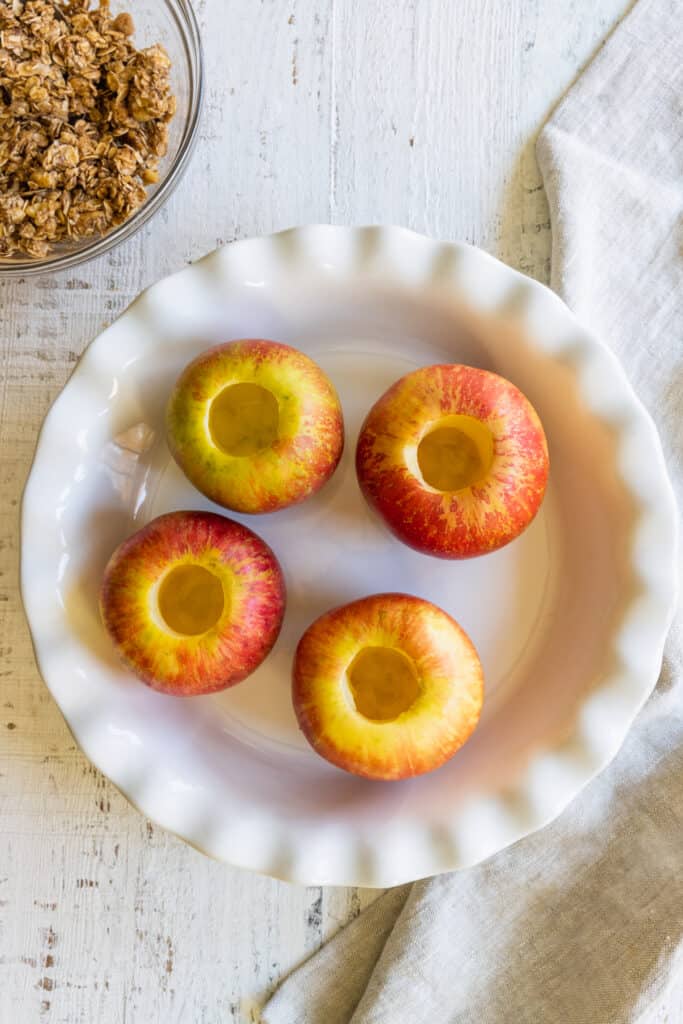 Gluten-Free Option:
You can easily make these baked apples gluten-free by using gluten-free oats.
Nut-Free Option:
Leave out the nuts for a nut-free baked apple.
Tip:
Bake the apples in a shallow pie pan with a little bit of warm water. The water will keep the apples moist and delicious. Remove them from the water when they are done baking.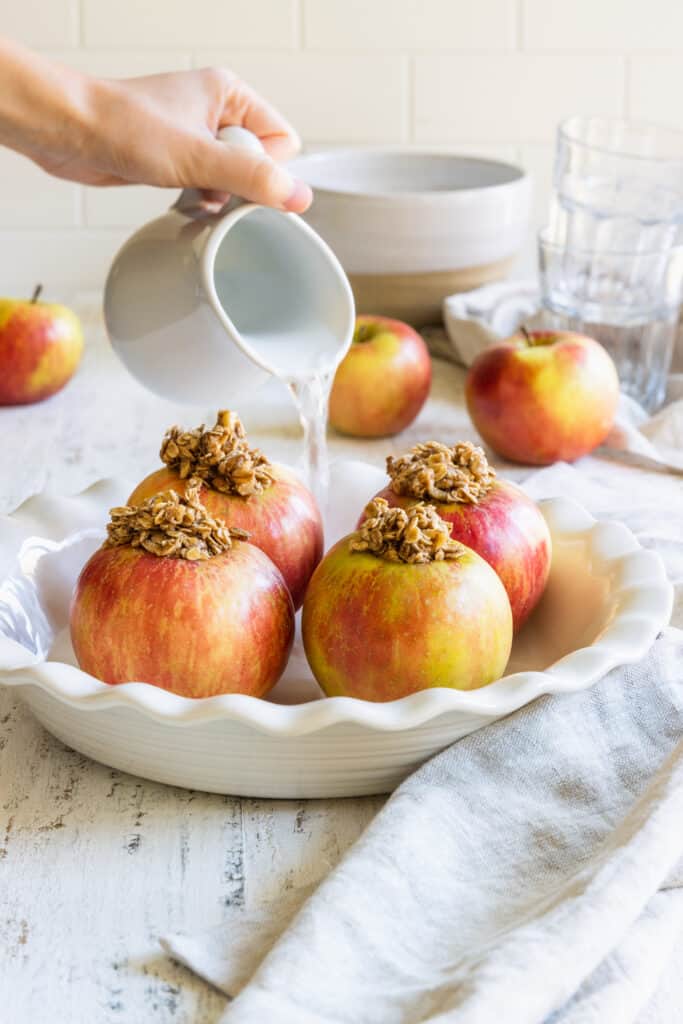 Baked Apple Serving Suggestions:
Serve with maple syrup, plant-based ice cream, and toasted nuts.
Click Here to Watch my Make this Baked Apple Recipe on YouTube!
Print
Gourmet Baked Apples | plant-based, vegan
Author:
Yield:

4

Baked Apples

1

x
4

apples (Honeycrisp or Pink Lady)

2 tablespoons

Earth Balance or Coconut Oil

1/4 cup

old-fashioned oats (use glu

ten

free oats for a glu

ten

free option)

1/4 cup

quick oats

2 tablespoons

maple syrup

2 tablespoons

brown sugar (optional)

1/2 teaspoon

cinnamon

1 teaspoon

vanilla

1/4 teaspoon

cardamom
Instructions
Preheat oven to 375F
Prepare the apples.  With a melon-baller, carve out a space for the filling in the top of the apple, making sure you remove the stem and seeds.
Next, prepare the filling. In a small bowl, add the old-fashion oats, quick oats, maple syrup, sugar, cinnamon, vanilla, cardamom, and stir to combine.  Mix in the earth balance or coconut oil.
Fill the apples with oat filling.
Place apples in a ceramic pie tin.
Pour 3/4 cup warm water into the bottom of the pie tin.
Bake for 40-45 minutes.
Remove from oven and transfer the baked apples to a serving dish.
Serve with maple syrup, plant-based ice cream, and toasted nuts.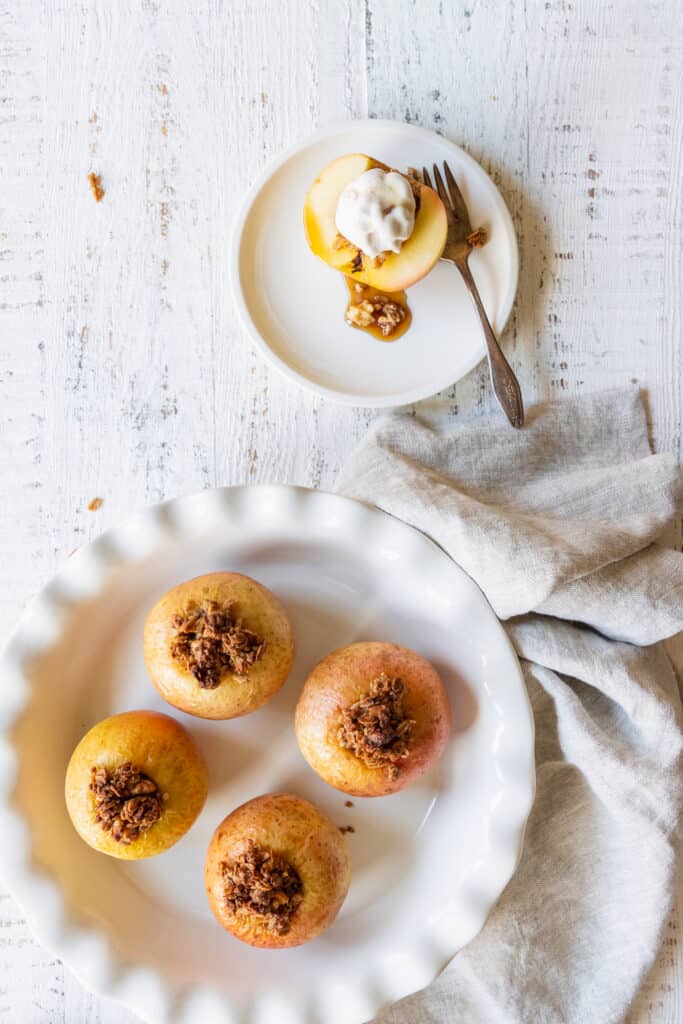 Looking for More Baking Recipes:
(Read my affiliate discloser here.)