Since I was a little girl, biscotti have been among my absolute favorite cookies. When we would go to the bakery, my sister Kaija would pick some exotic cookie with sprinkles and icing, but I just wanted a biscotti. I don't know for sure what it was about these cookies that fascinated me as a child, but I think it may have been the combination of the crunchy texture and unique flavor. As I grew, I learned to make these cookies myself and they became a staple on my list of absolute favorites. Biscotti cookies come in so many varieties, but the one I remember best from childhood was the almond biscotti. So I thought I would share this very special vegan almond biscotti recipe with you.
Biscotti is actually an Italian cookie. I believe the name stems from the fact that it is twice baked. This process makes the cookies very crispy, a characteristic that makes them easy to store, easy to take along on a picnic, and easy to give as gifts. They last well for many days, and should they get a little soft, just put them back in the oven at 300F for a few minutes and they are as good as new.
Why This Vegan Biscotti Recipe is the Perfect Breakfast Companion
There's something about sitting at the table early in the morning with a warm cup of tea and an almond biscotti. I don't know exactly why I carried my fascination with biscotti into adulthood, but to this day these are my favorite cookies.
It's a great way to start the day off right with some carbohydrates, especially if you pair it with a delicious vegan breakfast.
Once you get the basic almond recipe down, you can also add all sorts of fun ingredients to it and play with the recipe.
One of my favorite variations on almond biscotti is the almond-cranberry biscotti. All you have to do to achieve this is add some dry cranberries to the mix. They'll rehydrate during baking with the moisture in the dough so you don't have to worry about the cranberries getting too rubbery.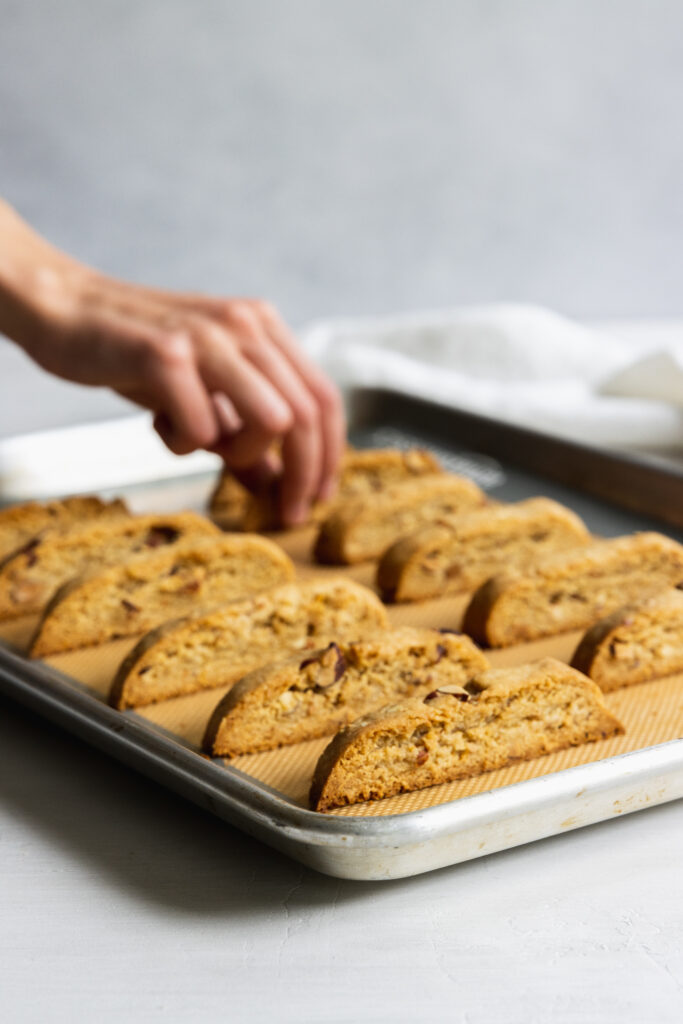 Baking Process:
So biscotti cookies are baked twice. It sounds labor-intensive, but it is really easy. You basically bake the dough as a log, cut the log into 1/2-3/4 inch slices, and then bake the slices again. Super simple. See my recipe for details.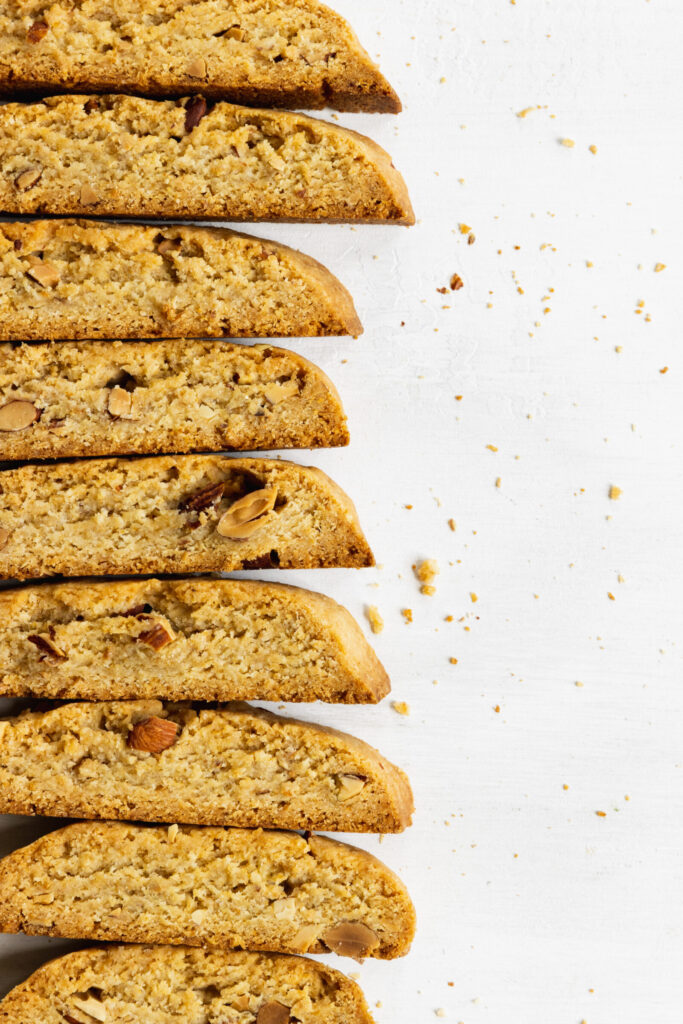 Let's Talk Vegan Almond Biscotti Ingredients:
Almonds:
I prefer toasted almonds in this recipe. Place the almonds on a baking sheet and toast in the oven at 350F for 6-7 minutes. Almonds also have an impressive list of health benefits.
Pre-Toasting Your Almonds Adds Depth
Let's talk about pre-toasting almonds. I know, it sounds like a time-consuming process, but it really doesn't take too long to do.
Freshly toasting the almonds before they go into the recipe can add rich, nutty depth to your biscotti. Once you try it, you won't go back to using raw almonds ever again, trust me.
As I mentioned, this is my preferred way to work with almonds in biscotti. If you don't like whole almonds, but are willing to give it a try, I even suggest toasting almond slices.
If you are using almond slices, you don't need to keep it in the oven as long as whole or diced almonds. Spread your almond slices in a single layer on a baking sheet and put it into the oven at 350F.
Check the almonds at 2 minutes baking time, and every minute afterwards. You're looking for a nice golden-brown consistency across all the almond slivers.
After toasting, make sure the almonds cool down before you add them to the batter. If you put them in while they're still hot, they can cook the batter around it, creating a pocket that leaves you with dry almond-y patches. You want everything to cook evenly.
Coconut oil:
I use coconut oil in this recipe as a replacement for butter. It creates a beautiful and delicious cookie, but it can be substituted with vegan margarine if you prefer.
Almond extract:
A few drops of almond extract will add a wonderful flavor to the biscotti. This is an optional ingredient, but it really adds to the flavor of the cookies.
Golden Ground Flax Seeds:
Golden ground flax seeds help bind the cookie together and add a healthy dose of fiber and nutrients as well.
Make Vegan Biscotti Your Own: Favorite Nut Substitutions
If you're really not an almond person and you want to try baking these biscotti with a different type of nut, there are a few delicious vegan substitutions that you're going to love.
The main thing you want to look for when substituting nuts is that they have the same sort of texture as an almond. You may need to chop or slice them to get them to the same size as almonds.
Some of my favorite nut substitutions for this recipe include hazelnuts, walnuts, macadamia, and brazil nuts.
Hazelnuts, walnuts, and macadamia nuts add an amazing nutty flavor to the biscotti, and they're a little softer than almonds. You can't go wrong with these nuts.
Brazil nuts are much larger, but they have the same kind of consistency as almonds, just a little softer. You'll have to cut these, but they add a lot of great depth to the flavor.
If you feel adventurous, you can even use unsalted, shelled pistachios for a focused, earthy flavor.
Click Here to Watch Me Make this Vegan Almond Biscotti Recipe on YouTube!
Print
Almond Biscotti | Plant-based, Vegan
Biscotti is actually an Italian cookie. I believe the name stems from the fact that it is twice baked. This process makes the cookies very crispy, a characteristic that makes them easy to store, easy to take along on a picnic, and easy to give as gifts. They last well for many days, and should they get a little soft, just put them back in the oven at 300F for a few minutes and they are as good as new.
3 tablespoons

refined coconut oil

1/3 cup

natural cane sugar

1 tablespoon

golden ground flax meal

1 teaspoon

vanilla extract

1/8 teaspoon

almond extract

2 tablespoons

(room-temperature) water

1 cup

flour

3/4 teaspoon

baking powder

1/4 teaspoon

salt

1/4 cup

toasted almonds, chopped (see note)
Instructions
Preheat oven to 350F
In a large bowl, add sugar and coconut oil.
With a hand mixer, cream the sugar and coconut oil, until lighter in color.
Next, add golden ground flax meal, vanilla extract, almond extract, and room temperature water.  Continue to beat until well combined.
In a separate bowl, combine flour, salt, and baking powder.
Add the flour mixture to the creamed mixture a little at a time.  I prefer to use a wooden spoon while mixing the wet and the dry ingredients.
Add the chopped almonds to the dough.
Place parchment paper or a silicone mat on a baking tray, and form the dough into a log right on the tray.
Bake at 350F for 20-25 minutes until the log has a golden color, especially around the edges.
Remove from oven and brush lightly with water.  This will keep the crust soft and will make it easier to cut.  Let it rest for about 15 minutes.
Reduce oven temperature to 325 F.
Cut the log into 1/2-3/4 inch slices.  They look neat if cut at a slight angle.
Return the pieces to the baking tray.  Keep the pieces standing, but separate them so that they will bake evenly.  Bake for 25-30 minutes.  The cookies should be crusty and dry.  Don't worry if there is a slight softness in the middle; they usually harden as they cool.
Should they not harden to your liking, or you want to refresh the cookies, bake them in a 300F oven for about 10 minutes or so.
Notes
To toast almonds:  Place almonds on a baking tray.  Bake at 350 F for 6-7 minutes.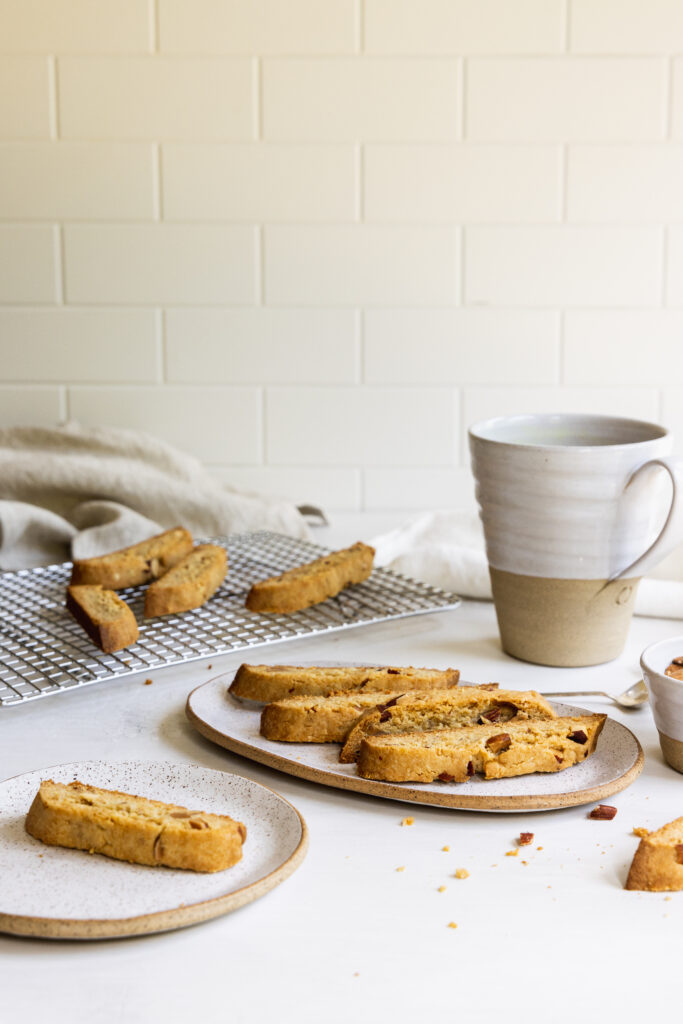 How Good Quality Extract Improves Your Biscotti Recipe
In this recipe, we are using both vanilla and almond extract. Especially in recipes like this where the extracts help showcase the flavors of other ingredients, it is so important to use good quality, fresh extract.
I can't stress this enough. The extract is the life of this biscotti.
If you're used to picking up the least expensive imitation vanilla at the store, do yourself a favor. Treat yourself to the high quality, organic, full-bodied extract instead.
Do the same with your almond extract. You will be blown away with the differences.
It can be a lot more expensive by the ounce, but keep in mind that these extracts go a long way. If you're going to treat your body well, make sure you're putting real, good food into it.
Is Biscotti a Healthy Snack?
Biscotti is some of my favorite cookies of all time. The ingredients are all good for you, giving you a new way to eat your favorite nuts and berries. As a low fat, low sugar cookie, they're one of the best sweet treats you can have.
That said, it's always important to have things in moderation. Too many biscotti in one sitting still adds up.
Storing Biscotti for Later
Storing biscotti is easy. All you need to do is keep them in a sealed container or ziplock bag. You don't even have to refrigerate them. If these sweet treats start to go stale, just reheat them in the oven to remove any moisture.
Cut This Vegan Biscotti After Cooling for Even Slices
Want to know one of my secrets for cutting biscotti? Once they're out of the oven the first time, wait until they're cooled to cut into them.
The cooled biscotti will be soft and plush like a dense loaf of bread, but since it's cooled all the way through, it won't compress and crumble with the knife. Instead, you'll get nice, clean slices.
Is It Possible to Make Gluten Free Biscotti?
Yes, biscotti are easy to make with gluten free flours in place of regular flour. In this recipe, I've used ground flax meal as well as some regular flour. 
Instead of the flour, substitute with a one to one gluten free baking flour blend.
Looking for More Baking Recipes?