Are you somebody that likes the muffin top better than the rest of the muffin? If you are, this Breakfast Blueberry Muffin Top recipe is for you. In my household, we have a couple of people who shall remain anonymous, that love the top of the muffins best, and it is not uncommon to find a couple of topless muffins sitting around after a muffin morning. So, to counteract this behavior, I decided to come up with a recipe that would fit this definite preference. And what better timing, as it is blueberry season here in New England. We have countless blueberry patches where you can go and pick your own blueberries; they even grow wild in the woods around here. We are blessed with a beautiful blueberry patch of our own, so these blueberries are from our own garden.
This year we have been visited by a large herd of turkeys that also love our blueberries, so we have had to protect a few bushes with netting.  We are happy to share, but we draw the line when they are not sharing with us.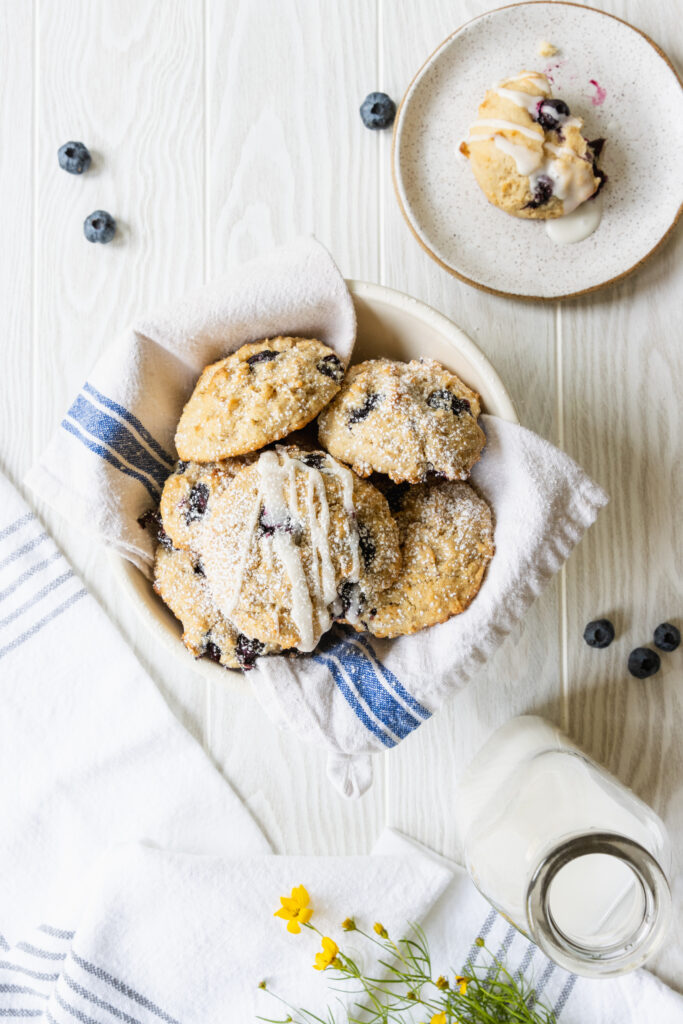 You do not need special pans for muffin tops, though many stores carry muffin top pans now.  Since I love to try new gadgets and kitchen tools, I have one of those pans, but I find that it is just as easy to use a regular baking sheet tray.
Since this is a breakfast muffin top, we pack some extra nutrition and fiber into the recipe.  We want you to have energy for the day.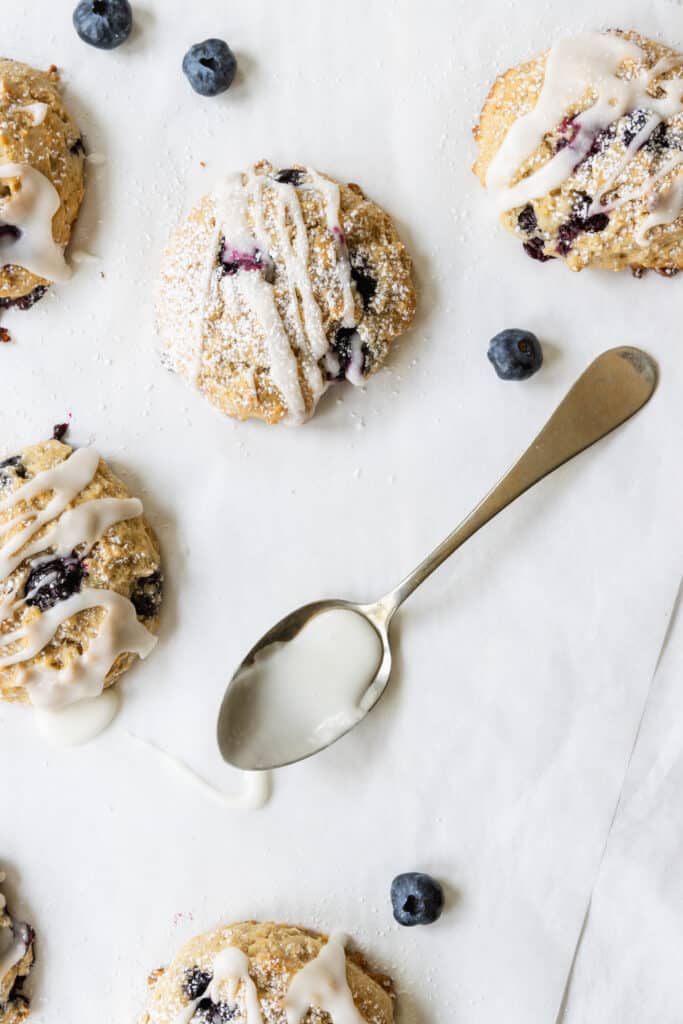 Let's Talk Breakfast Blueberry Muffin Top Ingredients:
Blueberries:
Blueberries are one of my favorite berries. We are so blessed to have many blueberry bushes in our backyard. Blueberries are super good for us, low in calories, high in nutrients, especially C and K, high in fiber and full of antioxidants. Besides all these benefits, they are also incredibly delicious.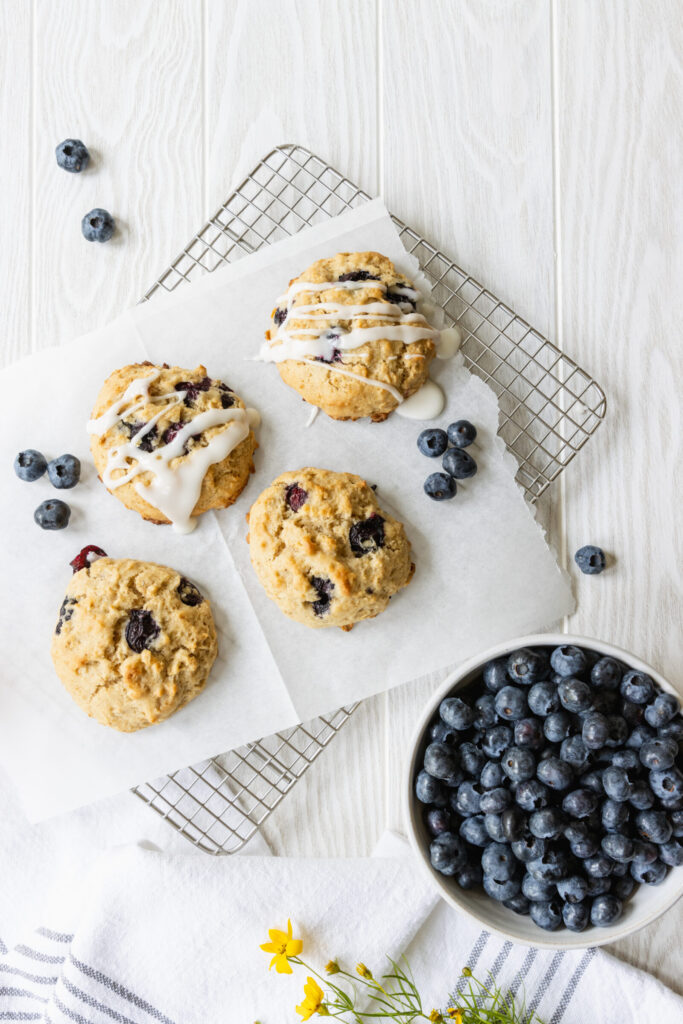 We use all-purpose flour, almond flour, rolled oats and ground golden flax meal in these wonderful light and delicious muffin tops. To make them healthier, you can substitute the all-purpose flour with white whole wheat flour, but be sure to use a little less flour than the recipe calls for, as whole wheat flour generally requires more liquid.
Apple sauce is a wonderful thing to have on hand in vegan baking; it provides moisture in baked goods. It is a great item to have on the shelf. We also add some coconut oil; you can use either refined (no coconut taste) or unrefined, which will have some coconut taste.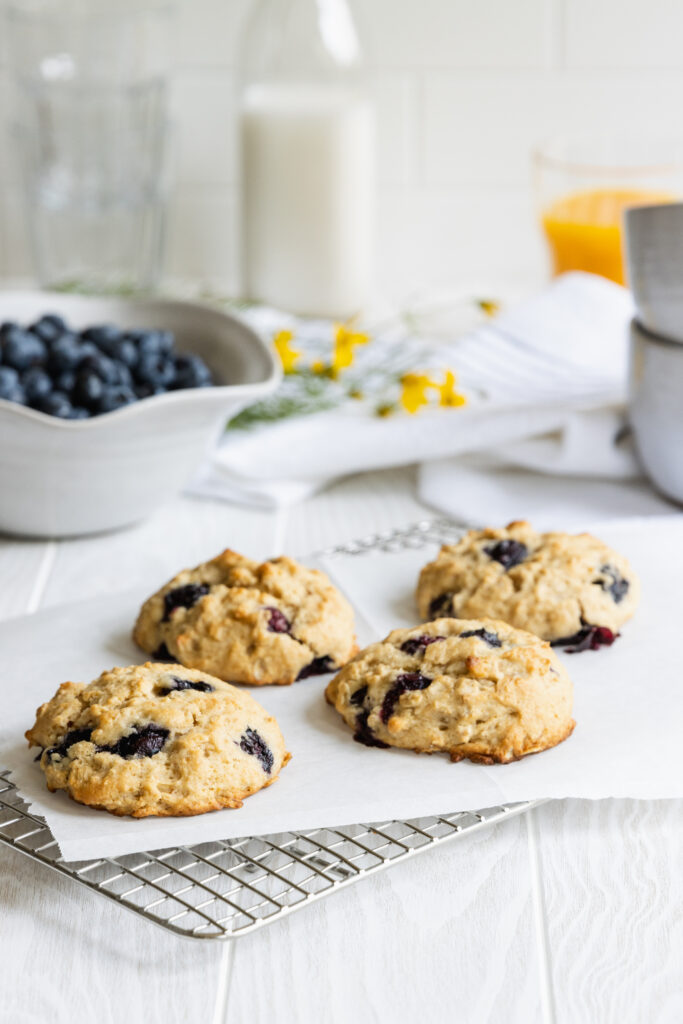 I hope you enjoy these muffin tops as much as we do, and if your family happens to have a muffin top lover, it will be a real hit.
Click Here to Watch Me Make this Recipe on YouTube!
Print
Breakfast Blueberry Muffin Tops | Vegan, Plant-Based
Author:
Yield: Makes about

12

Muffin Tops

1

x
Dry Ingredients:
1 1/4 cup

flour

1/2 cup

almond flour

3/4 cup

rolled oats

1/2 teaspoon

salt

2 teaspoons

baking powder

1/4 teaspoon

cardamom
Wet Ingredients:  
1/2 cup

maple syrup (see note)

1/4 cup

apple sauce

1/4 cup

soy milk (or almond)

1/4 cup

melted coconut oil

1 tablespoon

fresh lemon juice

1 tablespoon

ground golden flaxseed

1 teaspoon

vanilla extract
Fresh Ingredient:
Instructions
Preheat oven to 400F
In a large bowl, combine all the dry ingredients.  Stir to combine.  Set aside.
In another bowl, combine all the wet ingredients + ground flaxseed. Stir to combine.
Add the wet mixture to the dry and gently stir to combine until you have no dry flour patches left.  Be sure not to overmix.
Gently fold in the blueberries, being careful not to break the blueberries.
Using an ice cream scoop (or spoon), scoop up the mixture and drop them on a lined baking tray.
Bake for 12-15 minutes, until golden brown.
Lemon Glaze:
1 cup powered sugar
2 tablespoons fresh lemon juice
Mix together.  Adjust the thickness by adding more powered sugar or lemon juice, until you reach the desired consistency.  When the muffin tops are cool, drizzle over the top.
Notes
The dough should be slightly thicker than regular muffin batter, as these muffin tops need to stay up during the baking process.
If you do not have maple syrup, you can substitute it with your favorite sweetener.  If you are using sugar, be sure to add some extra liquid (milk).