Here is a wonderful Crispy Baked Hash Brown recipe to add to the breakfast/brunch menu. These hash browns are crunchy on the outside, soft on the inside, and oh so delicious. My family loves potatoes, and these hash browns are a spectacular addition to a great breakfast.
Looking for more potato recipes?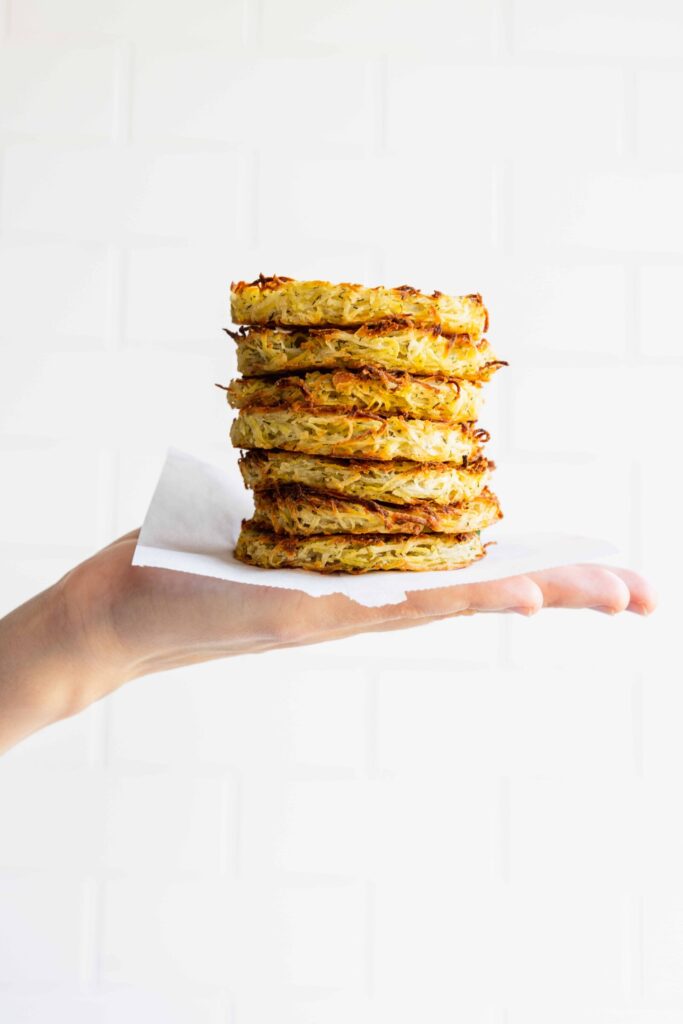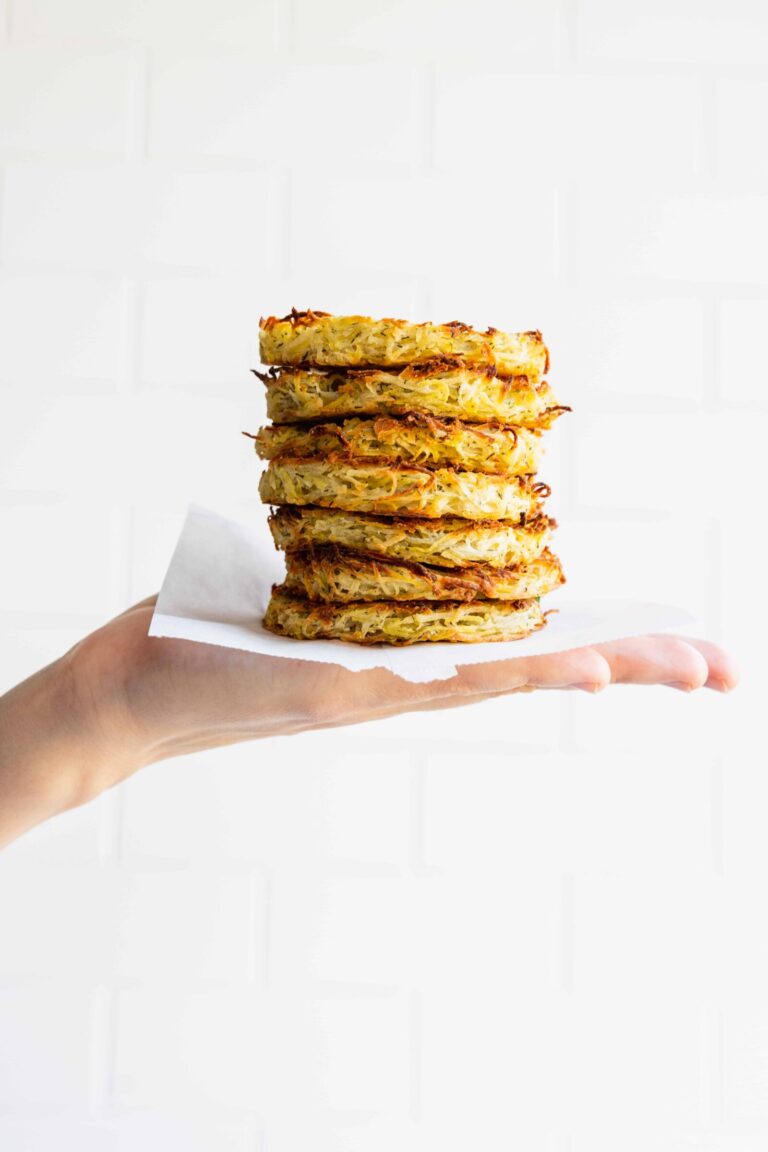 What are Hash Browns?
Hash Browns are usually shredded, lightly seasoned potatoes that are pan-fried to a golden brown color. We choose to bake ours because it requires less oil. We also really like making them into rounds. They are easy to flip, ensuring the crispy outside and soft and delicious inside. The rounds also make them easier to freeze and reheat in the oven or in a skillet at your convenience.
Why Oven Baked Hash Browns Instead of Skillet Fried?
I prefer oven-baked instead of skillet-fried for 2 reasons: it's easier to achieve perfectly crispy baked has browns, and you use much less oil in the cooking process.

If you've ever tried to make hash browns from scratch, you know how tricky it can be to get them crispy. Soggy hash browns are often a result of not removing enough water from your shredded potatoes.

But did you know frying in oil can make your hash browns soggy, too?

Anytime you fry any kind of food in oil, you run the risk of a soggy end result. When your oil is too cold or you leave the hash browns in for too long, they absorb far too much cooking oil. That's why the oil's temperature is so crucial to frying food. (1)

When you bake in the oven, you don't have to worry about this problem! And the benefits are twofold. You can rest easy knowing crispy baked hash browns are just a few minutes away and you can feel good about the caloric content.

To be clear, it's certainly possible to successfully skillet fry hash browns. It just takes more babysitting and creates a greasier end product than I'd like. Basically, in my house, there's no downside to baking instead of frying!
Potatoes:
Potatoes have been around for a very long time. They were cultivated by the Inca Indians in Peru. My grandpa ate potatoes for dinner almost every day his entire life. Potatoes grow well in Norway, and when the new potatoes come out in the fall, they are particularly delicious. Potatoes come in all shapes and sizes, and there are hundreds of different varieties. They are usually classified into three different groups: starchy, waxy, and all-purpose. Did you know that potatoes contain more nutrients than rice?
Health Benefits of the Potato:
Let not this humble vegetable fool you; it is packed full of valuable nutrition.
high in fiber
Very filling
helps regulate cholesterol levels
contains no cholesterol
high in antioxidants – helps prevent disease
naturally gluten-free, nut-free, soy-free
high in vitamins and minerals
contains anti-inflammatory compounds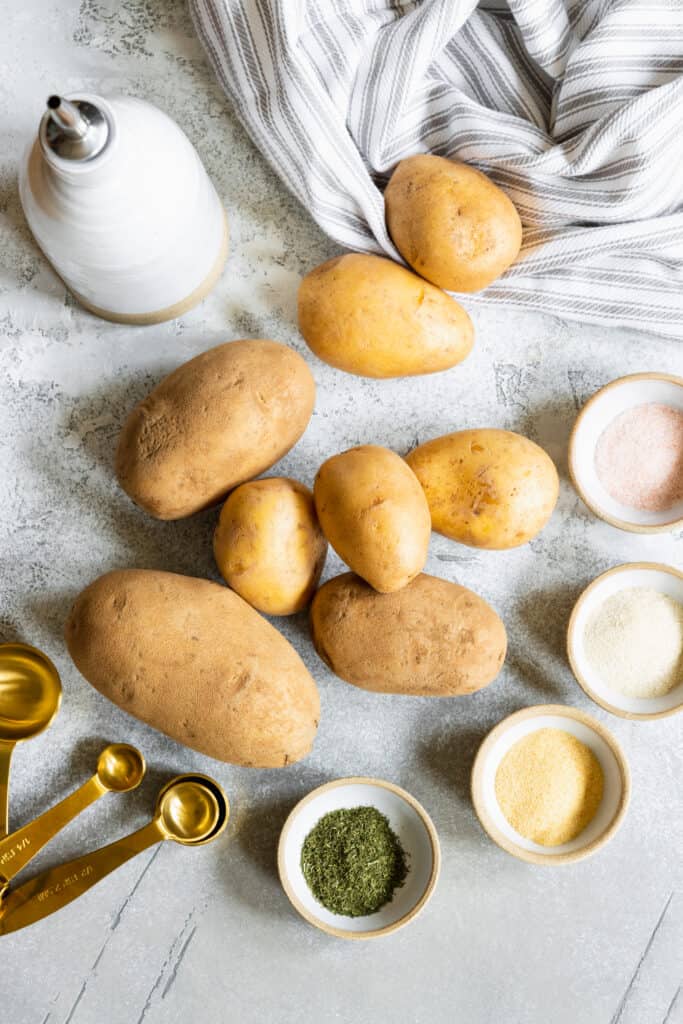 Helpful Cooking Tips:
What type of potatoes should I use when making baked hash browns?
There are a few things to keep in mind when making hash browns. The type of potatoes used changes the flavor and outcome. We are very fond of the golden potato (Yukon) but have found that sometimes mixing two types of potatoes gives an added element of texture and flavor. In this recipe, we mix the Russet Potatoes (sometimes called Idaho potatoes if grown in Idaho) with the Yukon gold potato, and you have the best of both worlds. The Russet is a low moisture, high starch potato, and the Yukon is a medium moisture and medium starch potato – a perfect blend for hash browns.
Put Hash Brown Potatoes in a Muffin Tin for Portion Control
Here's the thing—even if you follow this crispy baked hash brown recipe to the letter, plain potatoes are healthier. So while this recipe cuts out a lot of the unhealthy ingredients found in fried hash browns, it's still a bit indulgent.

Using a muffin tin for portion control is a great way to avoid overeating. Personally, I find it far too easy to just keep grabbing another hash brown patty off the baking sheet! With a muffin tin, you get slightly smaller patties and they'll all be totally uniform in size. It's easier to know exactly how many calories are in each one with this handy tool.

Want to give this method a shot? Follow my recipe until it's time to shape each patty. Instead of eyeballing ¼ cup or using a ring mold, grab a muffin tin. Lightly brush just a touch of oil into each cup or put in tin liners.

Fill each cup and gently press down with the back of a spoon. Bake for 40-60 minutes at 400 degrees. The tops won't brown much, but don't worry—the sides and bottoms will get perfectly crispy.
Why It's Important to Wash Your Potatoes Before Baking
It's 100% necessary to wash your shredded potatoes before you move on to the remaining steps. You see, washing the shreds removes any extra starch. This over-starchiness is a common cause of soggy hash browns.

Have you ever had hash browns that just… weren't quite right?

Maybe they were a bit gray in color, or strangely gummy and chewy. This has nothing to do with the type of potato used and everything to do with the preparation process.

It all comes down to a chemical reaction. Cutting into potatoes exposes their starchy flesh to air, so the starch begins to oxidize. Oxidation in food basically means the slow decay of ingredients when their interiors are exposed to air. (2)

Washing your shredded potatoes washes away the oxidation, and therefore any sogginess and gumminess. Always wash your potatoes first, otherwise you're guaranteed to wind up with disappointing hash browns.
Prepping Ingredients Ahead of Time
The only thing more exciting than eating crispy baked hash browns is knowing your prep is already done. I love prepping the ingredients for this recipe ahead of time because it makes mornings easy-peasy.

You can prepare this recipe ahead of time quite easily. Just follow every step, pausing when it's time to go into the oven. Your trays of uncooked hash browns will keep in the fridge for 3-5 days—just be sure to cover them with foil or plastic wrap.

The only thing you can't do is freeze the trays of uncooked hash browns. Potatoes turn dark and slightly gummy when you freeze them raw. You can, however, freeze the cooked hash browns. They'll keep for several months and they're a cinch to reheat in the oven.
How to Make Crispy Baked Hash Browns:
potatoes
olive oil
onion powder
garlic powder
dill (optional)
salt
Start by washing and peeling the potatoes. Shred the potatoes in a food processor, or if you do not have a food processor, use a hand grater. Once grated, rinse the potatoes thoroughly until the water runs nearly clear and the excess starch is removed. Squeeze as much liquid out of the potatoes as possible. This is a crucial step to crispy hash browns. Finally, season, shape, and bake the hash browns in the oven.
Selecting Your Recipes Ingredients Based on Freshness
The great thing about potatoes is how long they last when stored correctly. But if you accidentally pick less-than-stellar potatoes while you shop, your hash browns are likely to come out mushy.

That's why it's important to pick fresh potatoes. Look for firm, smooth skin that's sprout-free. Avoid any potatoes with soft dark patches, a green tinge, or wrinkly skins. These are all signs of potatoes past their prime.

Finally, give them a gentle squeeze. Any spongy or squishy potatoes shouldn't come home with you.
Reheating Tips for Homemade Hash Browns
Your oven is absolutely perfect for reheating these crispy baked hash browns without getting soggy.

Pre-heat your oven to at least 350. I find anywhere between 350 and 400 is ideal, depending on if you want them to get even crispier.

Space out your hash browns just like you did for the initial bake. Pop them in the oven for 5 or 6 minutes. Pull the tray out, flip each patty, and return to the oven for another 4-5 minutes.

You can also try reheating these in the microwave, air fryer, and even skillet fried in oil—just to see which method works best. Hands down, the oven is the best way to go. The other 3 resulted in a weird combination of dry yet soggy.

Because these reheat so easily, they're awesome for a make-ahead snack. If you're reheating frozen hash browns, I suggest preheating your oven to 350 and covering the tray with foil. Pop this into your oven for about 20 minutes.

Then, remove the foil and let them cook uncovered for another 5-7 minutes depending on how much crispiness you want. I find 7 minutes results in crunchy hash browns rather than crispy—and some people love that crunch!
Frequently Asked Questions:
This post may contain affiliate links. If you click on the link and purchase something, I earn a small commission and it doesn't cost you any more.
Why are my hash browns not crispy?
Too much liquid – be sure to squeeze out as much liquid as possible before seasoning the potatoes.
Do I need a food processor to shred the potatoes?
No, you can also use a hand shredder to shred the potatoes.
What is the difference between hash browns and potatoes?
Hash browns are shredded, seasoned, and baked or fried potatoes.
How do you shred potatoes?
Most food processors have an attachment for shredding potatoes, making light work of this process, but if you do not have a food processor, use a box grater. It takes a little more effort but is very doable and is the method used before the food processor came into existence.
Can you fry hash browns?
Yes, absolutely. It is probably the most common way to make hash browns.
Why bake the hash browns?
Baking requires less oil. In fact, if using parchment paper, you can make do without oil. We use a little oil for flavor in our hash browns.
Can you freeze hash browns?
Yes, you can freeze hash browns and reheat them later.
Can you add onion to your hash browns?
Yes, many do. Shred an onion along with the potatoes, which gives a very nice onion flavor. Be sure to remove as much moisture as possible before baking.
Why did you not use onion in your hash browns?
We chose not to use onion in these hash browns because the onion adds significant moisture content. We wanted our hash browns to be crispy, so we used dried onion powder instead. Feel free to use a fresh onion; just make sure to squeeze as much moisture out as possible.
Are Hash Browns Healthy?
Hash browns are not as healthy as plain potatoes. But we have dramatically reduced the unhealthy additions to make this a healthier hash brown version.
What is the difference between Russet Potatoes and Idaho Potatoes?
Idaho potatoes are grown in Idaho. There are several varieties of Russet Potatoes.
What to look for when you buy potatoes?
Look for firm potatoes with smooth skin, without soft spots or sprouts. Avoid wrinkled or green potatoes.
How do I store potatoes?
Potatoes are best stored in a dark, dry, and cool place. Store in burlap, paper bags, or cardboard boxes.
If stored at room temperature, eat within a week or two.
The fridge is not an ideal place to store potatoes.
How do I remove moisture from the shredded potatoes?
Squeeze the potatoes after soaking or rinsing. If desired, use paper or linen towel to help.
What is my favorite potato?
Yukon Gold
References:

1. HuffPost, Back to Basics: The Science of Frying
https://www.huffpost.com/entry/back-to-basics-the-scienc_b_3276776

2. BBC, Oxidation of Food
https://www.bbc.co.uk/bitesize/guides/zyq22hv/revision/1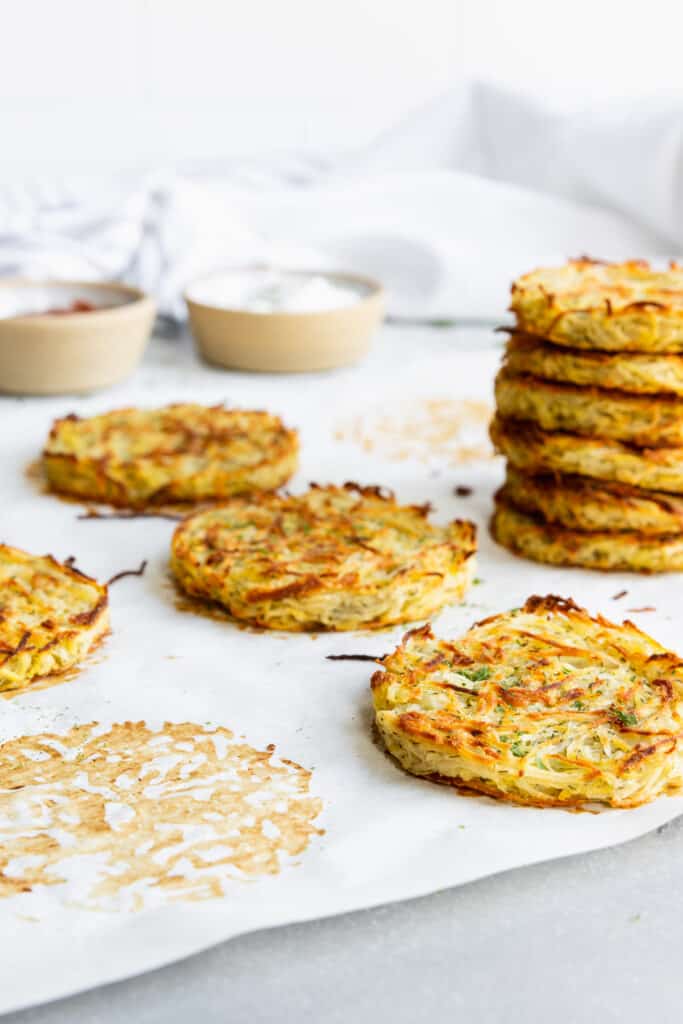 Print
Baked Hash Browns
Here is a wonderful Crispy Baked Hash Brown recipe to add to the breakfast/brunch menu. These hash browns are crunchy on the outside, soft on the inside, and oh so delicious. My family loves potatoes, and these hash browns are a spectacular addition to a great breakfast.
Author:
Yield:

12

round Hash Browns

1

x
2 1/2

pounds potatoes

1 tablespoon

olive oil

2 teaspoons

onion powder

1 1/2 teaspoon

garlic powder

1 teaspoon

dried dill

3/4

–

1

teaspoon sea salt
Instructions
Preheat oven to 400F
Start by washing and peeling the potatoes. Shred the potatoes in a food processor, or if you do not have a food processor, use a box grater. Once grated, rinse the potatoes thoroughly until the water runs nearly clear and the excess starch is removed. Squeeze as much liquid out of the potatoes as possible. This is a crucial step for crispy hash browns.
Add olive oil, onion powder, garlic powder, dill, and sea salt to the shredded and already squeezed potatoes. Stir to combine. It may be helpful to use your hands to be sure everything is thoroughly mixed.
Using about 1/4 cup shredded potato mixture for each patty, place on a parchment-paper lined baking tray. If using a ring mold, press down the patty as much as possible before removing the mold. If you do not have a ring mold. Place 1/4 cup packed shredded potatoes on the lined baking tray. Press with a spatula.
Bake for 30 minutes. Gently flip each round using a spatula. Return to the oven and bake for an additional 15-20 minutes.
Serve with plant-based sour cream and fresh herbs.
(Read my affiliate discloser here.)