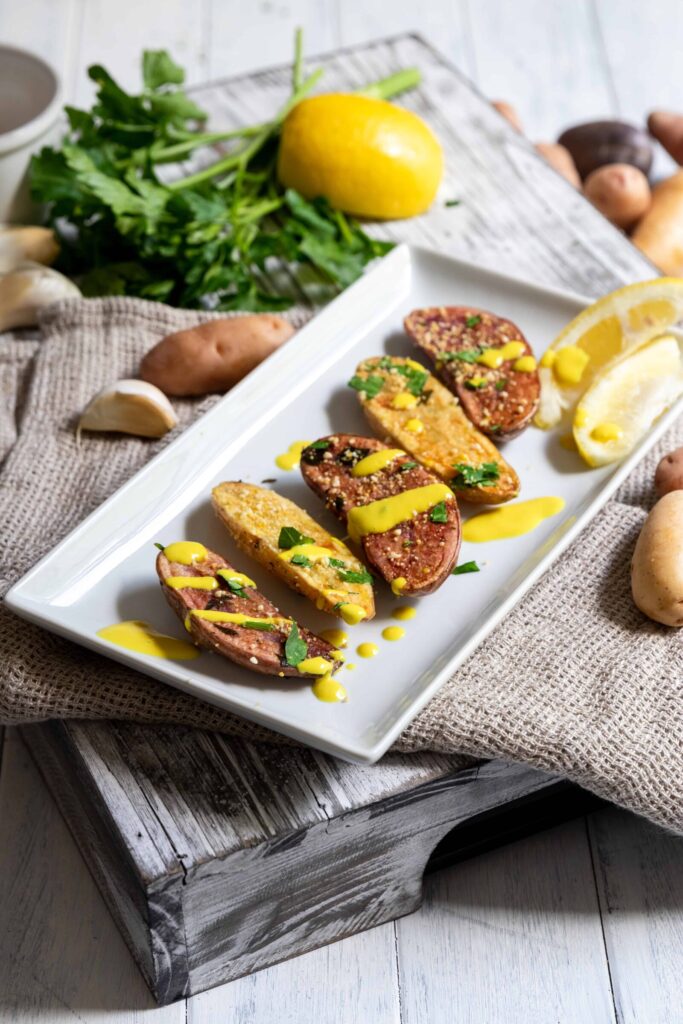 I love summer. It is one of my favorite seasons! All seasons have their charm, but summer is filled with lots of fresh vegetables and simple healthy cooking, and what can be better than that? Summer has finally come to the northeast, and we are so ready to embrace sunshine, gardening, fresh produce, and outdoor activities, it has been a long time coming. But not to worry, we will enjoy it so much more for its delay and its short duration. One of my favorite summer recipes is this cast-iron Roasted Fingerling Potatoes with Vegan Parmesan, which I will show you how to prepare today.
Fingerling Potatoes:
Fingerling potatoes come in a variety of different colors, shapes, and textures, which makes them so much fun. They are also special because of their buttery, nutty, unique taste. The skin is tender which allows you to include the skin, granting you more nutrients without sacrificing taste. However, one of my favorite things about these potatoes is the variety of colors. Who would have thought you could find pink and purple potatoes? My sister loves purple potatoes, probably because purple is one of her favorite colors. We find it so much fun to cut open the potatoes to see what treasured design and color exist inside. Today I am showing you our favorite way to serve these wonderful summer potatoes.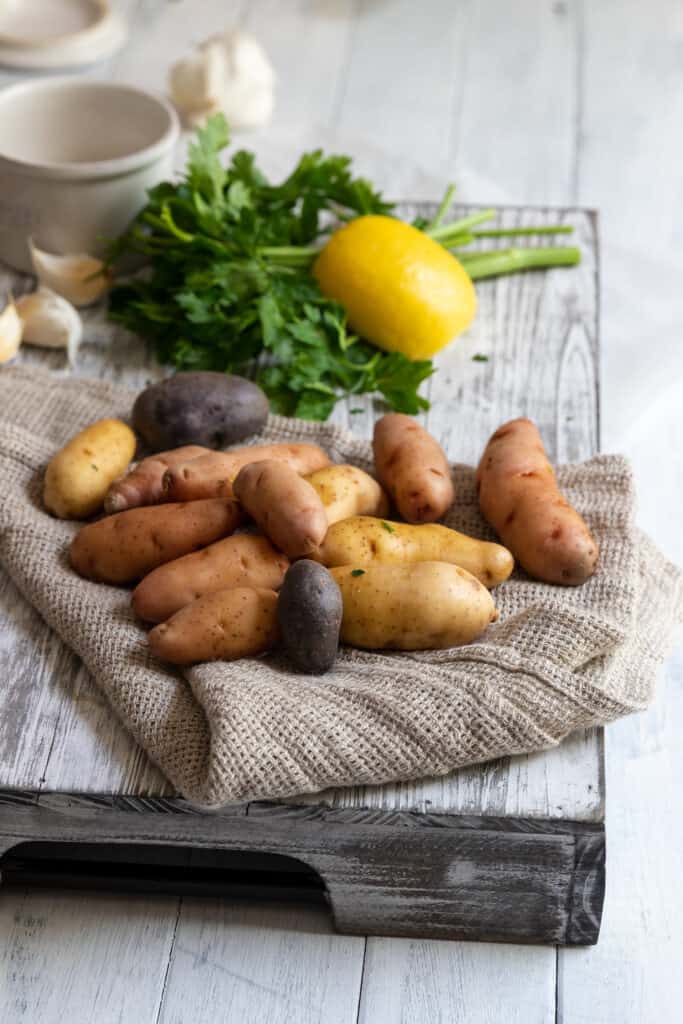 By cutting these fingerlings in half and baking them in a cast iron pan, we can get a really nice crust on the potatoes. This adds a wonderful texture. To add some extra flavor, we use our vegan parmesan cheese. It is a simple almond-based recipe that really takes these potatoes to a new level. Click Here to check out my recipe for vegan parmesan cheese.
When we have extra time and energy we like to serve these Roasted Fingerling Potatoes with one of our favorite sauces, such as the Vegan Hollandaise Sauce, our Creamy Italian Dressing, or our vegan Holiday gravy.
Here are some of my favorite sauces and gravy recipes:
I hope you enjoy my Roasted Fingerling Potatoes with Vegan Parmesan Recipe as much as I do:)
Click Here to watch me make this recipe on YouTube!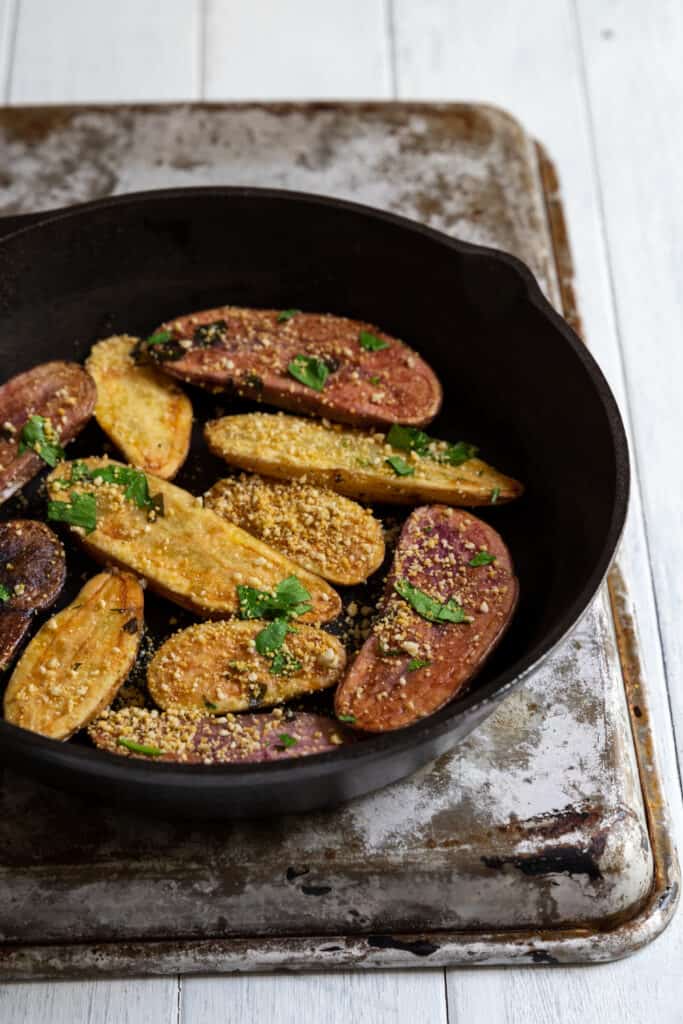 Print
Roasted Fingerling Potatoes with Vegan Parmesan
One of my favorite summer recipes is this cast-iron Roasted Fingerling Potatoes with Vegan Parmesan, which I will show you how to prepare today.  
1.5

pounds fingerling potatoes, cut in half

3

–

4

garlic cloves, finely minced or crushed
zest of

one

lemon

1/2 teaspoon

salt

3 tablespoons

olive oil

2

–

3

tablespoons chopped Italian parsley

1/4 cup

vegan parmesan (Click Here for the Recipe)
Instructions
Preheat oven to 425 F

Wash and cut the potatoes lengthwise and place in a large bowl

In a small bowl add minced garlic, lemon zest, salt, fresh parsley, olive oil, and vegan parmesan. Stir to combine.

Add this mixture to the potatoes and massage the potatoes to coat them with the seasoning. Place the potatoes face down in a greased cast-iron skillet

Bake potatoes about 20-25 minutes until tender and slightly crusted.

Add some fresh lemon zest and chopped fresh parsley for garnish.
Notes
These potatoes are also delicious served with vegan Hollandaise Sauce, vegan Italian Dressing, or Holiday Gravy