Here's a recipe for a vegan version of roasted asparagus with vegan hollandaise.
Honestly, you'll love making this simple recipe, and I think you will feel like an impressive host by serving it. I love figuring out how to make a complicated recipe into a simpler version, one that's healthier too!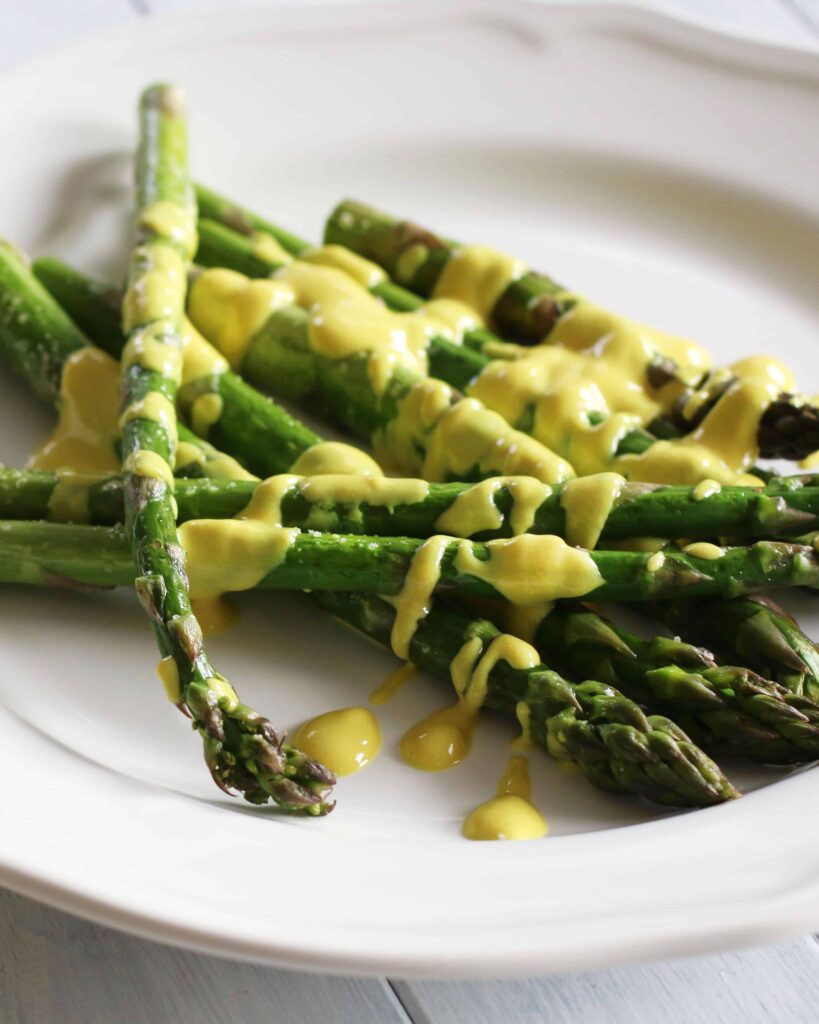 Why you'll love this roasted asparagus with vegan hollandaise 
This tasty and elegant recipe has so much to offer:
A classic dish with a vegan twist; made instead with an egg-free hollandaise recipe.
Hollandaise is usually considered tricky to make, but this recipe is super simple, with only a few steps.
This dish is a show stopper and will impress your guests.
Wonderful spring and summer flavors made with healthy ingredients.
Ingredients and substitution notes 
Here are a few notes on the ingredients in this recipe to help guide you to success:
Asparagus. Choose fresh, bright green asparagus that look young and have sturdy tips. They shouldn't be wrinkled at all, and the ends mustn't look too dry.
Tofu. Silken tofu is what gives this sauce its silky and smooth finish.
Lemon juice. Use fresh lemon or lime juice, preferably not the bottled type.
Nutritional yeast. Brings a wonderfully savory, cheesy type flavor to the sauce.
Turmeric. Delivers a bright and glowy vegan hollandaise sauce.
Cayenne. Adds a little kick of heat; you can leave this out if you prefer.
Vegan margarine.This is an optional ingredient, but it certainly contributes to the body of the sauce.
Better-than-bouillon. For that umami flavor.
Oil. Use a healthy oil like olive or avocado if you can.
Looking for more recipes? Here are some of my favorites:
Roasted Asparagus with Vegan Hollandaise Recipe variations and add-ins
This is a lovely base recipe that can be adjusted in a few different ways:
Garlic roasted asparagus. Add a few fresh garlic slices to your asparagus before roasting them.
Vegan cheese. Cheese goes beautifully with asparagus, so sprinkle a little vegan cheese over the end dish.
Spicy asparagus. How about adding some red pepper flakes with the cayenne to amp up the heat?
Triple herb asparagus. I'm thinking of a tablespoon of tarragon, parsley, and sliced basil or dill.
Toasted nuts and seeds. Sprinkle a couple on top for good texture and crunch.
Top tips
Here are a few pointers to make the best version of this dish:
Make sure your asparagus are beautifully fresh.
Don't overcrowd the asparagus when you're roasting them. They need to have space around them to breathe and not steam.
Experiment with add-ins for the best flavor and taste.
Serve the hollandaise sauce warm or cold.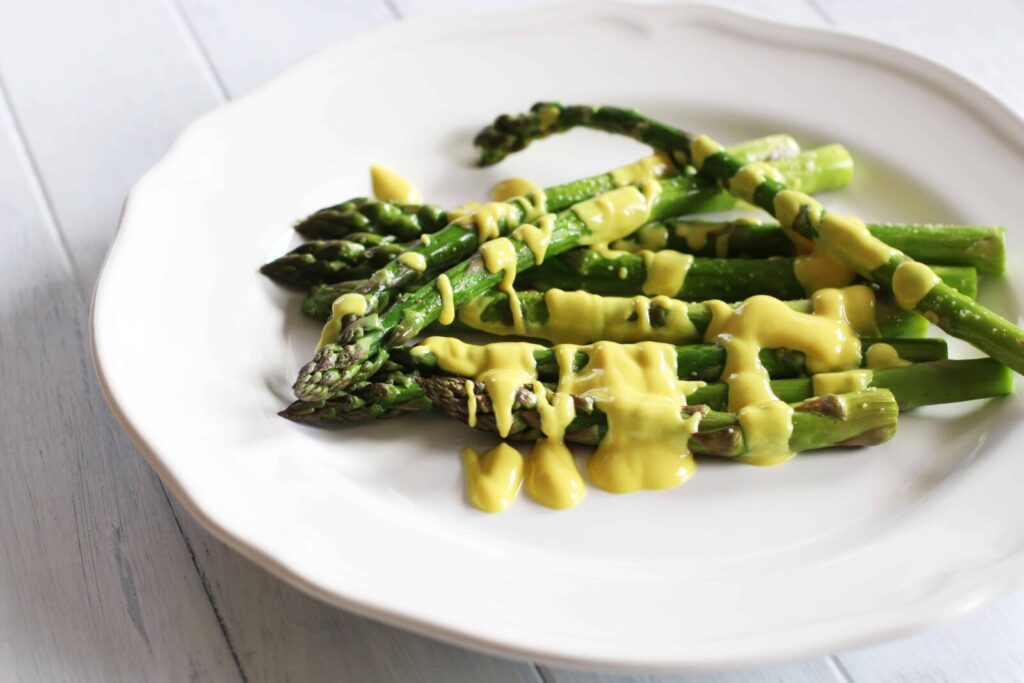 Make ahead of instructions and storage
You can save a little time by trimming and preparing the asparagus the day before and storing them in the refrigerator. Whip them out when you're ready to use them.
You can make the sauce the day before and keep it in the fridge until you're ready to serve it. You can freeze this hollandaise sauce, but you'll need to blend it up again after thawing it out before using it.
Keep your asparagus and the sauce in their own separate containers.
Reheat the asparagus in the oven at 400°F for 5 minutes or so. I don't recommend microwaving the asparagus as they can become soggy.
Serving suggestions 
There are so many ways to serve this fun roasted asparagus with vegan hollandaise dish; here are a few suggestions:
Brunch. Serve this dish with scrambled tofu, roasted tomatoes, and oyster mushrooms.
Dinner. Pair this recipe with a giant, garlic-roasted brown mushroom and a lentil salad.
Side dish. Consider this as a side dish when you're planning your next dinner party or special occasion meal.
Pasta. Top a bowl of vegan pasta and creamy sauce with these elements – you may want to cut the asparagus up.
With rice. For a light and healthy lunch, pair this with wild rice.
As an appetizer. People will love this elegant choice at your next event.
Inside a wrap. This is a tasty filling for a wrap; layer in vegan cheese and lettuce too!
FAQs
Can I make this roasted asparagus ahead of time?
You can trim, cut and store the asparagus ahead of time, ready to go and you can also roast them in advance. In that case, you'll just need to reheat them before serving them up.
Can I make vegan hollandaise sauce ahead of time?
Yes, you can blend it up and chill it for a few hours or overnight. The sauce will remain stable as long as it isn't in the sun or in extreme heat.
How do I store the leftovers of roasted asparagus and vegan hollandaise sauce?
Store leftovers in the fridge in their own individual containers. Keep them for up to 3 days like this, and they will remain in good condition.
Can the asparagus in this recipe be frozen?
No, asparagus doesn't freeze well. They tend to get mushy and will be soggy once thawed. It's not a good idea to freeze them unless in a soup or pasta sauce.
Does vegan hollandaise sauce freeze well?
Yes, this vegan hollandaise will freeze beautifully if stored in an airtight container. You can keep it frozen for around three months. After thawing it, you may want to re-blend it to ensure the consistency remains smooth and silky.
Can I use this vegan hollandaise sauce recipe if I'm not vegan?
Yes, this recipe can be enjoyed by anyone, so give it a try!
Is this hollandaise sauce recipe healthy?
Compared with the original recipe for a hollandaise sauce, yes, this version is wonderfully healthy and packed with vitamins and nutrients.
Watch My Roasted Asparagus with Vegan Hollandaise Sauce Recipe Video:
Wrapping it up
I really hope you'll try this recipe – I think you'll love the sauce, and I bet you'll find loads of other things to serve it with. I love how simple it is to make compared to the classic hollandaise recipe, and yet, its much healthier. Enjoy!
Print
Roasted Asparagus with Vegan Hollandaise Sauce
Here's a recipe for a vegan version of roasted asparagus with vegan hollandaise.
ROASTED ASPARAGUS:
1

bunch of Asparagus Olive oil (for brushing) Salt
VEGAN HOLLANDAISE SAUCE
1 cup

silken tofu

1 teaspoon

fresh lemon juice

1 tablespoon

nutritional yeast

1/2 teaspoon

salt

1/4 teaspoon

turmeric
pinch of cayenne

1

T vegan margarine (optional)

1/2 teaspoon

Better-Than- Bouillon

 

2 tablespoons

oil
Instructions
Roasted Asparagus:
Preheat oven to 425F.
Wash and trim asparagus, making sure to eliminate the tough ends. Add to a baking sheet with a silicon mat.
Brush with olive oil and sprinkle with salt.
Bake for about 13-15 min.
Remove from oven.
Vegan Hollandaise Sauce
In a blender, add all ingredients except the oil. Blend on high until smooth. Reduce speed to medium high, slowly pour in the oil.
Pour sauce over asparagus and serve immediately.