In my opinion, it is hard to imagine life without hummus.  It is one of those recipes that has literally exploded in popularity in the past few years.  And for me, classic hummus has been a part of life as far back as I can remember.  It is such a quick and easy recipe and can be used in so many different recipes with a whole variety of unique flavors.  
I can remember back to lazy summer picnic days with pita bread and hummus or sandwich wraps for school lunches or hummus bowls for healthy dinners. It is a much-beloved recipe.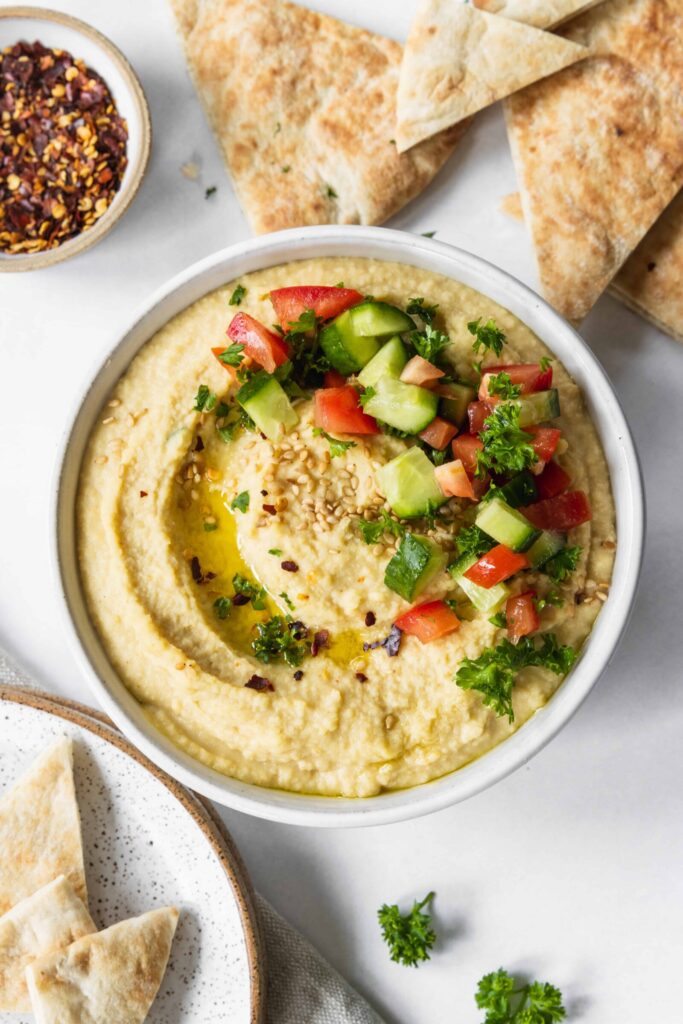 Today, I want to remind you of how easy it is to make your own homemade hummus and how much better the homemade version tastes than the version usually available in grocery stores. Let's start with the basic recipe, and then you can add your own unique taste and flair to make it your own.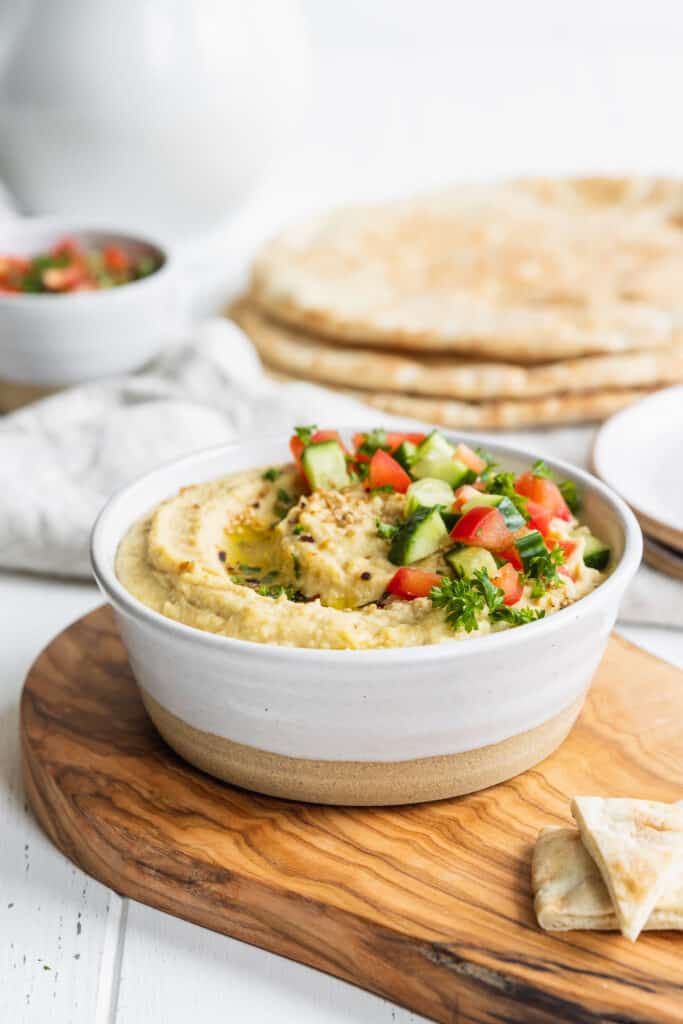 So, Let's Talk Classic Hummus Ingredients:
Garbanzo Beans (Chickpeas):
I am a huge fan of garbanzo beans, not only because they are delicious but also because they are amazingly nutritious. A rich source of vitamins, minerals, and fiber, their popularity is well deserved.
Garbanzo beans are part of the legume family and are a great source of plant-based protein. These beans are mild in flavor and blend well with a variety of other flavors.
And I am sure you have heard that the liquid (Aquafaba) from the Garbanzo Beans can be used as an egg replacer in a variety of vegan dishes.
Tahini:
Tahini is sesame seeds ground into a paste. Sesame seeds are highly nutritious and rich in vitamins, minerals, and healthy fats. They are also high in antioxidants and are believed to have antibacterial and anti-inflammatory properties. Tahini provides the unique flavor in this classic hummus.
Garlic:
It's hard to imagine hummus without garlic, but one large clove is usually sufficient for classic hummus. If you love garlic, feel free to add in a couple of extra cloves. If you want to make it a garlic hummus, I would suggest roasting the garlic and adding a whole bunch:)
Olive Oil:
Hummus can be made oil-free using either water or the liquid from the garbanzo beans, but it is a fabulous recipe for a good quality cold-pressed olive oil, which makes the flavor and consistency simply delightful.
There are so many different types of olive oils on the market, it is hard to make sense of all the options, but this week I used the California Olive Ranch, Extra Virgin Olive Oil, cold-pressed.
Lemon:
I like to use fresh lemon juice when making hummus. It adds brightness and quality to the hummus that you cannot get from lemon concentrate. Lemon juice may be one of the secrets to why homemade hummus is so much better than store-bought. It tastes fresh because it is fresh, and the lemon juice still has that bright, unique flavor.
Cumin:
Cumin adds a warm, earthy, slightly peppery flavor to the classic hummus.  Again, experiment with the flavor according to your taste.  We like a hint of cumin, but not too much:)
Classic hummus is a quick and easy recipe to make. Keep a few cans of garbanzo beans on your shelf, and when you are in need of a quick meal, make some hummus.
Click Here to Watch Me Make this Recipe on YouTube!
Print
Quick and Easy Classic Hummus
I love hummus!  Store-bought hummus cannot compare to a homemade version, and it is so simple to make; give it a try; you might like it too!
Author:
Yield: Serves

2

-3

1

x
1

can (15 oz) chickpeas, drained and rinsed

3

–

4

tablespoons olive oil (or water if you don't want to use oil)

2 tablespoons

fresh lemon juice

1/2 tablespoon

tahini

1

–

2

garlic cloves

1 teaspoon

ground cumin

2 tablespoons

water 

1/4 teaspoon

salt
Instructions
In a food processor (or blender), add all ingredients.  
Blend until smooth.   
Store in the fridge in an airtight container.  
Garnish with good quality olive oil, toasted sesame seeds, crushed red pepper, or fresh vegetables.  
Classic hummus is the canvas, and it is beautiful by itself, but you can add all sorts of wonderful flavors to make exotic tasting hummus.  Have fun.