This smashed potatoes with pesto is a versatile recipe that can transform from a side dish to an appetizer and even a main course.
This simple yet restaurant-quality dish is made with tender potatoes that are flattened, crisped up in the oven, and topped with homemade pesto.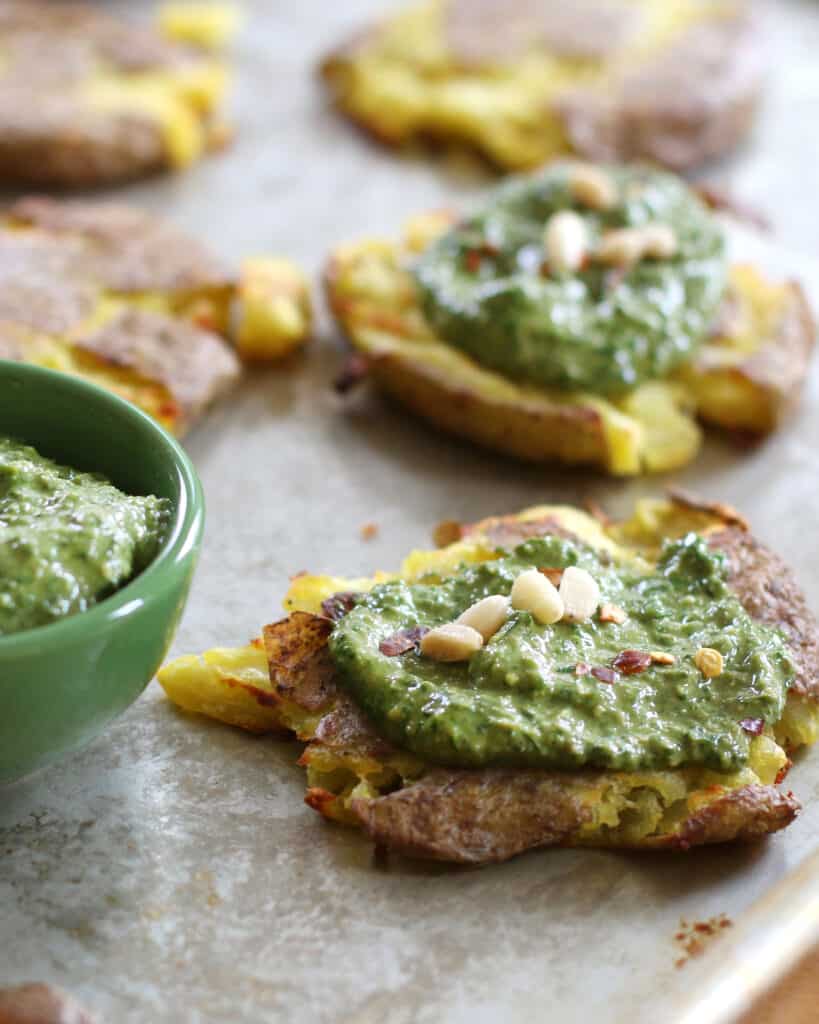 The combination of creamy, crispy potatoes and the nutty, herbaceous pesto is mouth-watering.
You'll love the look of the vibrant green pesto as a pop of color against the potatoes. 
Why you'll love smashed potatoes with pesto 
You're going to love this recipe, it's a firm favorite of mine, and here's exactly why:
Wonderful textures; the crispy, crunchy smashed potatoes pair beautifully with the smooth and herby pesto.
Simple and quick to make, this dish requires little effort for maximum return. 
Versatile dish as you can serve it as a side or a main course. It's even perfect as a little snack item to serve at your next party.
Pretty as a picture, this smashed potato and pesto stack looks the part and will wow your guests.
This dish is loaded with nutritious elements like antioxidants and vitamins, making it a wholesome menu option.
Ingredients and substitution notes
Here are a few notes on the ingredients in this recipe to help guide you to success:
Small yellow potatoes. These are perfect for that crisp on the outside, soft in the middle result.
Olive oil. You can use avocado oil as an alternative, it's healthy and has a neutral flavor that won't overpower the herbs.
Basil. Pesto can also be made with arugula or parsley as alternatives to basil. Parsley can also be added in if you don't have enough basil on hand. 
Pine nuts. If they aren't available, used blanched almonds instead.
Garlic. Fresh garlic is the first choice but powdered garlic is fine too.
Crushed red pepper flakes. Choose to leave these out if you don't like the kick.
Nutritional yeast flakes. This plays the vegan part of parmesan cheese in the pesto.
Lemon juice. Try lime juice as an alternative.
Recipe variations and add-ins
This is a lovely base recipe to add to and customize:
Pesto-free. Try the potatoes on their own as a side dish.
Cilantro pesto. Use cilantro leaves instead of basil, and add cumin and ginger for a different flavor profile.
Roasted Veggies. Roast a few bell peppers, zucchini, and eggplant slices and serve them on the same platter as these potatoes.
Caramelized onions. Top with a spoon of sweet, sticky onions.
Green beans. Allow the dish to cool, and mix it together with some blanched green beans for a lovely salad.
Top tips for Smashed Potatoes
Here are a few pointers to achieve the best smashed potatoes possible: 
Boil the potatoes until fork tender. This will make them easy to flatten.
Toast the pinenuts for a lovely nutty flavor in the pesto.
Store the leftover pesto in an airtight container in the fridge and use it for other dishes. 
Ensure you taste and adjust the pesto seasoning for the best results.
If you want to bring the cost down, swap the pinenuts out for blanched almonds or walnuts in the pesto recipe. 
When making the pesto, ensure you wash the basil leaves well to avoid blending in any sand.
Consider making a large batch of pesto and freezing the extra in trays. It's so useful!
Don't leave your pesto uncovered for a long time as it will oxidize and turn black.
Use the back of a glass to press the potatoes down, as an alternative to a fork.
Make ahead of instructions and storage
Here are some steps you can take to make elements of this dish ahead of serving it. Sometimes you just need to save some time!
Pre-boil the potatoes, drain them and set them aside to cool off. You can them come back to them when you're ready to roast them off and pick up from there. 
Smash the potatoes and then set them aside on their baking sheet until you're ready to roast. These can wait in the refrigerator for a day or two until you're ready.
If you roast the potatoes off and want to wait at this point, you can allow them to cool down and then heat them up again in the oven before serving them.
Make the pesto: you can make the entire recipe ahead of time, store it in an airtight container, either in the fridge or the freezer. Pesto will wait happily for a few days in the fridge. I cover the top of the pesto with a little extra olive oil before storing to help it from going brown.
Serving suggestions 
This smashed potato and pesto recipe is such a versatile little number; here are some of the possibilities:
Serve the potatoes in a bowl with vegan cheese and cubed avocado.
Add these potatoes to a wintery salad with greens like cold asparagus and green beans.
As a snack item. Serve them warm on a platter; your guests will love them!
As a sandwich filling. Pop them into a sandwich with cold roasted veggies and vegan mayonnaise.
As a filling and satisfying main dish.
FAQs
Can you freeze smashed potatoes with pesto?
You can freeze the pesto but not the potatoes. The potatoes will come out glassy and waterlogged when thawed.
Which potatoes are best for mashed potatoes?
Potatoes that contain high levels of starch like Yukon Gold or Russet potatoes are best.
Can I use store-bought pesto in this recipe?
Yes, you will need to check the label as most store-bought pesto include cheese and are not vegan.
Can I use basil from my garden to make pesto?
Yes absolutely, just ensure you remove any tough, chewy stalks and wash and dry the leaves before processing them
Wrapping it up
If you're expanding your potato dish recipe bank, this is a fantastic recipe to add in. Try my roasted fingerling potatoes with vegan parmesan or my simple vegan duchess potatoes with herbs. 
I hope this recipe brings you lots of foodie joy and that you have fun making and serving this dish.
Print
Smashed Potatoes with Pesto
This smashed potatoes with pesto is a versatile recipe that can transform from a side dish to an appetizer and even a main course. 
1 1/2

pounds small yellow potatoes

 

1

–

2

tablespoons oil
Salt
Instructions
Add the potatoes to a sauce pan. Cover with water. Add about 1/2 teaspoon of salt (optional). Cover with lid and bring to a boil.  Reduce heat to a gentle boil and cook for about 15 minutes.
Drain water the water and let the potatoes cool for a few minutes.
Place potatoes on a (greased) baking sheet. With a spatula gently smash the potatoes. Brush with olive oil and sprinkle with a little salt.
Bake at 450 F for 20-25 minutes or until browned.
Remove from oven and let cool slightly.
Top with pesto and serve immediately. We like to add some pine nuts for texture and some crushed red pepper for a some heat.
Pesto:
2 cups basil
1/4 cup pine nuts (toasted or un-toasted)
3-4 garlic cloves
1/4 teaspoon crushed red pepper flakes
3 tablespoons nutritional yeast flakes
1 teaspoon fresh squeezed lemon juice
1/2 teaspoon salt
1/3 cup olive oil
In a food processor add basil, parsley, pine nuts,  garlic, crushed red pepper flakes, nutritional yeast flakes, lemon juice, and salt.  Pulse into a rough paste scraping down the sides occasionally.  Then slowly add the olive oil to the paste while the food processor is running.