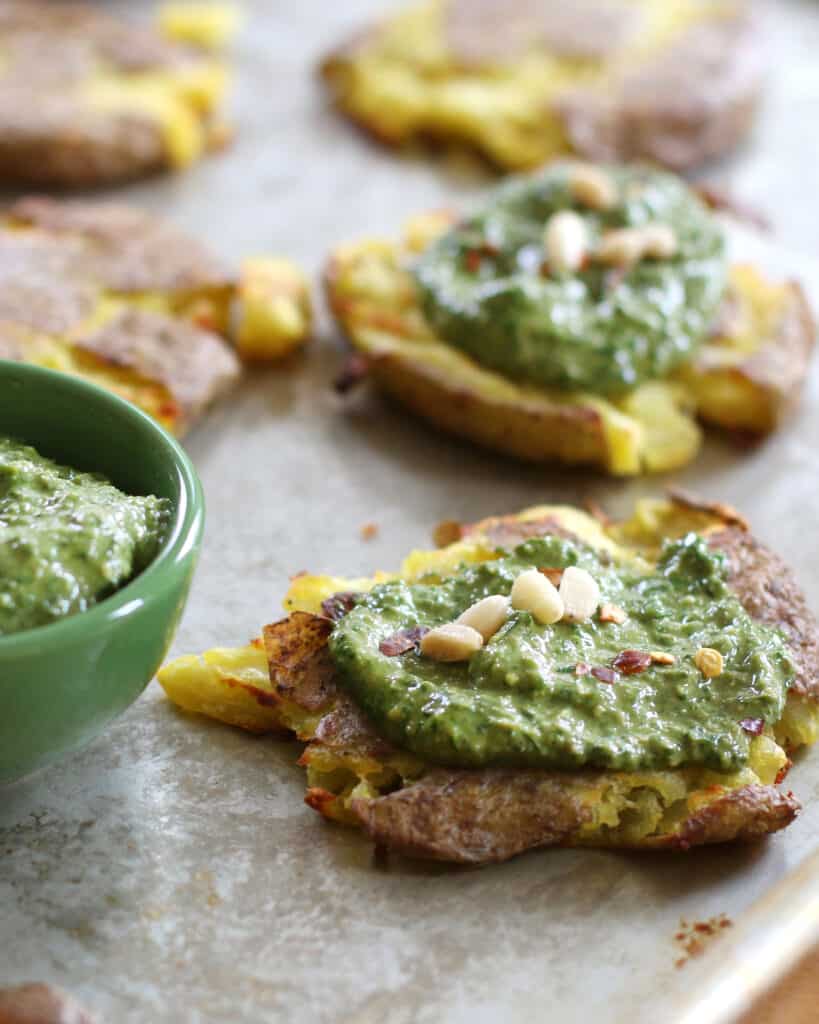 A few years ago, while living in New York City, we had lunch at this wonderful quaint Italian Restaurant in the heart of Manhattan. We ordered a few different dishes as we are always in the mood to try something new. One of the things we really liked was Smashed Potatoes, which we decided to go home and make. It was so much fun. So a few tries later, and here is the recipe.
Print
Smashed Potatoes with Pesto
1 1/2

pounds small yellow potatoes

 

1

–

2

tablespoons oil
Salt
Instructions
Add the potatoes to a sauce pan. Cover with water. Add about 1/2 teaspoon of salt (optional). Cover with lid.
Bring to a boil.
Reduce heat to a gentle boil.
Cook for about 15 min.
Drain water.
Let potatoes cool for a few minutes.
Place potatoes on a (greased) baking sheet.
With a spatula gently smash the potatoes. Brush with olive oil and sprinkle with a little salt. Bake at 450 F for 20-25 min. or until browned. Remove from oven.
Let cool slightly.
Add pesto and serve immediately.
We like to add some pine nuts for texture and some crushed red pepper for a some heat.
Pesto:
2 cups basil
1/4 cup pine nuts (toasted or un-toasted)
3-4 garlic cloves
1/4 teaspoon crushed red pepper flakes
3 tablespoons nutritional yeast flakes
1 teaspoon fresh squeezed lemon juice
1/2 teaspoon salt
1/3 cup olive oil
In a food processor add basil, parsley, pine nuts,  garlic, crushed red pepper flakes, nutritional yeast flakes, lemon juice, and salt.  Pulse into a rough paste scraping down the sides occasionally.  Then slowly add the olive oil to the paste while the food processor is running.   Enjoy!