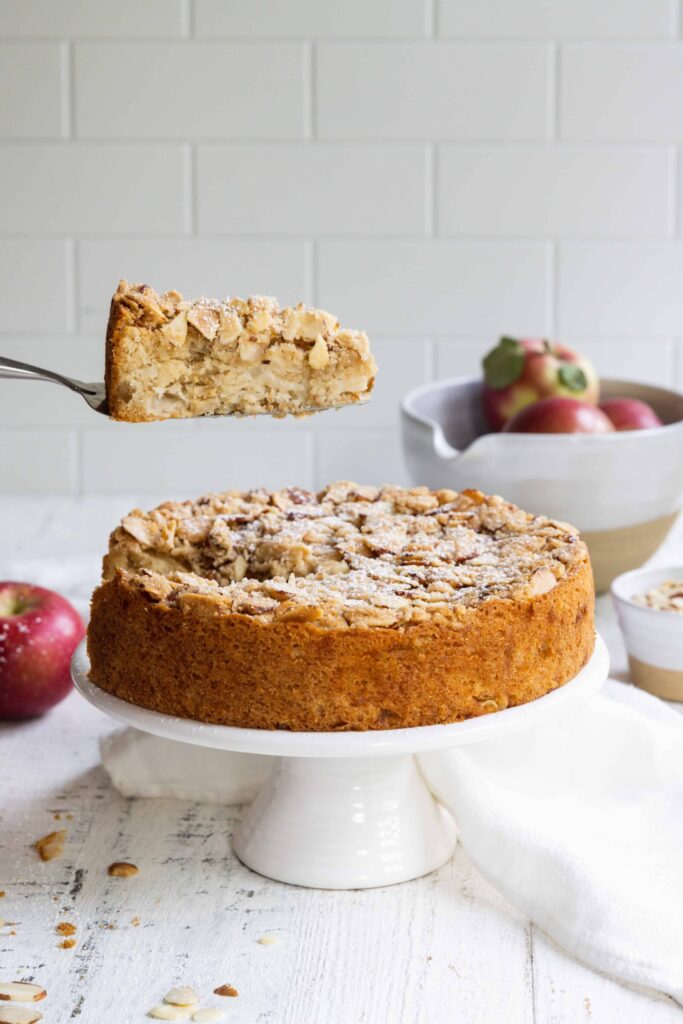 As many of you know, I really like to bake, and apple season is a very good excuse to make the most amazing apple desserts. Today I will show you one of my favorite apple treats: The Apple Almond Cake. This is a deliciously moist, flavorful, and delicate cake, perfect for the fall season. It is a crowd-pleaser and easy to make.
If you have never been to an apple orchard and picked your own apples, you may want to put this on your bucket list. It is an amazing experience. Here in New England, we have the most wonderful apple orchards designed for the apple experience. I love to walk down the various apple rows, looking for just the right kind of apple for whatever I want to make that day. There are lots of options: green, red, yellow, sweet, tart, crispy, etc. And many places also have freshly squeezed apple cider from just the right mixture of apples, and apple juice takes on a completely new meaning.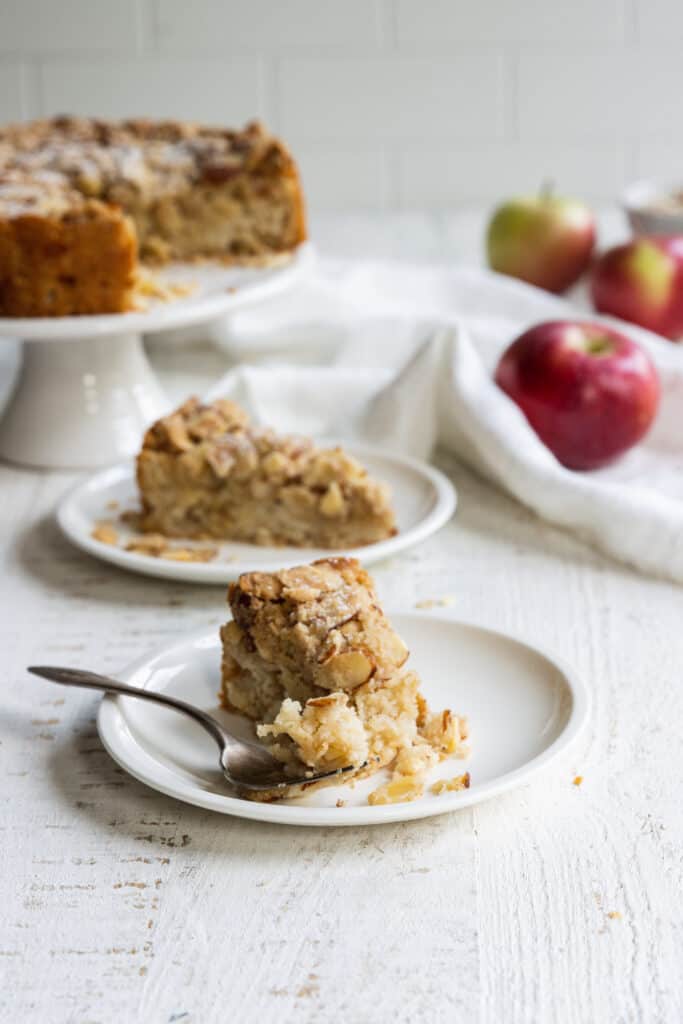 Let's talk about Apple Almond Cake Ingredients:
Apples:
The most important ingredient in this apple cake is the apples, and you can use whatever kind you prefer. McIntosh is an excellent choice, but you can also use Honeycrisp, Cortland, Gala, Pink Lady, etc. I love that we put fresh apples directly into the batter of this cake. It makes the cake so moist and scrumptious.
Coconut oil:
I use coconut oil instead of margarine. If you don't mind the coconut flavor, you can use unrefined, but if you would prefer not to taste the coconut, use refined.
Ground Flax Meal:
It is always good to add some fiber and extra nutrient, even to a cake, ground flax meal also helps bind the cake.
Almond Flour:
Almond four is a wonderful, healthy, and nutritious flour to add to cakes. I mix this with regular flour, and it makes a light and delicate cake. If you prefer to make this cake a little healthier, you can substitute some of the white flour with white whole wheat flour, which will give you more fiber and nutrients.
Almond Extract:
In order to give the cake a slight almond taste, I add a touch of almond extract. It helps the almond flavor pop, not too much, but just right.
Sliced Almonds:
For the topping, I use sliced almonds. It makes the cake look really pretty, and the extra crunch factor adds to the experience. If you do not have sliced almonds, you can use chopped almonds.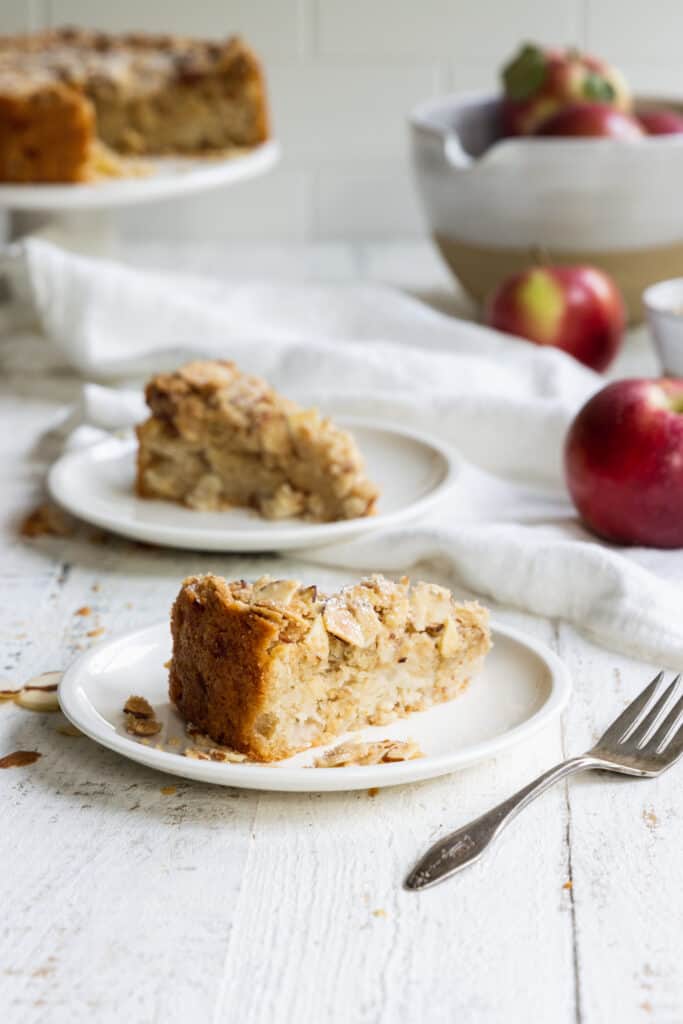 I hope you enjoy this cake. It is one of my favorite apple cakes. It reminds me of the fall experience, the pumpkins, the apple cider, the spice, and the apple orchards. Apple season is one of my favorite seasons, and it is happening right now. Time to make an apple almond cake.
Click Here to Watch Me Make this Recipe on YouTube!
Print
Apple Almond Cake
Topping:
3/4 cup

sliced almonds

3 tablespoons

all natural cane sugar

2 tablespoons

almond flour

1/4 teaspoon

cinnamon

1/8 teaspoon

cardamom

1 tablespoon

coconut oil, melted
Cake:
1/3 cup

coconut oil

1/3 cup

all natural cane sugar

2 teaspoons

vanilla

1/4 teaspoon

almond extract

1 tablespoon

ground flax meal

1 cup

flour

1/2 cup

almond flour

1/8 teaspoon

salt

4 teaspoons

baking powder

1/2 cup

plant-based milk

2

apples, McIntosh, peeled and chopped
Instructions
Topping:
In a small bowl, add sliced almonds, sugar, almond flour, cinnamon, and cardamom.  Stir to combine.  Add the melted coconut oil and stir to combine.  Set aside.
Cake:
Preheat oven to 350 F
In a medium-size bowl, cream coconut oil and sugar with a hand mixer until smooth in texture.
Next, add mix in the vanilla and almond extract. Set aside.
In a separate bowl, sift the dry ingredients: flour, almond flour, salt, baking powder, and stir to combine.
Add the flour mixture to the creamed mixture a little at a time; alternating by adding the milk a little at a time.
Next, fold in the fresh chopped apples.
Transfer the cake mixture to a greased 8in cake pan (see note), and smooth the top.
Add the sliced almond topping.
Bake at 350F for 40-45 minutes until a toothpick comes out with just a couple of crumbs on it.
Notes
Place a piece of parchment paper in the bottom of the greased cake pan. It makes it easier to remove the cake from the pan after baking.
You may want to place a piece of foil loosely over the top of the cake during the last 10 minutes of baking time to prevent the almonds from getting too toasted, but this is a personal preference.
Looking for more recipes?