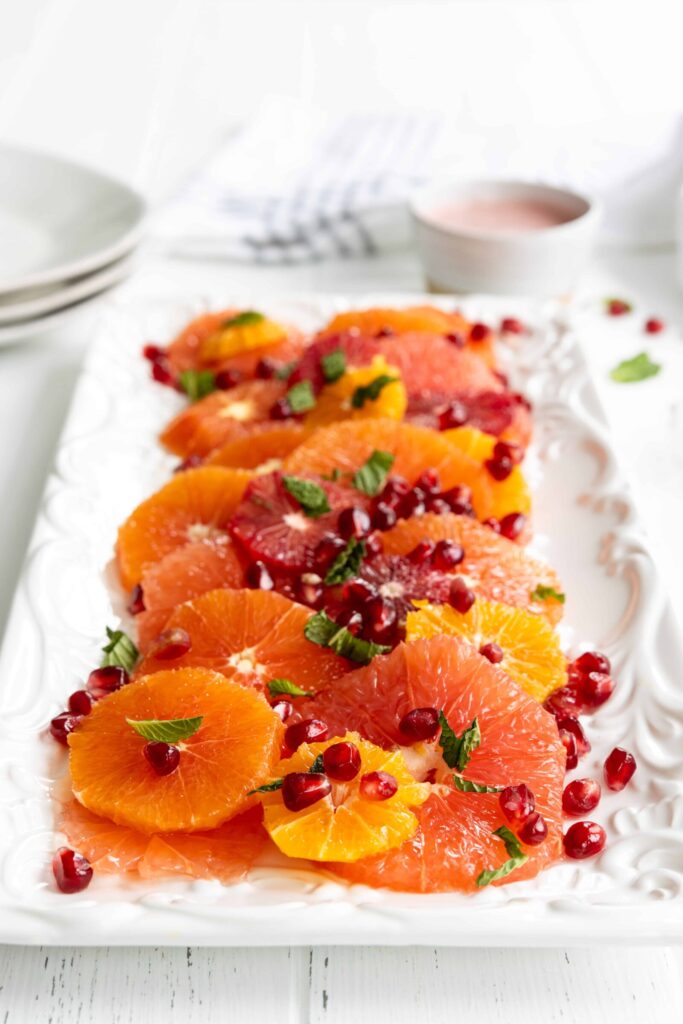 This beautiful and healthy Citrus Salad served with a gorgeous Pomegranate Dressing is an exceptional treat. I am super excited about this recipe, a feast for your eyes as much as for the tastebuds. The best part of all is that it is also healthy and immune-strengthening. It is super easy to make and very appropriate when citrus fruits are in Season. This gorgeous salad will brighten a gloomy winter day and give you that extra dose of vitamin C that you need.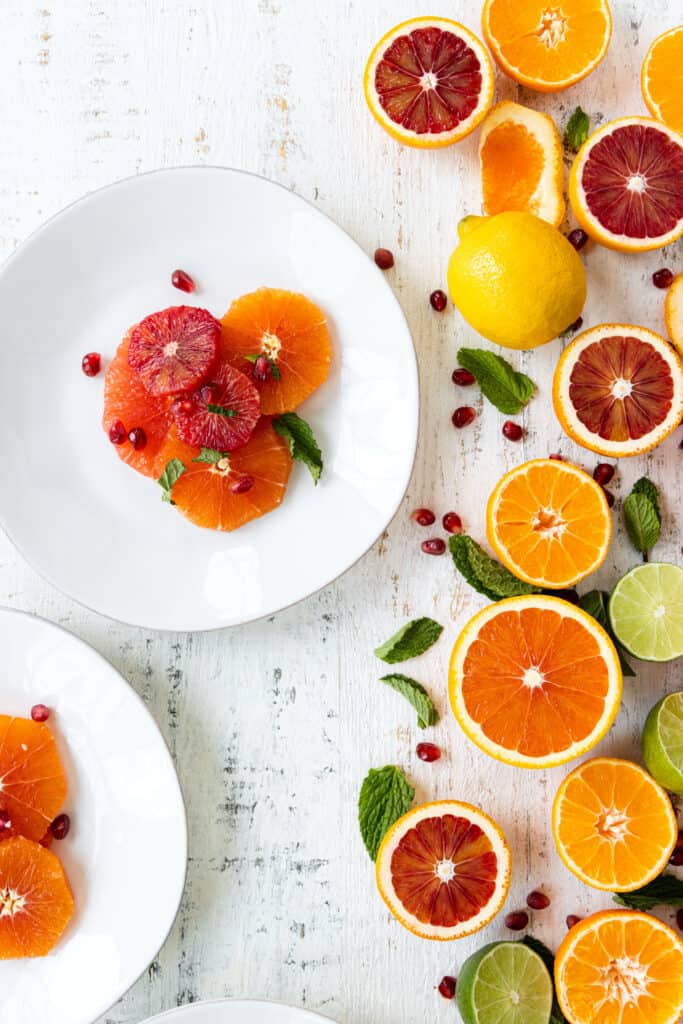 The most common citrus fruit in our home is the lemon. It is added to the green drink every morning. But the citrus we like to eat the most during the cold winter months is the clementine or mandarin. They are perfectly packaged snacks with a sweet flavor. The citrus world is a beautiful world of color and flavor, packed full of vitamin C, antioxidants, and many other health benefits.
Let's talk Citrus Salad Ingredients:
Grapefruit:
A grapefruit is less sweet than an orange but not as tart as a lemon. It is considered a favorite morning fruit here in America, and for a very good reason. The grapefruit has been the subject of much scientific research due to its unique medicinal properties. So, it is an important fruit to add to the diet. Eating a grapefruit for breakfast is a great idea, but this spectacular citrus salad is another excellent way to get citrus into your diet.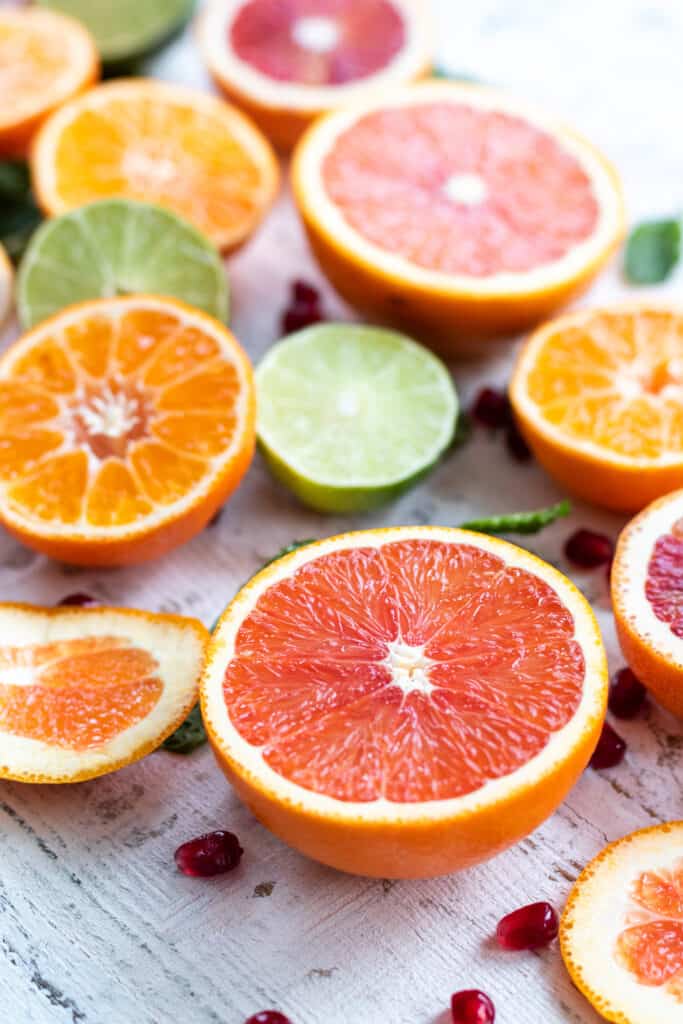 Orange:
Oranges are a treasured fruit. My grandma remembers getting an orange for Christmas when she was little; it was a big deal. Today we can have oranges every day, even during the off-season. What a blessing that is, as oranges are very good for our immune system. My favorite orange is probably the navel orange, but I love the blood orange color.
Tangerine/Mandarin:
Tangerines are probably the easiest citrus fruit to eat. They peel easily and are so sweet and tender that it is hard to stop at just one. Despite its small size and delicious flavor, it is still useful in the fight against infection.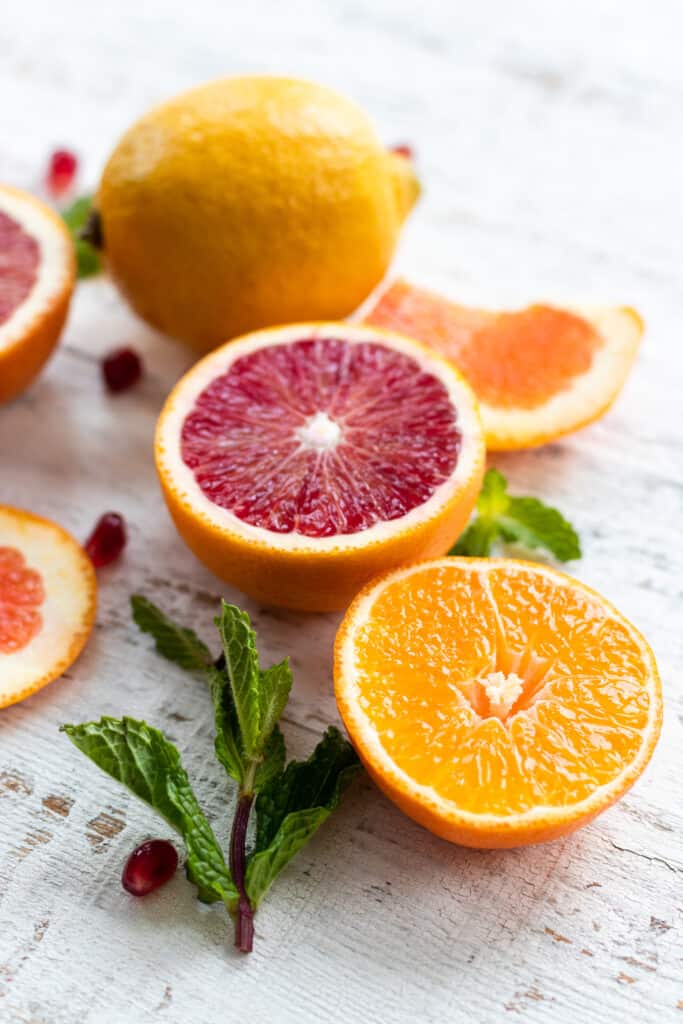 Lemons/Lime:
Lemon is probably the citrus fruit best known for its medicinal use, especially when fighting a cold or a flue. Lime is sweeter than lemon but contains less vitamin C.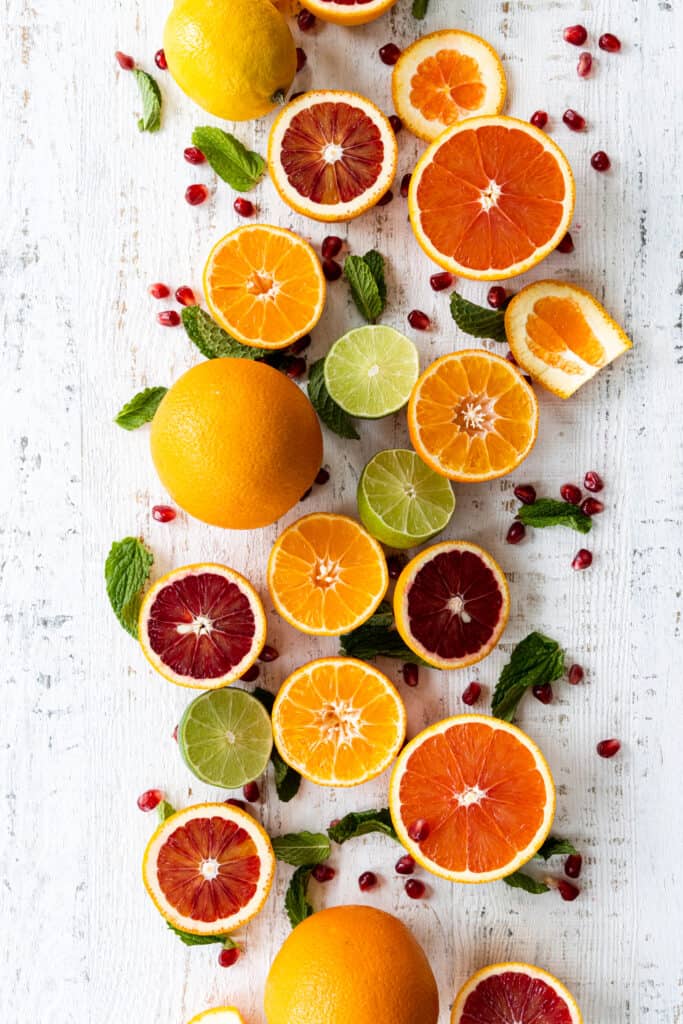 Pomegranate:
The pomegranate must be one of the most unique fruits on the planet. We love it when the pomegranate season comes around. The vibrant red color, the sweet juice, and crunchy seeds are a winning combination. The pomegranate is rich in potassium and vitamin C. It is also an easy fruit to store, as long as you have a dry, cool place to keep it.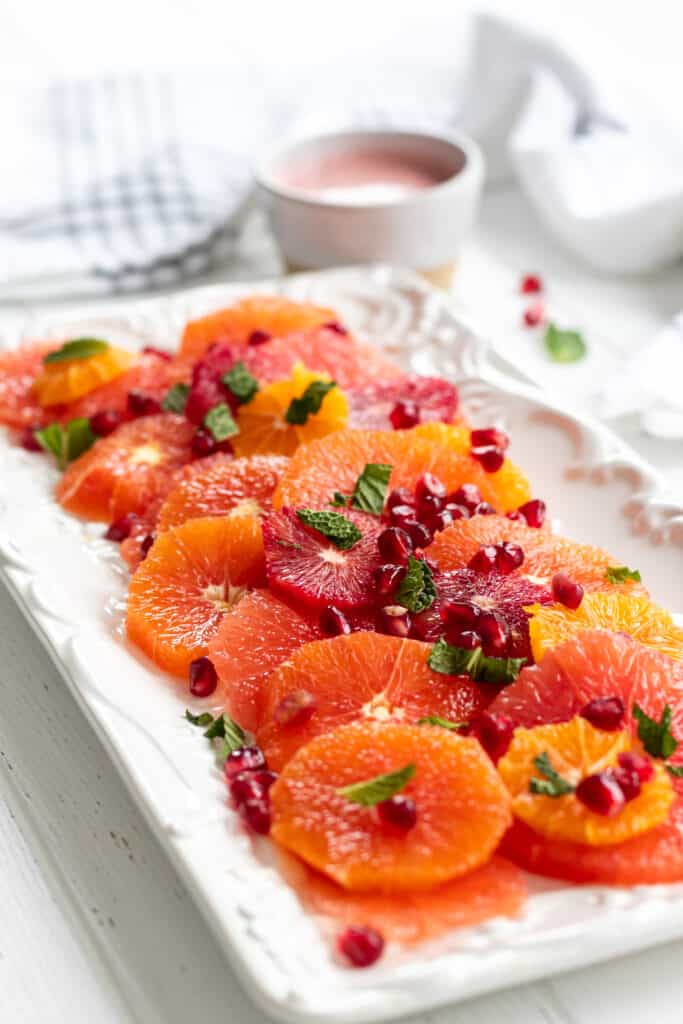 Pomegranate Salad Dressing
I love this salad dressing, probably because it has a sweet flavor and a gorgeous pink color. How does this not brighten one's day? It works well with a variety of salads, but I think the Citrus Salad may be my favorite for this dressing. It is a winning combination.
In this salad dressing, we use fresh pomegranates, including the seeds. Seeds add fiber to our diet. You could strain the dressing for a smoother texture if you like, but the seeds work for me.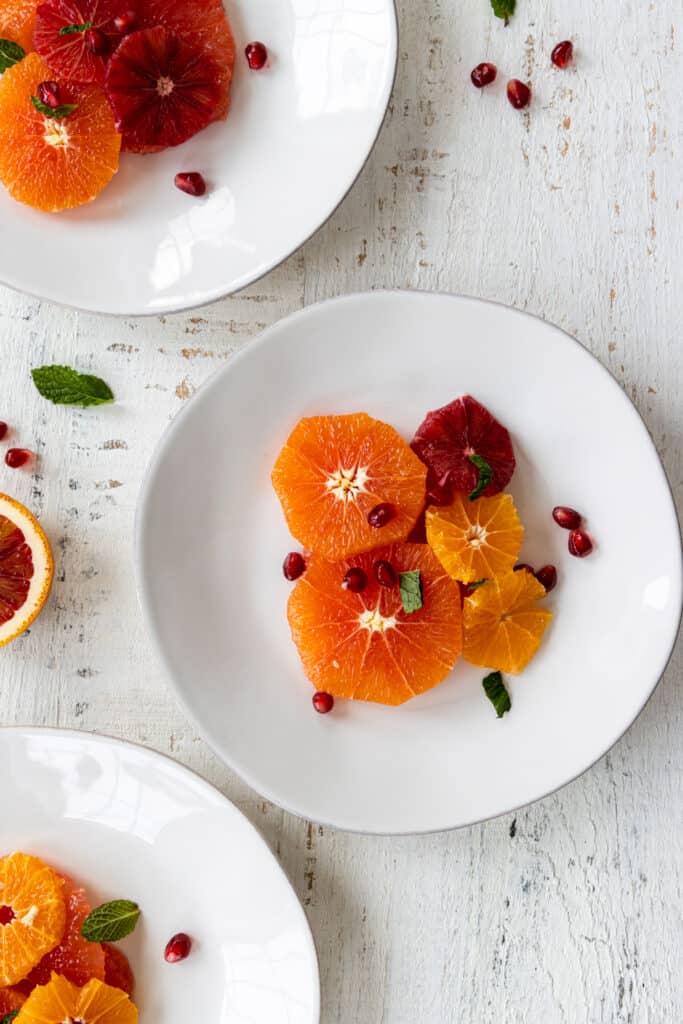 Click Here to Watch Me Make this Recipe on YouTube!
Print
Citrus Salad with Pomegranate Dressing
1

grapefruit

1

naval orange

1

red blood or raspberry orange

1

–

2

clementines or mandarins 

2 tablespoons

fresh pomegranate seeds
Fresh Mint for garnish
Instructions
Cut off the peel of the citrus fruit.  Make sure to get as much of the white flesh off as possible.  Slice each fruit.  Arrange on a platter.  Sprinkle with pomegranate seeds and garnish with mint leaves.  
Pomegranate Dressing:
1 cup fresh pomegranate seeds
1/4 cup maple syrup
2 tablespoons fresh lemon or lime juice
pinch of salt
1/2 cup olive oil
Add fresh pomegranate seeds, maple, lemon/lime juice, and a pinch of salt to a blender.  Blend until smooth.  With the blender on low, add olive oil slowly until incorporated.  
Stir dressing before serving.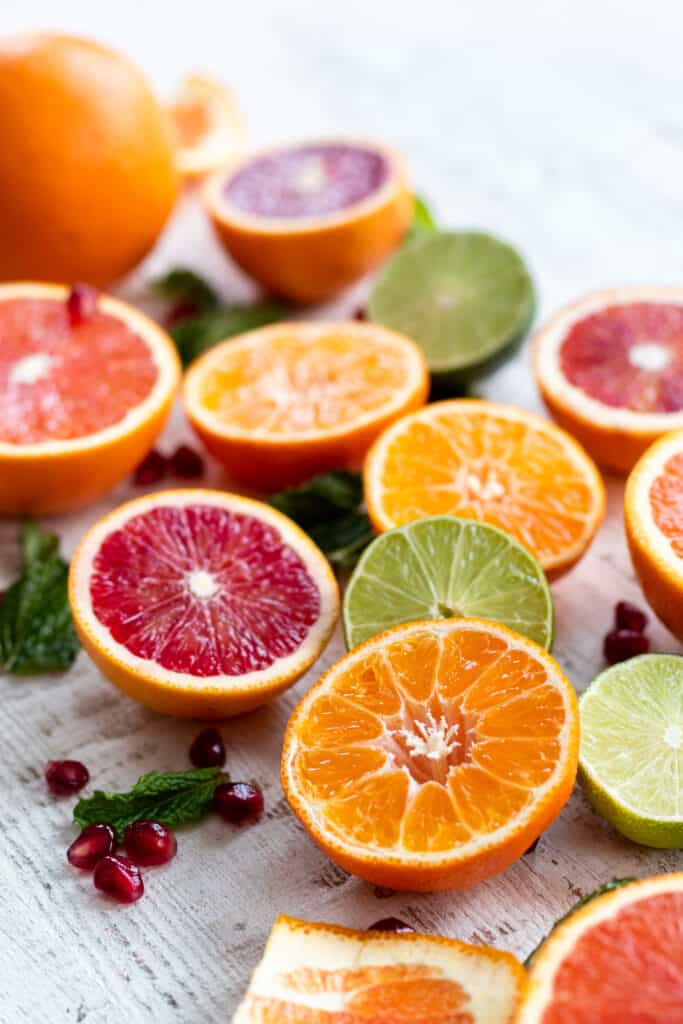 Looking for More Recipes?