These mini apple hand pies are as delicious as they are charming—a perfect choice for any day of the week, holiday, or function. Your family and friends are going to love them.
The golden flaky pie crust combined with a juicy apple filling is a crowd-pleaser, not to mention how cute they look. You can even eat a whole pie (or two) without feeling guilty:) It doesn't take long before the apple cinnamon scent goes wafting through my house, and I have a kitchen full of hungry visitors.
Homemade Pie Dough:
In my opinion, one of the secrets to a delicious pie is the crust. If you have followed my blog for a while, you know I am a HUGE fan of coconut oil in my pie crusts. Believe it or not, coconut oil makes a tremendously flaky and delicious pie crust. But there is a downside to a pie crust made with coconut oil; it is more challenging to work with. It cracks and breaks easily; you have to handle it with extreme care. So, for these Mini Apple Hand Pies, we use a crust that is a little more substantial.
1. Why I mix plant-based margarine and coconut oil?
Since coconut oil is an ingredient that makes my pie crusts irresistibly flaky, I always include some coconut oil. But it makes it a little more challenging to work with, so to decrease the frustration and increase the likelihood of success, I mix Earth Balance and coconut oil. It is an excellent combination, the best of both worlds, so to speak, decent to work with, great-tasting, and a good texture, especially appropriate for these Mini Apple Hand Pies. Sure, it still takes a little more effort, but it is well worth the extra work. Of course you can make this pie by using all plant based margarine for a little hardier crust, or if you feel adventurous and are gentle and patient, you can use all coconut oil.
2. Mix the pie dough by Hand or Food Processor?
You can make the dough either by hand or in a food processor. I usually use a food processor. It makes the process simple and fast. But if you do not have a food processor, you can use a pastry cutter to cut in the oil and margarine. I have not noticed a difference in the outcome; it's merely personal preference. If you have a food processor, I suggest you try it! It may just change your life:)
3. Be careful not to overwork the dough.
When mixing the dough, be careful not to overwork the dough. Another secret to deliciously tender pie crust is the layers of oil cut into the flour. These little pockets of oil melt in the heat of the oven, leaving you with dreamy flaky pie crust. If you overmix the pie dough, the oil gets too worked into the dough, and the final crust will become less tender. For that reason, I only use the pulse function on my food processor.
4. Roll with the (dough) punches.
Every time I make pie dough, I have to adjust the amount of water in the recipe. When you have incorporated the oil and margarine into the flour, gently squeeze it with your hands to see if it comes together. Don't worry if the dough seems dry. Keep adding a little ice water, a tablespoon at a time, until you achieve the right consistency. Use water sparingly, as it will change the dough. I hardly ever use more than 1-2 tablespoons. If the dough seems a little soft, chill in the fridge for a few minutes. It will make the dough easier to manage.
5. You Got This!
Pie dough can be a tricky thing. Once you have mastered making the perfect pie crust, you have reached a new baking level and should feel very accomplished. You Got This!!! But don't worry if you have your "difficult" pie crust moments. It happens to me too.
Check out my Pie Crust Recipe Below.
My Homemade Mini Apple Hand Pie Filling:
But enough about the crust, let's not forget the apple hand pie filling. The filling is also important. Let's face it; the pie crust would not be much without the filling.
1. Cut the Apples Small
Cut the apples into small pieces so you can get more filling into each apple hand pie.
2. What is the best Apple to use for Mini Apple Hand Pies?
For this recipe, I like to use Cortland Apples as they retain their shape during baking; besides, they add a nice sweetness and flavor to the recipe. You can also use Granny Smith apples, a staple in the apple pie baking world, Ginger Gold, or Honeycrisp, to mention a few options. Choose an apple that will hold their shape while baking.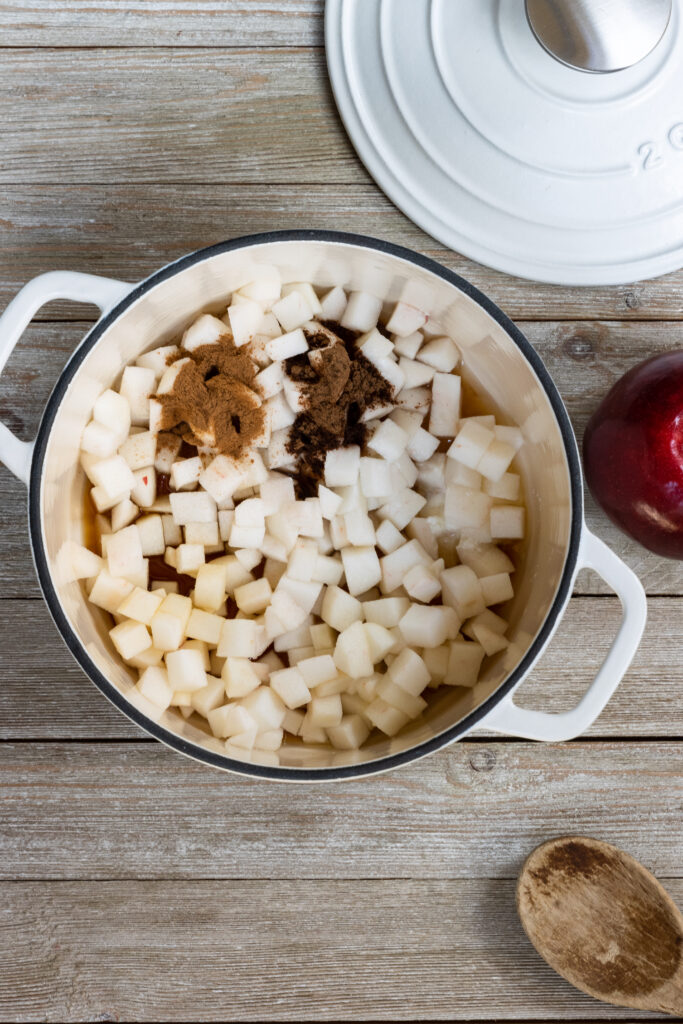 3. Pack the flavor
These mini apple hand pies may be small in size, but they are mighty in flavor. Because they are so small, you want every bite to count. You want the filling to have a flavor punch that compliments the flaky pie crust. Pack in some cinnamon, allspice, vanilla, lemon, and yes, you guessed it, maple syrup for the perfect flavor combination.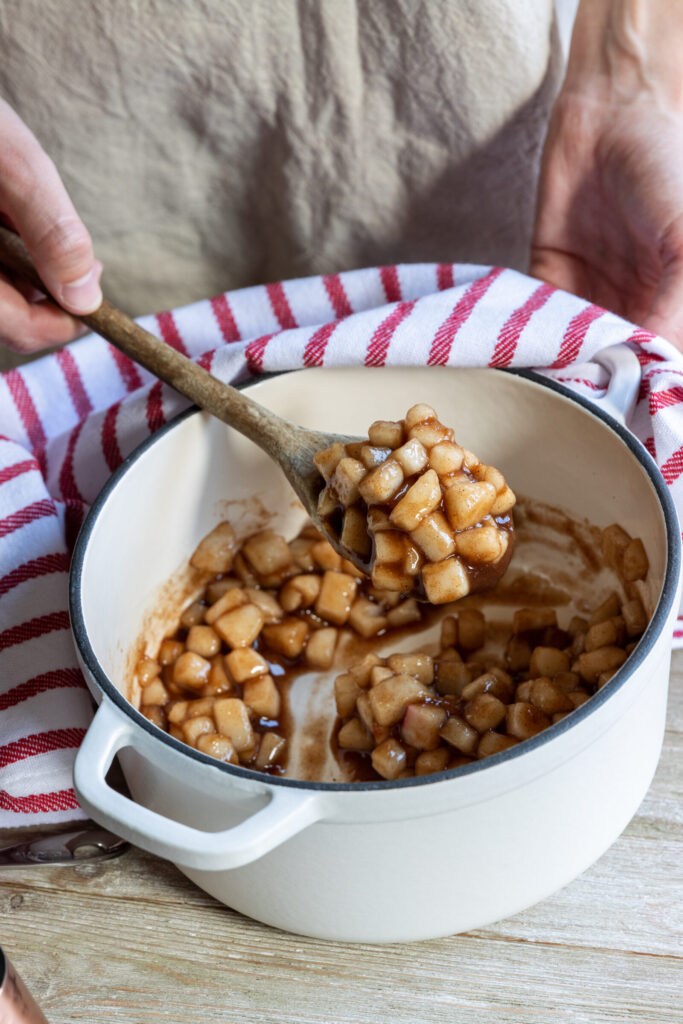 Let's talk about the shape.
I use a canning jar ring to cut out my mini pie crust shapes. I find it's a perfect size, and I always have an extra canning jar ring lying around. But you could experiment with different shapes and sizes for your mini apple hand pies. You can use mini cutters to make a nice design in the top crust, but I find it quick and easy to just cut a slit in the top.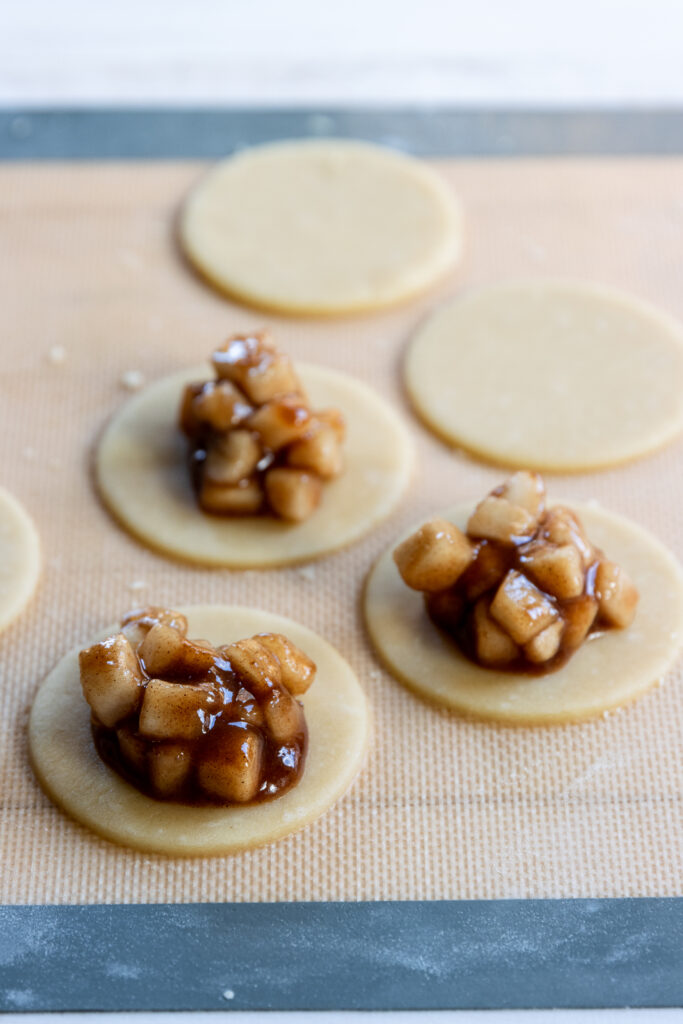 Helpful Kitchen Tools for this Mini Apple Hand Pie Recipe:  
(If you click on the link and purchase something, I earn a small commission and it doesn't cost you any more)
THANK YOU!
Thank you so much for reading my blog and for trying my recipe. This is one of my favorite recipes.
I hope you enjoy these Mini Apple Hand Pies as much as I do. In my opinion, you might just as well call them "pockets of happiness."
Click Here to Watch Me Make this Recipe on YouTube!
Print
Apple Hand Pies
Author:
Yield:

8

Mini Hand Pies

1

x
Pie Crust:
1 1/4 cup

flour

1/4

–

1/2

teaspoon salt

5 tablespoons

vegan margarine, Earth Balance

2 tablespoons

coconut oil

1

–

2

tablespoons of ice water (use sparingly)
Filling:
2

Cortland Apples, peeled and chopped (or an apple that holds its shape while baking)

3 tablespoons

maple syrup & 1 teaspoon cornstarch (or

3 tablespoons

brown sugar)

2 teaspoons

fresh lemon juice

1/2 teaspoon

cinnamon

1/2 teaspoon

allspice

1/2 teaspoon

vanilla
Instructions
Pie Crust:
In a food processor, mix the flour and salt to combine.

Add the vegan margarine and pulse a few times until the mixture resembles crumbs.

Next add 1 tablespoon ice water.

Test dough by squeezing it to see if it holds together.

If it is still crumbly, add another tablespoons of water. Pulse again.

When it holds together, form into a dough.

Let sit in fridge while you make the filling. (20 minutes)
Filling:
In a saucepan, add all the ingredients and bring to a simmer.

Let simmer for a minute or two. The mixture should not be runny, but gooey.

Set aside and let cool.
Putting it together:
On a clean work area or a silicone mat, roll out the dough until about 1/8 in. thickness. If easier, cut the dough in half, and work with half at a time.

Use a round cookie cutter or a canning jar ring to cut as many circle as you can.

In the middle of half of the dough circle add about a tablespoon of filling.

Then place the other half dough circles on top of those with filling.

Use a fork and gently squeeze the two dough edges together around the circle.

Next cut a slit in the top.

Bake at 350F for about 30 minutes.
Notes
When working with the dough, make sure to use as little water as possible, and handle the dough as little as possible.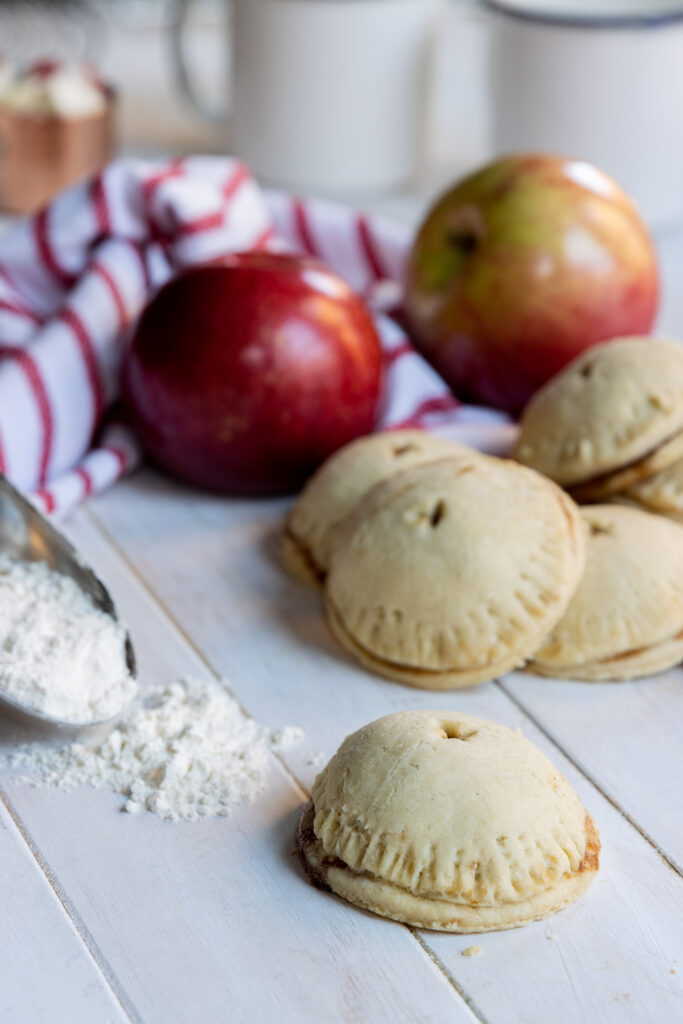 Looking for More Recipes?
(Read my affiliate discloser here.)