As the last few summer rays cast their warm tones on New England's fall landscape, it is hard to imagine anything prettier. It is the season that has put New England on the map and the time of year when tourists visit. Not to mention it is even hard to find parking this time of year, especially as you turn the corner to some of the most favorite nature scenes in our state. It seems even more so with COVID as people are vacationing closer to home. A close second to New England's colorful scenery is its charming desserts. One of my favorites is peach cobbler, baked to perfection with a tender biscuit-like topping. This is what we are making today: New England Sweet Peach Cobbler!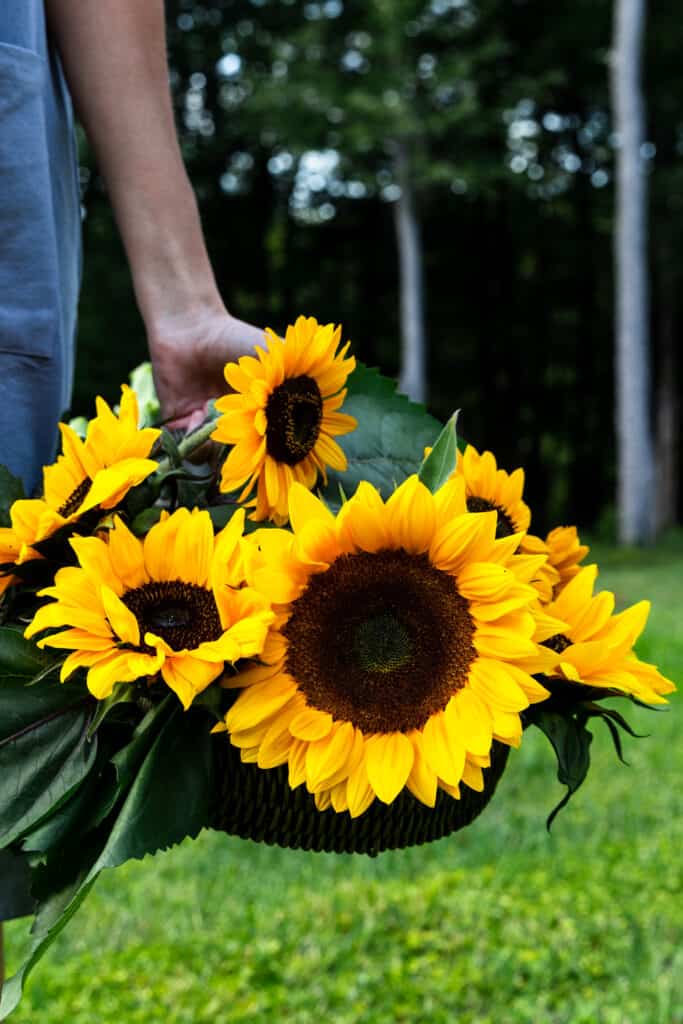 A Trip to My Favorite Farm Stand:
It may be a little late in the season, but It came about this way: the summer flowers are beginning to fade, and we decided to take a trip to our favorite farm stand to make the last pick-your-own flower bouquet of the season. We often come to this place to pick our own flowers. There are rows and rows of beautifully colored fresh flowers, and you can pick to your heart's content. It is so therapeutic, and it really brightens up our house.
This time, while we were at the farm stand, we came across some beautifully ripe peaches, and I was inspired to make a sweet peach cobbler. Of course, I had to share the experience with you, hence the New England Sweet Peach Cobbler video. There is nothing quite like the combination of sweet peaches with the nutty flavor of a pecan biscuit. It is another one of my favorite desserts. What can I say, I have a sweet tooth:)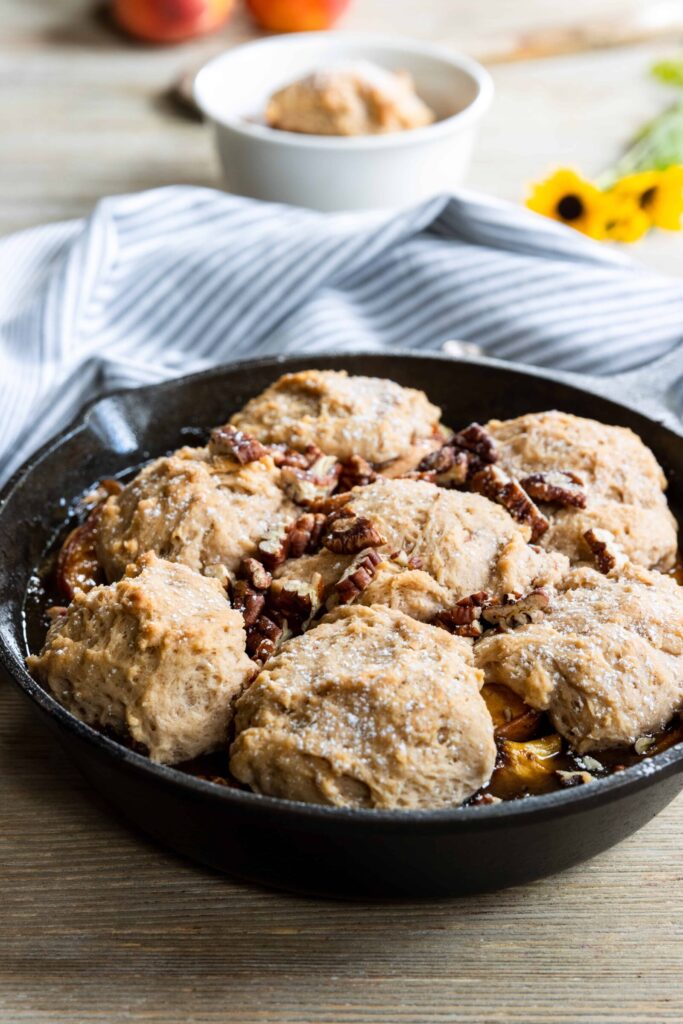 The Trick to a Good Cobbler:
The trick to a good cobbler is to pay attention to the fruit's consistency, ripeness, and flavor. Peaches, in particular, can be quite juicy when ripe. See the recipe for details. However, there is nothing that says peach cobbler like perfectly ripened sweet peaches. The peaches found in a grocery store are usually lacking in flavor, so if you have a chance to get peaches from a local farmer, or right from the tree, it will be well worth the effort. Peaches will ripen on the counter, but they do not get sweeter, so be cautious. The best way to check for flavor is to smell the fruit. If there is little to no peach smell, there is probably very little flavor. To check for ripeness, squeeze them to see if they have a little give—the more give, the riper the peach. So, start with the best smelling, ripe peaches for the best homemade peach cobbler.
We love to top this dessert off with some toasted pecans and some vegan vanilla ice cream, but it can also stand on its own.
Click Here to watch me make this New England Sweet Peach Cobbler Recipe on YouTube!
Print
New England Sweet Peach Cobbler
Filling:
6

large peaches, thinly sliced

1/2 cup

brown or coconut sugar

4 tablespoons

vegan margarine (Earth Balance or Coconut Oil)

1

–

2

tablespoons maple syrup

1 teaspoon

vanilla extract

pinch of salt

Optional: 1 tablespoon lemon juice
Biscuit Topping:
1 cup

flour

1/4 cup

chopped pecans

2 teaspoons

baking powder

1/2 teaspoon

cinnamon

4 tablespoon

margarine (Earth Balance or Coconut Oil)

1/2 cup

almond milk (or Plant-Based Milk)

pinch of salt 
Instructions
Preheat oven to 400 F

In a saucepan melt margarine, add brown sugar, maple syrup, vanilla, (lemon juice) and a pinch of salt.

Next add the peaches. Let simmer for a couple of minutes.

Add to a cast iron pan. Let bake in the oven for about 10-15 minutes.

While the filling is baking, make the biscuit dough.

Combining the flour, ground pecans, cinnamon and pinch of salt. Stir to combine.

Melt the butter, add to the flour mixture along with the milk and stir gently to make a dough.

With a large spoon, add the dough in small dollops over the top of the peach filling.

Return to oven.

Bake at 375 F for 25-30 minutes
Notes
Note:  If the peaches are really juicy, and you don't like the filling runny, you can add some cornstarch.  Start by adding 1 teaspoon cornstarch mixed with a teaspoon cold water to the filling mixture.  
Looking for more Peach Recipes?