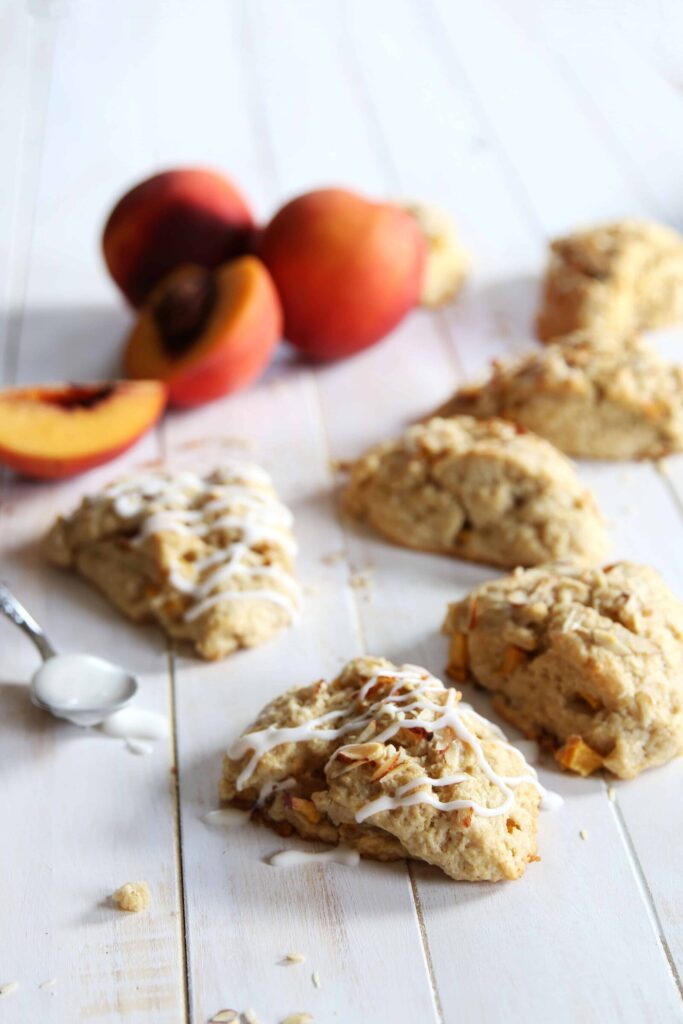 Today, I am sharing with you my vegan peach scone recipe. Scones are probably one of my top favorite things to bake and eat:)
Somehow when I put on my apron and carefully cut each scone into a perfect little scone triangle shape, my mind wanders and I envision what life might have been like for the first people who made scones in Europe.
I image a country cottage with beautiful roses trailing up the sides of the house and over the doorway. The back door is partially open and seems to be inviting me to go inside. As soon as I peak in the door I spot them, the most beautiful plate of delicate vegan scones and a pot of hot tea.
The picture in my head is just in my imagination:) But somehow when I eat these scones, they are so delicious, delicate, and flavorful that they open my mind to exciting places even though I am eating peach scones in my very own kitchen sitting on a stool in my kitchen nook.
You can be very creative with these scones. I love to add peaches as they are in season right now and the sweetness from the peaches adds to the flavor of these vegan scones.
I also have a recipe for vegan blueberry scones, which I make quite often. Click here for the recipe!
You can make these scones uniquely you by adding different fruits, nuts, or berries. Have fun with it and I would love to hear what places you envision when you try them. Plus, you can whip them up in a minute as they are quick and easy to make.
Print
Vegan Peach Scones
1 1/2 cups

(unbleached) all purpose flour

1/2 cup

whole white wheat flour

3 tablespoons

natural cane sugar

1 tablespoon

aluminum-free baking powder

1/2 teaspoon

sea salt

1/3 cup

coconut oil

3/4 cup

fresh chopped peaches

1

(to 1 1/2) cup coconut milk

1/8 teaspoon

almond extract (optional)
sliced almonds for topping (optional)
raw sugar for sprinkling (optional)
Instructions
Preheat oven to 400 degrees
In a bowl sift together the flours, sugar, baking powder, and salt.  Cut in the coconut oil with a pastry cutter or with two knives until the mixture resembles sand.  Add the peaches and gently mix.  Pour in the coconut milk and almond extract; mix until just combined.  The dough will be wet.  Place the dough on a lightly floured work surface and form into a round disk about an inch thick and cut into eight species like a pie.  Transfer each scone onto a lined baking sheet tray, brush with coconut milk, and sprinkle with a tiny bit of raw sugar and sliced almonds.  Bake for 18-22 minutes or until slightly golden on the edges.  Enjoy!
Notes
100% Whole Wheat
We know that whole wheat flour is much better for us than white flour, the reason being that most of the fiber and some of the nutrients have been removed from the white flour.  However, when substituting whole wheat for white flour, there are a couple of things to keep in mind.  White Whole Wheat flour is a better choice than regular Whole Wheat in these scones, as it has the same value, yet is less bitter.  If you are not used to the 100 % Whole Wheat taste, start by replacing a little bit of the flour with White Whole Wheat as I have done in the above recipe, and then gradually increase the whole wheat over time.  Keep in mind that whole wheat flour is denser and heavier so you need to use less flour or more liquid.  In this recipe use 1 3/4 cup of white whole wheat (King Arthur) flour when eliminating the white flour.  The dough should be slightly wet, but workable.  Let me know how it turns out!
Click Here to Watch my Blueberry Scone Video!