Feel like a creamy, delicious vegan fresh peach smoothie? Here is one of my absolute favorite smoothie recipes. Frankly, I could have one of these every single day. And the best part is, that would be perfectly ok. It is filled with amazingly healthy, allergy-friendly ingredients and has no artificial sweeteners. Use fresh peaches when they are in season and frozen peaches when they are not.
There is nothing like a cold smoothie on a warm summer day, and summer has finally come to New Hampshire. It is peach season, and the surrounding orchards are full of wonderful ripe peaches. How about a delicious, cold peach smoothie sweetened with apple and mango?
Other Peach Recipe You Might Like: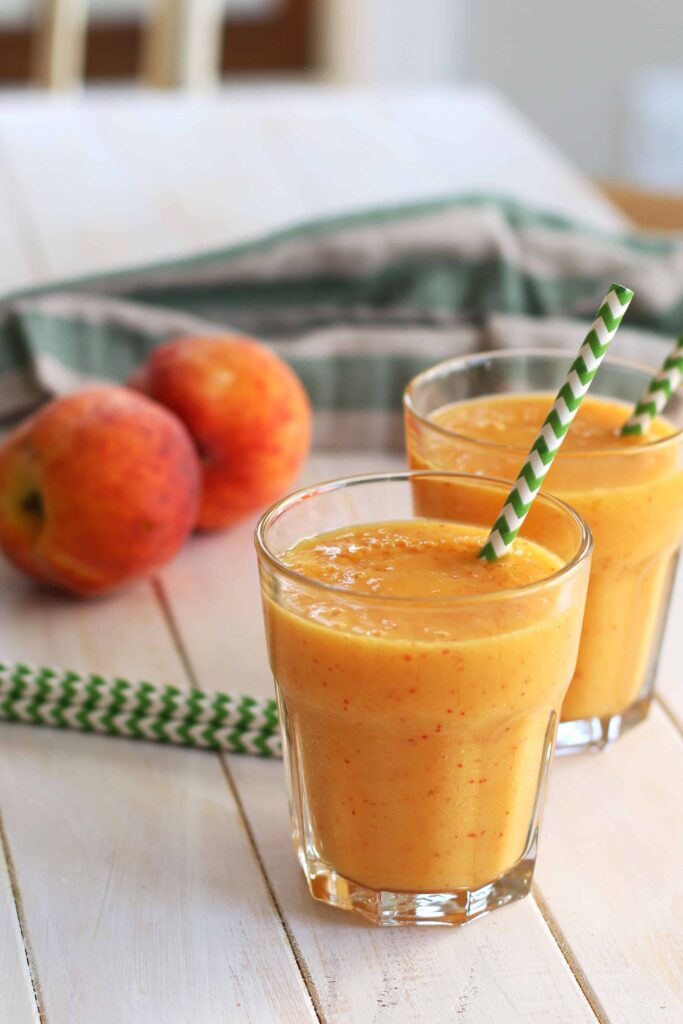 Why You Will Love this Vegan Fresh Peach Smoothie
delicious
nut-free, gluten-free, oil-free
dairy-free, vegan
no artificial sweeteners
creamy and satisfying
beautiful
healthy
Other Smoothie Recipes You May Like:
Equipment Needed to Make a Vegan Peach Smoothie:
Blender – it is useful to have a blender
What Ingredients Do You Need to Make a Peach Smoothie?
peaches
frozen mango
apple juice concentrate
ripe banana
water
Health Benefits of this Smoothie:
packed with nutrients and antioxidants
high in fiber
improves digestion
good for heart health
boosts immune system
How to Select Peaches:
There are wide varieties of peaches on the market, some have white flesh, and some have yellow. The white peaches seem to be a little sweeter and the yellow peaches a little more tart, but either way, they are excellent as long as they are ripe. My favorite may be the Saturn Peach. It is the peach that looks like a donut. They are amazing when they are in season, so sweet, fun, and easy to eat.
One of my frustrations with the grocery-bought peaches is that they are almost always unripe. However, I understand the logistics of transporting peaches as they bruise and spoil quickly, but it is something to keep in mind when you buy peaches.
So, when picking peaches, you want to look for a peach that smells like a peach. Some have practically no smell at all; that's not good; you want a peach to smell like a peach. The stronger the smell, the riper the peach. Next, look for peaches that have no bruising or soft spots. Finally, when you press on the peach, it should have a slight give.
When peaches are ripening on the trees in the summer, find a PYO (pick-your-own) orchard, and stop by to pick a few. You will be amazed at the difference in taste. You don't have to pick a lot. It is easy to pick peaches, it goes so quick, and the tree-ripened fruit is so much better.
What to Do with Unripe Peaches:
Peaches continue to ripen after they are picked, so should you end up with unripe peaches, just place them out on the counter or on the window sill for a couple of days. Continue to check daily; the peach should smell sweet and should have a slight give.
How to Make a Vegan Fresh Peach Smoothie:
Step 1:
Wash the peaches. Remove the pit (discard) and add the peach to a blender.
Step 2:
Add the frozen mango, apple juice concentrate, a ripe banana and water.
Step 3:
Blend until smooth.
How to Pit a Peach:
Using a sharp knife, make a cut in the peach until the knife reaches the pit, and slide the knife around the whole peach until it connects to the first cut.
Twist each half in the opposite direction. The peach should separate from the pit on one side.
Remove the pit from the other half with your fingers.
How to Peel a Peach by Blanching it:
If you prefer the peach without the peel, blanch the peaches in boiling water for a few seconds (30-40 seconds), remove them from the hot water with a slotted spoon, and quickly cool them in ice water for a few seconds. Remove from the cold water, make a quick slit in the skin with a knife, and carefully peel back the skin.
You can make the slit in the peach before blanching also.
Frequently asked Questions:
Should I use frozen or fresh bananas?
Either frozen or fresh will work in a smoothie. Ripe bananas can be frozen for use in smoothies.
Is it necessary to peel the peaches?
No, you can leave the peel on, but feel free to peel if you prefer. I love the color that the peel adds to this smoothie.
How do I keep peaches from browning when peeled?
Peaches brown when they are peeled and exposed to air. Sprinkle them with a little lemon juice, and you are good to go. This step is not necessary when making a smoothie.
Can I make the smoothie in advance?
Yes, but it will not taste quite as fresh. Smoothies are such an easy thing to whip up. Prepare the fruit ahead of time, add it to a blender, and keep it in the fridge until ready to serve, give it a quick blend, and your guests will love this wonderful fresh peach smoothie.
What other fruits pair well with peaches?
Most fruits pair well with peaches. Berries, in particular, go well with peaches. Keep in mind that berries change the color of the smoothie, which is perfectly fine unless you are looking for a particular color.
What other flavors can you add to the peach smoothie?
vanilla
ginger
lemon
maple syrup
orange
apricot
How can I serve this smoothie?
Serve in beautiful glasses
Contrast with a different fun straw (green or purple striped straws)
Add a couple of mint leaves or sprinkle some minced mint over the top
For texture, add some finely diced peaches to the top
Print
Vegan Fresh Peach Smoothie
2

fresh ripe peaches

1

small banana (or

half a

large)

1/4 cup

frozen 100% apple juice concentrate

1/2 cup

frozen mango chunks

1/2 cup

water (or orange juice)
Instructions
Wash the peaches. Remove the pit (discard) and add the peach to a blender.

Add the frozen mango, apple juice concentrate, a ripe banana, and water

Blend until smooth.
Garnish with some minced mint or finely chopped peaches.