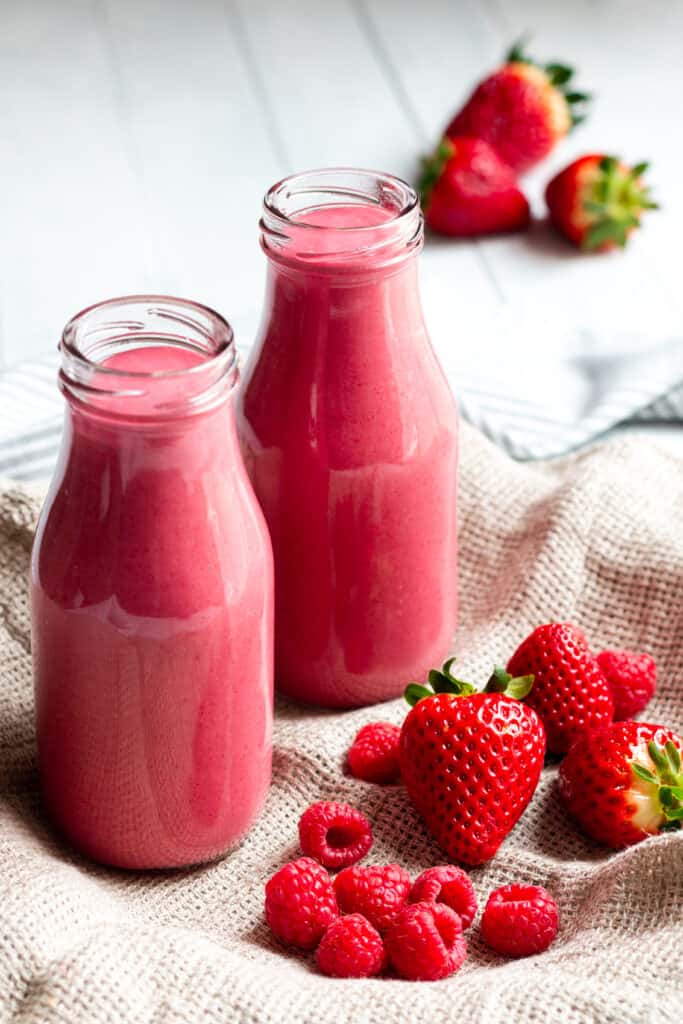 In our home, when we think about making smoothies, this favorite vegan raspberry smoothie is the go-to recipe. We started making this smoothie when I was just a tiny tot, and it has remained a family favorite ever since. We have served this to countless visitors over the years, and the response is always positive. My memory's Hall-of-Fame has numerous warm and fuzzy entries with this raspberry smoothie.
There is something about the full-fat coconut milk that takes this to a level of creaminess that almost resembles ice-cream shakes. Yet, it is packed full of wonderful vitamins that our bodies need, minus the sugar and the damaging fat. It is a win-win situation.
You can change the flavor of this smoothie by using different berries. This recipe works well with both blueberries and strawberries, but I have to say that raspberries are our favorite. We use raspberries for several reasons; they give a beautiful color to the smoothie, a freshness that other berries do not, and contain a fair amount of fiber, which is so essential to a healthy diet. This is one way to get useful fiber without much of a struggle.
We almost always use frozen berries for this smoothie, though fresh berries would be amazing. We always keep several bags of frozen raspberries in the freezer, canned coconut milk on the shelves, and frozen bananas ready to go. That way, we always have something special to serve guests when they stop by for an unexpected visit. It is a quick and easy recipe to pull together that tastes gourmet. But I have to say; we do not wait for visitors to grace our home before enjoying this wonderful raspberry smoothie. It is a family staple.
Believe it or not, summer is right around the corner for most of us (that is unless you live in New England:), and as temperatures soar, and we feel like something cold and refreshing, remember this favorite vegan raspberry smoothie recipe. It is a real treat!
Print
Favorite Vegan Raspberry Smoothie
10oz

frozen fruit (or your favorite berries or fruit)

1

can coconut milk (

1 1/2 cup

milk)

1

ripe banana

1/4 cup

apple juice concentrate or pineapple chunks
Fresh Fruit (optional)
Instructions
Add all the ingredients into a blender.  Blend until smooth.  Enjoy!
Looking for more smoothie recipes? Here are some of my favorites: