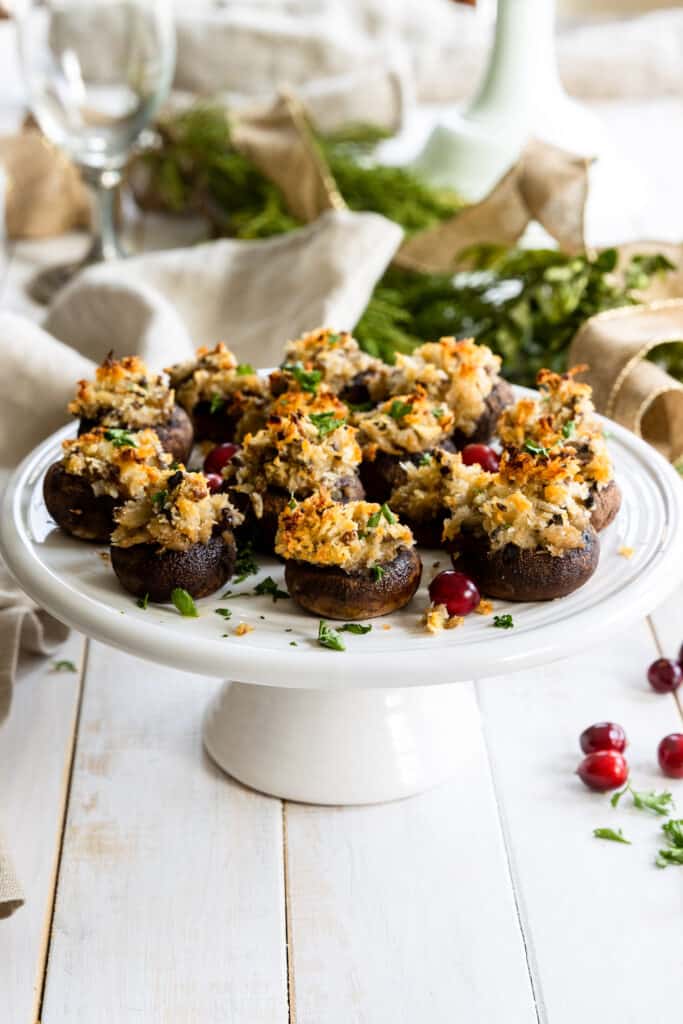 An excellent appetizer for the Holiday meal is vegan stuffed mushrooms. These are bite-size, cute, delicious, and super easy to make. And best of all: We love them. You have the mushrooms' earthy flavor, a little heat (not too much) from the crushed red pepper and garlic, the freshness from the parsley, mixed with the crunch from the panko, and you have an absolutely wonderful appetizer, side dish, or "just-because" dish. Plus this recipe is completely Plant-Based and Vegan.
It is actually a very simple appetizer to make, but the impression is anything but simple. It looks fabulous, tastes amazing, and is such a staple on the Holiday Appetizer table.
When we entertain guests, especially for the Holidays, we like to serve appetizers. Appetizers are very helpful for several reasons:
Your guests feel welcome and well-taken-care-of.
It provides you with a little extra time to finish up the meal in the kitchen.
It takes care of immediate hunger issues.
It decreases stress and pressure for the cooks.
And it gives everyone something to do while they wait for the meal to be served.
What to look for in a great appetizer:
I remember years ago when we planned menus for Holiday parties; our principal requirement was that the food tasted amazing. We would often find ourselves so stressed before the meal, hoping we would get everything ready in time. Now, many-events-later, we have become wiser; we now also consider: Can it be made ahead? Is it time-consuming? Will it require oven-time? etc.
How does this Vegan Stuffed Mushroom recipe stack up against these considerations?
Yes, these stuffed mushrooms can be made ahead of time, stored in the fridge, and baked right before serving. They are best when served warm. Make sure you consider oven-time for these when you plan the menu.
As I already mentioned, my sister Kaija loves mushrooms. Any time we go out to eat, Kaija will ask for "extra" mushrooms on her entrée; the more, the better. So to say this recipe is a real winner in our family would be an understatement. These perfectly proportioned mushroom containers of garlicky, crispy stuffing are just simply superb.
Things to consider when making these Vegan Stuffed Mushrooms:
These will require 20 minutes of oven-time right before serving.
The mushrooms can be prepared and even stuffed prior to the event, stored in the fridge, and baked before serving.
If you intend to serve the mushrooms later, ensure the stuffing is cool before adding to the mushrooms.
Sprinkle the fresh parsley over the stuffed mushrooms when they come out of the oven, right before serving. This will ensure a fresh look.
To make these vegan stuffed mushrooms look extra festive, add some chopped dried cranberries to the top. Or, if you happen to have a few pomegranate seeds, add a couple to each mushroom top right before serving.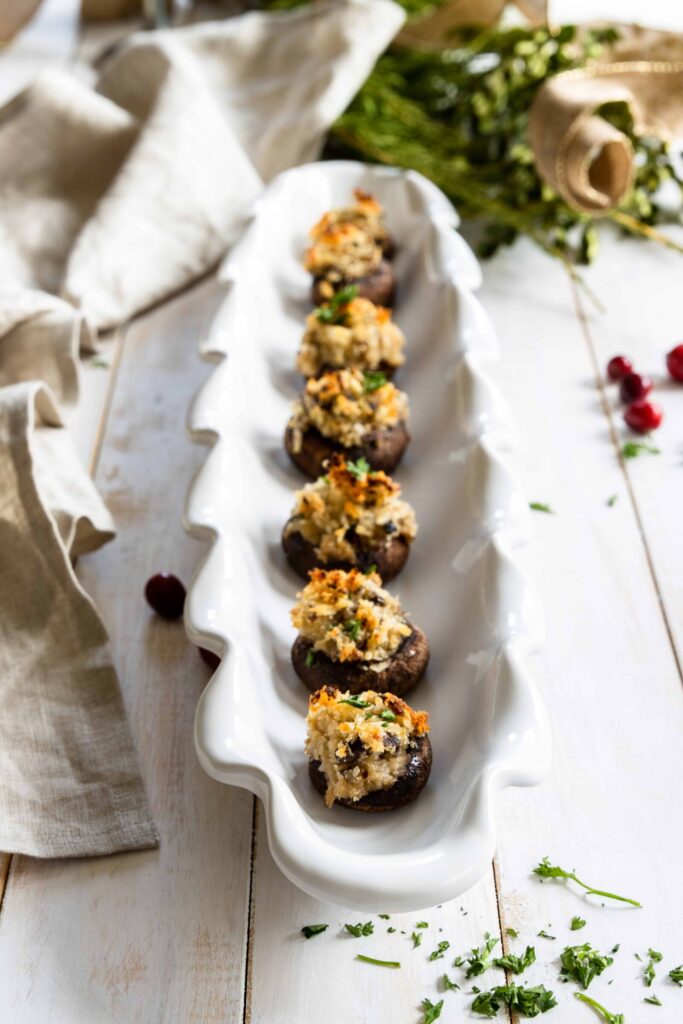 Allergies:
Gluten-Free:
Use gluten-free panko breadcrumbs for this dish to make it gluten-free.
Nut-Free:
This recipe is nut-free.
Click Here to Watch Me make this recipe on Youtube!
May God richly bless this Holiday Season for you.
Print
Vegan Stuffed Mushrooms
Author:
Yield: Serves

4

-6

1

x
1/2 cup

panko bread crumbs

2 tablespoons

oil or vegan margarine

3

large garlic cloves, minced

1 tablespoon

chopped parsley

1/8 teaspoon

crushed red pepper

4

–

6

mushrooms, chopped 

12

small bite-size whole mushrooms 
Salt
Instructions
Preheat oven to 400F.
In a saucepan, add the oil, the minced garlic, crushed red pepper, chopped mushrooms, and sauté for a couple of minutes.
Next, add the panko bread crumbs. Stir to combine. Salt to taste and set aside. 
Carefully wash the mushrooms and remove the stem. Place on a lined baking tray.
Fill them with the bread crumb stuffing. Sprinkle with a pinch of salt 
Bake at 400F for 20 minutes, or until topping is golden brown. 
Sprinkle with the fresh chopped parsley right before serving. These mushrooms are best served warm.  
This recipe can be made ahead and baked right before serving.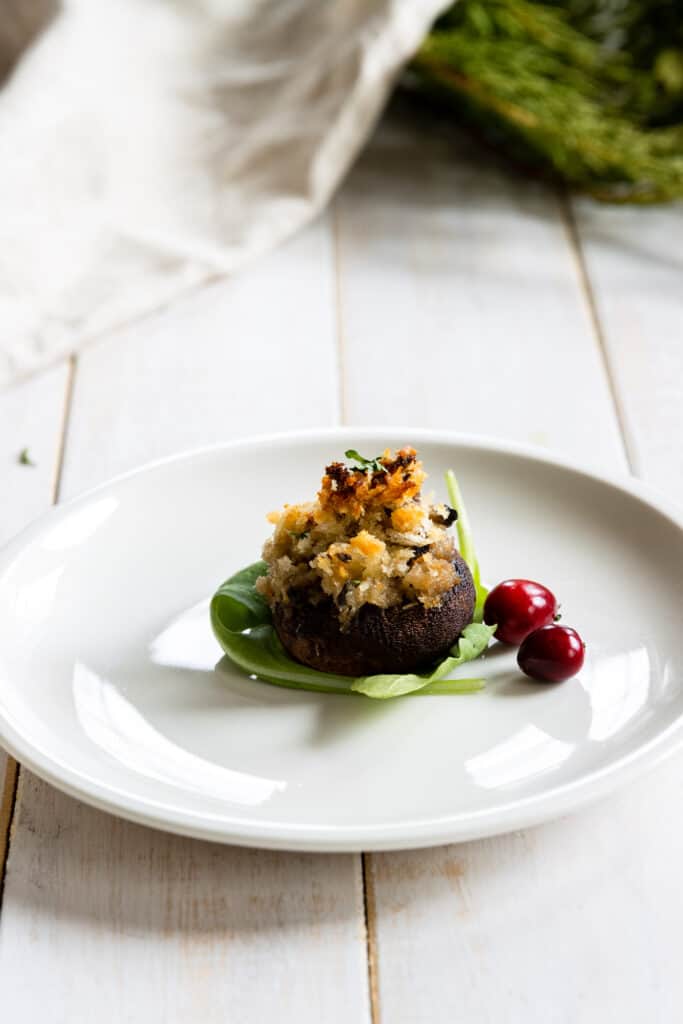 Looking for More Appetizer Recipes?