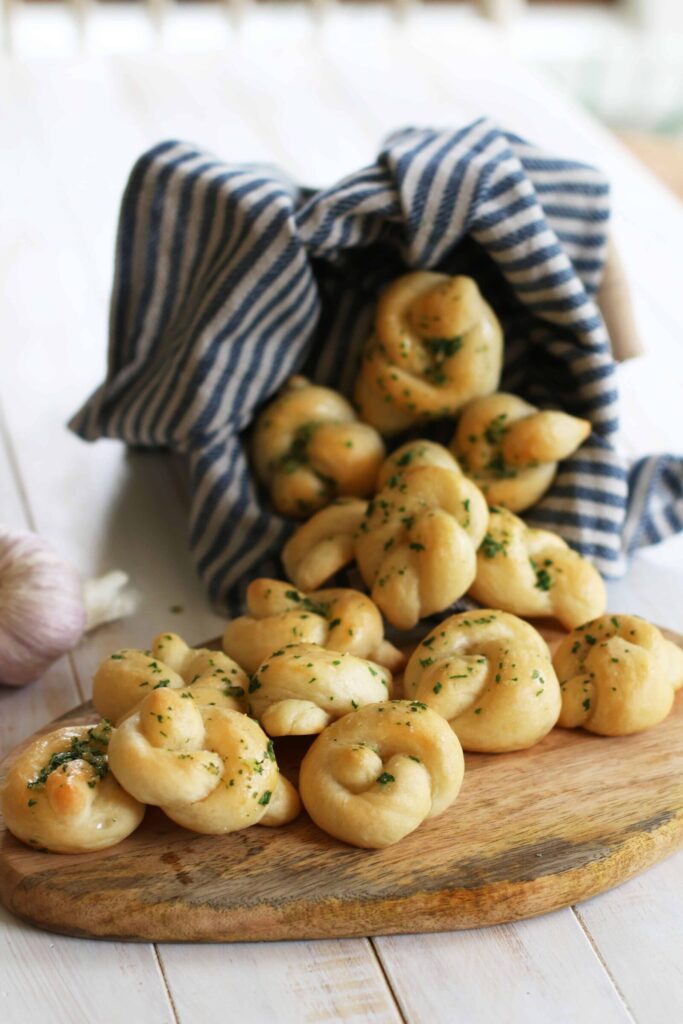 It is hard to describe the excitement around my house when I am making these Vegan Garlic Knots. It is a fantastic addition to any meal! It fills the kitchen with the most wonderful aromas, and the family knows they have something good coming. We find all sorts of excuses to make these, and I suspect you may too if you give them a try.
Vegan Garlic Knots are one of the most impressive additions to any meal. When I make this recipe, a few of them usually disappear before they even reach the table. Crunchy on the outside and warm and fluffy on the inside, these garlic knots are hard to pass up.
You can get the family involved. Be creative! You don't have to stick to the basic knot but can make these into more complicated knots if you so desire.
There is such a satisfaction in brushing garlic and herbs on freshly made knots, right out of the oven. The smells from the fresh bread and garlic always seem to draw my family to the kitchen. You may even call it a bonding moment.
Perfect for any event, whether it be a fancy dinner party or a picnic down by the river. It is sure to please your guests and family alike. I especially appreciate recipes that are appropriate for all types of meals, and this one certainly is.
Freeze Well:
One of the best things about these garlic knots is that they freeze so well. I like to make a few extra to put in my freezer so that I can take an ordinary meal and turn it into an extraordinary meal.
I hope you enjoy this recipe as much as I do. I get hungry just thinking about it. This is one of my family's all-time favorite recipes.
Print
Vegan Garlic Knots
2 cups

flour

1 teaspoon

sugar

1 teaspoon

salt

1 1/2 teaspoon

yeast

3/4 cup

warm water (110F)

1 tablespoon

olive oil
GARLIC TOPPING
3 tablespoons

of olive oil

5

–

6

garlic cloves, crushed or minced

1

–

1 1/2

teaspoon salt

1 tablespoon

finely minced parsley
Instructions
In a bowl mix together the flour, sugar, salt, and yeast. Add the water making sure that it is not too warm. Add the olive oil and mix. Knead the dough for 5 minutes. Place the dough in a slightly oiled bowl and cover it with plastic wrap or a clean towel. Let rise for 1 hour.
Once your dough has risen for an hour. Turn the dough onto a lightly floured surface.
Pat the dough flat into a rough rectangular shape. Divide the dough into 4 pieces and work with one piece at a time, placing the other pieces back in the bowl to keep them from drying out.
Working with one piece of dough, flatten the dough into a square shape and cut into 8 pieces.
Working with one small piece at a time, roll the dough into a rope like shape and simply tie the dough into a knot. Place the little garlic knot on a lined baking sheet tray.
Do the same with the remaining pieces. Cover the knots with plastic wrap and let rise for 1 hour.
Preheat the oven to 400 degrees and bake for 15-17 minutes. Prepare the garlic topping while the garlic knots bake.
For the Garlic Topping:

In a pot heat the olive oil. Next add the minced garlic sauté for a minute or so, making sure the garlic does not burn. Turn off the heat and add the salt and parsley.

Immediately after the garlic knots come out of the oven, spread the garlic topping on the garlic knots. Enjoy!

These Garlic Knots freeze so well and are easy to heat up again. Just put them in a freezer bag and freeze. Reheat in the oven for a couple minutes. Enjoy!