Perfect shape, size, and texture; you'll fall in love with this easy roll recipe for burgers and dinner.
Nothing is more "culinary" or "homey" than the smell of fresh bread or bread rolls baking in the oven. I love the feeling that baking homemade bread rolls gives me. It's an old-world experience, resulting in a quality roll that is crisp on the outside and soft and fluffy in the center.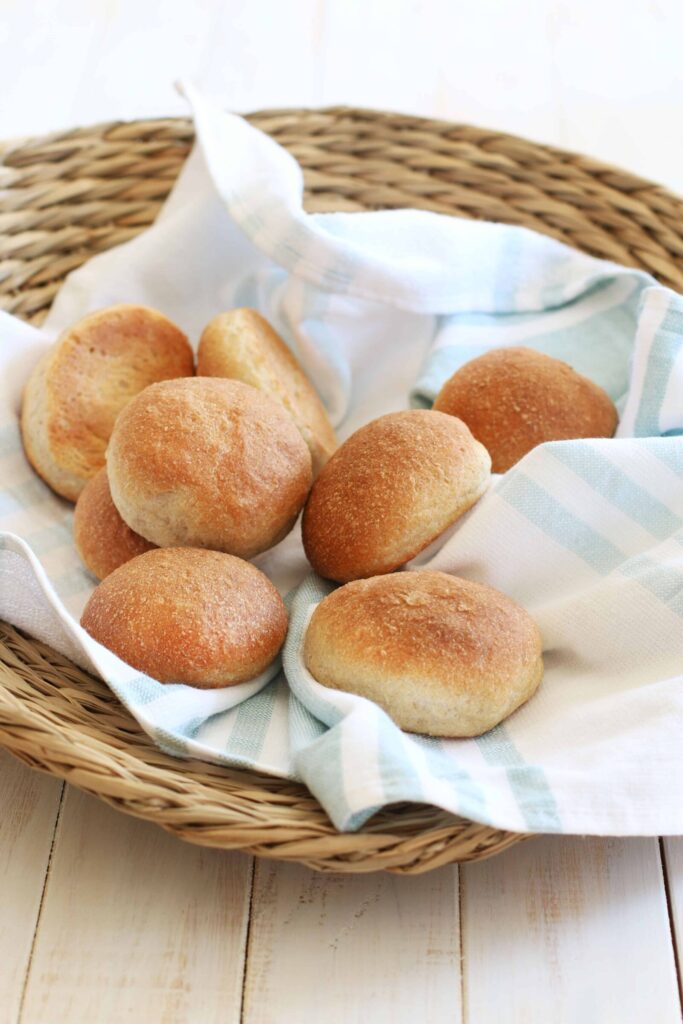 I know that baking bread can feel a little daunting to some people, give this recipe a try if you're feeling nervous about baking for the first time. It's so easy, and you'll really have fun with the process.
Why you'll love this easy roll recipe for burgers and dinner  
Check out these reasons to love this recipe:
Freshness. homemade rolls have a really fresh taste and flavor compared to ones you've bought at the store.
Cost-effective. The ingredients are cheap to buy in bulk, and you can make multiple batches of rolls with them.
Baking knowledge and skills. Practicing your baking skills is important, and this is a great recipe to start with.
Versatile. One can do a lot with a roll; burgers, sandwiches, soup, school lunches, and so on. 
A great base for other add-ins. Read our list below for inspiration on changing the taste and look of these rolls.
Healthy. You can really control what's going into your rolls when you make them yourself; no added preservatives.
Looking for more bread recipes? Here are some of my favorites:
Ingredients and substitution notes 
Here is a little more detail on the ingredients you'll need for your burger and dinner rolls.
Flour. Combining wholewheat and all-purpose flour makes this a lovely healthy roll recipe.
Salt. Your flour needs salt for flavor, so don't skimp on the salt, or your rolls will taste bland and boring.
Yeast. This is the raising agent in the recipe. Ensure the yeast is fresh by checking the sell-by date when you buy it.
Almond milk. Choose any plant-based milk; oat or rice milk are great too. Use unsweetened milk in this recipe. 
Margarine. There are lovely kinds of margarine on the market. Choose a good quality one made with healthy oils.
Cane sugar. The yeast requires sugar to activate. It acts as food for the yeast.
Recipe variations and add-ins
I love how versatile this base recipe is. It's like a blank canvas for an artist; check out these ideas:
Herbs. Add either dried or fresh herbs to the raw dough before baking it.
Spices. Think turmeric, cumin, and coriander seeds for some popping flavor.
Vegetables. Did you know you could add cold roasted garlic and bell peppers to your dough? Yum!
Vegan cheese. Sprinkle some inside and on top of the rolls before baking.
Seeds and oats. These make the rolls look super pro, especially if added to the top of the rolls before baking.
Dust flour before baking. Will give the rolls a Portuguese roll "look."
Agave or maple syrup. Yup, you can add a little depth to these rolls by sweetening them up.
Dried fruit. Raisins, sultanas, dried peaches. I think this is a really gourmet idea.
Glazes. How about glazing your raw roll dough balls with warm maple syrup and jelly for a glossy look on the outside of the bun?
Carob or Chocolate. Add a few carob or chocolate chips or chocolate spread/butter into the dough before baking. The kids will thank you!
Top tips for making this Burgers and Dinner Roll Recipe:
Here are some of my tips for getting beautiful rolls:
Use fresh yeast. It seems obvious, but the dough won't rise if your yeast is old, so it's best to double-check at the start.
Shape the rolls evenly. This will look pro and ensure you have an evenly baked batch of rolls.
Space the rolls out with some distance between them so that they don't steam when they bump up against one another.
Make ahead of instructions and storage
Make sure your rolls have cooled completely before storing them. You can either keep them in a sealed bag or an airtight container. They don't necessarily need to live in the fridge.
You can choose to flash your rolls in a hot oven before serving them a second time or not.
These rolls should stay fresh for a day or two. They can also be frozen for 2-3 months.
Serving suggestions 
Here are a couple of ideas on what to serve your burgers with. With these rolls, there are so many directions to take, but this is a good start.
Burgers. Serve your rolls with your favorite veggie burger patties, lettuce, vegan cheese, vegan mayo, and lovely fresh slices of tomato. 
Soup. Of course, these are the perfect sidekick to a bowl of steaming hot soup on a cold winter's day.
Salad. Salad and a roll is a classic pairing. These rolls will fill you and your guests up a bit if paired with a light salad.
On the table at the start of a dinner with vegan margarine or olive oil, and salt and pepper. 
BBQ. Serve your rolls at a vegan cookout, and they'll go down a treat. Don't forget the pickles and hot sauce!
Stews and chili. These rolls can be used to mop up a bowl of vegan chili or stew.
Dessert. Fill them with vegan carob or chocolate spread, vegan marshmallows, and strawberries for dessert.
FAQs
Can I make these rolls ahead of time?
Yes, you can make them up to the point of shaping them and then popping them into the fridge until you're ready to bake them off. This will stop them from over proving.
Can I freeze these rolls?
Yes, they freeze well. Seal them up in a container and they will freeze for 2-3 months.
How do I thaw frozen rolls?
You can place them onto a baking sheet and allow them to come to temperature for 2 hours. Once thawed, they're ready to warm up in an oven for 10 minutes until warmed through.
Are these gluten-free?
No, they aren't; they're made with wheat flour and therefore contain gluten.
Can I use gluten-free flour for these rolls?
Yes, you can. The result may vary a little but give it a go and just read the pack instructions of your gluten-free flour on how to substitute with it.
Watch My Easy Roll Recipe for Burgers and Dinner Video:
Wrapping it up
There is no better time than today to make your very own batch of homemade rolls. Tasty and heartwarming, this easy dinner and burger roll recipe will tick all the boxes and become a staple in your home.
Print
Perfect Rolls for Burgers and Dinner
Perfect shape, size, and texture; you'll fall in love with this easy roll recipe for burgers and dinner.
Author:
Yield:

12

–

18

rolls

1

x
Dry ingredients:
3 1/4 cup

flour (

1 cup

whole wheat,

2 1/4 cups

all-purpose)

1 1/2 teaspoon

salt

1 teaspoon

yeast
Wet ingredients:
1 cup

water

1/2 cup

almond milk

2 tablespoons

margarine (plant-based)

2 tablespoons

all natural cane sugar
Instructions
Mix the dry ingredients in a large bowl.
In a saucepan add all wet ingredients and gently heat until 110F (warm to touch). This happens quickly, so keep an eye on the pot while it heats.
Remove from heat.
Add the wet mixture to the dry mixture. Stir until well combined.
Cover with saran wrap and a kitchen towel and let sit for about 8 hours.
Turn dough unto a well floured kitchen counter or silicon mat.
Add just enough flour to form a nice soft dough.
Cover with saran wrap and a towel. Make sure dough is dusted with flour so the saran wrap does not stick to the dough.
Let rest for about 1 hour or so.
Divide the dough into 12-18 pieces depending on how large you would like the finished product. I recommend 18 pieces for mini rolls, and 12 pieces for regular size rolls.
Use just enough flour to make dough into rolls.
Cover again and let rise for 1 hour.
In the mean time heat oven to 425 F
Bake rolls for about 20 min.