If you've been on the lookout for a vegan cornbread recipe without eggs or milk, here is an easy cast iron skillet version that will hit the spot.
There is nothing more satisfying than a serving of warm cornbread alongside a lightly spiced chili.
I love that cornbread is a symbol of tradition and comfort in so many homes; it is a real staple in my home. Not only is it delicious, but it's versatile, too, as you're able to customize it in terms of flavor and format.
Here's my vegan take on this Native American bread for you to enjoy.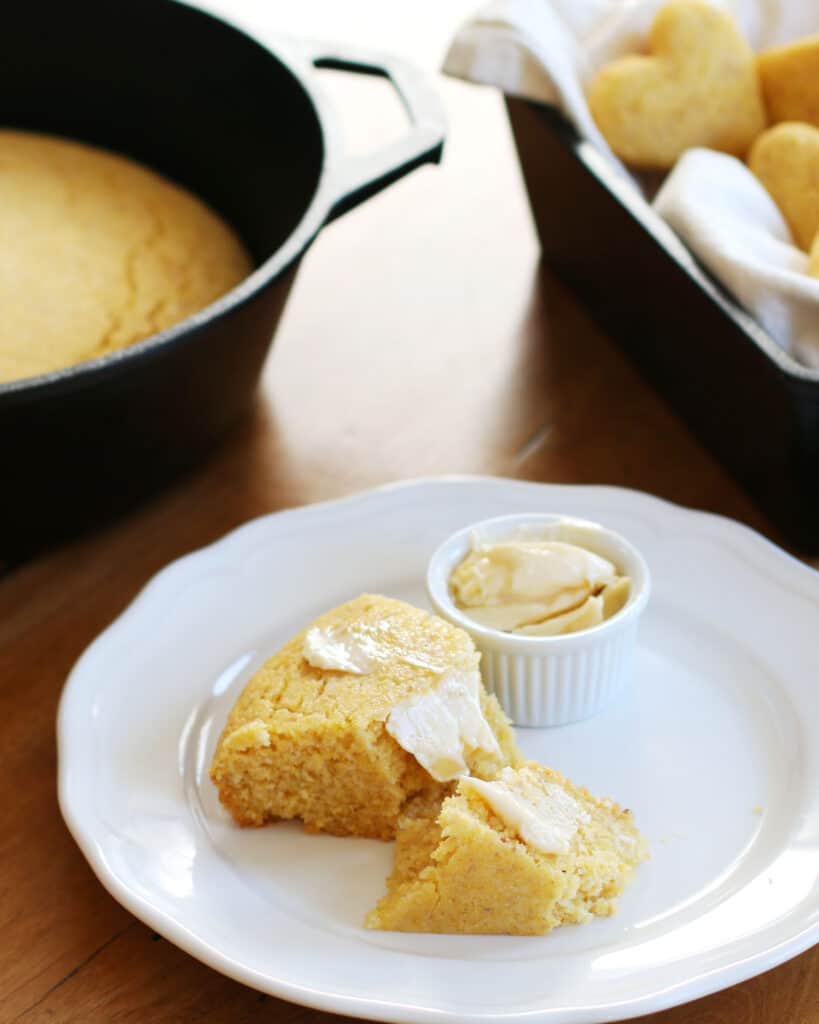 Why you'll love this vegan cornbread recipe 
It's packed with ingredients like golden flax meal and applesauce; for extra goodness and nutrition
The recipe is a simple 3-step process that can be prepped in minutes 
Cooked in a skillet – honestly, I just love the look of this and everything cooked in a skillet tastes better. Baking cornbread in a cast-iron skillet contributes to a great texture and crust
A Versatile recipe that can be turned into muffins or mini loaves 
Great base recipe to add other flavors to
Cooks in a jiffy! 20 minutes and you'll have delicious vegan cornbread as the perfect side or main course 
A fantastic idea to bring as a side dish to a family dinner or to a potluck
Ingredients and substitution notes 
Here are a couple of points about the ingredients in this vegan cornbread recipe:
Cornmeal. You can use fine or medium-grade cornmeal for this recipe
Flour. I use wheat flour in this recipe, but you can switch it out for gluten-free flour if you'd prefer
Granulated sugar. This is optional. I think a little sweetness in cornbread gives a lovely balance to its flavor
Vegan milk. Choose your favorite plant-based milk; oat, almond, rice, and macadamia nut milk all work well
Applesauce. Ensures a lovely moist vegan cornbread
Golden flax meal. This ingredient does the job of the egg and gives the texture a lovely crumb
Coconut oil. Avocado oil will work well too as it has a high smoke point and a neutral flavor
Recipe variations and add-ins
As mentioned, this recipe is a fantastic base for a myriad of flavors and variations. Here are some pointers on how you could customize your cornbread and take it to the next level:
Sweet and spicy: sieve a little chili powder into the flour and drizzle some maple syrup over the bread as it comes out of the oven.
Jalapeño and vegan cheese: add a few chopped jalapeños and ½ a cup of shredded vegan cheese into the batter before baking.
Corn muffins: pour the batter into greased and lined muffin tins. You'll need to adjust the bake time; check them after 15 minutes and then at 5 minute intervals.
Herb and garlic: add a little garlic powder into the mixture and ½ a cup of chopped fresh herbs like cilantro, parsley, or oregano.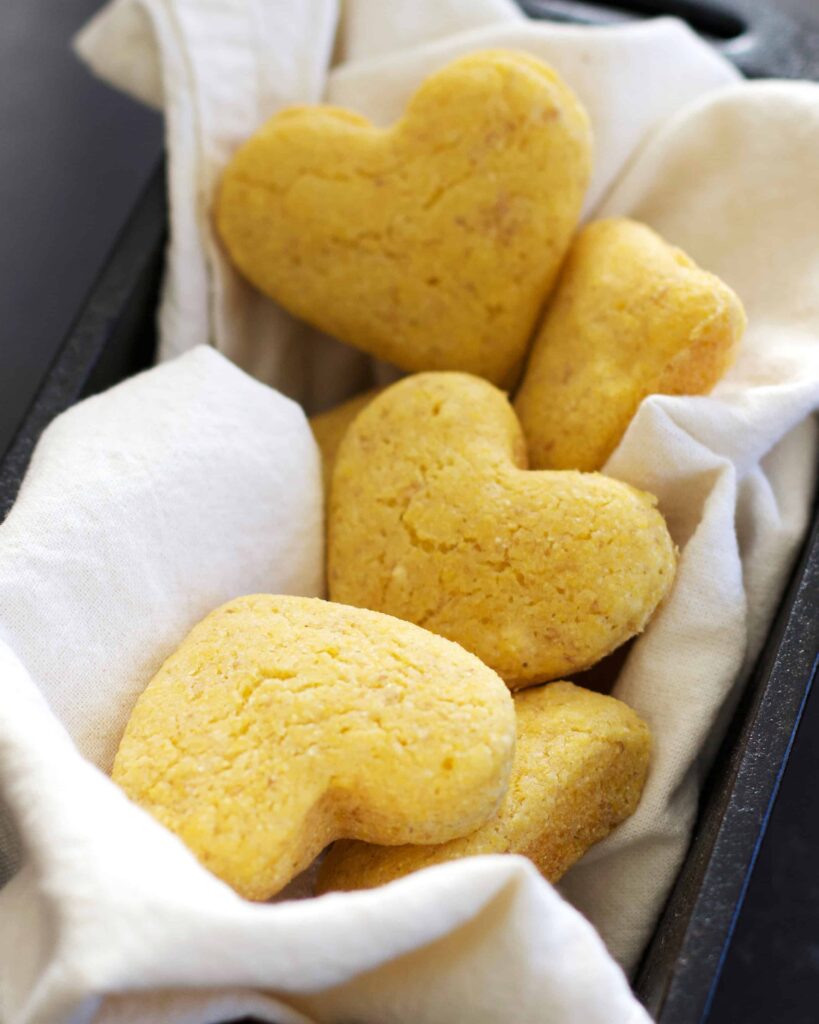 Top tips
While this is a pretty simple recipe to whip together, here are a couple of pointers to getting the best vegan cornbread possible:
For a fantastic crust, get that cast-iron skillet and oil shimmering hot before adding the batter. 
Check that the vegan cornbread is ready by inserting a toothpick into the center before removing it from the oven. If it comes out clean, it's ready. If there is a little raw batter attached, leave it in for 5 minutes more. Keep testing in 5-minute increments.
Avoid overmixing the batter when you're making it up. Use a light hand to achieve a soft texture.
Make ahead of instructions and storage
I love that this egg and milk-free vegan cornbread recipe can be made up a day or two in advance. If you want to make your cornbread ahead, just bake it off, allow it to cool, and wrap it tightly in plastic wrap or aluminum foil. This will prevent it from drying out.
You can store your cornbread in the refrigerator for up to 5 days and around 2 days at room temperature. You can also freeze your cornbread for up to 3 months.
If you have leftovers (which is unlikely, guys!), you can store them in the same way.
To reheat your cornbread, wrap it up in foil and place it in an oven set to 300°F and heat it for around 10-15 minutes. You can also pop your cornbread in a microwave for 30-60 seconds, depending on the size of the portion.
Serving suggestions 
Ah, what to serve your soft and tasty cornbread with; the list is endless. Here are a few serving suggestions to get the creative juices flowing:
Serve with warm vegan butter or margarine 
Top the bread with diced avocado and a little dried chili powder or chili salt
Cube the cornbread and top a chili or Mexican-style soup with the cubes 
Serve this as a side to vegetable curry or stew
Spread the top with vegan cream cheese and a drizzle of warm maple syrup
Use this recipe as the base for a vegan stuffing
Top with vegan sour cream, cilantro, and corn and tomato salsa
Alongside my plant-based chili!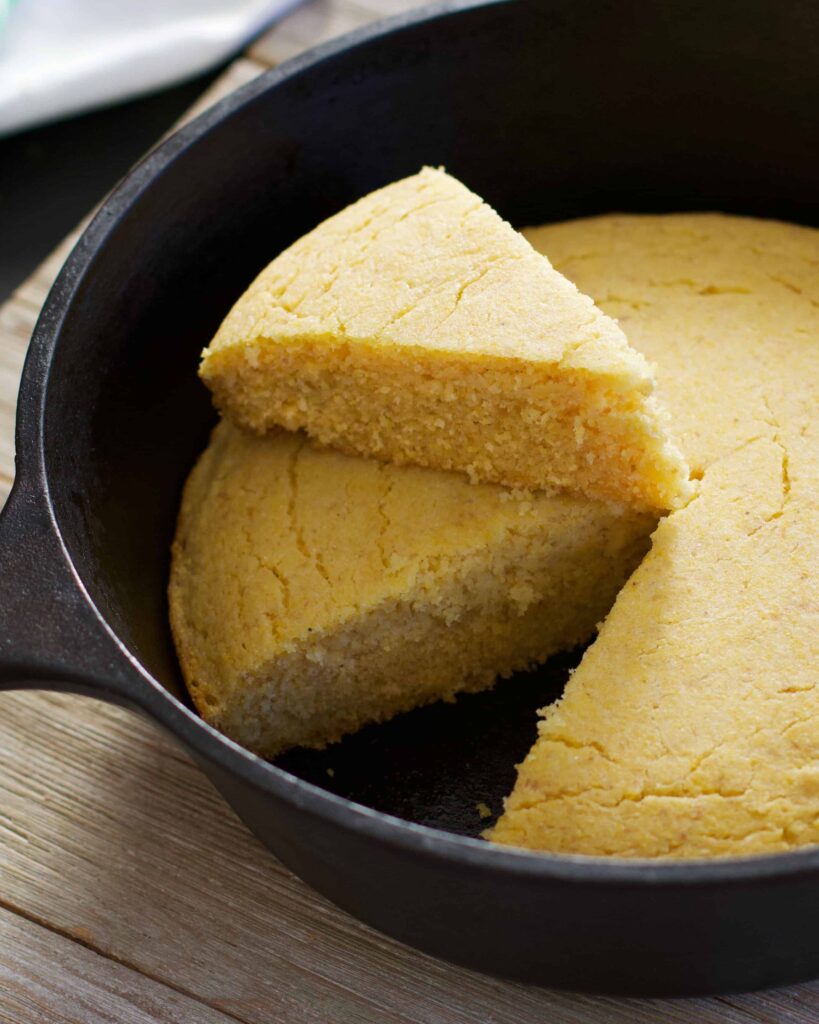 FAQs
These are some of the queries I get about making vegan cornbread; I hope you find them useful:
Why is my cornbread too dry?
If your cornbread is really dry, this could be due to overmixing the batter before baking it, or the ratio of dry to wet ingredients was off, and there wasn't enough liquid added to the mixture.
Can vegan cornbread be frozen?
It most certainly can be. Wrap it up in plastic wrap (to prevent it from drying out) and freeze it for up to 3 months.
Wrapping it up
I hope you try out this super simple, healthy, and heart-warming vegan cornbread recipe. It's a real crowd-pleaser and so pretty served in the center of the table in its cast-iron skillet. Give it a whirl and let me know how it turned out.
Print
Vegan Cast Iron Skillet Cornbread
1 cup

ground organic corn meal

1 cup

all purpose flour

2 tablespoons

granulated sugar (optional)

 

1 teaspoon

salt

2 teaspoons

baking powder

1 1/3 cup

vegan organic milk (almond)

3 tablespoons

applesauce

1 tablespoon

lemon juice

2 tablespoons

golden flax meal

1/4 cup

coconut oil
Instructions
Preheat oven to 425F and place cast iron skillet or dutch oven inside to heat while you make the batter
In a glass jar add milk, lemon juice, flax meal, and applesauce. Set aside for a few minutes. In a large bowl mix together corn meal, flour, sugar, salt and baking powder.
Stir to combine.
Melt coconut oil.
When oven has reached 425F, carefully remove iron skillet from oven. Place on a heat safe surface. Add a teaspoon of coconut oil to the skillet. Use a brush to grease the skillet. Working quickly so as to not lose too much heat, add the wet mixture and the melted coconut oil to the dry mixture, stir to combine.
Immediately pour batter into skillet. Add to oven. Reduce heat to 375F. Bake for 20 minutes or until toothpick inserted into the center comes out clean. Remove from oven. Cool on cooling rack for 10-15 minutes before serving.
Click Here to Visit My YouTube Channel for More Recipe Videos!