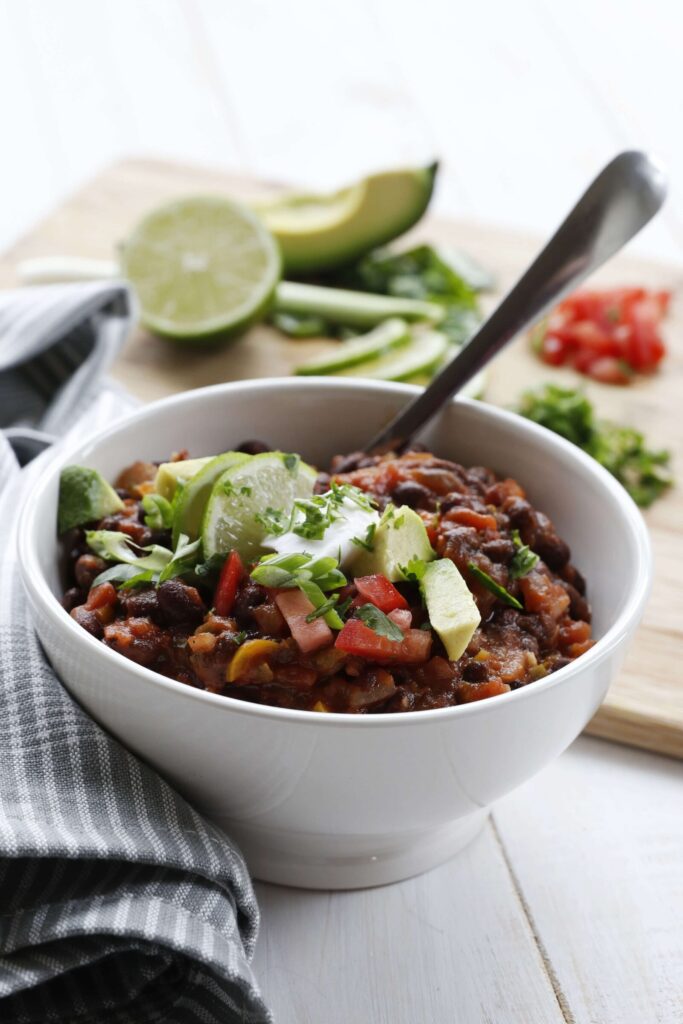 Today I am sharing a wonderful quick and easy Black Bean Chili recipe. If you are anything like me, you want a gourmet taste, but don't want to spend all day getting there. This Quick and Easy Black Bean Chili is one for the books; it delivers a fantastic flavor experience but is simple to make. This recipe is my staple "go-to" recipe. It can also be made in advance and just heated right before serving, which makes it a great option for those busy days when dinner or lunch needs to be on the table in just a few minutes.
It is January, and that usually means that most of us are on a "New Years Resolution" to eat healthier. This fantastic Black Bean Chili fits that goal perfectly. It is also chilly and miserable outside, and this dish will warm you from the inside out. In our household, we eat some type of bean several times a week, sometimes plain, sometimes in chili, and sometimes in other types of recipes. Beans provide plenty of protein and fiber, which gives such energy for the day. Serve this chili with avocado, cilantro, lime, chips, and your favorite vegan sour cream, and it is sure to make you popular.
I hope your New Year is off to a brilliant start. My start, as usual, has been incredibly busy. I always look at January and think I will have loads of time, but when it finally comes around, I find it is my "catch up month" for all the things I did not get done this past year.
On these busy January days, I usually need to pull out my staple recipes and make something that will save me time and also be nutritious and delicious. This quick and easy Black Bean Chili does not disappoint. It is a favorite around our house. Hope you enjoy it too.
Happy January!
Print
Quick & Easy Black Bean Chili
Author:
Yield:

4

Servings

1

x
1 tablespoon

oil

1/2 cup

onion

1/2 cup

poblano pepper

1/2 cup

sweet peppers

2

garlic cloves

2 cup

crushed tomatoes 

1/4 teaspoon

red chipotle, ground

1/2 cup

vegetable broth

1/2 teaspoon

salt

2

cans (15oz) black beans, drained and rinsed

1 teaspoon

Better-than-Bouillon

1 tablespoon

margarine (optional)
Instructions
In a medium size pot, add 1 tablespoon oil and sauté the onion and peppers until the onion is soft.
Add the garlic and cook for another minute.  Add the crushed tomatoes, seasonings, and vegetable broth, black beans, and better-than-bouillon.
Bring to a boil and and let simmer for about 10 minutes.  Finish the dish with a tablespoon of vegan margarine if desired.  
Serve with avocado, cilantro, lime, chips, and your favorite vegan sour cream.  
Notes
This dish is naturally gluten free and nut free.  It can be made oil free by sautéing the onions and peppers in a little bit of water. 
Serve with my favorite Vegan Cast Iron Skillet Cornbread Recipe.