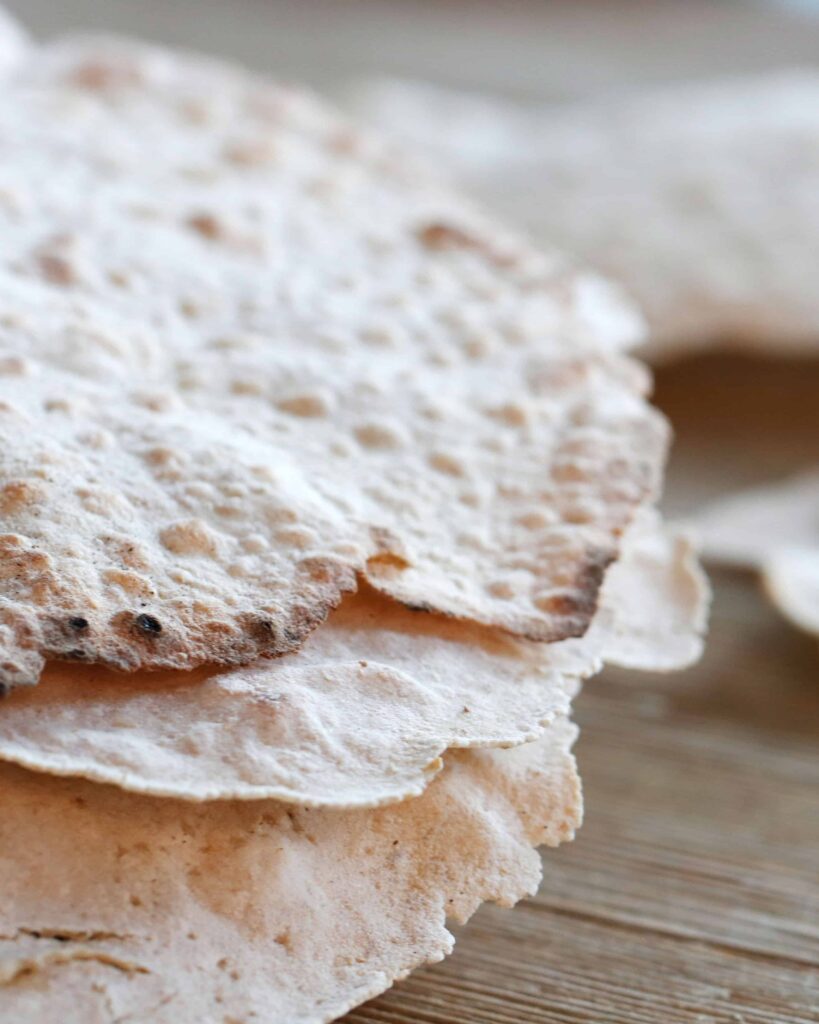 This week my aunt is visiting from Norway and we decided to make some traditional Norwegian recipes while she is here. We have had so much fun. In this video we are making a whole grain Norwegian flatbread. The neat thing about this bread is that it is 100% whole grain, which makes it super healthy, and even better, it is really delicious. It is a bread that is still very much a part of the Norwegian culture. It is served with dinner menus like soups, stews, etc. Today it is usually commercially made. However, there is nothing like the homemade flatbread or flatbrød as they call it in Norway.
What is Norwegian Flatbread Made Of?
There seems to be a lot of Norwegian Flatbread recipes out there. Everybody seems to make their flatbread a little differently based on the ingredients that they have on hand.
But ultimately, you only need five things to cook a good flatbrød: a flat, hot surface to cook on, ground grains, water, salt, and a rolling pin to roll the dough out with.
Don't be fooled by this simplistic three-ingredient recipe however: it is delicious and perfect for dressing up just about every meal. Best of all, this three-ingredient list is nutritious (thank you, sprouted whole wheat flour, though if you don't have sprouted whole wheat, you can use regular whole wheat) but also contains ingredients that aren't derived from animals, which makes it perfect for the vegan dinner table. Serve it with dinner and everyone will be happy. 
Looking for more Bread Recipes?
Origin of Norwegian Flatbrød or Flatbread
Similar to how European sailors would use hardtack to provide them with substance on long journeys, Vikings needed something to sustain themselves as well. Many foods were too bulky to sail with, or did not last long on the travels before becoming spoiled. Because of the simple ingredients and ease of storage, flatbrød was a staple in Viking culture as it allowed them to make the bread whenever there was a campfire available. Most of the time, however, they would prepare the flatbread ahead of time and store it to prevent their wheat from going bad.
Because the bread is unleavened, they did not have to worry about yeast or other kinds of rising agent, reducing the amount of potential spoilage they might encounter on any long journey. They would then eat the almost-crispy flatbread with soups, stews, salted fish, and other meals that were easy to transport and make. Fortunately, the flatbread provided good nutrition, giving them strength and endurance for the trip.
What Type of Flour Do You Use When Making Norwegian Flatbread:
We use sprouted whole wheat flour in this recipe, and it is delicious. Sprouting the grain allows for easier and better digestion of the nutrients and is therefore an excellent option. However, many of you may not have access to sprouted whole wheat, if that is the case, just use the regular whole wheat. I do prefer the white whole wheat flour. It is a little less bitter, but you be you – choose the flour that works best for you.
The most important thing to remember when making flatbread is that the dough needs to be rolled incredibly thin, so assess as you go along if you are using another flour than what we recommend. If needing a gluten-free option, see my gluten-free flatbread recipe. It is also delicious. A little more difficult to roll out, but definitely worth the extra effort.
What is the Difference Between Norwegian Flatbread and Lefse?
Traditionally, Norwegian flatbread is crispy and savory. It is almost more like a cracker than a bread, but this is the bread of choice with cold winter meals like stews and soups, but it is not limited to winter meals, it works great with summer recipes as well. The recipe itself is incredibly simple, with only three ingredients, but remarkably delicious.
Lefse is another popular bread recipe that comes from the deliciously rich food culture of Norway. This bread, if you can call it a bread, typically resembles more of tortilla than a flatbread, as it's made with either a potato base or a slightly sweet wheat base. They are made chewier and a little thicker than the flatbread. Lefse made from a potato base tastes similar to a soft thin pancake, but often used as a treat or a dessert served with sugar and cinnamon.
What Do Norwegians Eat with Flatbread?
As a caloric-dense food meant to be produced on the cheap that could withstand the Viking's great need for nutrition on long journeys, flatbread is meant to be eaten in a variety of ways, like crackers. Some eat it plain, appreciating the natural flavors of the flatbread by itself, but most eat it with a little margarine or butter. For vegans, of course, that means finding a plant-based margarine like Earth Balance or a plant-based butter like Miyoko's.
When in the mood for a savory snack, Norwegians may also serve this flatbread with cheese, fish, meat, and other protein-rich foods. Fortunately, now we also have many vegan options for flatbread toppings such as vegan cheese, or vegan deli meat. You can make a whole delicious meal out of flatbread and various toppings.
You can even spread a little jam on the flatbread if you want to, though I would have to say it pairs best with savory toppings. But let it be known, the most traditionally way of serving flatbread is with soups and stews. In fact, that meal is missing something if flatbread is not on the menu.
If you'd rather make the flatbread into an appetizer or snack than a part of a full meal, you can also pair the flatbread with delicious dips like hummus, pesto, and other delicious vegan sauces and dressings.
Want a Little More Crunch?
Remember that flatbread is traditionally very thin. The thinner you can get it, without it falling apart, the crunchier and more delicious. Flatbread is meant to be more like a cracker. There should not be much moisture left in the final product.
Keeping the tradition alive:
In previous generations, the crispy warm flatbread right off the griddle was a treasured memory. If we don't continue this tradition it will soon be lost. We can still find people in Norway that makes handmade flatbread, but most people buy commercially made flatbread these days. Help us keep the tradition alive.
Print
Norwegian Flatbrød (Flatbread)
34 oz

warm water (

7

dl)

32 oz

organic sprouted whole wheat flour (900 g)

 

1 teaspoon

salt
Instructions
Place warm water in a mixer.
Add the salt.
Add the flour a little at a time until it forms a nice dough.
You should have approximately 1 cup of flour left to use as you roll out the dough.
Knead for about 5 min.
Remove from mixer and place on a rolling mat. It is helpful if the rolling mat has marked circles.
Divide the dough into 16 pieces.
Heat the griddle to 500F.
Make each dough piece into a round ball. Flatten.
Use the remaining flour to make sure the dough does not stick as you roll it out. Make sure to roll from the middle out, turn frequently and flip over several times during the process until the dough is about 14 in. in diameter. It will be very thin. This is crucial in order to get the crunch and flavor that you want.
Add to the griddle and bake until brown spots appear. Flip and do the same on the other side. We usually keep the oven at 200F during this time, and when we are done baking each piece, we store them in the warm oven until we are done. This will crisp them up nicely.
Store in a dry place. Can last a very long time if stored correctly. It does better in paper bags or foil than in plastic. In the old days they were stored in large wooden chests.
In our house they usually only last but a few days.
Notes
We like the organic sprouted flour by One Degree which can be found at Whole Foods.