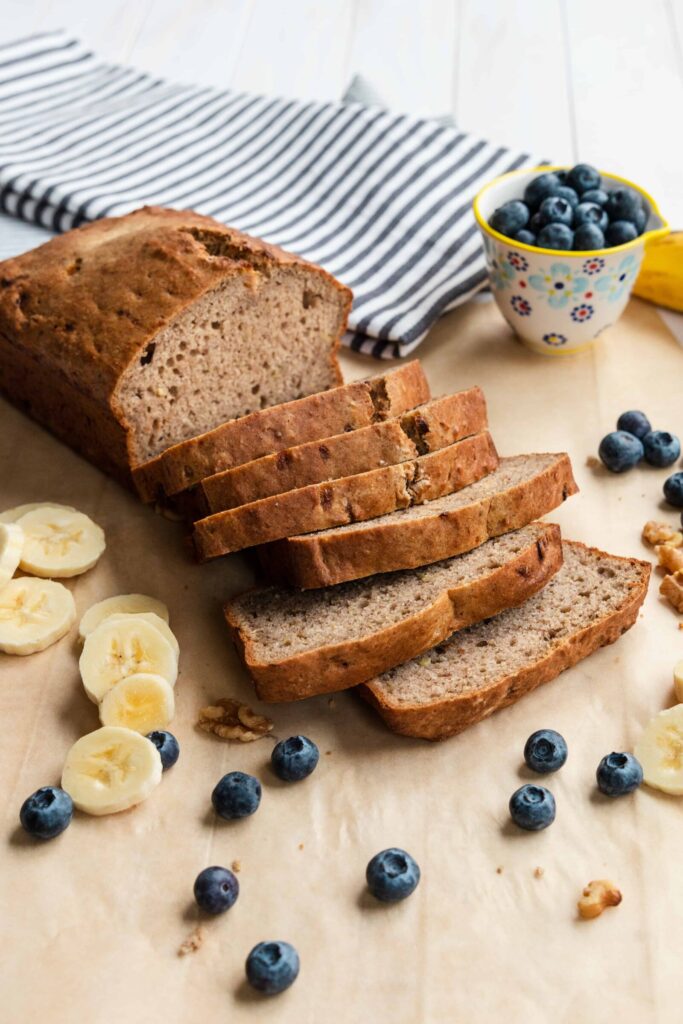 I am incredibly excited about today's recipe. If you ask me, this Vegan Banana Bread is a treasure, practically a banana gold mine. Can you tell I am passionate about this recipe? And I am so excited to share it with you.
Who doesn't love banana bread?
I have always loved banana bread. It is one of my favorite breakfast breads. The aroma that fills my kitchen while this bread is baking gives the promise of wonderful things to come. I am usually drawn to the oven-window several times to watch the loaf rise and turn beautifully golden brown. In fact, it is hard to wait for the bread to cool enough to slice so I can eat it. The flavor, moistness, and slightly sweet taste make this recipe a winner. We also pack many healthy ingredients into this loaf, making it a great breakfast option.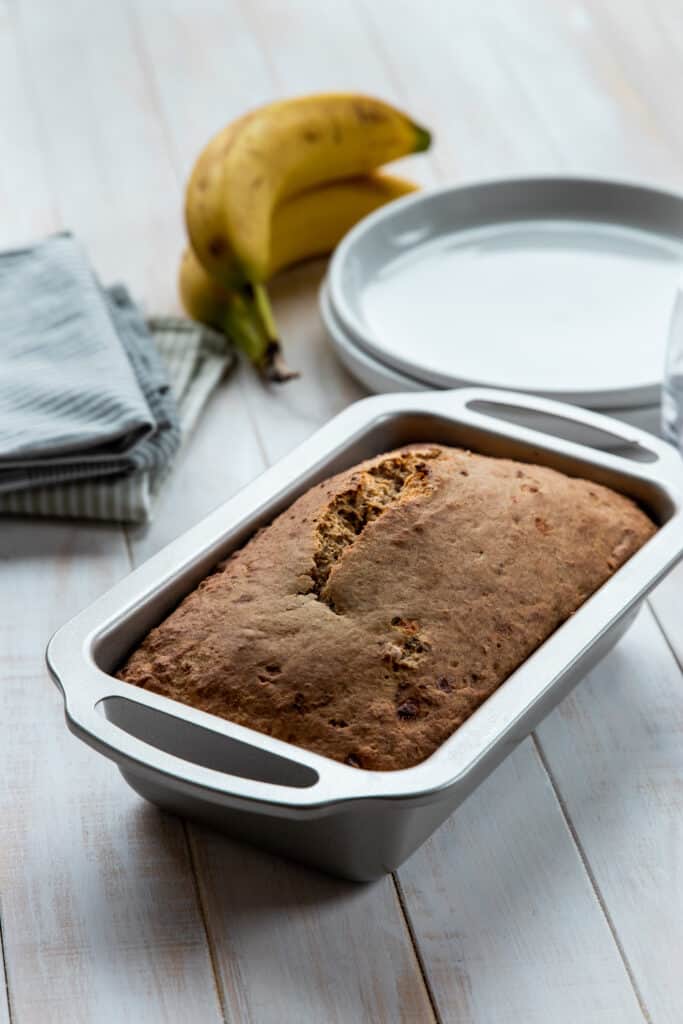 The Perfect Recipe for Very Ripe Bananas!
Bananas are a staple in my kitchen. They are normally displayed on my kitchen counter. I don't know about you, but I am always surprised by how quickly bananas go from a slightly green color to yellow with brown spots. When the bananas get ripe, I often peel and freeze them for use in smoothies or desserts, but you can only have so many frozen bananas. So if you are looking for something to do with ripe bananas, banana bread is a terrific option. Let me tell you this banana bread recipe is perfect for those overly ripe (almost unrecognizable) bananas in your life.
This is a great bread for breakfast, but really, for me, it is the perfect bread at any time of the day. Bananas contain potassium, fiber, and vitamin C and are a healthy fruit to add to your diet. And if you ask me, there is nothing like fresh banana bread to brighten the day.
I hope you enjoy this Vegan Banana Bread recipe as much as I do! Happy Baking:)
Click Here to watch me make this recipe on YouTube!
Print
Vegan Banana Bread
I hope you enjoy this Vegan Banana Bread recipe as much as I do!  Happy Baking:)
1/2 cup

dairy free milk (organic & unsweetened)

1 1/2 tablespoons

lemon juice

1 cup

all purpose flour
 

1/2 cup

whole wheat pastry flour

3/4 cup

sprouted spelt flour ( I use One Degree)

1 tablespoon

baking powder


1/2 teaspoon

salt


1 teaspoon

all-spice (optional)

1/4 cup

apple sauce
 (or an extra banana)

1/4 cup

maple syrup


2 tablespoons

almond butter


2 teaspoons

vanilla extract


2 tablespoons

ground flaxseed

3

medium size ripe bananas

1/4 cup

coconut oil, melted
Optional:
1/8 teaspoon

cardamom 

1/2 teaspoon

cinnamon
Instructions
Preheat oven to 350 degrees. Grease a loaf pan.

In a bowl mix together the dairy free milk and lemon juice. Set aside (see note)

In a separate large bowl mix together the flour, spelt flour, baking powder, salt, and all-spice.
The milk and lemon juice mixture should now be curdled. Add apple sauce, maple syrup, almond butter, vanilla extract, and ground flaxseed to the milk mixture. Don't add the coconut oil just yet.
Peel the bananas. With a fork mash the ripe bananas and add them to your wet ingredients. Mix until thoroughly combined.
Pour the wet mixture into the dry mixture and while mixing add the melted coconut oil. Mix until everything is combined being careful to not over mix.
Gently fill a loaf pan and place in a preheated oven.  Bake for 50 minutes or until a knife inserted into the center comes out nearly clean with a few crumbs sticking to it.
Enjoy!
Notes
In order to make a lighter bread, you want to curdle your milk with some fresh lemon juice. Many plant-based milks have ingredients that do not allow it to curdle. I have found that an organic unsweetened milk works best.