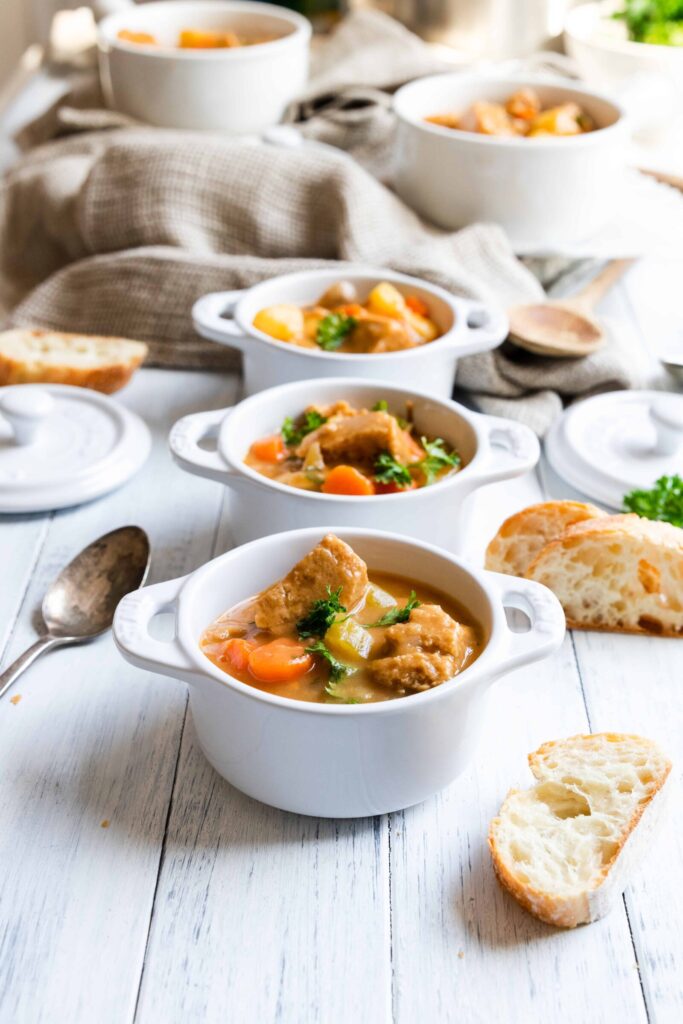 I don't know about you, but there is hardly anything more satisfying than a hearty, warm stew. So, today we are making a most wonderful stew, but not just any stew, a vegan "beef" stew. When I was growing up, particularly on chilly days, my mom would make us stew. It's comforting smells quickly spread through the house, and we knew that dinner would be delicious, nutritious, and satisfying.
Stew in Norway:
In Norway, stew or "lapskaus," as it is called, is a very common item on the dinner menu. Though it is usually made with meat and vegetables, there is such a thing as a plain vegetable stew as well, but it is not as common as the meat version. We have therefore made this vegan "beef" stew with a meat substitute, and I think it is delicious. For those of you that do not have a meat substitute (seitan), use quartered mushrooms instead. It is the gravy-like consistency that makes this dish so satisfying.
I have a recipe on my channel for "Basic Vegan Homemade Seitan," which works very well in this recipe. I try to keep a meat substitute (seitan) in my freezer at all times. That way, it is so easy to make quality quick and easy meals. I freeze seitan in recipe size portions; that way, it's easy to grab when you need it.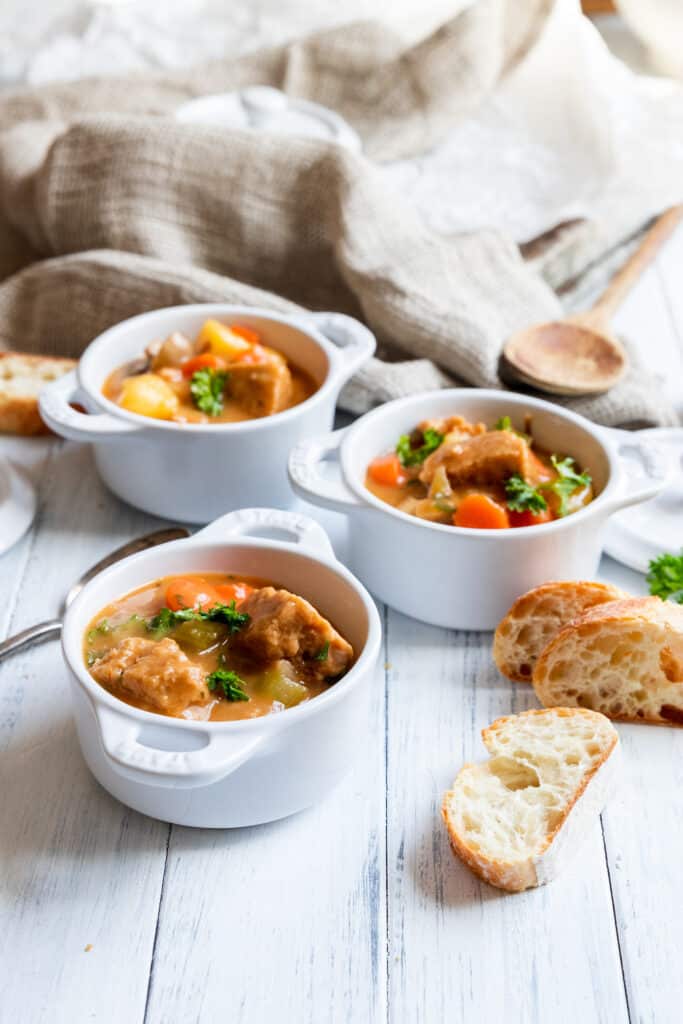 Click here for my "Basic Vegan Homemade Seitan" Recipe!
This dish requires toasted flour, or as we say in Norway, "browned flour." It is important for two reasons. It gives the dish a darker and more appealing color, and it provides a unique flavor. It is easy to prepare.
Add flour to a dry frying pan, and let it toast on low to medium heat until the color changes. Be sure to stir frequently as burned flour would not be a good thing in this dish.
My whole family likes this vegan "beef" stew. The seitan pieces take on the flavor of the gravy and provide a most satisfying meal.
Print
Vegan "Beef" Stew
2 tablespoons

oil

1

large onion, chopped

1

(8oz) pkg mushrooms, quartered

3

large garlic cloves

2

carrots, chopped

2

celery sticks, chopped

4 cups

vegetable stock

3

large potatoes, chopped

2 teaspoons

Better-Than-Bouillon

1/4 teaspoon

dried thyme

1/4 teaspoon

dried rosemary

1/4 teaspoon

grains-of-paradise (optional)

1/4 cup

toasted flour

Salt to taste
Instructions
In a medium size pot, sauté onions in one tablespoon of oil.
Next add quartered mushrooms and garlic, sauté for a couple of minutes.
Add carrots, celery sticks, and seitan. Cook for another minute or two.
Then add the vegetable stock, potatoes, thyme, rosemary, Better-Than-Bouillon, and grains of paradise. Bring to a boil, let simmer for 25-30 minutes, until the vegetables are tender.
Toasted Flour:
While the stew is simmering, brown the flour.
Add the flour to a dry frying pan. Let it brown on low to medium heat. Stir frequently to make sure it does not burn, when the color of the flour is slightly brown, the flour is ready.
Add a tablespoon of oil to the flour and make a paste.
When the vegetables in the stew are tender, add the flour mixture to the stew and stir. Let it simmer for at least 5-10 minutes before serving. Stir frequently.
Salt to taste.