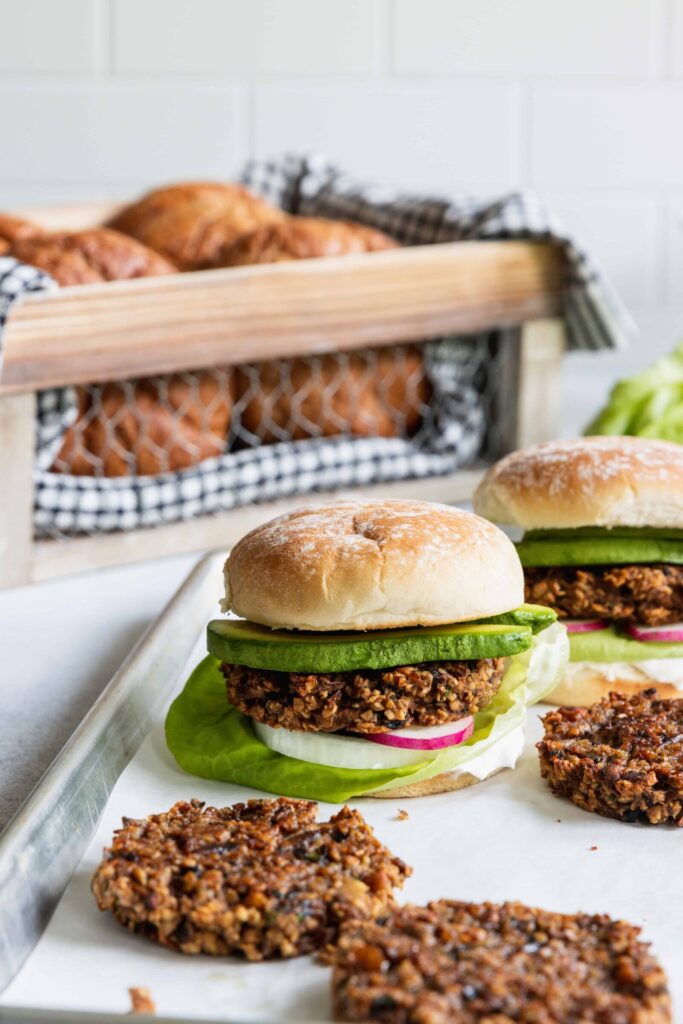 It's the time of year when most Americans enjoy warm summer days with outdoor cooking and quick seasonal meals. Burgers, hot dogs, and watermelon are often on the menu, whether in the backyard, camping, or on the beach. Today we are making fabulous plant-based mushroom oat burgers that will be perfect for any occasion but is incredibly wonderful this time of year. These can be made ahead of time and stored in the fridge or freezer, ready to go when you are.
We love these mushroom oat burgers; tender and delicious, perfect for summer, and just in time for memorial day weekend—a great way to start the summer season.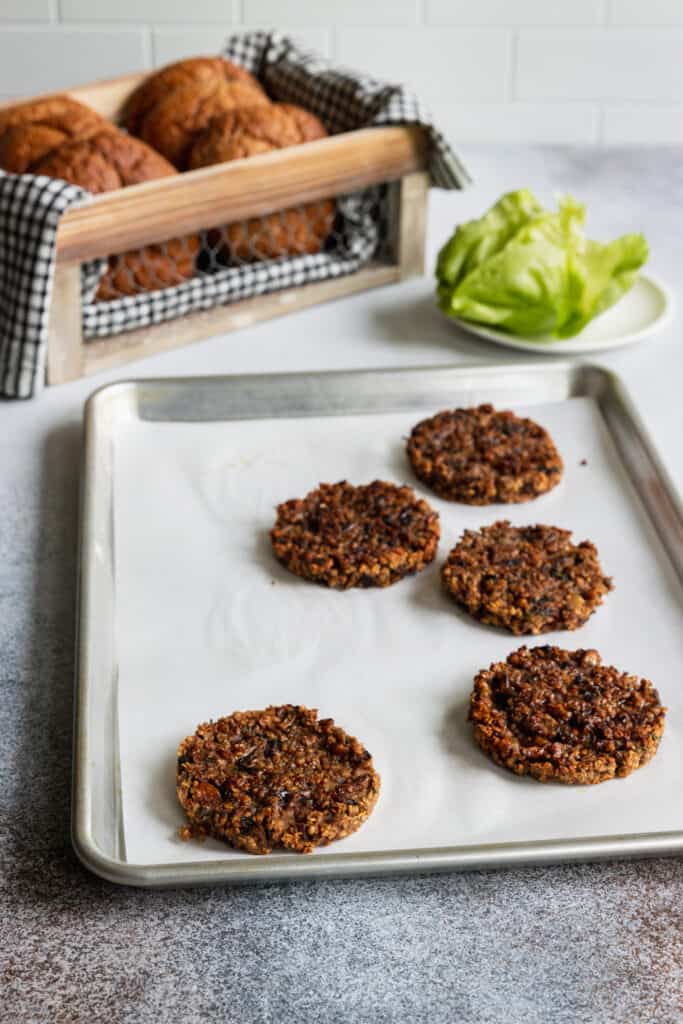 Let's Talk Mushroom Oat Burger Ingredients:
Mushrooms:
Mushrooms are an excellent source of protein, fiber, and antioxidants. They contain minerals and vitamins, especially B and D, and are low in fat and calories.
Mushrooms also happen to be a great substitute for meat in the vegan diet. In these mushroom burgers, we use the typical white button mushrooms you so readily find in your grocery store. Make sure the mushrooms are clean, smooth, and plump-looking. If the veil that exposes the gills under the mushroom cap is closed, the mushroom is usually a little milder in flavor, which I prefer in this recipe, but works either way.
Walnuts:
Walnuts are very important to a vegan diet. They provide healthy fat, fiber, minerals, and vitamins. They are high in antioxidants, provide Omega 3, helps to reduce inflammation, and seem to have a protective influence on the brain. In this recipe, the walnuts add texture and flavor.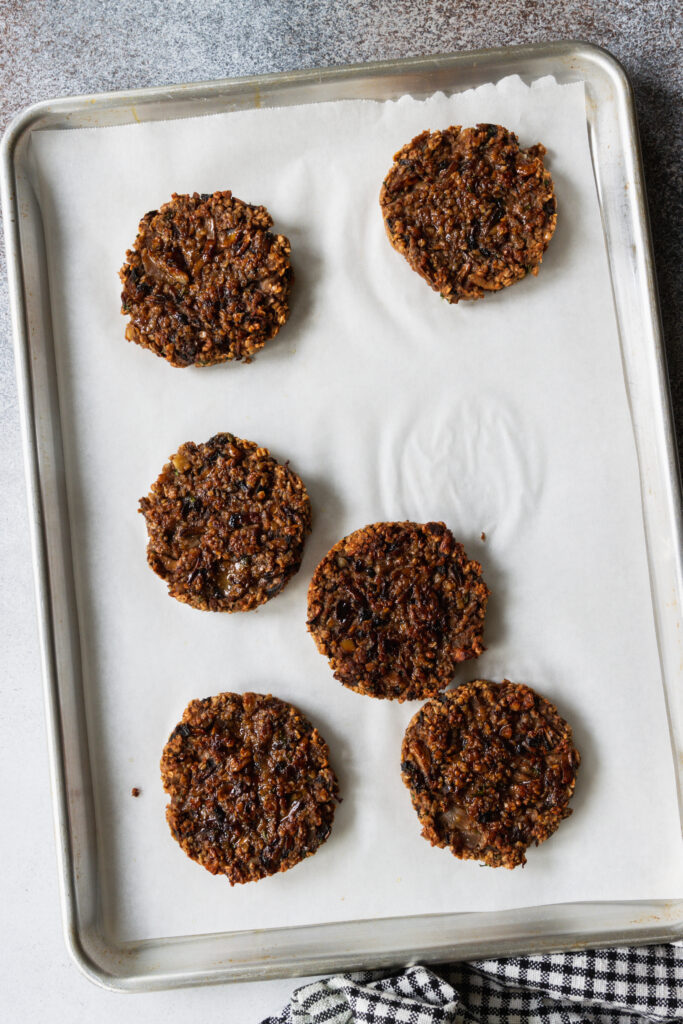 Oats:
Oats must be among the world's healthiest foods. They provide a variety of different health benefits. They are also naturally gluten-free, making them a perfect choice for these burgers. Even though oats are naturally gluten-free, they can sometimes be contaminated by other grains while growing, so if you are super sensitive to gluten, buy oats that are labeled gluten-free. They have taken particular care to make sure the oats are not contaminated. The price tag is a little higher but worth it if you have a gluten allergy.
Tofu:
Over the past few years, Tofu has gotten a bad reputation, though I think it is making a little bit of a come-back, especially since we now readily can get organic Tofu in the local grocery store. Tofu has always been part of my diet. It is a great source of protein.
Cannellini Beans:
Cannellini beans are high in protein and fiber and provide some extra nutrients to these burgers.
Cooking Process:
These burgers are pretty tender when they come out of the oven but are more manageable when cooled and stored in the refrigerator for a few hours. These Mushroom Oat burgers are among my dad's top burger picks, or possibly top pick. They are lovely both in texture and flavor.
When ready to serve, reheat the burgers by browning each side in a skillet. Though this is not necessary, it gives them a healthy brown glow that says: Come and eat me.
We serve them with sliced avocado, vegan mayo, lettuce, sliced tomatoes, sliced radishes, and onion—a perfect burger for a warm summer day.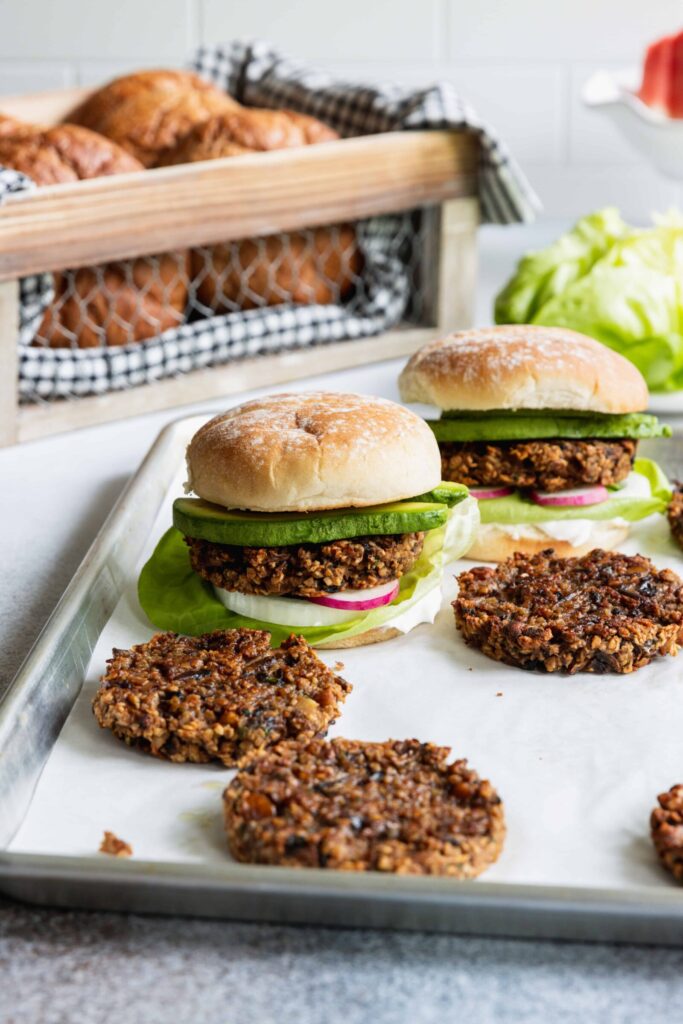 Gluten-Free option:
To be sure these burgers are gluten-free, use gluten-free oats and a bouillon that are gluten-free. And be sure to use gluten-free burger buns.
Oil-Free:
Eliminate oil and add water instead. When browning the burgers use a skillet that can brown without oil.
Nut-Free:
By eliminating the walnuts these burgers can be made nut-free.
Click Here to Watch Me Make this Recipe on YouTube!
Print
Mushroom Oat Burgers
Author:
Yield:

10

–

12

burgers

1

x
2 tablespoons

olive oil

1/2 cup

chopped sweet onion (about

half of a

medium onion)

3

large garlic cloves, minced

12 oz

. button mushrooms, de-stem chopped

1/4 cup

walnuts, chopped

1/2 cup

firm tofu (about

5 oz

.), drained 

1/2 cup

cannellini beans, drained

2 tablespoons

Braggs Liquid Aminos (soy sauce alternative)

2 tablespoons

water

1 tablespoon

Better-Than-Bouillon

1/4 teaspoon

sage

1/8 teaspoon

cayenne

1 1/2

–

3/4

cups quick oats (see note)
Fresh parsley, minced 
Instructions
Preheat oven to 350 F
In a skillet, add olive oil and chopped onion, sauté for a couple of minutes. 
Next, add minced garlic, sauté for a minute.
Then add chopped mushrooms, sauté for a few minutes, until mushrooms have released their liquid.  
Set aside and stir in chopped walnuts.  
In a food processor, add tofu, white beans, Braggs Liquid Aminos (soy sauce), water, Better-Than-Bouillon, sage, and cayenne.  Blend until smooth.  
In a large bowl, add the onion mixture, the content of the food processor, the oats, and minced fresh parsley.  Stir to combine.  Let sit for 15-20 minutes.  
Shape into burgers.  
Place burgers on a lined or greased baking sheet tray.  Parchment paper works well.  To get the burgers uniform, use an ice-cream scoop.  Flatten each burger with a greased spatula to get the right thickness.   
Bake at 350 for 20 minutes. Flip the burgers and bake for another 10 minutes.  Let cool completely.  Refrigerate until ready to use.  
Reheat before serving.  To give the burgers a little extra color, heat them in a skillet.  
Notes
The amount of liquid the mushrooms release when sautéed can vary, so if the burger mixture seem a little wet, add a few more oats, but only until the burgers keep their shape when making it into a burger.
Looking for more Summer Recipes?